Most people assume that to build a great website, your priority should be on technical aspects or being good at the design stuff. However, we disagree.
Great websites are not built on a whim. They are planned and then built (and frequently updated).
So this guide will help you set you up for success with your new website by giving you a solid plan to start with. You can give this to an external developer/agency or use it as an internal reference if your own team is working on it. Regardless of how you execute, website planning will make everything better.
If you want a document to fill out and then present, we have downloadable Word and Google Docs files which include some great Creately templates.
Get the website planning templates here;
Download the Word Document Template
Download the Google Docs Template 
Phase 1: Pre Website Planning
Determine Your Website Objectives
A clear business objective is the first step towards creating a successful website.
Whether it is to generate more leads or sell your product in foreign markets, once you know what you want to do with the website, everything else – from the type of information you should add on your site to its design – will be so much easier to decide.
So first of all, list down your objectives that will fit your overall marketing strategies and capabilities.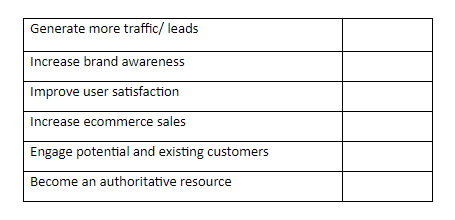 Analyze the Websites of Your Top Competitors and Market Trends
Once launched, your website won't be the only one out there selling or promoting the type of product you've got.
This is why you need to see what's already out there and compare them with what you have in mind.
Look into the websites of your competitors and other industry websites as well. They will not only inspire you but will also give you an idea as to what you should and shouldn't include on the website.
Examine what trends are leading your market at the time. This will help you create a website that is both relevant and useful to your potential customers.
Use the following mind map to organize the information you collect on the websites of your top competitors and market trends.  Share it with your team and get their input as well.
Bringing all this into a single mind map gives you the chance to spot patterns and understand the space in a different sense.
Phase 2: Information Architecture and User Flows
Organize Information with Information Architecture
This is where you consider what the user expects to see and the content you want users to associate with each section of the website.
Information architecture helps you determine the usability of your website design – or in other words, make sense of how information on your site is displayed and accessed.
Learn how to properly create an information architecture of your website in six steps here.
Define Your Website's Structure Using a Site Map
What are the pages you need to display on the website for the user? And in which hierarchy do you want them placed?
This is where a sitemap comes in handy. It'll help you decide which pages you want and in which order they should be arranged
This can act as a reference point your designers and developers can use to understand your requirements.
Use the following sitemap template to get started on yours.
Identify the Navigation Flow of Your Visitor
This is where you dig into the data (that you found while creating the information architecture of your site) on information-seeking behavior of your audience and try to uncover a pattern in it.
Using a flowchart, you can map and identify all the pages and touchpoints your ideal visitor would interact with when navigating through your website. User flow is how you figure out what you need to give (in the form of phrases, paragraphs or images) to your visitor to keep them from bouncing off your site.
Phase 3: Design Layouts and Site Infrastructure
Identify Key Colors, Elements and Styles with a Mood Board
A mood board can help you create a website look that matches your brand personality which includes your brand voice and brand style.
A usual website mood board should cover
color palette
photography or illustration style
fonts/ typography
use of space
navigation style
If you are looking for great website design inspiration, checkout www.pages.xyz.
Arrange Page Elements with Wireframes
Wireframes help you define the hierarchy of content on your design. By referring to the information architecture you created earlier, form the layout of the website pages with the help of a wireframe.
Keep in mind how you want your site visitors to process information when doing so.
It's also the first step in figuring out how each page on the website is linked to each other.
Tip: Start with wireframes for smaller screens and start your way up. It's the only hassle-free way to create a responsive website design.  
Finalize the Design with UI Mockups
UI mockups allow you to identify issues with your final design before you launch the website. With it, you can flesh out your wireframe and visualize the final outcome of typography, iconography, color themes, layouts and navigation.
Phase 4: Promotion and Marketing  
Brainstorm Ideas for Promoting Your Site
Once the site is launched, you need to attract visitors to it. This is where site promotion comes in and it involves many tasks like search engine optimization (SEO), social media marketing, targeted advertising etc.
Get your marketing team together and brainstorm different ways to market and promote your new website. A mind map can help you organize all your ideas and come up with a proper marketing strategy.
Website Development Flowchart
Ready to Plan Your Website?
We've covered planning a website in 8 easy steps under 4 different stages of website planning. Use our website planning template to get started right away.
Would like to add something to our website planning guide? Let us know in the comment section below.
And if you are ready for the next stage of your marketing plan, here's a handy guide to mobile app planning.
Want to increase traffic to your website? Here are 7 easy steps to increase traffic to your website.