Wireframes & Mockups For Effective Web Design
Tools and Resources to Draw Wireframes and Mockups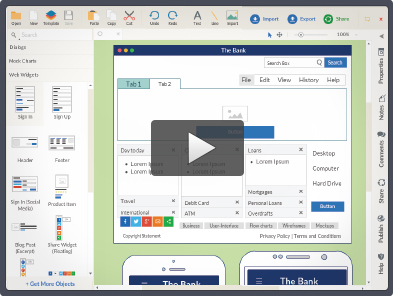 A website wireframe is a visual guide that represents the skeletal framework of a website. The wireframe depicts the page layout or arrangement of the website's content, including interface elements and navigational systems, and how they work together. http://en.wikipedia.org/wiki/Website_wireframe
A mockup adds color and design to a wireframe. A wireframe is useful in the development phase but if you want to show your ideas to a client a mockup is a much better options with its visual appeal.
Wireframes & UI Mockups Explained
Wireframes are fundamental line drawings that show the deployment of elements on a web page. Using wireframes is the best practice to begin a web site project, as it allows your client to focus on the layout.
But if you want to get the design out to your clients, the best workaround is to build Mockups. These are used by designers mainly to get feedback from their clients about designs and design ideas early in the design process.
Wireframe Symbols Explained
All the elements of a web page should be represented in your website wireframe. Visit the Wireframe Objects page to understand how and when to use the wireframe objects and see some of the usage examples.
A catalogue of all the Wireframe objects available in Creately's library is explained here.
Examples and Using wireframes in the real world
Articles, Tutorials & Blog posts on wireframes