There's a reason why we've implied (above) that both wireframes and mockups share a close relationship.
But before (we explain, and) you get your brain all jittery with definitions, remember that figuring out what a wireframe and a mockup is a simple deal. The former is basically a skeleton of an interface minus the aesthetic details. The latter, on the other hand, is a model of the web site in real life complete with fonts, colours, buttons, and the whole nine yards.
While a wireframe is commonly used to establish the basic structure of a site, so that a client is aware of how it will look, a mockup is just one step before the site is launched (for real) – see the relationship? There's nothing like a diagram to show this, so take a peek at the wireframe below.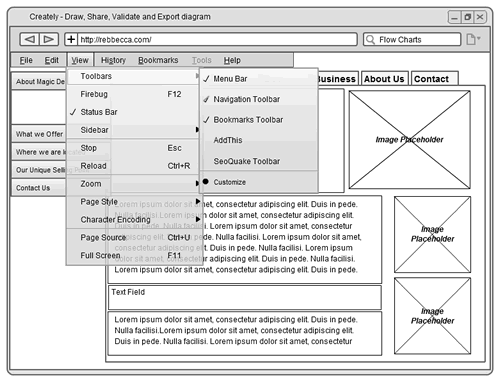 Now, sneek a peek at a mockup, again below.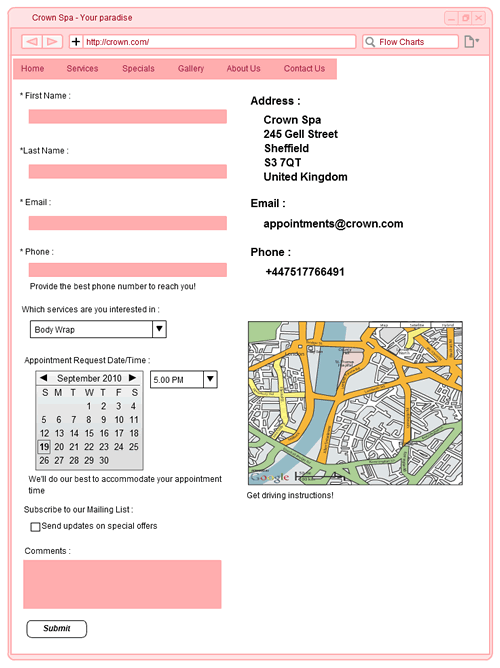 Of course, with Creately offering an online platform, you are at the receiving end of a whole host of advantages. Not only do you get to create interactive mockups, you get to share them with your team & clients by inviting them to review & comment. You can also engage clients to iterate over your mockups to reduce project turnaround times.
So with Creately being a real diagramming-meister, you can betcha we'll be back with more (and varied!!) wireframes and mockups in no time. Til then, run amok with them mockups!