The affinity diagram can be a useful tool whether you are brainstorming ideas, sorting through research data, improving a process or solving a problem.
In this quick guide, we'll describe what is an affinity diagram, its many uses, and how to create one. A few affinity diagram templates are included in the post as well. You can edit these online instantly to kickstart your project.
What is an Affinity Diagram?
Also known as the K-J method, affinity chart, and affinity mapping, an affinity diagram is a tool that is used to organize data gathered from a brainstorming session, research, meeting, etc. under meaningful categories that are based on common relationships or themes. These themes are referred to as affinity sets or affinity groups.

It simplifies analyzing complex data by grouping them, which helps bring out connections among them and identify patterns.

Uses of Affinity Diagrams
Being one of the Seven Management and Planning Tools, the affinity diagram is commonly used in project management to organize, analyze and prioritize ideas and tasks. It also can be used to,

Find creative solutions to difficult problems by involving people from diverse fields
Sort through large volumes of confusing data and quickly organizing them in a logical, easy-to-understand manner
Encourage the participation of everyone involved, which leads to uncovering new patterns of thinking and unique solutions
Generate useful discussions that will lead to innovation/ effective solutions etc.
Present your analysis to others in the company in an easy-to-understand manner
How to Create an Affinity Diagram
Usually creating an affinity diagram is a group activity, and tend to produce more effective results with no more than 5-6 individuals who are experts in the subject that is being analyzed. This way you can collect different and useful insight, opinions and perspectives to help arrive at faster solutions or better innovations.

Following are the simple steps you need to go through when creating an affinity diagram. We have also included some best practices; stick to them for more effective results.
Step 1: Write down the information you have gathered from your brainstorming session, research, surveys, etc. on separate cards. 

When using an online collaboration tool like Creately , you can use a square/ note shape to write them down and keep them aside on one side of the canvas. The placement of the cards doesn't have to make sense, keep them at random. You get an infinite canvas area to collaborate with multiple team members in real-time.

Step 2: Review the ideas while looking for similarities or whether they are related to each other in some way. 

Place these related ideas on one column of the table you have created. Don't rely on the opinion of another when you are moving cards, do it at your own will, without talking. This will prevent any disagreements and allow everyone the freedom to follow their instincts.

Continue to group ideas based on their similarities until no cards are left. However, if you come across ideas that don't fit into any of the categories, you can place them on their own.

Creately has multiple pre-drawn affinity diagram templates that you can easily edit to fit your needs. Use plus create to add the next shape, and preset color themes to style your diagrams.

Step 3: Based on the similarities you identified earlier, come up with header names for each group. The header should convey the relationship between the ideas in a single word or phrase. If you can discover relationships between separate groups, you can categorize them under a superheaders.

Step 4: Polish off your affinity diagram. Now that you have grouped the cards and given them headers, it's time to make it look more presentable. Start by writing the problem statement at the top of the diagram. And you can add different colors to help different categories stand out.

Gather your team and review it. If you wish to share it with others outside your team, send them a view or edit link, or you can export them as SVGs or in several image formats and add them to company wikis, websites, presentations or documents.
Affinity Diagram Templates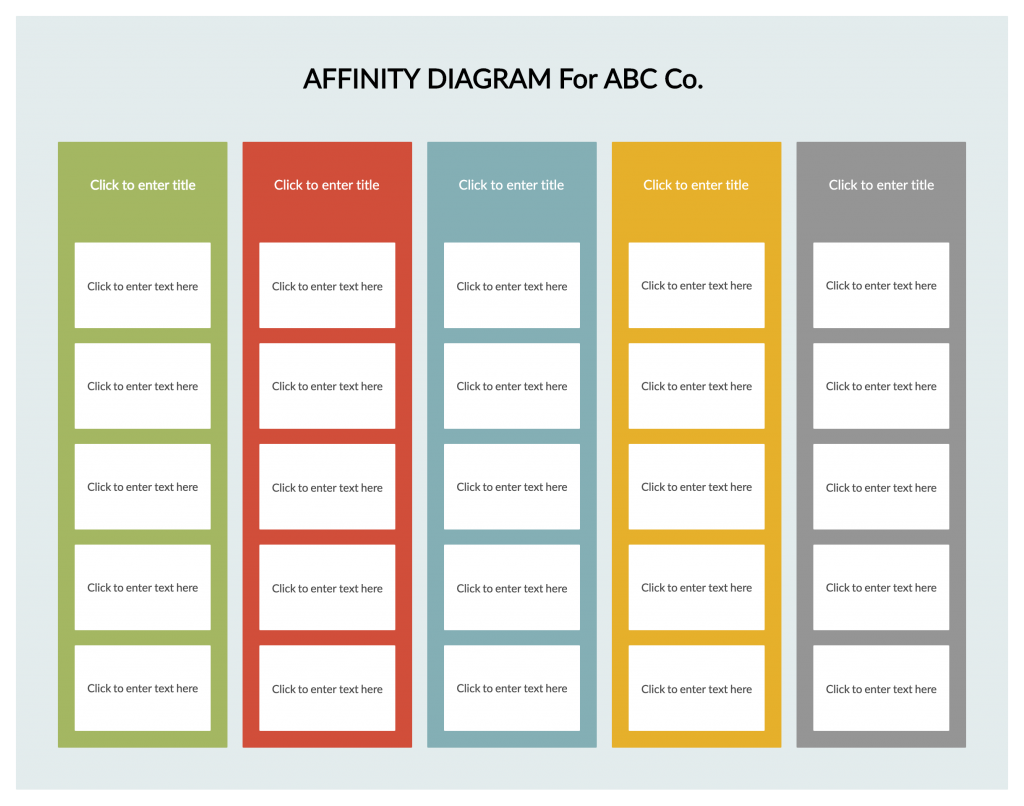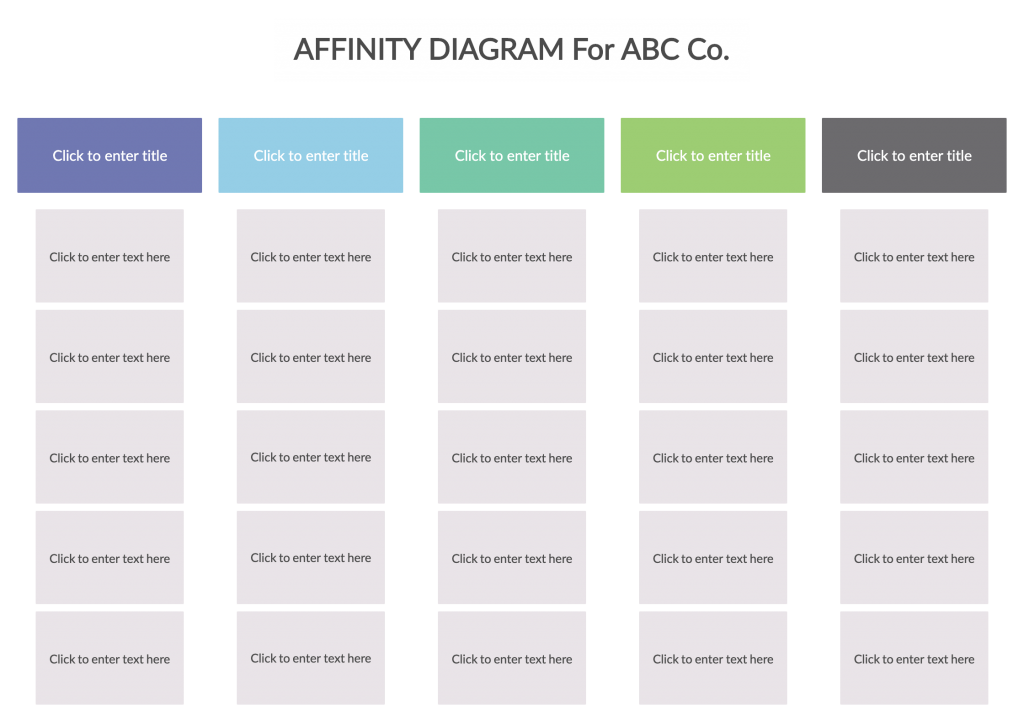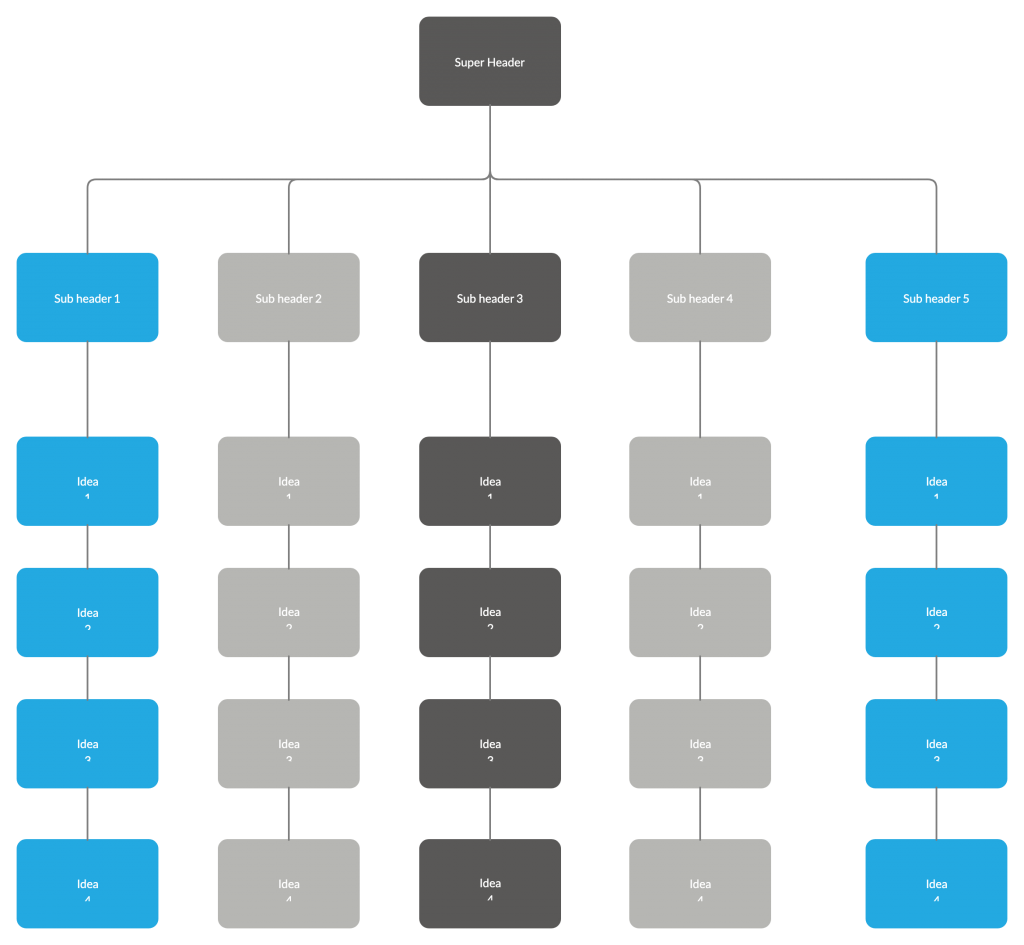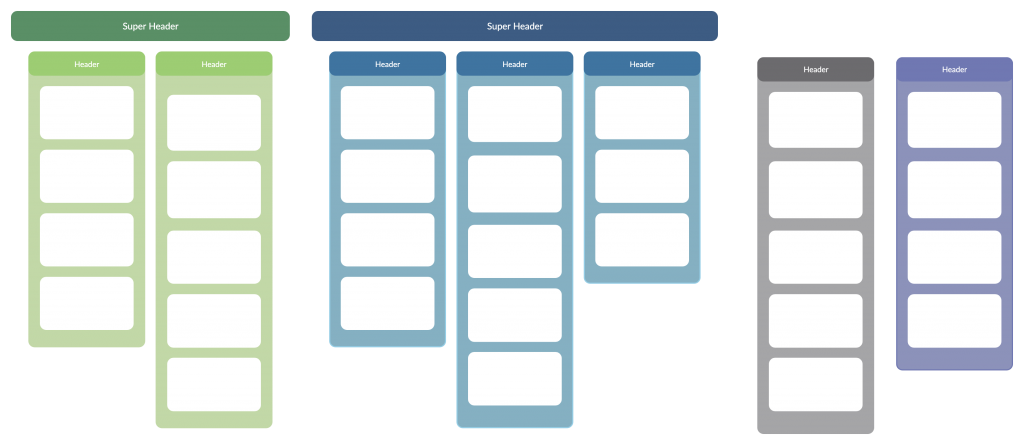 Any Tips on Affinity Mapping?
In this comprehensive guide, we have covered what affinity diagrams are and how to draw them with some pro tips that you can use along the way. We hope the templates we have added here will help you get a headstart.

Got more tips on drawing affinity diagrams? Share them with our readers in the comment section below.