Selecting the right projects from the beginning is an important step in effective project portfolio management, and a project pipeline helps project managers do this easily by helping them ensure the success of each individual project from the planning stage itself.
A project pipeline includes a series of projects that need to be planned, launched, monitored, and assessed upon completion. In this post, you will learn how to set up your project pipeline and manage it effectively for better results.
What Is a Project Pipeline?
Project pipeline management refers to the standardized method project managers use to track multiple projects – from ideation to launch – while making sure that they have proper timelines, sufficient resources allocated, and workflows properly mapped out.
The project pipeline helps make sure that,
The project goals help further advance company goals and values.
Critical actions are accurately communicated to the teams and stakeholders ensuring that they are on target.
Precautions are taken in a timely manner to avoid failures.
How to Effectively Manage a Project Pipeline
A well-managed project pipeline provides useful insights into the timelines, progress, and statuses of multiple projects. It can also reveal the potential roadblocks and the risks that may hinder the progress of the initiative. Here are some of the best practices you can use for effective project pipeline management.
Use an Effective Project Management Tool
By using a proper project management tool, a lot of the processes from ideation to launch in project planning can be streamlined. With capabilities for task management, project visualization, collaboration, and reporting, project management tools decrease confusing workflows and let you optimize the entire project management process from start to end.
Streamlining Project Pipeline Management with Creately
Creately is a visual platform with advanced tools for knowledge management, project execution, and seamless visual collaboration.
From task management and project planning to resource allocation and project portfolio management, Creately helps you remove friction in cross-functional collaboration and streamline your workflows, allowing you to get your projects completed seamlessly.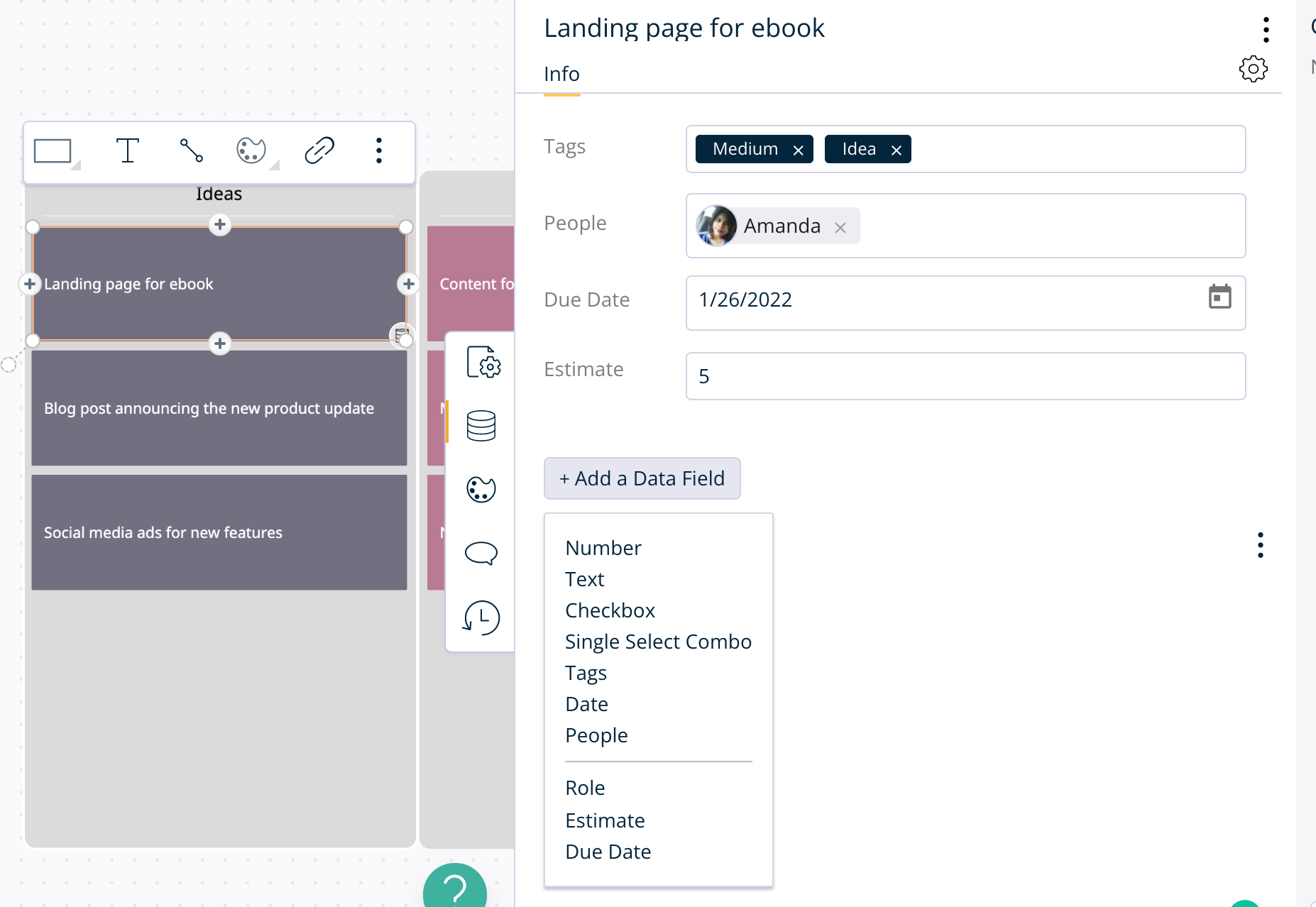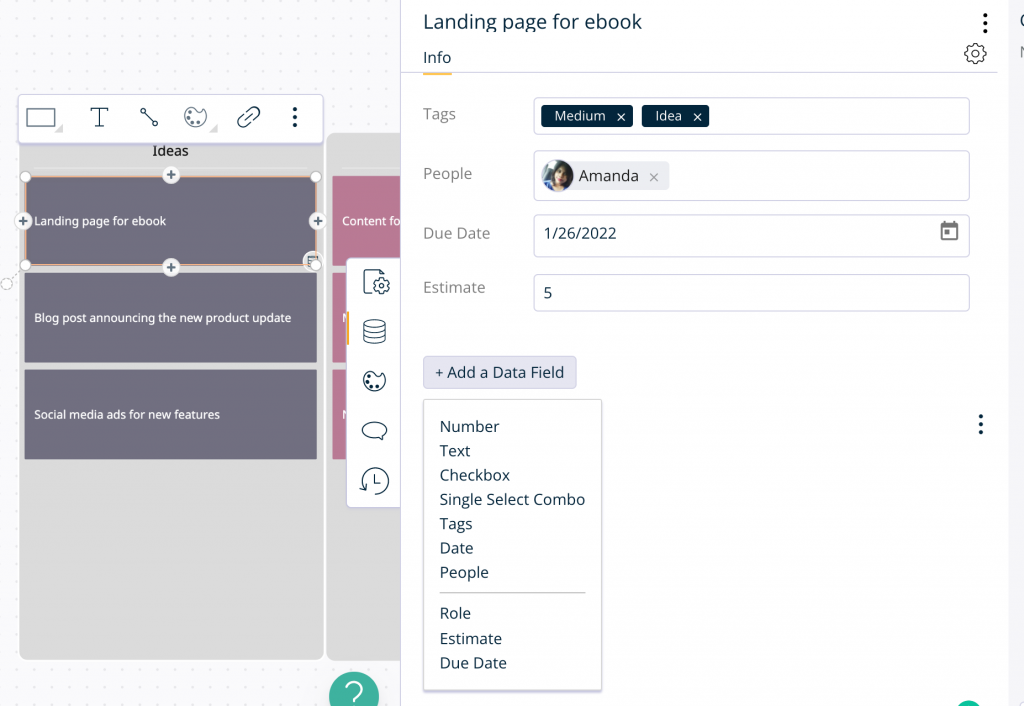 Creately provides,
Multiple pre-made frameworks and templates to plan, track, and manage your project activities, resources, and workflows.
Easy-to-use interface with simple drag and drop tools to quickly manage your project roadmaps, work plans, kanban boards, or action plans.
Frames for Kanban boards, timelines, grids, and more to visually arrange your data and create a view for your own working style on the canvas.
Infinite canvas to create one-page project plans centralizing all information and assets for easier decision-making.
Brainstorming tools like mind maps or post-it note walls to ideate, analyze, and plan around project initiatives.
Multiple app integrations to help you import and export project data across teams on different platforms.
Built-in tools to create dynamic and interactive presentations, reports, and dashboards for stakeholders.
True multi-user collaboration with concurrent editing, in-app video conferencing, live mouse tracking, and comments to keep everyone in sync.
On Creately, you can create a project pipeline using,
A kanban board where projects can be categorized based on their place in the workflow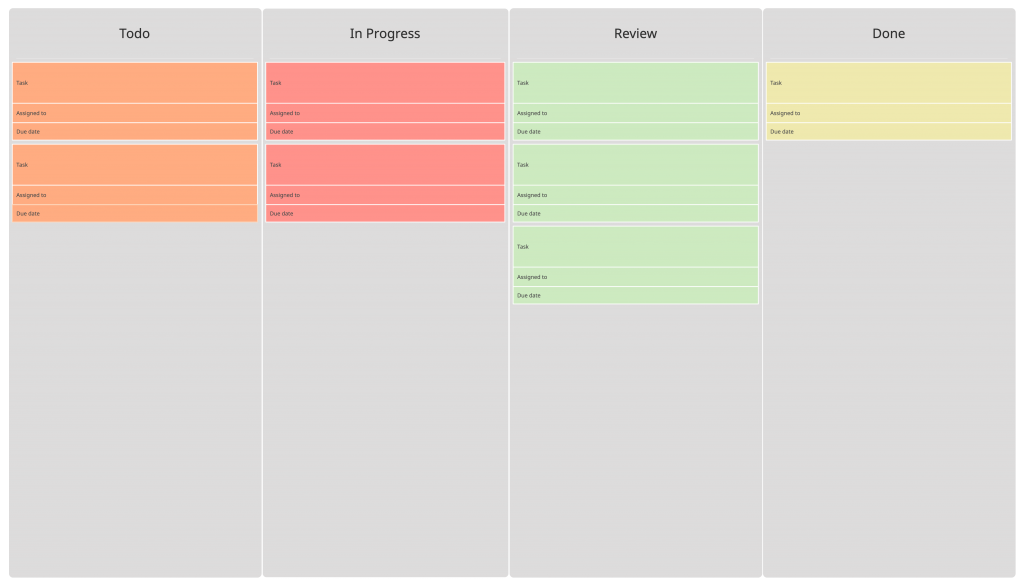 A project board where all key project details are listed in a single place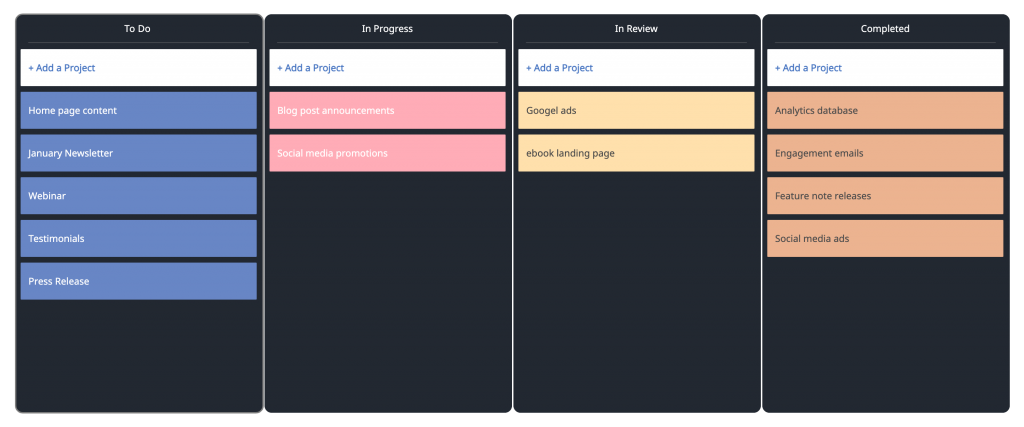 A list where the projects are categorized by parameters such as dates, clients, deadlines, etc.
Present Your Project Pipeline Visually
The most effective way to present the high-level information of the projects in your pipeline is, visually. High-level visuals such as roadmaps, timelines, kanban boards, bar charts, and sequential diagrams help you create an easily comprehensible graphical story on how the projects are being managed, tracked, and executed.
A project pipeline can be set up similar to a Scrum board, with the projects divided up into categories such as to-do, in progress, done, etc. This eventually can serve as your project dashboard for keeping track of project progress.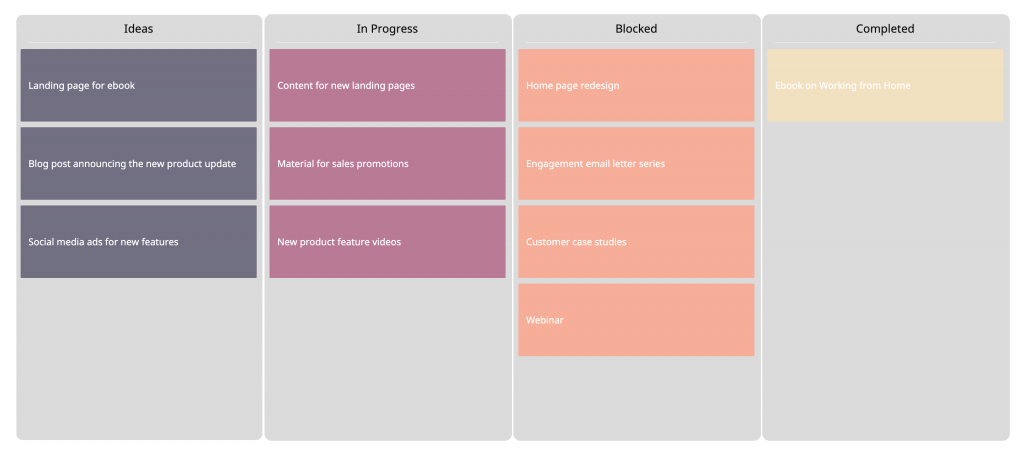 Tip: Use Creately notes feature or the data panel to capture additional project details such as tasks, statuses, deadlines, duration, resource allocation, and even risk analysis in a centralized location.
Thoroughly Assess Your Resource Pool
Making sure that you have enough resources to complete the project tasks in time, is an important step that needs to be taken prior to the initiation of any project. Making any commitments without assessing the capacity and competency of your workforce may eventually derail your project execution efforts.
Therefore, assess your resource pool by getting an overview of the organization's available resource capacity, skillset, and charge-out rates required to reach each project milestone.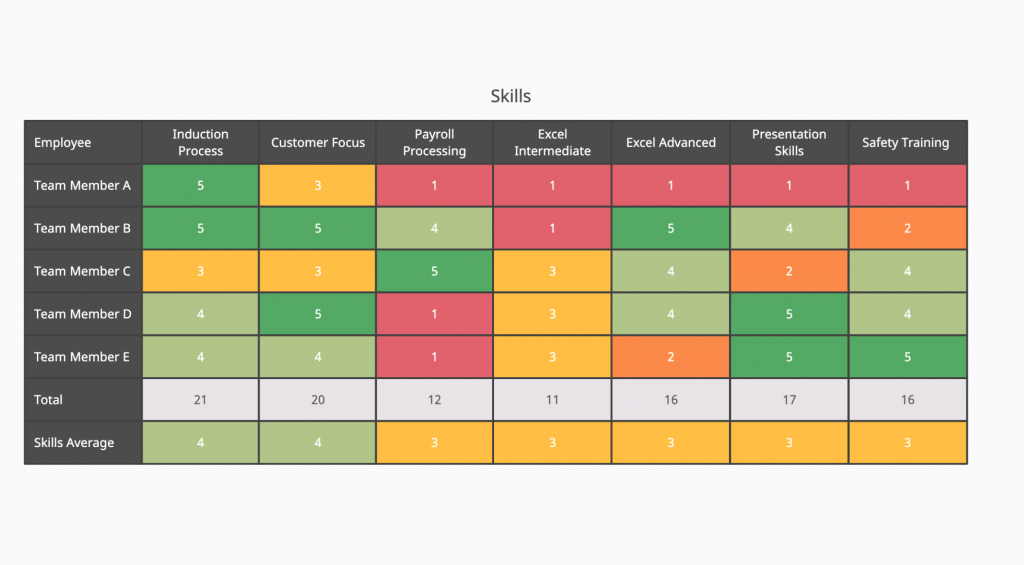 Based on this assessment of resource availability and capacity, the management can then take the necessary resourcing measures (hiring new employees or providing the needed training to existing ones) to guarantee the success of the project. This step will also lend itself to evaluating whether the project is profitable by estimating the resourcing costs.
Make Accurate Estimations
The accuracy of the estimations of project parameters has a direct impact on the success of any project. If there's a mismatch between your estimation of project resources and the actual resources necessary to complete the critical tasks, it will obstruct the timely completion of project milestones.
During the planning stage itself, therefore, the project managers must produce an accurate estimated project plan to ensure the timely delivery of the outcomes for no extra cost. In addition to the resourcing measures, project managers also must carefully estimate the project budget, potential risks, goals, as well as overall revenue.
Once these factors are estimated, the managers can make a decision based on parameters such as whether the project meets the organization's strategic goals or the revenue it generates will meet the organization's expectations.
Create a Portfolio Roadmap
The portfolio roadmap visually depicts the project portfolio or the currently active projects against a timeline. Combined with relevant key project metadata, it can be a powerful tool to communicate what's in the portfolio and the progression of projects.
In addition to showing the start and end date of the projects in the pipeline, you can illustrate other key metadata such as milestones, strategic goals, etc. on the roadmap and further enhance the information that needs to be communicated to the stakeholders.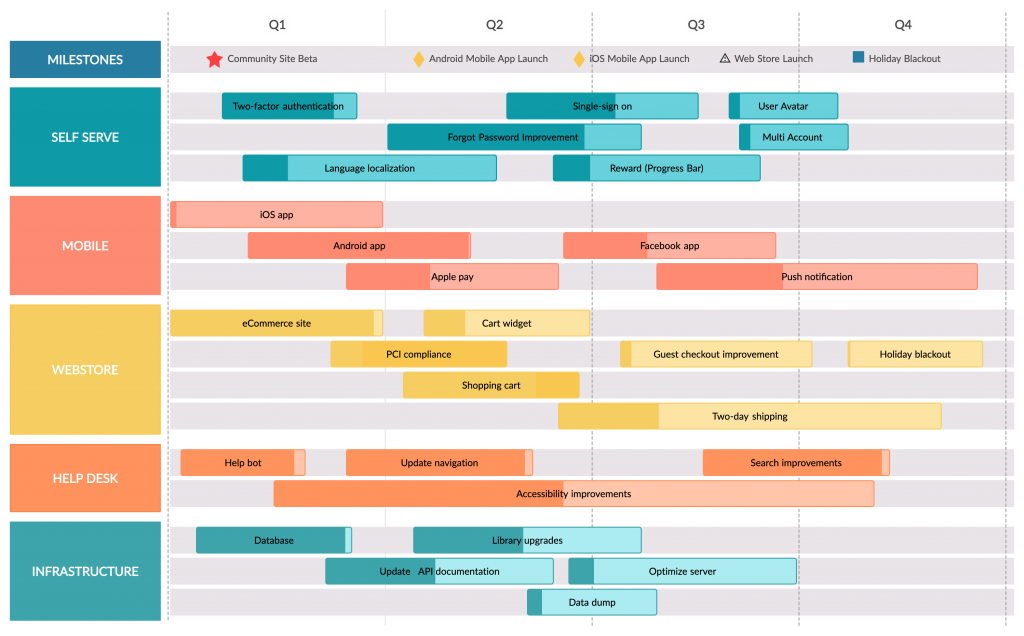 The 3 Stages of Project Pipeline Management
In project pipeline management, a three-step process is used to ensure that a sufficient number of projects are generated, discussed, and assessed in order to maintain a healthy project portfolio while making sure that the organization's strategic objectives are met.

Step 1: Ideation
In this phase, new project ideas are generated. This step entails collecting ideas from the team, creating a sufficient number of project proposals to support the continuation of higher quality projects, and sustaining an environment where employees feel motivated to share their ideas for new initiatives openly.
Tip: Maintain a backlog to store the ideas collected thus after they've been prioritized based on the availability of resources and other relevant factors, so they can be referred to and implemented later. Using Creately's built-in brainstorming tools such as real-time collaboration, mind maps, and post-it notes walls you can easily work together with your team on collecting, organizing, storing, and developing ideas generated during the brainstorming sessions.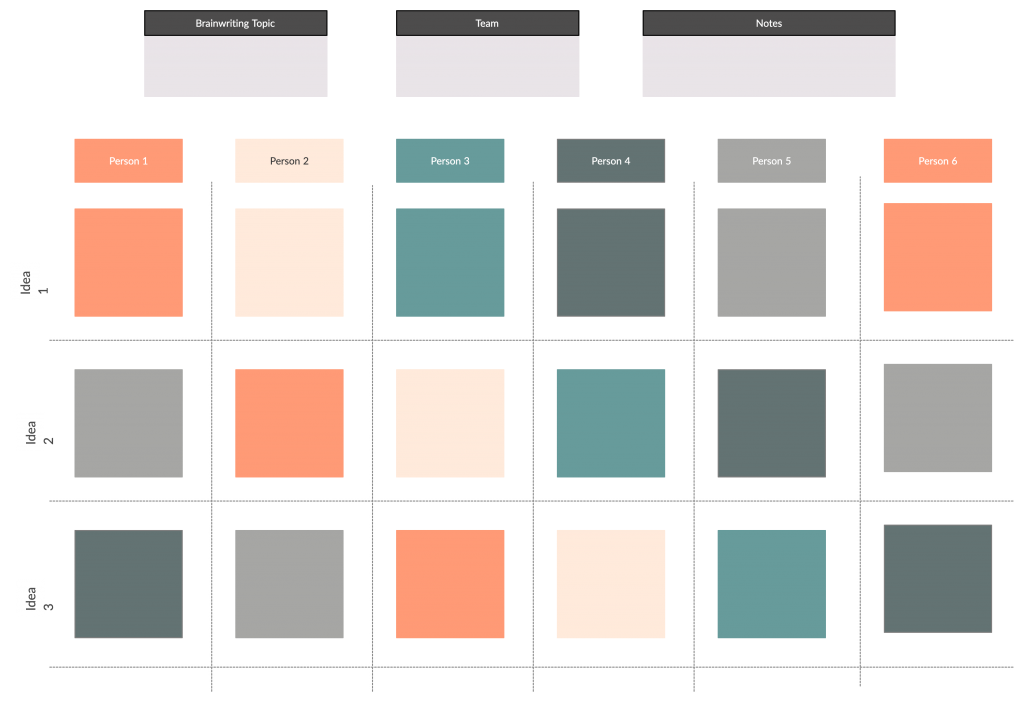 Step 2: Work Intake
The work intake process includes creating project proposals for the project ideas that have been prioritized and getting them approved by the upper management decision-makers. The proposal should provide an outline of the scope of the project, the expected outcome, and the timeline.
This step helps ensure that the project proposals are created in a consistent manner using common tools and processes. Skipping this step may result in confusion, time delays, and a decline in the quality of the final outcome.
Tip: Once approved, you can easily attach the project proposal with in-app previews of the documents to the project in the pipeline in Creately. Also add links to external resources, screenshots, and images to provide more context to each project via the notes feature.
Step 3: Phase-Gates
This step is critical to project pipeline management as it's where the portfolio management team reviews and separates the great projects from those that are poorly planned, based on preselected strategic criteria. This step prevents projects that are bound to fail from entering the pipeline while filtering out the important strategic initiatives that are truly beneficial to the organization.
The selected projects are then moved to the backlog of projects waiting to be initiated. Afterward, you need to create detailed project plans for these projects by breaking them down into individual tasks, assigning task owners, and setting timelines.
It's Time to Make Your Own Project Pipeline
A project management pipeline is essentially a project tracker. While it offers you a quick way to monitor your team's progress, it makes the team's workflows a lot smoother and clearer. Furthermore, by centralizing multiple project data in one place, you can get a quick overview of team performance and the company's trajectory as well.
Now that you have learned how to create a project pipeline and manage it properly, try Creately to build your project pipeline today. Start for free!