Creately first launched to the public in 2009. We innovated what it meant to be a diagramming tool built for the web and enabled millions to express their ideas visually that they otherwise would not have been able to. Today Creately is one of the leaders in this space, and we are super thankful to all of our customers for helping us get here.
Our renowned ease of use and simplicity of the experience was enabled by providing deep capabilities that are contextual and available for our users at the right time. Making sure that from primary school kids to professionals are able to express and collaborate around ideas visually without having to think about the tool that supports them.
Now after 12 years, we are ready for our next major step. Today we are announcing Creately Visual Workspaces. 
While maintaining our core diagramming capabilities, going forward Creately will focus on providing collaborative Visual Workspaces for teams to brainstorm ideas, plan, execute and analyze work across multiple functions in organizations.
By focusing on these use cases, we expect to serve you better to solve actual organizational problems (that usually diagrams or visuals are a part of), at a higher order. So scenario-specific functionalities are being added to Creately to help teams on each focus area achieve their objectives more effectively and efficiently.
100s of professionally-drawn templates have been added that help you get things done, under;
You can insert any template into the workspace via the template panel. These templates are powerful and help structure your work around the problem area you want to solve.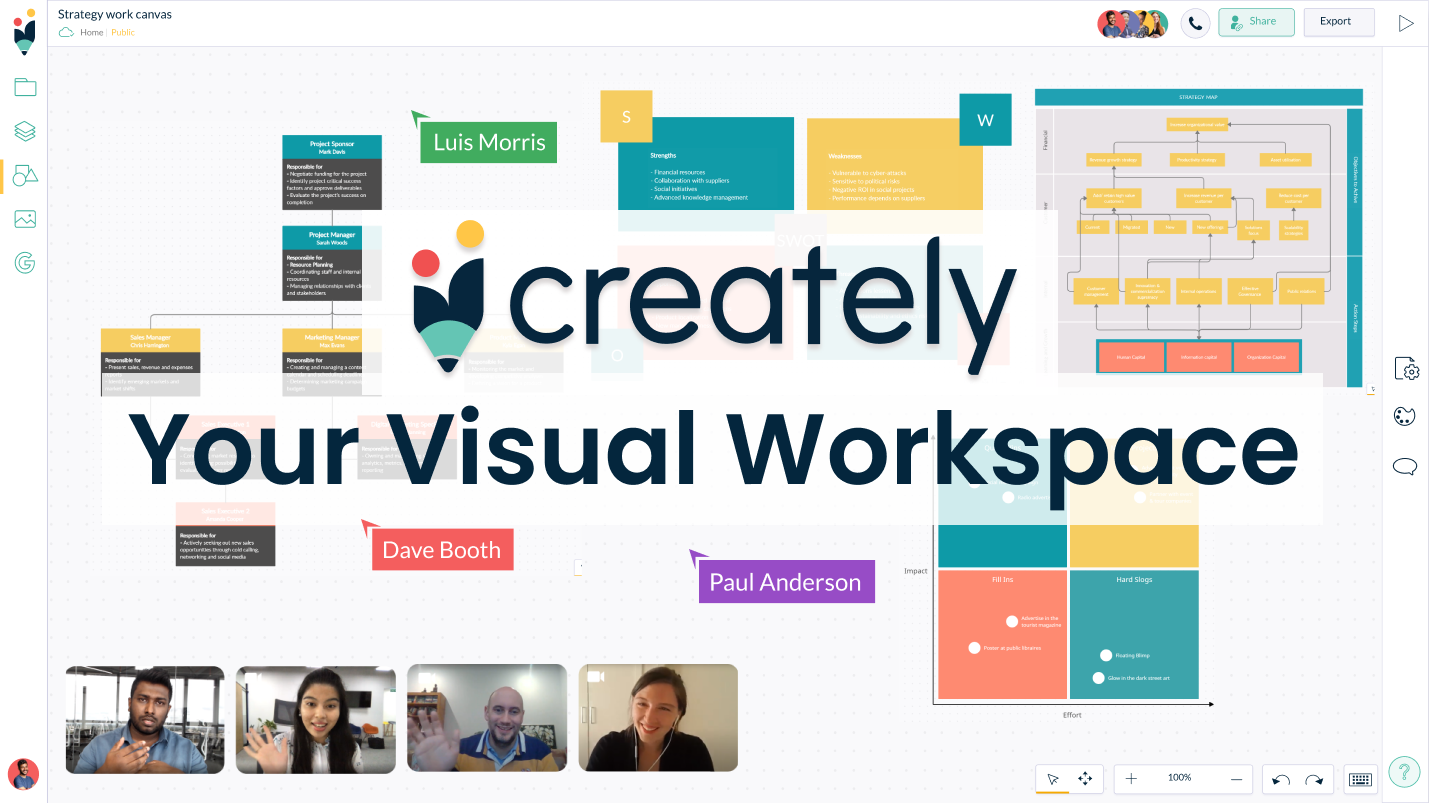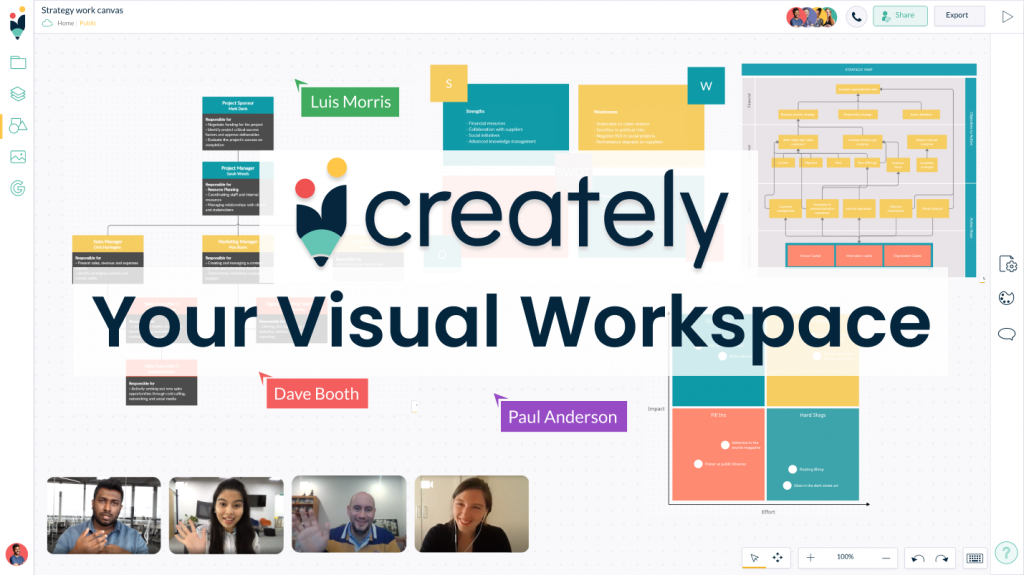 What is Changing?
If you've come to rely on Creately for core diagramming and collaboration, those capabilities will still be in Creately as it always has been. We will continue to add and update features in diagramming as it provides the base for all of our new capabilities.
But our infinite canvas, contextual features, and dynamic templates will enable you to find more uses with Creately beyond just diagramming. That's where this is going.
Documents from now on will be called, Workspaces. We envision you being able to use our infinite canvas as a common, shared workspace with your team members to focus and work on any problem area, visually with new-found clarity.
A Myriad of New Features
To support this transition, we've shipped over 80+ deeper drawing and collaborative capabilities on Creately in the last 6 months. Just to highlight a few,
A fresh new look for Creately
Completely redesigned folder panel and document management interface
Containers for improved drawing capabilities
Improved real-time collaboration
Auto alignment snapping and guidelines
Shape locking
Advanced table
New shape libraries (BPMN, Archimate, Kanban)
Improved comment threads
This Is Just the Start of Something Bigger
This change to Workspaces is the very first step of a larger transformative journey for Creately during this year. Our core purpose is to help teams be their best creative and innovative selves, by providing a visual platform to collaborate and understand each other.
Staying true to that purpose, we will be adding advanced capabilities to help move work forward with an aim of making your Creately workspaces the central Visual command center around the projects that you work on.