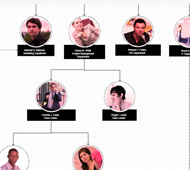 Top Level Org Chart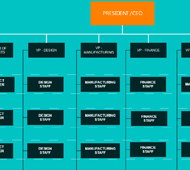 Org Chart for Teams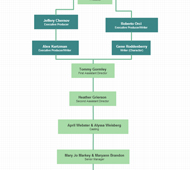 Colorful Org Charts
Some of our customers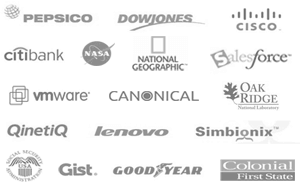 Best Org Chart Software Packed with Features
Our powerful productivity features make drawing org charts extremely simple. With our 1-click create and connect feature (check the image to the right) you can create and connect the next object in your org chart in one click. And the connector is smart enough to adjust to the context automatically and align with other objects. This alone will save you countless minutes spent on creating org charts.
Our custom styling options provide you with a powerful tool to add more clarity to your organizational chart. You can use it to highlight different departments, to highlight the chain of command or to simply highlight a person. The color palette is based on themes so you can look like a design geniue even if you have no clue about colors.
Add Pictures for More Clarity and Visualization
Because a picture is worth more than a name and a title. Adding the picture of each member of the team to the org chart not only gives it a more personalized feel, but also instills a sense of ownership amongst the team. Anyone joining your company can quickly recognize the relevant people and it makes finding people easier as well.
You can customize how the image looks in the organizational chart as well. You can show it to the left of the description or on top of the description. There are plenty of ways to customize it so you can get exactly what you want out of the org chart.
Any Browser. Any Operating System. No Problem.
Will this work in my machine? Would Sam be able to see this on his machine? With Creately you never have to worry about that. You don't need to download or install anything. Drawing is done online and all you need is a modern web browser.
If you're working from remote locations when Internet connectivity is a problem we provide a desktop software that works on MS Windows, Mac OS and Linux. This is also great for organizations that have strict policies on storing data on the cloud. The desktop comes with 1 year free Creately online plan so you can sync your desktop diagrams with the online account if you wish to do so.
Multiple Export Options for Easy Printing to Viewing
We support multiple export formats. To simply export as an image you can use JPEG or PNG options. For printer friendly documents you can use the PDF or SVG formats. Both PDF and SVG formats preserve the links in the diagram so you can have more data rich documents.
Ability to export as SVG files will help you scale diagrams and take large printouts, banners which will be useful for displaying. Because SVG is a universal format support by many other design tools and browsers you can easily import your diagram to other design tools and add more design elements to them.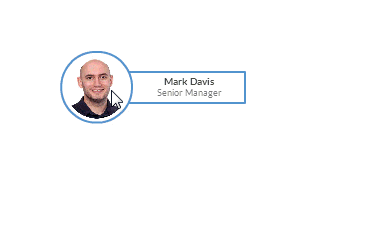 Drawing Organizational Charts is 3 Times Faster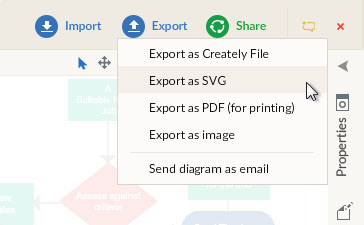 Multiple exporting options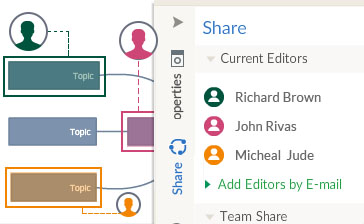 Work together with real-time collaboration
Professionally Designed Org Chart Examples to get Started Fast
Don't worry, you don't have to draw everything from scratch. We have many professionally designed flowchart templates suitable for various occasions. Whether you have a hierarchical organization or a flat one you'll find a template that fits your need. On top of the professionally designed ones done by the Creately designers there are many more added everyday by our enthusiastic users.
Real-Time Collaboration to Work Together On Your Org Chart
Creately is more than a tool to draw org charts online. It has real-time collaboration, inline texts, project sharing, shared projects as libraries and hosts of others features to make it easier to work with others or as a team. Although used in variety of ways org charts are primarily there to get a clear view of your organization. So the collaboration function will come in really useful because usually multiple people will be in-charge of updating changes in different departments.
Free Org Chart Software
You get all these features absolutely free when you create a free public account with us. Other than organizational charts you can use our tool to draw flowcharts, UML, business process models, SWOT diagrams and many other diagrams. The paid version offer you many other features like unlimited collaborators, MS Visio support and private diagrams. But the free version is more than enough to come up with a beautiful organizational chart.
Can Drawing Org Charts Get Any Easier?
We not only provide a way to draw org charts but give you the tools to share, collaborate and publish your org chart. You'll be hard pressed to find a better way to create organizational charts. So just click on the try now button and change the way you draw organizational charts forever.
Available on:
windows,apple,linux
web browsers
Product Specification
Name

Creately Org Chart Software

Description

Online organizational chart software to quickly draw org charts

Category

Org Chart Software

Rating

4.7

stars, based on

21

reviews
Pricing
from $

5

to $

75