Did you check our last week's template round up post yet? Here are five new templates to help you with team building, UX design, and risk analysis. Use these templates, to streamline communication, foster creativity, and make better decisions within your projects.
This week, we are focusing on HR professionals and team members who wants to run effective meetings. These templates will facilitate the seamless execution of meetings, promoting efficient communication and collaboration among HR professionals and team members.
Discover a wide range of industry-specific templates and examples in our diagram community to help you manage your daily tasks efficiently.
This week's templates include:
Peer-to-Peer 1:1 Worksheet
The Peer-to-Peer 1:1 Worksheet is designed for professionals seeking enhanced communication, strengthened relationships, and valuable feedback exchange across different departments. This template provides a structured platform to foster meaningful conversations and facilitate collaboration, making it ideal for building rapport and driving collective growth.
How to use the peer to peer 1:1 worksheet:
Schedule the Meeting: Choose a convenient time to meet with your colleague from another department.
Access the Template: Open the Creately app and locate the "Peer-to-Peer 1:1 Worksheet" template.
Set the Agenda: Collaboratively outline the topics to be discussed. Note down the objectives in the dedicated section of the template.
Structured Conversation: Utilize the template's sections to explore each agenda item. Write notes, sketch diagrams, and share thoughts collaboratively.
Action Points and Feedback: Summarize key takeaways from the conversation. Define actionable steps and assign responsibilities. Share constructive feedback to nurture growth. Click on the image to edit the peer-to-peer 1:1 worksheet
1-on-1 Meeting Template
The 1-on-1 Meeting Template helps managers to establish meaningful connections with their direct reports. This template assists in conducting stuctured discussions, allowing managers to exchange feedback, cultivate trust, and collaboratively plan for individual and team development.
How to use the 1-on-1 meeting template:
Schedule the Meeting: Set up a regular slot for the 1-on-1 meeting with your team member.
Access the Template: Open the 1 on 1 meeting template on Creately which is tailored for 1-on-1 discussions.
Agenda Setting: Collaboratively define the meeting's agenda. Allow your direct report to contribute topics they want to discuss, ensuring a well-rounded conversation.
Discussion and Feedback: Use the template's sections to navigate through agenda items. Listen actively, provide feedback, and address any concerns or questions.
Action Planning: Summarize key takeaways from the meeting. Together, identify actionable steps, set goals, and outline a plan for growth and development.
Utilize the 1-on-1 Meeting Template to have impactful interactions with your team members. This simple yet effective template facilitates feedback sharing, trust building, and growth discussions, ultimately contributing to enhanced team dynamics and individual progress.

Click on the image to edit the 1-on-1 meeting template
Effective Workshop Template
The Effective Workshop Template helps streamline the process of addressing business challenges efficiently. Workshops provide a dynamic approach to problem-solving by bringing together key stakeholders to collectively tackle issues in a live and interactive environment. This template simplifies the workshop process, ensuring that valuable input and feedback are harnessed effectively.
How to use the effective workshop template:
Define Workshop Objective: Clearly outline the purpose and goal of the workshop. Identify the specific problem or issue you aim to address.
Compile Stakeholders: Determine the key individuals who should participate based on their expertise and relevance to the problem at hand.
Access the Template: Open the workshop template in Creately, designed to guide the collaborative session.
Engage in Discussion: Utilize the template's sections to facilitate focused discussions, idea generation, and sharing of insights among participants.
Solution Mapping: Summarize the outcomes of the workshop. Distill the collective input into actionable steps, potential solutions, and areas for further exploration. Click on the image to edit the effective workshop template
Career Progression Chart Template
The Career Progression Chart provides a visual representation of advancement within your company. This chart serves to clarify expectations, streamline promotion planning, and effectively communicate compensation ranges to potential candidates.
How to use the career progression chart:
Access the Chart: Open the provided career progression chart template, tailored to your company's roles and levels.
Customize for Your Company: Adapt the chart to your organization's roles, responsibilities, and skill progressions.
Define Responsibilities: Clearly outline the responsibilities, skills, and competencies expected at each career level.
Plan for Advancement: Discuss the chart with your team to set clear goals and create actionable plans for skill development.
Recruitment Advantage: During candidate interviews, share the chart's pay ranges and career paths to attract candidates aligned with your company's growth vision.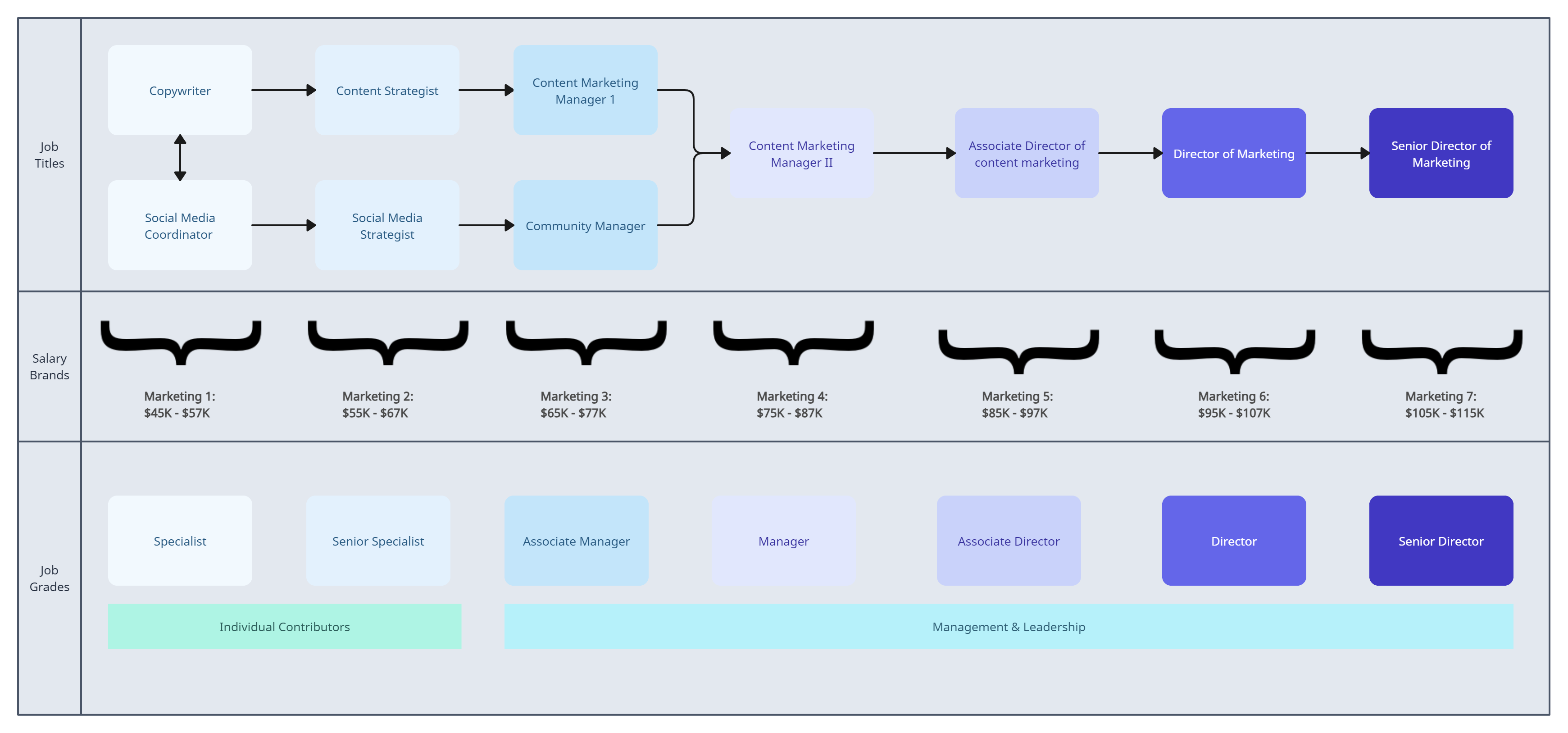 Click on the image to edit the career progression chart example (marketing)
Career Growth Plan
The Career Growth Plan Template is designed to understand, nurture, and guide your employees' professional journeys. This template helps discover an employee's values, preferences, competencies, and limitations. Use this template to set targeted goals and action plans, ensuring employees achieve their desired career growth.
How to Use the Risk Assessment Template:
Access the Template: Open the provided career growth plan template, designed to guide you through the process.
Personalize the Plan: Customize the template by adding an employee's details, such as their name and role.
Identify Strengths and Values: Collaborate with the employee to discuss their values, preferences, and strengths.
Set Development Goals: Work together to establish specific career goals. Outline the competencies and skills required to achieve these goals.
Create Actionable Steps: Break down each goal into actionable steps and timeframes. This ensures a structured path to success.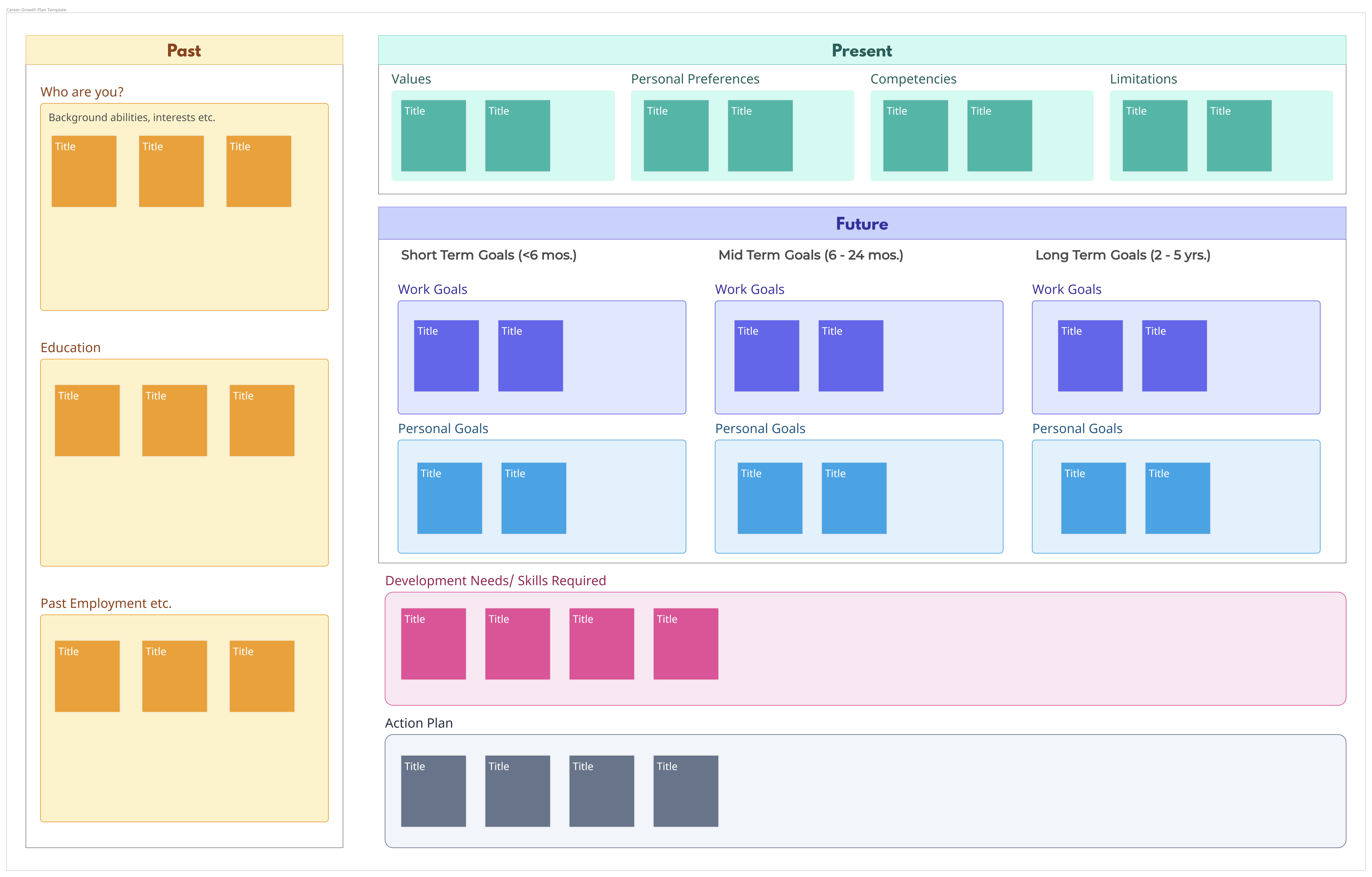 Click on the image to edit the career growth plan