Create Database Designs Online for Easy Visualisation
Tools and Templates to Draw Database Design Diagrams Online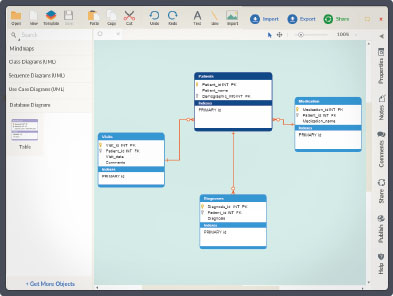 Database designs are used to present a detailed data model of a database and the various relationships between data. Creately's drag and drop interface and smart connectors help you create database designs online extremely fast.
Our real-time collaboration features enables you to share and collaborate with clients and teams as it happens. Use our database design templates to get started faster or to get design ideas for your database diagrams.
database-design Templates
Database Design Diagrams Explained
Database design illustrates a detailed data model of a database. It shows how the database is structured and used.
Database designs also include Entity-relationship diagrams, that help to design databases in an efficient way.
Database Design Objects Explained
Check our database design objects page to get an understanding of all the objects used for database models and entity relationship diagrams.
All these objects are available as a separate library in the drawing interface so you can focus on creating database designs without clutter of objects getting in the way.
Examples and Using database-designs in the real world
Articles, Tutorials & Blog posts on database-designs