Work today is done on multiple disconnected tools that can only execute bits and pieces of a project, leaving teams to go back and forth to retrieve data for decision-making to move work forward.
When each team works with its own tools and siloed processes, achieving company-wide alignment is not easy. True cross-team coordination requires a more end-to-end solution.
Enters Creately.
For over a decade, Creately has been a leader in the industry as a diagramming and visual collaboration platform, successfully reshaping how teams think and work together.
And, today we are excited to announce the launch of a whole new Creately, aimed at addressing the multitude of challenges created by distributed teams, siloed processes, disjointed tools, and scattered information.
The Easier Way to Work Smarter
Creately can now connect and centralize items from multiple apps, docs, and people in a single space. So you can brainstorm an idea, map out a process and then go on to add the in-depth details of that process and build the system to execute the process right inside Creately.
Everything is visual so it's easier to understand, and being on a canvas, you can move, arrange, group, and structure the information any way you want.
Most importantly, all the visuals are data-linked, meaning that having a copy of the content in a completely different workspace will still be always synced with the central DB.
With advanced capabilities such as Database relations, Formulas, and smart rules Creately is actually a clever no-code platform that allows you to build and model any solution to your team's challenges.
A free-form visual canvas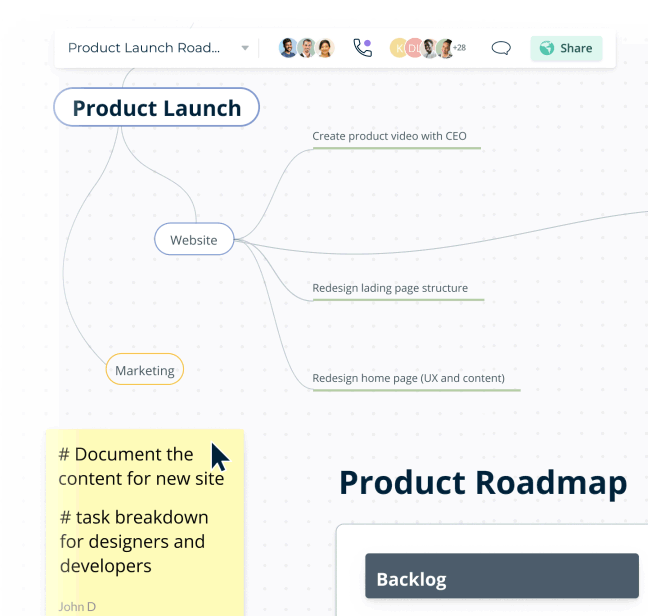 One thing that sets Creately apart from the rest of the work management tools out there is its free-form visual canvas – an infinite space for you to go from ideation to execution and beyond in a single workspace.
It finally lets you break free from the predefined table-based interface and put all your work, assets, and resources in one place, side by side, and move them around without constraints as you brainstorm, plan, manage projects, and capture knowledge.
Data-connected
Creately combines the simplicity of a whiteboard with the power of a database, redefining how you manage data, make decisions, and see things together.
In Creately, data exists as custom properties of items that can take any shape or form given the context – on the canvas as opposed to rows and columns in a spreadsheet.
For example, an employee shape on an org chart can contain all the data from their roles and responsibilities to performance review notes. Any type of data that you bring to the Creately canvas from any source thus can be morphed into any form you want it to be.
Visual tools everyone just 'gets'
At its core, Creately is still very much visual.
With its easy drag and drop interface and 10,000+ specialized shapes, Creately can help you create fitting visuals for multiple use cases across industries, whether it's a Kanban board for agile project management or an Org chart for your HR planning. 
These visuals are meant to be more. As you connect your data to them and extend them by adding custom statuses, notes, and attaching links, you are actually building a database.
And just like that, that org chart becomes a system for employee data management, and that Kanban board is now how you manage tasks across teams.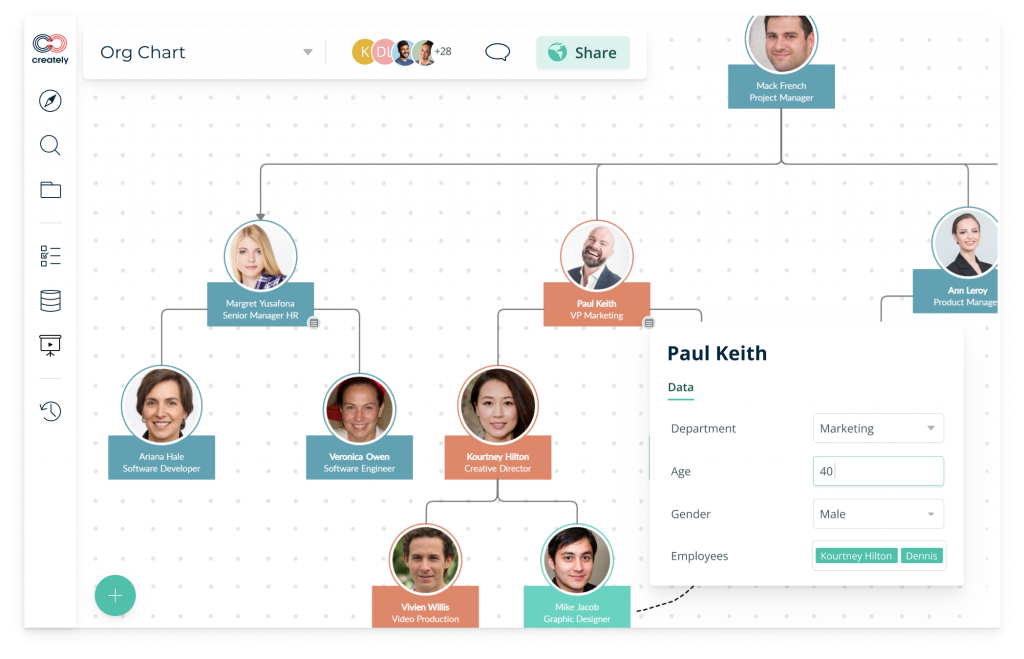 Custom databases
Not only can you build actual apps inside Creately just by using a few shapes, but you can also visualize your app data sets in multiple contexts or views suitable for different work styles.
For this purpose, Creately has added a new library of intelligent frames which include a Kanban board, 2×2 grid, timeline, and X-Y chart along with cards to go on them. Whatever is placed on a frame, automatically adapts itself to match the context.
A sticky note placed on a Kanban board becomes a task card, and a task card on a grid converts itself into a pin. Although context changes, all changes made on the card are reflected across all the places it is used. Now, isn't that neat?
Custom workflows
Creately's built-in code-free workflow designing capabilities make it easier to optimize any task, project, or process in just a few clicks.
Multiple views to manage your tasks; Kanban boards, timelines, grids, lists, Gantt charts, and more.
Keep track of all your to-dos, comments, & checklist items assigned to you with My Tasks.
Add sub-tasks and checklists in tasks and organize larger projects into manageable workflows with task properties.
Set estimated times and due dates for tasks and allocate resources based on availability and skillsets.
Assign tasks to complete items in context. Link tasks to or from other project management tools seamlessly.
Use color-coded tags and prioritization grids to keep track of which tasks to prioritize and which to de-emphasize.
Tailored templates for your projects and tasks so you can build the workflow and process you need with the tools at your fingertips.
A fresh take on the team Wiki
Creately will become your new single source of truth. Its powerful documentation capabilities combined with its infinite canvas and multi-user collaboration make it the perfect knowledge management tool for teams.
On Creately, your Wikis are structured visually. A single shape on the canvas – whether it is a step in a process or a node in a mind map – can be a doc itself. With Shape Data, you can add notes, files, links, images, and more to each element in a visual, building more context into each step.
Add anything, from multimedia files to screenshots to doc links with in-app previews onto your Creately canvas, right next to your work, to centralize all information needed to run your projects smoothly.
Take your whiteboarding to the next level
Creately's canvas doubles as an interactive whiteboard that offers teams – especially distributed and hybrid ones – a collaborative space to brainstorm and plan visually around their work.
Paired with intelligent diagramming, it becomes the perfect solution for bridging the gap between ideation and getting work done.
Draw anything using our freehand drawing tool, and use shapes and connectors to turn your ideas directly into actionable projects, upload images, and embed almost anything, including external content to provide more context as you plan your way around.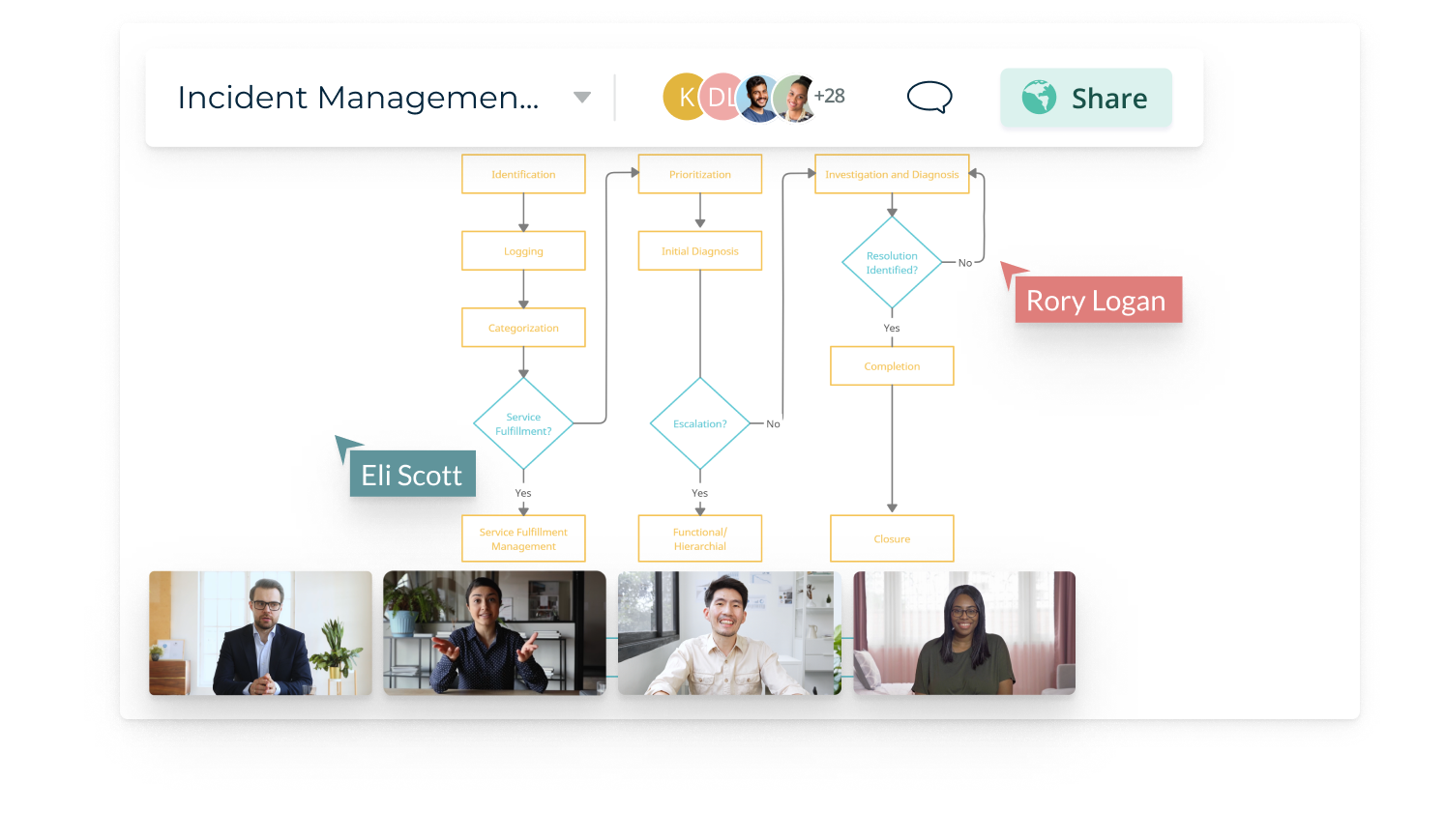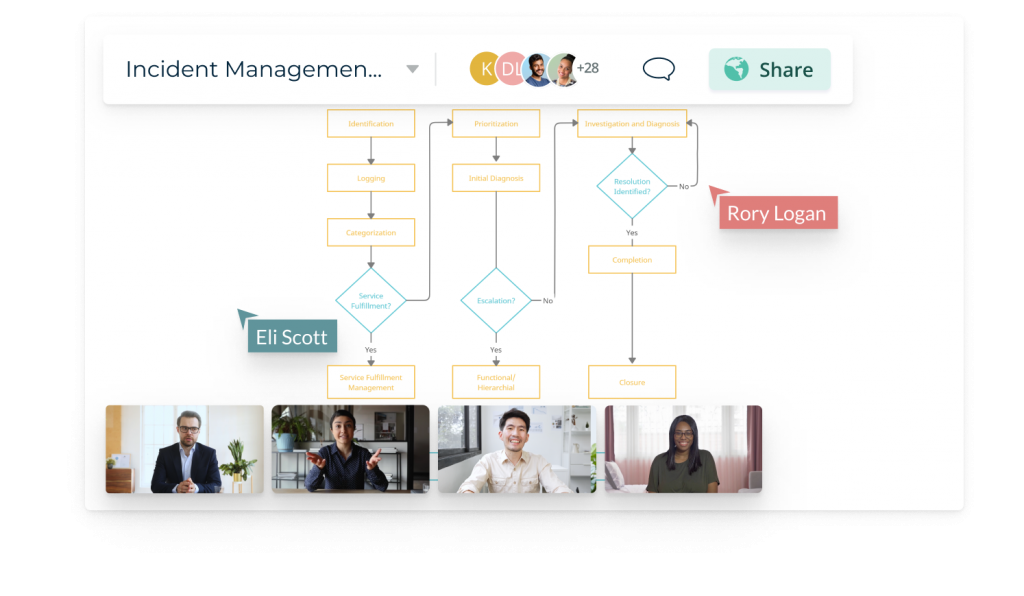 Integrate & extend your other apps
Creately is built as an all-in-one work management tool to boost productivity and reduce the frustration and inefficiency caused by using multiple apps.
We get that toggling between multiple apps all day may not be the most productive way to spend it, so we came up with the perfect solution that allows every type of team to customize their workflow and bring all their work in one place.
Starting with the GitHub two-way integration, Creately has begun to build a hub of integrations that connect the tools you use every day to Creately, so you can bring data from them, visualize them with 2-way sync on the canvas, and add more fields extending that data.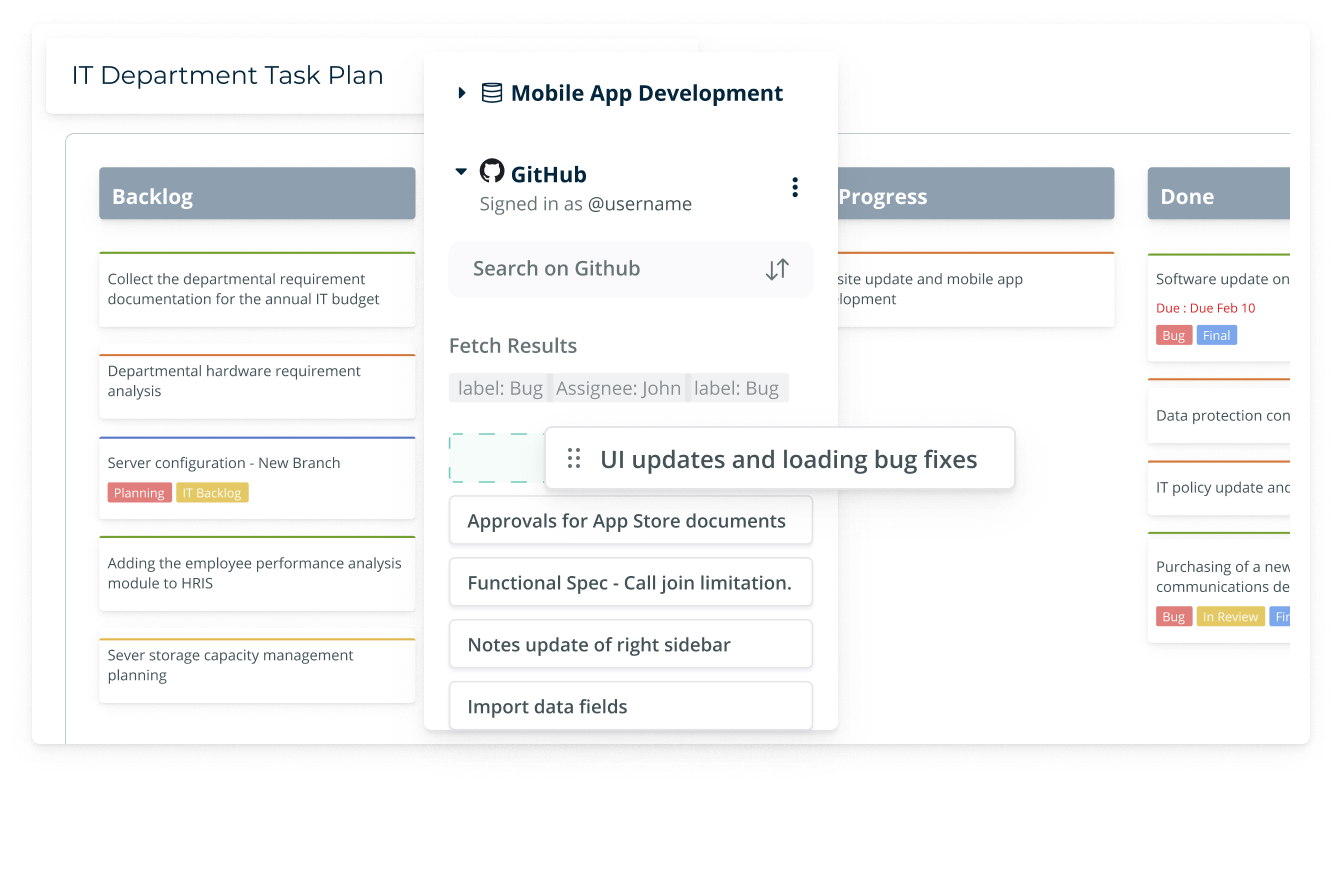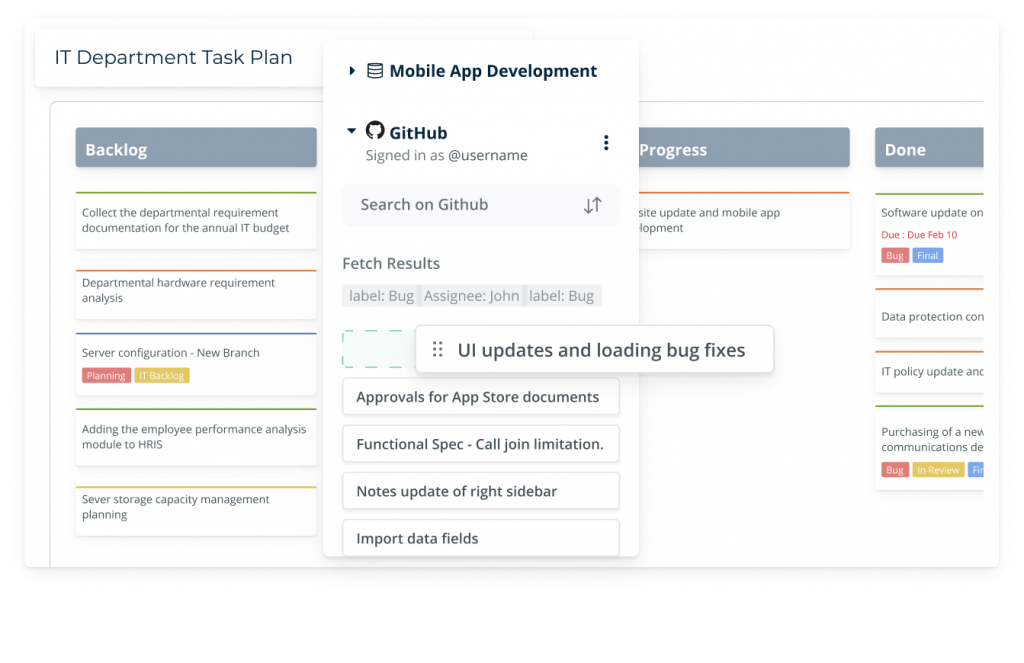 This will ultimately help you streamline your workflows in one place. You can finally stop wasting an enormous amount of time jumping back and forth between different tools for each and everything that you do – because you can do everything you need to get your work done, on Creately.
A New Era of Work
Building a flexible platform that teams love is at the core of everything we do. With the new Creately, you can reduce work about work, align cross-functional teams, save time, and keep work flowing in the right direction.
All of these new capabilities are foundational to what Creately enables you to do. It's unlike anything available now and for most of you, it will be a completely new way to think about how to organize and manage your work.
At Creately, our mission is to make the world more productive, and that starts with you! Please check out these new capabilities, and as always, let us know what you think so we can continue to make them even better.