Best collaboration sessions often take place around a whiteboard. Writing down a thought in words or sketching it out with a visual or diagram helps you think better and generate ideas and innovate faster.
However, the days of a team huddled together around a whiteboard inside a conference room spitting out ideas are temporarily over – at least till COVID-19 is eradicated fully. And while most teams are working from home to support the latter cause, digital or online whiteboards have become an indispensable tool to them.
In this post, we are going to show how you can use Creately – a visual workspace/ online whiteboard for real-time collaboration – to improve remote team workflows through visual collaboration.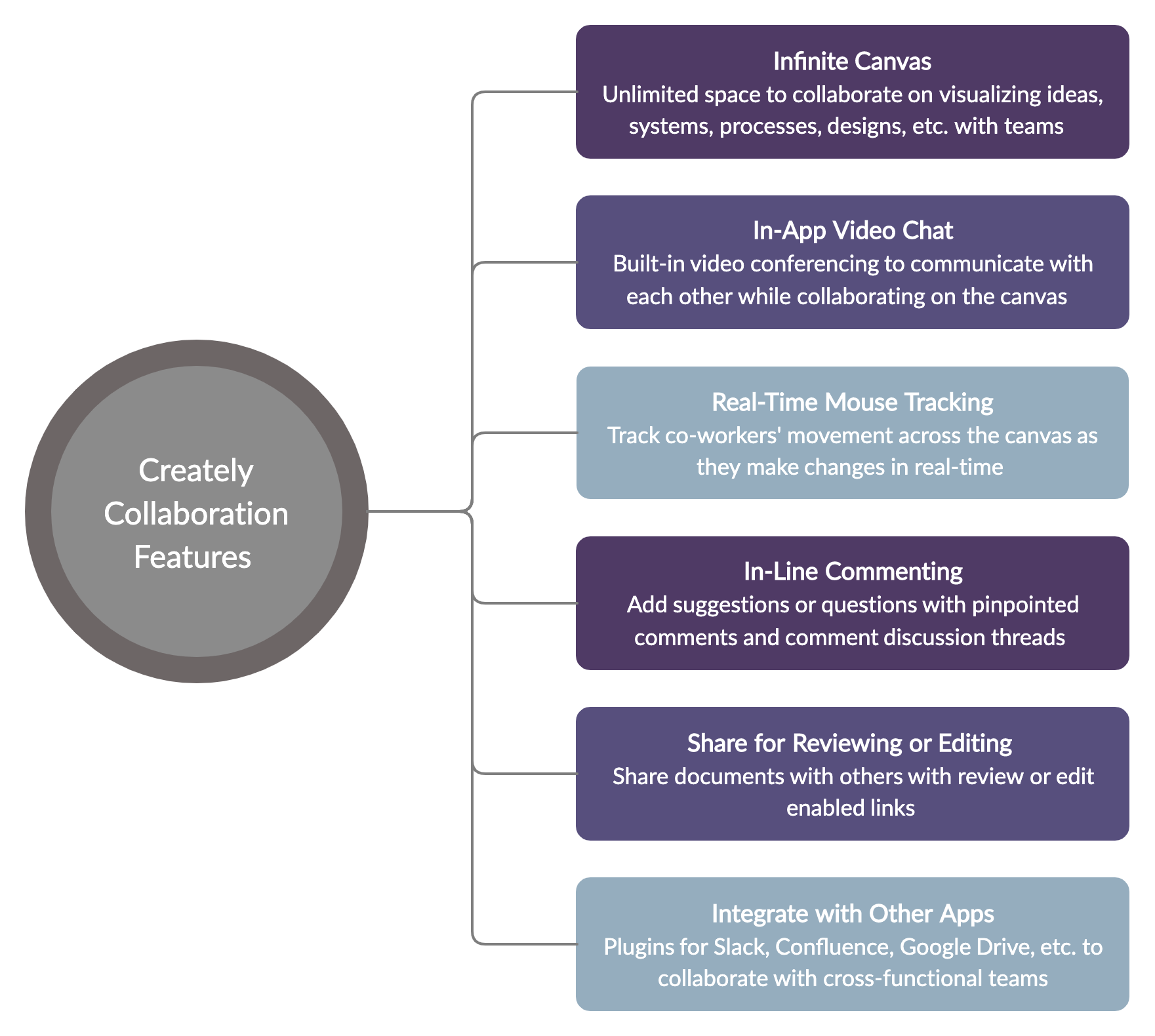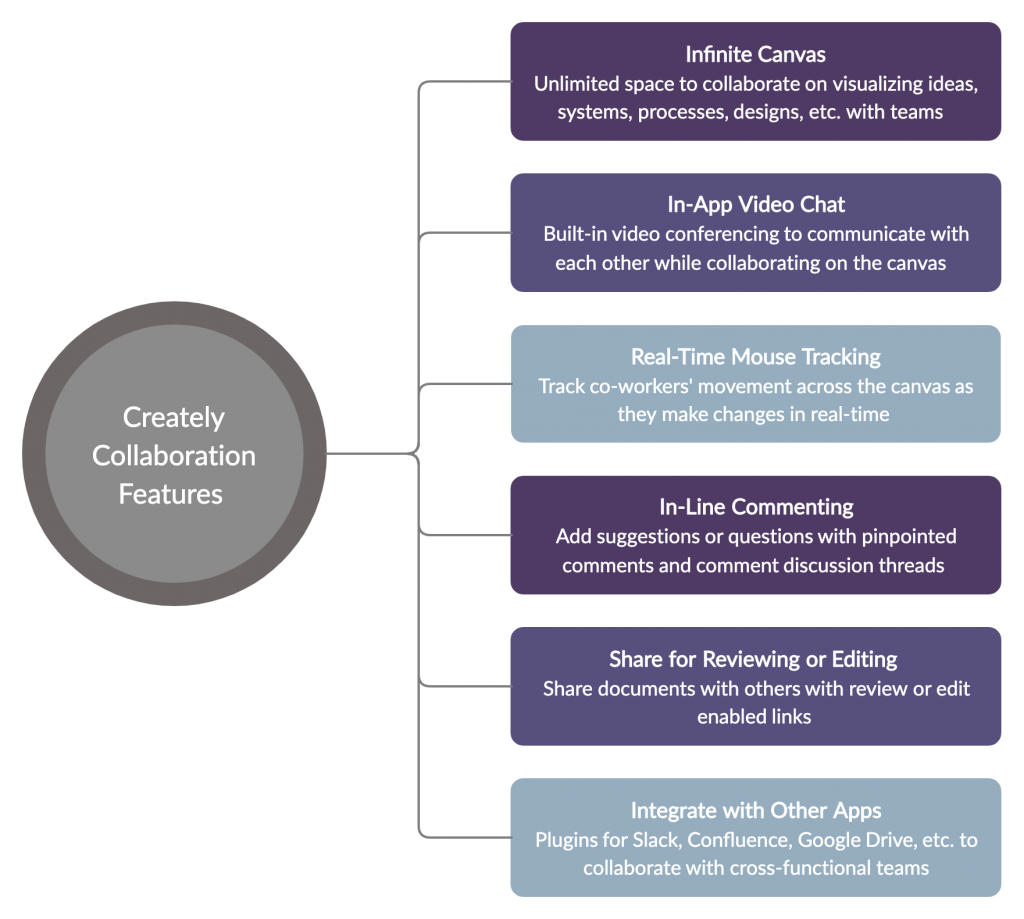 Importance of Visual Collaboration for Remote Teams
When it comes to collaboration, there are many ways and tools to facilitate the process. However, collaboration through visual means stands out for a few good reasons.
Our brains can grasp visuals faster than speech or text. If you want to clarify something quickly, accompany it with a visual in the form of a diagram, chart, or sketch.
Helps overcome language barriers. Everyone understands a picture or a diagram, and breaking down a complex idea with a visual, helps everyone digest it faster, whatever the language they may speak.
Provides structure to discussions, meetings, and planning sessions. Sketching an idea, design, system or process using a mind map, UI mockup, use case diagram or a flowchart gives something abstract a formidable shape that is comprehensible to anyone – even someone with little technical knowledge.
It enhances memory. When we hear something we tend to remember only 10% of it, but accompanied by a visual, we are likely to remember 65% of the information.
It stimulates imagination hence innovation. Want to generate new ideas faster? Start with a mind map. It helps capture the free flow of thoughts and organize ideas in a meaningful way.
Helps build a common understanding of the bigger picture. When everyone contributes to drawing out an idea in a shared space, it helps align their vision and knowledge of the concept.
Increases participation and engagement. An online whiteboard gives everyone access to the same space, allowing them to express themselves freely through visual means.
How to Use Creately to Enhance Remote Collaboration
As a visual workspace for collaboration, Creately can be used in a number of ways to increase efficiency by remote teams.
Brainstorming & Idea Development
In an office, a brainstorming session would usually take place in front of a whiteboard. Remote teams mostly use video conferencing or a chat platform to do this.
An online canvas is far more brainstorm-friendlier than any of the methods above. It gives everyone access to the same space, enabling them to share and discuss ideas in real-time.
With Creately, you can start a video call within the app itself and watch as your team adds ideas onto the canvas during the session. For an effective brainstorming session on Creately,
Create a document, name it and add collaborators
Start with a premade template like the one below.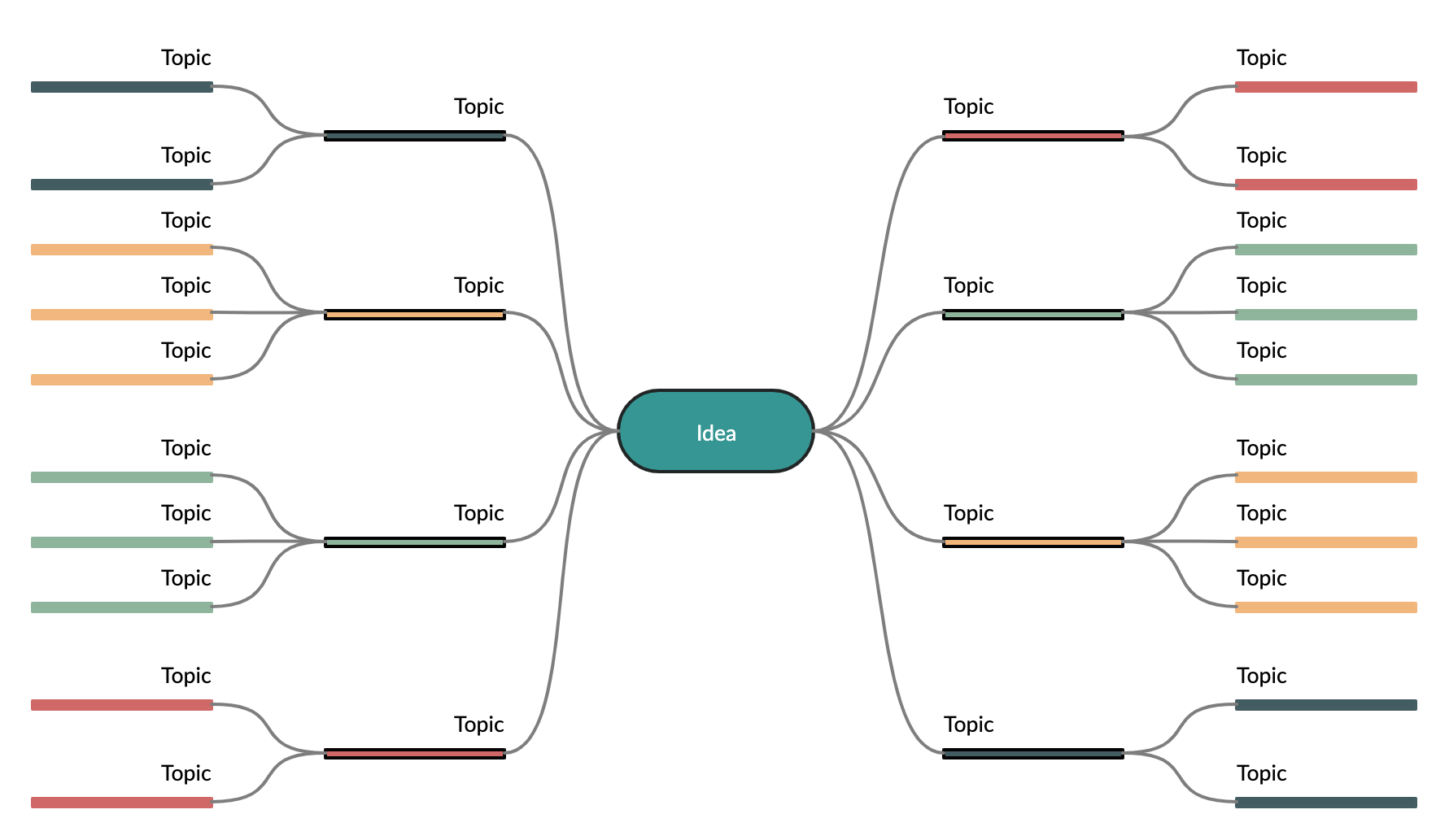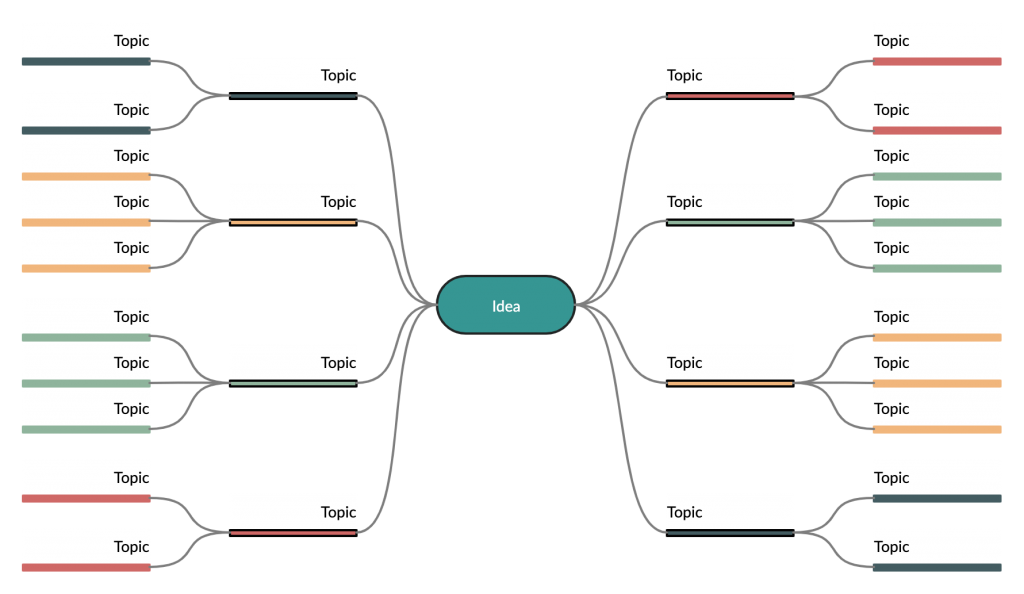 Assign a facilitator to develop the diagram and organize ideas put on the canvas
Color code the diagram to highlight the ideas added by different people
Use comments to add notes for anyone who would refer to the map later
Share the document link on Slack, to give anyone quick access to the diagram
More Resources
The Essential Guide on How to Brainstorm Online
The Ultimate List of Essential Visual Brainstorming Techniques
Sprint Planning
A whiteboard is essential to any Sprint Planning meeting. And luckily, with the availability of online whiteboards, teams working from home can still conduct the session as if they are in the same room.
To effectively use Creately for Sprint Planning
Have templates ready prior to each session and have them shared with the rest of the Sprint Planning team. You can also use the premade templates available in the resources below.
Assign a designated person to handle and update the templates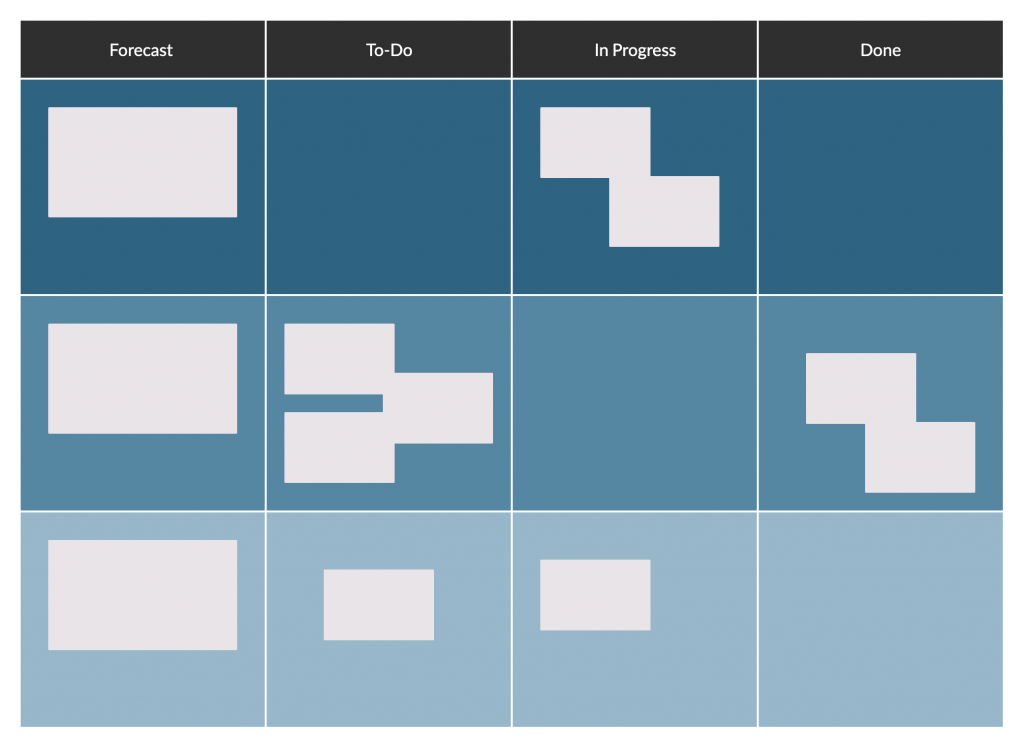 More Resources
The Essential Guide to Sprint Planning with Work from Home Teams
The Ultimate Beginner's Guide to Scrum
Online Meetings & Workshops
With built-in video conferencing, an infinite canvas, real-time collaboration, and the range of editable templates, Creately can support the entire process of running an online meeting or workshop.
Some best practices for Creately online meetings include,
Have the templates ready and shared with the team prior to the meeting or workshop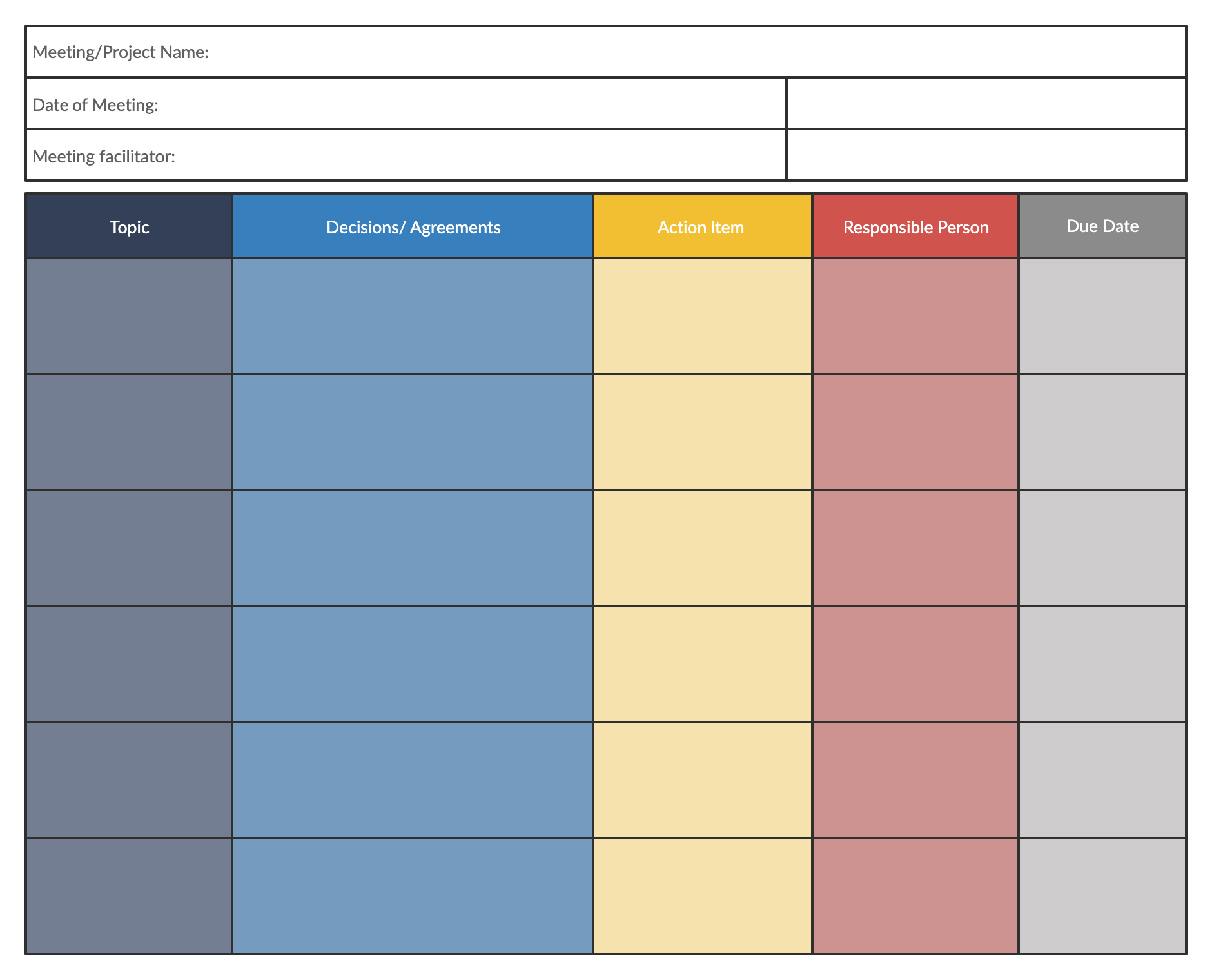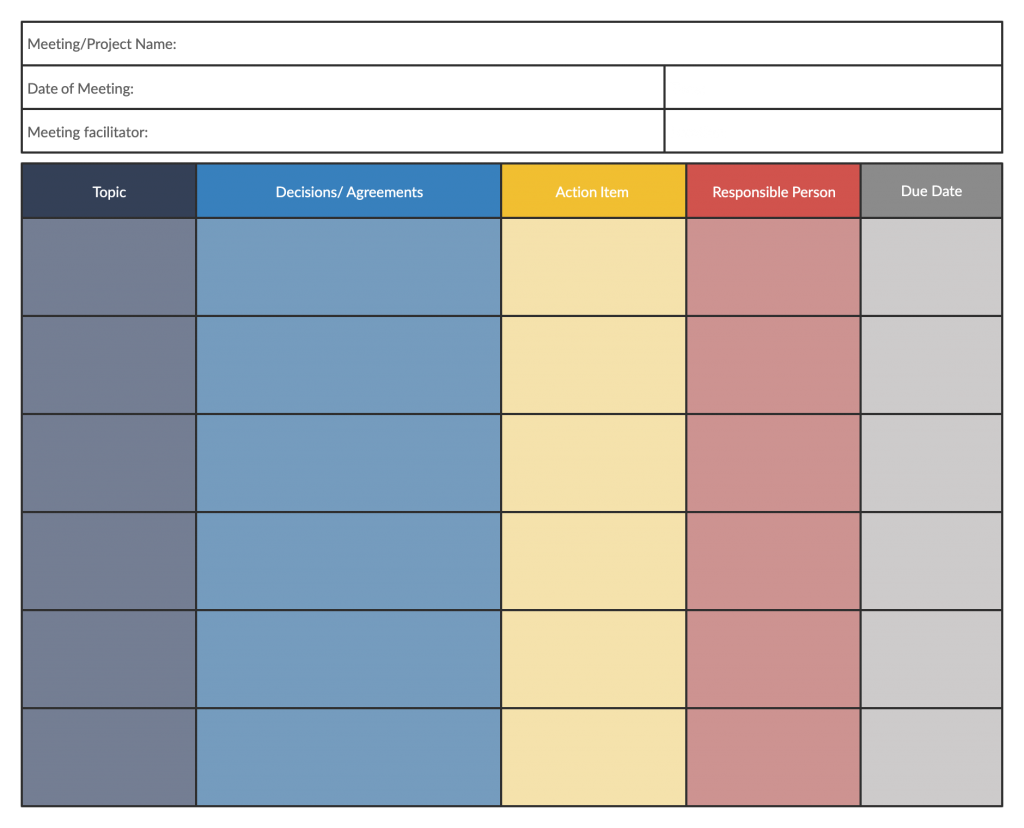 Clarify guidelines on how to use them. You can add a section on the template itself or do so separately
To give easy access, create them using the Creately Google Drive integration which allows you to control access permission from there. Or share an edit enabled link on the relevant Slack channel.
More Resources
How to Run a Productive Remote Meeting
Project Planning
Whether it's a development, design, or marketing project, you can use Creately to collaborate around it using the relevant tools.
Creately offers access to 50+ diagram types including flowcharts, Gantt charts, UML diagrams, UI mockups, wireframes, mind maps, etc. And the pre-made templates cover a wide range of scenarios from project charters to popular marketing models.
Involve the team in all planning meetings. Their input can be captured effectively by incorporating Creately project planning templates listed in our Visual Guide to Planning a Project
Create a separate folder that is shared with the team in Creately and move all project-related documents into it. This allows you to maintain all resources in a shared location.
Use a Gantt chart or a project timeline to mark task/ project progress. Assign someone the responsibility to update the document regularly.
Share progress with stakeholders by sending them a review only link to the relevant Creately documents
More Resources
How to Effectively Manage a Project Remotely
The Easy Guide to Creating an Effective Project Timeline
The Easy Guide to Creating a Successful Project Charter
Understanding the Phases of Project Management Lifecycle
What's Your Take on Visual Collaboration
Visuals make everything better. We think that Creately has already established this by now. The question is how you incorporate visual collaboration tools to improve what you do.
Try and incorporate Creately in your daily tasks and see how it can help you improve your workflow. Let us know your experience in the comments section below.
This post is part of the Creately's series of working from home tips and best practices. More topics include