Studies show that the rise of remote working is having an adverse effect on the security of the companies that practice it. One in three companies surveyed has reported that the most common security issues they encounter stem from remote employees.
While being able to maintain a flexible schedule, cutting back time on commute while also being able to spend time with the family seems blissful, this sudden switch to remote work has created new cybersecurity issues for both employers and employees.
In this post, we'll walk you through the potential security risks of working from home and how to effectively overcome them with useful cybersecurity tips.
Cybersecurity Risks of Working from Home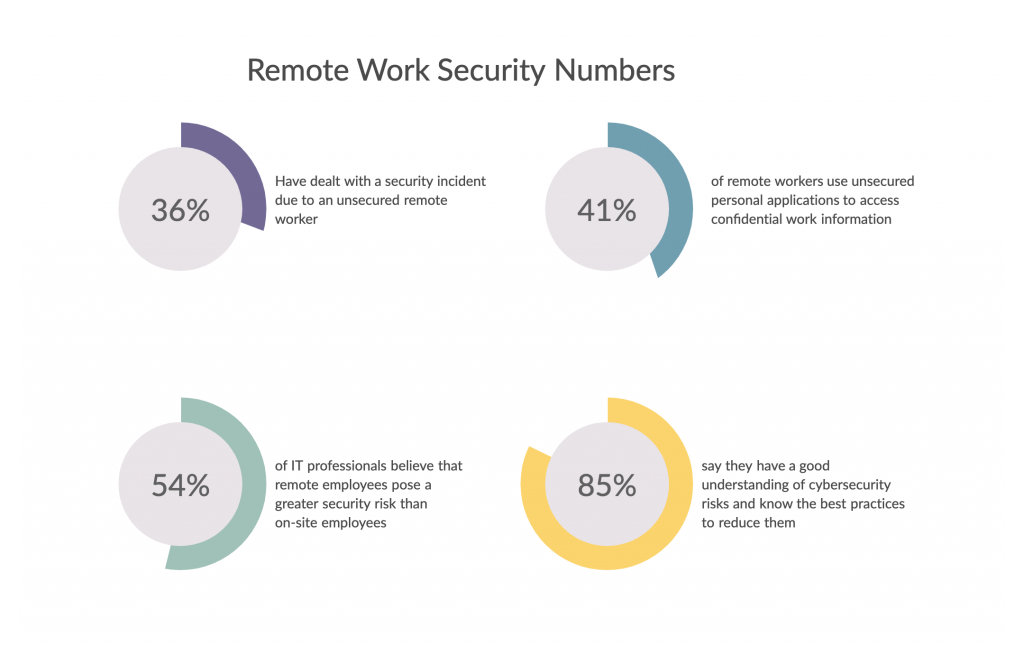 There is a significant increase in Coronavirus-related phishing attacks over the last few months.
The sudden transition to remote work has given little to no time for businesses to prepare themselves and their staff to quickly adapt to their working environment, much less to set precautionary steps in place to handle such cybersecurity threats.
Here are some risks that you need to be aware of.
Vulnerabilities in Virtual Private Networks (VPNs). Machines with VPN termini can be subjected to attacks if the home networks are already affected by malware.
Lack of control over the end-user security and secure connection. Many organizations rely on their staff to use their personal devices while working from home. These devices are prone to cyber attacks as they are not properly set up or have a secure connection.
Malicious websites, software, and apps that pose themselves as legitimate ones and tricking people into giving sensitive information.
Where employees work can also have an impact. If they are sharing a co-working space, privacy and security can be compromised. Other people can overhear an important discussion, or see what you are working on. Although it might seem trivial, they can cause unexpected issues.
Learn about these risks in more detail here.
Cybersecurity Tips for Working from Home Employees
Make sure that your WiFi connection is secure. Especially if your connection is older, it might not be properly secured which will allow others nearby to pry on your traffic. And avoid connecting your devices to unsecured public WiFi.
Make sure that you have installed anti-virus and security software on your devices and that they are all up to date.
Have a proper back-up strategy in case things go wrong. Remember to frequently back-up all important work-related files and documents. Copy these files to a cloud storage or an external hard drive.
Have proper standard emergency procedures in place. Educate all employees on them, steps they should take, and who they should contact, hence preparing them on how to react in case of a security incident.
Have policies regarding data privacy, security, and confidentiality to ensure that employees adhere to them.
Set software and apps on your mobile devices to update automatically; so even if you forget to check, your devices will be protected against any security threats at all times.
Enable multi-factor authentication for all your accounts. This adds an extra layer of protection to online accounts you own by requiring additional credentials to log in.
Use a VPN that can support all team members if they decide to connect at the same time.
Have encryption tools installed on your devices to prevent unauthorized access to digital information.
Make sure that employees use unique logins when they access common cloud storage accounts or shared office suites.
Make sure that all employees save all company data on the company network instead of on their personal devices.
Set necessary policies to ensure that company assets used by employees are physically secure. These may include laptops, phones, tabs, and other devices provided by the company.
Limit employee access to sensitive company information/ data where necessary.
If you work in a shared space, make sure to lock or shut down your devices when you step away. And if you are sharing your screen during an online meeting or presentation, make sure that any data you don't want others to see is hidden out of view.
Maintain frequent communication with your team and managers to stay in the loop. If there are any threats, you'll hear from them soon enough.
Be vigilant to what websites you visit, emails you open, links you click on, and information you share over the phone, etc.
Be careful about inserting USB devices you get from outside sources to your office devices. These may contain malware, and therefore double-checking it first is essential.
Always use difficult-to-hack passwords. Avoid using the same password to access multiple devices or accounts online.
Got More Cybersecurity Tips for Working from Home?
Trying to find a quiet place to work away from the distractions at home and having to multitask between household chores and office work aren't the only disadvantages of working from home. Cybersecurity issues are a real risk. And with more people working from home, these threats will only increase without proper measures to prevent them.
Now that you know what kind of security risks might affect you while working from home, we hope these cybersecurity tips will help protect yourself.
Got more tips to add? Let us know in the comments section below.
This post is part of the Creately's series of working from home tips and best practices. More topics include