Team Creately has been working from home for nearly two months now, since the start of the COVID-19 pandemic.
How are things, you may wonder.
By now everyone in the team has successfully grasped the technique of working from home while staying productive as ever. We've worked harder (mind you, without burning out and while maintaining a healthy work-life balance) than we've ever done before the whole lockdown situation fell upon us.
And most importantly, we've been able to expand our team, and this is while everyone's working from home.
In this guide, we will shed light on the processes, best practices, and tools we've followed and used for successfully interviewing and hiring new employees, without even meeting them in person. Read on to find,
Remote Interview Best Practices
For us, the process for hiring a new team member remotely remains the same as it would in a general hiring process up to the point of shortlisting candidates.
Our standard hiring process is discussed step-by-step in our post How to Increase Candidate Conversion Rate and Candidate Experience; in it you can learn how to,
Identify the hiring needs
Prepare job descriptions
Devise your recruitment strategy
Screen and shortlist candidates
The following best practices will help you streamline the process of interviewing and hiring a candidate remotely.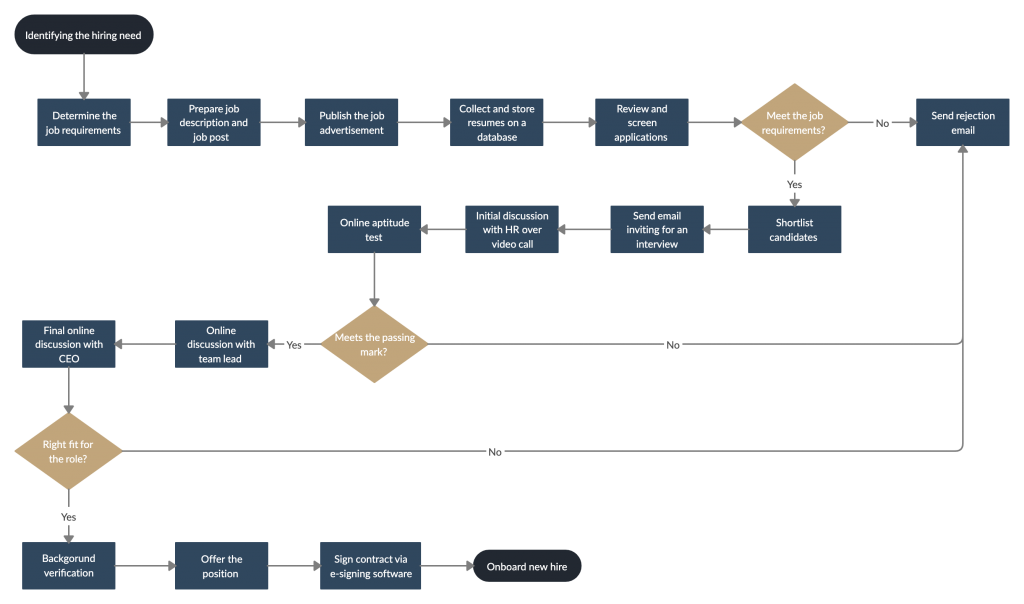 Conducting Interviews
At Creately, we do three interview meetings with the candidate; HR screening, one-on-one discussion with the team manager, and one-on-one discussion with the CEO.
Below are some of the practices we follow to keep things effective during each of these meetings.
Using the Right Tools to Conduct the Interview
When interviewing a candidate remotely, phone and video interviews are the primary channels available for communication.
While you can rely on an audio call to conduct the preliminary interview, it's crucial that you use video calls for later discussions.
An interview done on-site gives you the opportunity to connect with your candidate easily as you can properly see and read their body language. During a remote interview, video can help you do this virtually.
Preparing for the Interviews
For an in-person interview, you'd get ready by reviewing the set of questions you'll be presenting to your interviewee, by setting up the meeting room, perhaps even by checking with the candidate to make sure they are still attending.
A remote interview requires preparation as well.
Set expectations beforehand.
It's important that you let the candidate know what you expect; this will include clarifying details such as the time the interview will take place, the communication as well as any other tool/s that will be used during the meeting, the names and designation of other people joining the call from your end, the meeting agenda, etc. These details can be listed in an introductory email that you can send in advance.
Make sure that your technology is in order.
Breaking off during the interview due to a faulty internet connection may not seem very professional. Make sure that you have properly installed or logged into the tools that you will be using, your devices are properly charged and most importantly that your internet connection is working properly, at least an hour before the interview.
Make sure you are seated in a quiet place without any diversions (i.e. people walking around, a TV screen, messy bedroom, etc.) in the background. In addition, make sure to put your phone on silent and switch off any other alerts on your devices. And minimize your movements during the interview; if you are engaged in another task or walking around during the discussion, it'll make it harder for the candidate to keep his/ her focus.
Keep your interview questions ready.
Having your questions prepared beforehand will help you have a meaningful conversation with the attendee. And it will also help you properly evaluate your candidate. This is especially important during a remote interview as you cannot prolong the meeting beyond the agenda trying to think of questions you should ask.
Although you may be working from home, you are still interviewing an outsider. So it's important to look professional and give a good first impression.
During the Interview
As opposed to an in-person interview, there are several things that you need to do and refrain from doing so during a remote interview.
Don't make it too crowded.
For it will create unnecessary distractions such as uncoordinated questioning. Have only the necessary team members present, and unless they are speaking, they should keep their mic muted allowing the one questioning the candidate to do so without causing interruptions.
Behave just as you would have in-person.
Be mindful of your facial expressions, tone, and the way you conduct yourself during the interview. Smile and laugh as appropriate and help the candidate ease into the conversation. Wait a few seconds at the end of each sentence to make sure that you don't talk over each other. And most importantly, keep your eyes on the camera or the screen, not at your own reflection.
No matter how prepared you are, things may still go wrong (i.e. power failure). Should such a situation occur, you need to be prepared to handle it successfully. Have alternate contact details such as their phone number or email by your side. This way, you can opt for an audio conversation with the candidate over the phone.
Evaluating the Candidate
After the HR screening, and before the discussion with the team manager, the candidate will be evaluated with an aptitude test. Based on the test results, the candidate will then have an interview with the team lead.
Here are some of the approaches that have worked for us when evaluating a candidate online.
Use behavior and time tracking software to track the activity of the candidate while doing the test. Prior to the test, notify the candidate that their screen will be shared and therefore they need to remove any confidential information out of view.
Or use a screen sharing software to monitor their performance. During our peer coding session, the candidate is requested to share their screen, so the team lead can observe as they write code and evaluate their skills.
Prepare the candidate for the test by explaining to them what is expected. We send them an introductory email which gives them a link to book a convenient time slot for the test using an online appointment scheduling software. The email also notifies them of the tools they'll need to use and explains the guidelines on how to proceed during the test.
Take a few minutes before the test to remind the candidate of the guidelines via video call.
Hiring the Candidate
Over the last month, five new members have joined Creately while everyone was working from home, scattered across the country. What's out of the ordinary about it is that their recruitment was done entirely online. Without a single in-person interview.
How did we do it?
To do the background verifications, we usually rely on phone calls, just like we would with any other recruit. We also maintain a database with records of all the information we gather.
After the final interview with the CEO, we send the offer letter via an e-sign service. This will allow them to provide their signature to the agreements using a browser or mobile.
Tools for Conducting a Remote Interview
Here are the tools that we use to streamline our recruitment process.
Airtable – Airtable allows to store information in a spreadsheet, but in a more visually appealing way. We make use of this software to keep a record of candidate information as well as generate forms that we use to collect data (i.e. email address, telephone number, LinkedIn profile, etc.) from candidates.
Calendly – Is perfect for online appointment scheduling. This helps us get the candidates to select a convenient time for them from the available time slots for interviews/ aptitude tests.
Google Meet – We conduct our video calls via Google Meet, which also allows for screen sharing, which comes in handy during the aptitude tests.
Google Forms – Our aptitude tests are created with Google forms. And it integrates with behavior and time tracking software like Timify which we use to monitor candidate activity during the tests.
Adobe Sign – This is an encrypted e-signature software that allows you to send, sign, track, and manage signature processes using a browser or mobile device. We use it for getting signatures for agreements and contracts online.
Got More Tips?
Where technology has made it possible to work from the comfort of your own home, interviewing and hiring the perfect employee to your organization isn't impossible. We hope this guide will help you out with the process.
Good luck with your remote interviews!
Got anything to add? Share your opinion on the comments section below.