Project management comes with many challenges. One effective way to make sure that you achieve your goal nevertheless is by creating a project management timeline. It's a simple tool, but it helps get everyone on the same page and streamline the processes of planning and managing a project.
Maybe you are reengineering your project management process or you are just beginning your career in this field. In either case, let this simple guide help you master how to create an effective project management timeline.
Here are some other resources you might find useful in project management;
The Easy Guide to Creating a Successful Project Charter
The Easy Guide to Understanding the Phases of Project Management Lifecycle
The Visual Guide to Planning a Project
The SMART Guide to Streamlining Your Project Planning Process
What is a Project Timeline?
A timeline is a tool that we use to visualize a sequence of events in chronological order. And a project timeline represents a high-level visual overview of project steps from start to finish. It highlights what tasks have already been completed, what tasks are in progress and what is to be done in the future.
The elements that go into a project timeline may vary according to the project size and the amount of detail you want to showcase with it. It could be a highly detailed timeline with multiple tasks and subtasks or a simple one with high-level information.
However, a project timeline should usually consist of a list of the tasks, the start and end dates, and the duration of tasks, and task dependencies.
A project management timeline can take many forms, although Gantt charts have been the most popular type of timeline over decades.
Gantt Chart vs. Project Timeline
A Gantt chart is a tool that offers a detailed look at a project by highlighting the task dependencies, and task and project progress.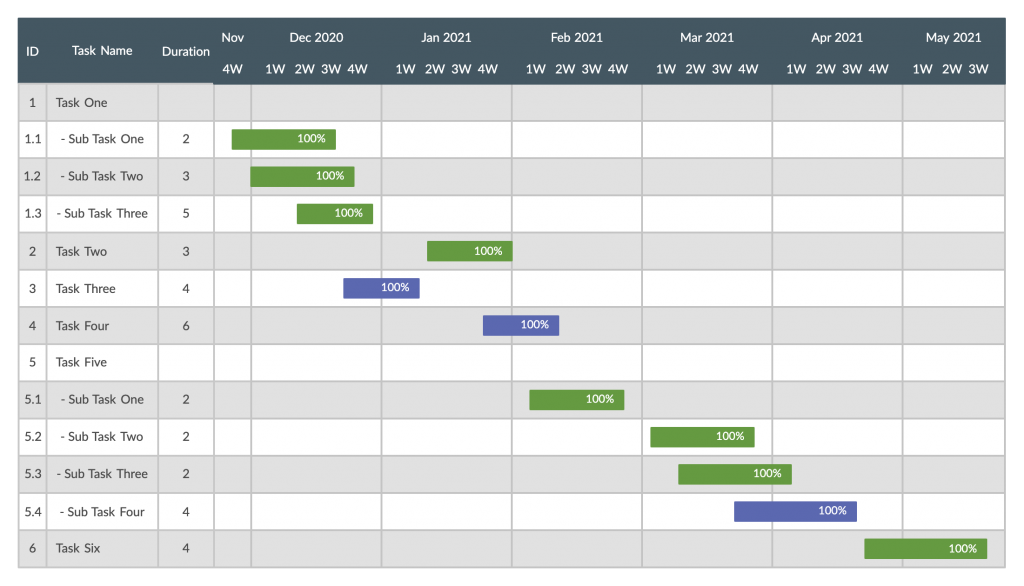 On the other hand, a timeline portrays the overall progress of the project.
While a Gantt chart would give you a closer look at the individual project tasks, the project timeline will only give you a high-level overview of the project. Although it can show task dependencies, it can skip that, unlike the Gantt chart which must show the relationship between tasks.
A project timeline can look like a Gantt chart although a Gantt chart cannot look like a project timeline.
Why you need a project timeline
It's the easy way to communicate high-level information about your project to managers and stakeholders
Keeps everyone on the same page and align their objectives and goals
Helps with identifying project priorities and making effective decisions
Simplifies the processes of keeping projects on track and monitoring progress
Helps with resource allocation and time management
How to Create a Project Management Timeline
A project management timeline conveys a complete picture of a project, including significant events and dates. Although it may look easy to make and understand, creating one involves several steps that someone new would find to be tough.
But we have broken the process down and listed them below. Follow these 6 steps to simplify your task of creating a project timeline.
Step 1: Define the project scope statement and goals
Before you start on your project timeline, you need to have defined the scope of your project.
The scope statement which plays a critical role in the project plan defines the actions you need to take in order to produce the expected deliverables of the project. It also highlights the project goals, deadlines, and associated costs.
The scope will also shed light on the key milestones of your project that you will need to know when creating your timeline.
Depending on the project scope, your project can have one or several goals that can be external (matters most to the project sponsor) or internal (matters most to internal stakeholders). You need to have your goals well established as well before you move on to the next step.
At the same time pay attention to the preferences of your stakeholders, as you may need to make sure that your project timeline satisfies them as well.
Step 2: Identify project deliverables
List down the specific outputs produced as the results of the work that the team carries out during the project. These are the project deliverables.
Breaking down project goals into deliverables will help you easily list down the project tasks and estimate time for them. A tool you can use to simplify this step is the work breakdown structure (WBS).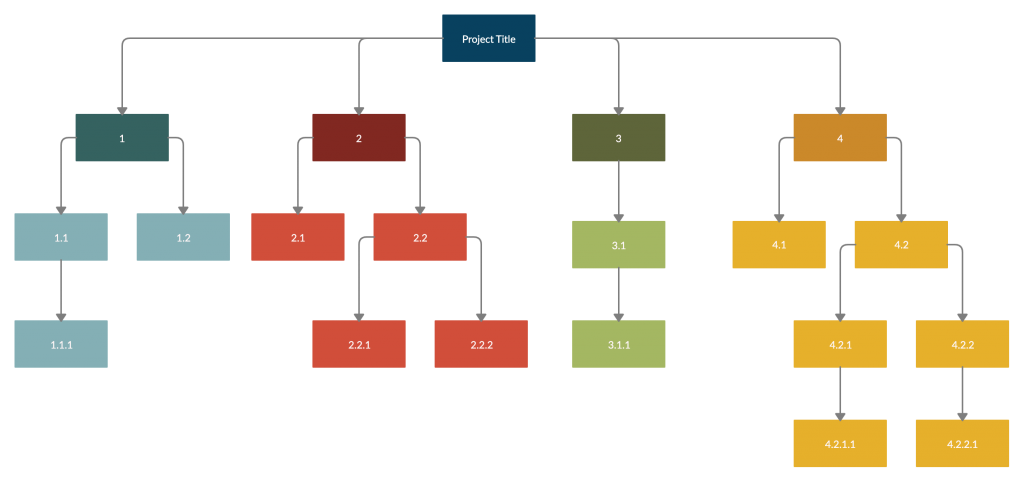 The work breakdown structure will help you identify the dependent tasks, associated costs, and risks, and assign responsibilities.
You can refer to our easy guide to work breakdown structures to learn how to create one in 6 simple steps.
Step 3: Create a list of the activities
Look at the deliverables in your work breakdown structure and identify the activities (work packages) you need to complete to produce them.
In this step, you also need to specify the tasks that are dependent on others and tasks that can be carried out simultaneously.
Step 4: Estimate the time needed for the tasks
Now that you know the steps you need to take to complete each deliverable, focus on determining the time needed to get them done.
Here, you must be as accurate as much as possible, for wrongfully estimating time for tasks will result in an erroneous timeline. To avoid that you can
Consult task owners or subject experts in your team
Refer to past projects and find out the time taken to complete similar deliverables
Avoid overestimating or underestimating the timeframes
At the same time, you may need to pay attention to the availability of resources, especially your team members. If they are working on other projects, you may need to consider expanding the designated timeframe for the activities they are responsible for.
Step 5: Determine milestones
Project milestones help identify how much progress you have made and how much further you need to go.
The project deliverables you identified earlier can serve as milestones in your timeline, or you can select milestones based on how you want to highlight the start and end of a task. For example, it could be the end of one project stage and the beginning of another.
Step 6: Create your project management timeline
By now you know what the project deliverables and tasks are, how much time they will take and the key project milestones that indicate project progress.
Great! These are what you basically need to start building your project management timeline.
Based on the length of your project, select a timeframe (i.e. days, weeks, months, etc.)
Add the tasks based on their priority. Highlight the duration of the tasks by adjusting their length.
Add the milestones to showcase the progress during the project
Below are some pre-made templates to help you get started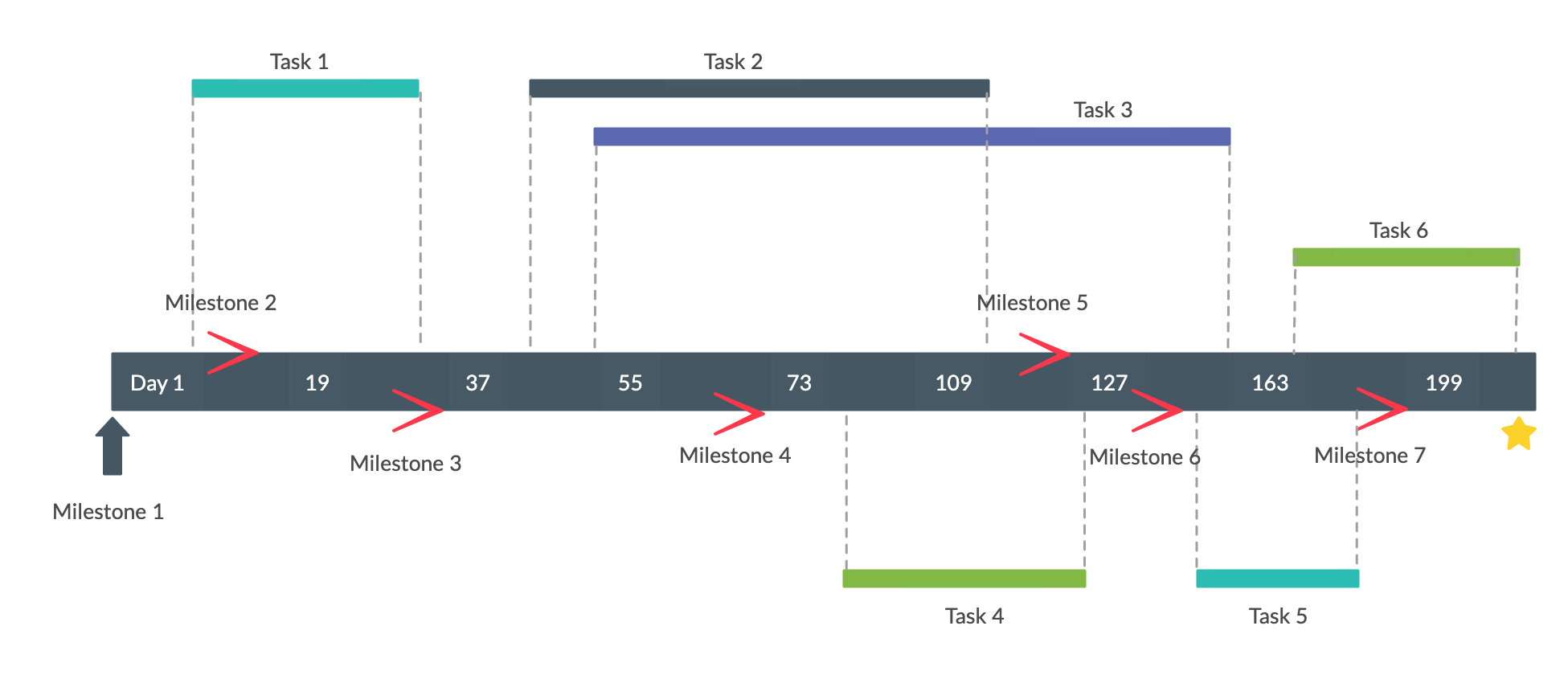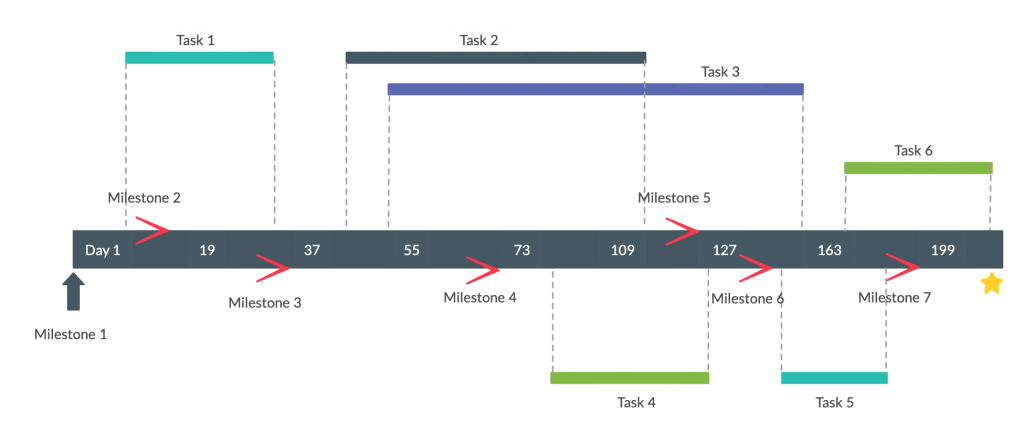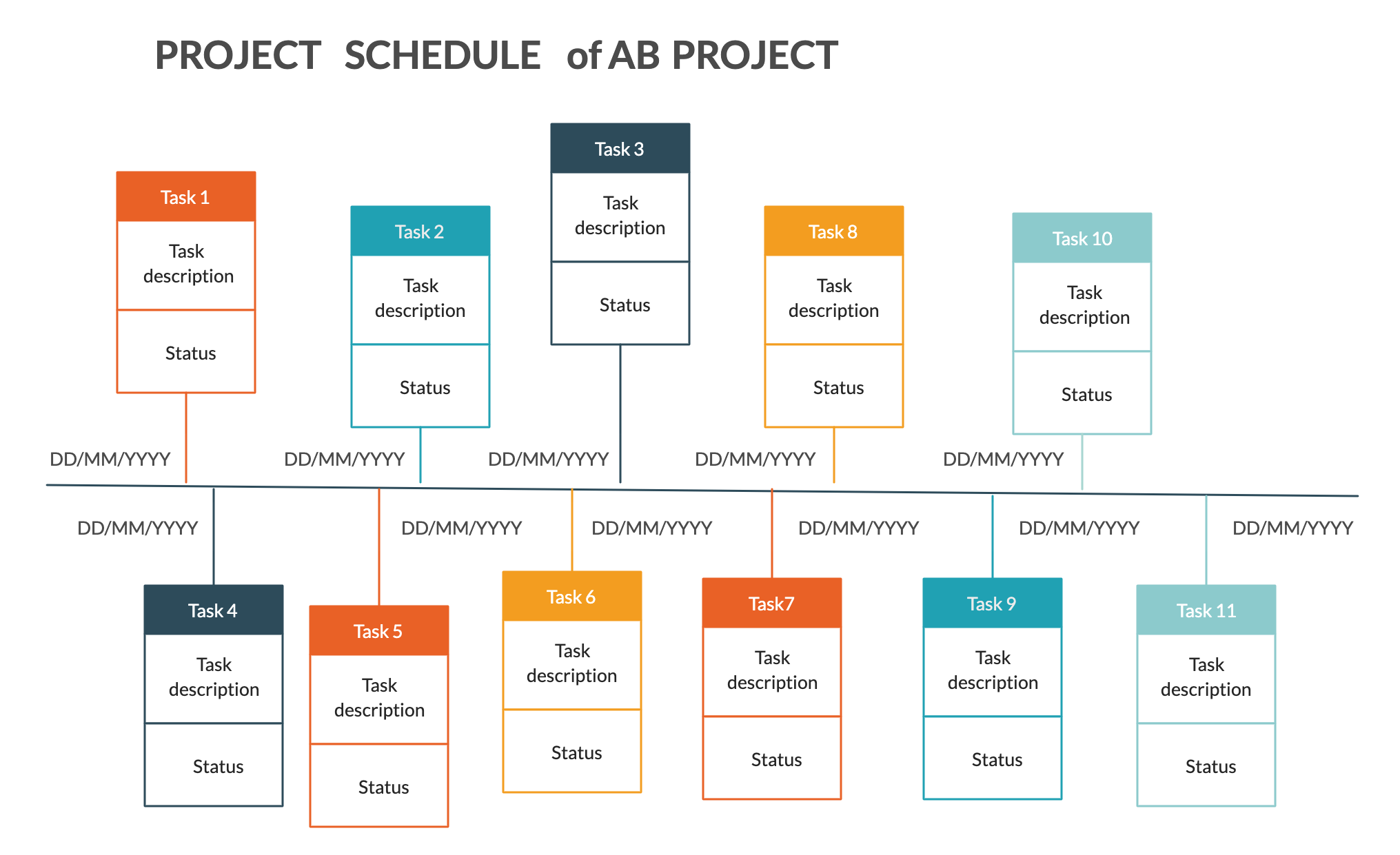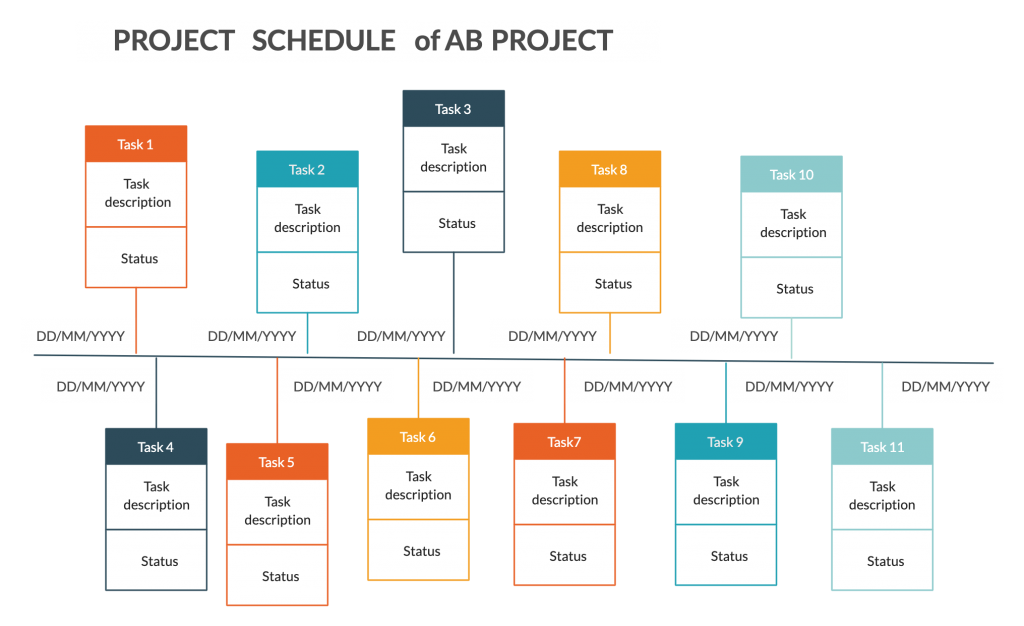 Ready for Your Next Project?
Managing a project is difficult, but if you use the right tools, many challenges can be overcome easily. Project management timelines are one such creative tool that will help you and your team make progress efficiently.
What's your favorite project management tool? Got anything to add to the post? Do share it with us in the comments section below.