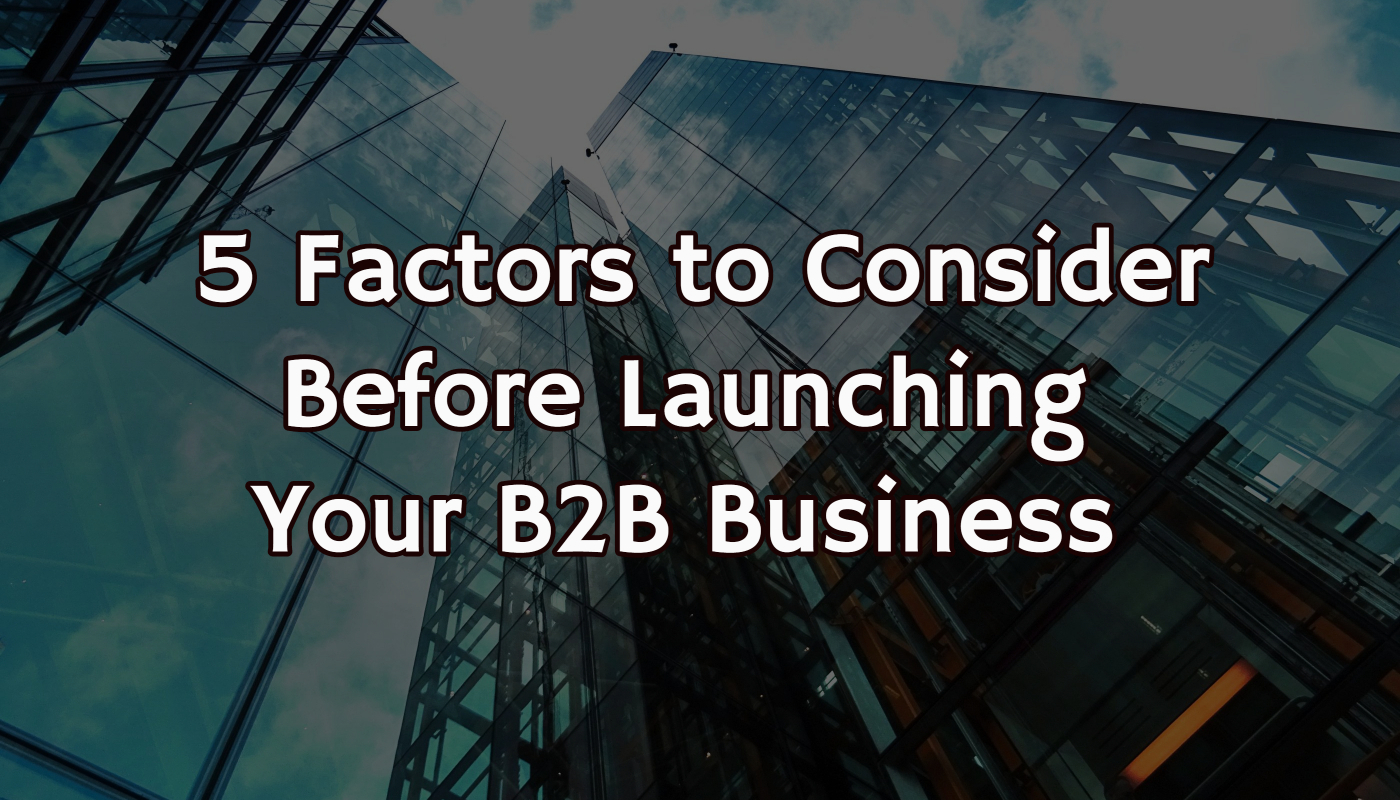 Have you ever wanted to start a B2B business only to become intimidated by the idea? Perhaps you've even been sweeping the notion under the rug for several years?
If so, you're certainly not alone. Countless businesses never start because of fear of failure and lack of drive.
But what if your B2B idea is stellar? What if the world would benefit from your vision if only you could get it off the ground?
If you're torn between abandoning your idea and giving it a shot, this article will hopefully help you decide what to do. Here are five important factors to consider before starting your B2B business.
Your Mental Strength
It's no secret that launching a startup is hard. So hard, in fact, that most people aren't cut out for it.
If you're one of those entrepreneurs who's only in it for the money, you're apt to burn out when circumstances become overwhelming. (And believe me, things will get overwhelming.)
Challenging times call for mental fortitude. Simply put, you probably won't succeed without an abundance of at least three characteristics: conviction, grit, and passion.
As far as conviction goes, you'll need to have a strong sense that your products or services are genuinely valuable. Richard Branson said it best:
"When you believe in something, the force of your convictions will spark other people's interest and motivate them to help you achieve your goals."
It's crucial that you believe in your product with every fiber of your being – right down to your DNA. When someone tells you your product is no good or will "never work," you'll need the ability to shrug it off. If you don't have such convictions, your chances of succeeding are small.
Grit – the ability to persevere throughout the strongest of storms – is another absolute necessity. You'll need to be distinctively resilient and unusually hardworking if your business is going to become a success story one day.
And passion, of course, has been the defining characteristic of success throughout all of human history. Take it from some of the most successful people on earth:
"You have to be burning with an idea, or a problem, or a wrong that you want to right. If you're not passionate enough from the start, you'll never stick it out." (Steve Jobs)
"Nothing is as important as passion. No matter what you want to do with your life, be passionate." (Jon Bon Jovi)

"Passion is energy. Feel the power that comes from focusing on what excites you." (Oprah Winfrey)

"Pursuing your passions makes you more interesting, and interesting people are enchanting." (Guy Kawasaki)

"There is no passion to be found playing small – in settling for a life that is less than the one you are capable of living." (Nelson Mandela)
There are certainly many other beneficial mental traits that successful entrepreneurs possess. And perhaps you have many of them! But the three I mentioned above are ones I feel are especially important for B2B startup success.
Your Knowledge
Starting a business is a journey that few are brave enough to embark on. If you're one of those few, you'll need to continually strive to reach higher levels of knowledge. Otherwise, you'll risk giving your competitors room to outsmart you.
You know the centuries-old "knowledge is power" cliché? Well, you'll want to heed that sentiment. It has survived the ages for a reason: because it's true.
Multi-millionaire business consultant Sam Ovens puts it this way: "As soon as you're committed to building an online business of your own, immediately begin reading as much as humanly possible."
Ovens reads one book per week (52 books per year,) and says, "This has taught me more than any class, mentor, mastermind group or conference ever has. Even better, books are extremely cheap—there's no excuse for not reading them."
What types of books should you read? According to Ovens, "There are all kinds of business books out there, but I'd try and stick to reading books that fall into one of four categories at all times—mindset, sales, marketing and business strategy."
Need a few more suggestions to get you started? According to an article in inc.com, here are nine business books every entrepreneur should read in 2017:
Stealing Fire by Steven Kotler and Jamie Wheal
Rich20Something by Daniel DiPiazza
The New Rules of Work by Alexandra Cavoulacos and Kathryn Minshew
Extreme You by Sarah Robb O'Hagan
The Manager's Path by Camille Fournier
Hacking Growth by Sean Ellis and Morgan Brown
Boss Bitch by Nicole Lapin
Unshakeable by Tony Robbins
Option B by Sheryl Sandberg and Adam Grant
Personalization
There's a misconception that "personal" should be left to B2C businesses, while B2B should be "strictly business." If you're more comfortable with B2B primarily because you feel you're not personable enough for B2C, you'll want to re-think your reasoning.
The reality is that you need to be resolved to get personal. No matter the industry, people want to do business with people rather than impersonal corporations.
The tendency to avoid a personal touch in B2B may stem from a fear of appearing unprofessional or amateurish. Also, entrepreneurs know that B2B is predominately account based. Decision makers often buy for a whole company, unlike a consumer who buys for herself or her family.
But none of this negates the need for personalization. To really be at the top of your competitive game, give your business a "personality" that clients can enjoy and relate to. How?
If your industry is complex and full of confusing jargon, find ways to associate a warmer personality to your products. Simplify complexities. Communicate in laymen's terms. Develop a reputation of a helpful friend who empathizes with the challenges decision-makers face.
Also, never underestimate the importance of personalizing email communications in your efforts to land B2B clients. As reported by MarketScale:
Personalized emails have higher click-through rates by 14%
Personalized emails have higher conversions by 10 percent
Emails with personalized subject lines are 26 percent more likely to be opened
Personalized emails deliver 6 times higher transaction rates
50% of companies feel they can increase interaction with their email marketing by increasing personalization
Over 75% of email revenue is generated by triggered campaigns, rather than one-size-fits-all campaigns
Trust
Trust is a crucial extension of personalization. Without the ability to earn the trust of your new clients, your B2B venture probably won't survive its first year.
Trust is often the primary factor in a B2B client's decision to do business with another company. So if you haven't taken measures to learn the art of trust-building, right now is the time.
How? For starters, be transparent. Yes, there are trade secrets that have to remain hidden, and there are always circumstances where you can't reveal every detail of your thought processes. But whenever possible, let your clients look behind the curtain.
In your marketing, perhaps you can show your clients how your products are made (again, without revealing trade secrets.) Or, simply and honestly tell them why your offerings are better than that of the competition.
Don't lie or exaggerate, but instead present verifiable facts that demonstrate you are honest in your assessment of your own products.
Another important ingredient to trust is sharing your business's values with your clients and prospective clients. What types of things do really matter to you and your business venture? Is it innovation? Or helping other businesses succeed? Or maybe educating your clients about a confusing industry? Or even helping to change the world in some way?
Wherever your passions lie, be open about them. Show your clients that you – the founder of this business – care about a cause that's bigger than yourself or your profit margin.
Being open, honest and transparent costs practically nothing. But it can skyrocket you into a competitive edge that few will be able to take away.
B2B Legalities

Think you can jump into B2B entrepreneurship without legal help? Think again. It's important – if not downright urgent – to work with a legal expert who knows every aspect of your business.
Seek an attorney for help regarding the regulations within your industry. Also, seek expertise regarding tax issues and the licensing you'll need to run your business. You'll also need advice on:
Policies: You will most likely need website terms, a private policy, etc.
Employment and Contractor Agreements: Do you know all the differences that exist between employees and contractors? Big consequences can occur if you don't get this right, so obtain as much legal advice on this as possible.
Intellectual Property Protection: Don't be lax when it comes to registered trademarks. You'll need to prevent others from using branding and language similar to yours.
Legal Structure: Will you operate as a company, partnership, sole trader, trustee, etc.?
Founder Agreements: Will you be going into business with other people? You'll need advice regarding a partnerships agreement, shareholders agreement, or a unit holder's agreement.
While this list is certainly not an exhaustive one, it definitely contains some of the most important B2B entrepreneurial factors to consider.
How Visualization Can Help You Become a Better Lawyer
Any Other Advice for Those Who Want to Start a B2B Business?
After reading these considerations, what is your gut telling you? That this isn't the time for launching a B2B business? That maybe it's best for you to stick to your day job? If you are overwhelmed with intimidation, you might not be ready yet.
But if your gut is telling you to go for it, this is a good sign that you might be up for the challenging lifestyle of a business founder. If you're not intimidated by the factors above – and if you're even inspired by them – this may be the time for you to get started.