As we grind through more weeks and months of lockdown, we recognize that every aspect of work has changed. Such a sustained remote working environment can have a huge impact on team morale and can lead to feelings of isolation and despair.
In many cases, organizations have had to restructure themselves, causing a shakeup in teams, adding new faces and putting employees in more and more unfamiliar situations. The usual process of getting to know your teammates through team lunches, watercooler talk, and general banter simply doesn't exist anymore. Icebreakers are a way to jumpstart team spirit and provide a much-needed distraction to the woes of remote working.
Culture is the first casualty
With newly distributed teams, organizational culture becomes the hardest thing to keep intact. But good culture is the difference between good and great organizations. Culture consists of all the intangibles in a business-like team spirit, level of interaction, workplace morale, and a lot more. Having eager, motivated employees is what builds truly remarkable businesses. Culture is not built overnight, it takes work and constant effort to create an environment where employees feel fulfilled, and one where work does not seem like a chore.
While teams working in an office easily have the chance to cultivate their culture through different types of shared experiences, a remote team has to put in more effort and be more deliberate about shaping their culture.
Icebreakers are fun games that allow team members to interact in an informal setting and create bonds and personal connections. They are great for remote teams and help organizations cope with some of the challenges during this prolonged lockdown. Here are some of the best icebreakers to boost team morale along with some tips on when to use them.
Why you need virtual icebreakers
Sometimes games can be as important as work. And prioritizing the use of icebreakers to add a sense of liveliness and break some of the barriers imposed by remote working can be a great way to keep a team engaged and motivated.
Introductions
Virtual icebreakers are a great way to get around the dreaded, "Tell us about yourself" question. It provides creative ways for employees to introduce themselves without pressuring them. Fun games and activities can disarm participants, allowing them to loosen up and connect to others on a more human level.
Creating the right atmosphere
It inserts some much-needed levity into meetings, a little fun, and laughter creates a more relaxed atmosphere which is great for ideation and brainstorming. Creating the right atmosphere is vital to ensure the free flow and exchange of ideas.
Enhances creativity
Some virtual icebreakers are designed to stimulate creative thinking. It is important to give employees a break from their regular routine and mix things up. Getting the team together in an open and laid back setting allows people to see different perspectives which they can then implement into their daily work.
5 virtual icebreakers to try with your teams
Two truths and a lie
A simple activity that's loads of fun. It serves as a fun icebreaker that introduces teammates and gives them a better understanding of each other.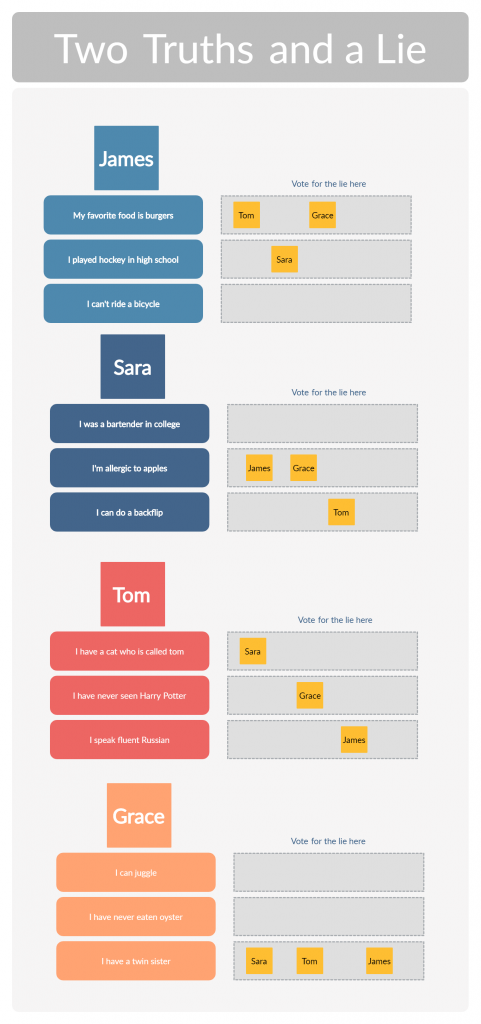 How it works:
Open a premade template on Creately and invite team members. Ask each participant to write down three statements about themselves. One of them should be a lie and the other two should be true.
Each participant votes for the statement they think is the lie by placing a note with their name on it.
After everybody has voted each participant reveals which statements are true and which one is a lie. Participants should be encouraged to ask follow-up questions about the crazy or off-beat statements made by the other team members.
Quick question
It's easy to understand and a great way to get team members bonding.

How it works:
Open a Ceately canvas with a list of premade questions or add your own.
Each participant answers the question on a different colored note and places their answer next to the question.
You can go through the answers once people are done and can ask specific people questions if needed.
Take a picture
While working in distributed teams we often lack the human connection with our fellow employees. This icebreaker is a great way to remind ourselves that we are all going through this lockdown together. Seeing the circumstances others work in is a great way to form lasting connections.
How it works:
Get together with your team on Slack or any other communication channel you can even create a separate thread for virtual icebreaker activities. On the channel post a topic and ask team members to take a picture and post it on the thread. It can be as simple as 'Take a picture of your shoes'. You'd be surprised by the variety of images you will receive. This opens the door to conversations about hobbies and interests, runners may bring up their choice of running shoe; beach-goers may show off their sandals.
We are visual beings and having something to look at other than words on a screen sparks connection and helps build connection.
Another topic could be 'Take a picture of your desk' this is great for WFH teams as people can display their home-office set up which can be a great way to establish a common theme on which people can build connections.
Trivia
Everybody loves a bit of trivia. This fun little exercise gets remote team members thinking and adds a little bit of friendly competition into the mix.

This or that
A simple 10-minute activity that can be run before you get onto other business matters.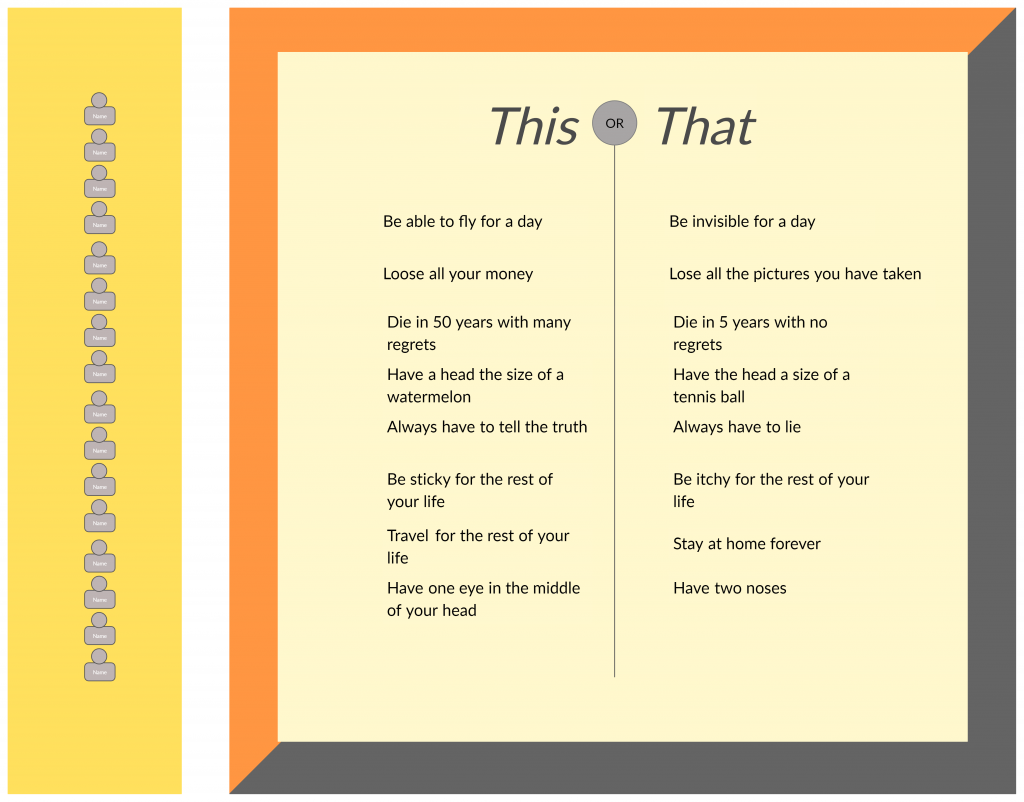 How it works:
Get your team on a Creately canvas and open a premade template. Ask participants to enter their names on the icons on the left. They then go through the list and place the icons with their names on it next to an option they prefer. This way the entire team sees what the others have selected and can have quick light-hearted conversations on why they chose what they did.
Best practices for virtual icebreakers
There are a few things to keep in mind while running virtual icebreakers:
Keep group sizes small: Try conducting your icebreakers in small, intimate settings. The idea is to keep these sessions short and full of energy. The general rule of thumb is to limit group sizes to 15.
Break the ice often: Running some form of icebreaker before every virtual meeting is a great practice to implement. The entire process should take less than five minutes, and that five minutes can make all the difference in setting the right atmosphere for the rest of the meeting.
Be a little silly: The point of icebreakers is to form connections beyond our work personas. Don't be afraid to let loose and give people permission to showcase a side of themselves that others may not have seen.
Choose icebreakers based on the situation: You should try to align your icebreakers with the goals of your meeting. If you are trying to introduce a more tenured team member to newer employees you can ask, "how did you join the company?" and everyone could share their origin story. At an all-hands meeting, you could ask participants to share a favorite memory from the last year or something they're looking forward to in the next year.
Have an icebreaker of your own?
The possibilities of icebreakers are endless and with the range of collaboration tools out there, implementing them into virtual meetings is now easier than ever. If you have an interesting icebreaker you have tried with your team or want to see a Creately template for a specific icebreaker please let us know in the comments below.