Any experienced salesperson will tell you that the completion of a sale is only a small part of the sales process. Selling is not an act, but a process. It begins long before any transaction takes place. Carefully identifying and managing all the ways a potential lead interacts with your business to make sure they are constantly engaged is key to ensuring the conversion from awareness to purchase decision.
At every step of the way, potential leads need to feel like your business is adding value to their experience while being convinced of your ability to fulfill their needs. Creating a sales funnel allows potential customers to interact with your business in the most optimal way so you can influence their purchase decision.
What is a Sales Funnel?
A sales funnel is a visual representation of the journey prospects go through on their way to make their purchase. If you can successfully get prospects from one end of the funnel to the other without them dropping out along the way, you now have a new customer.
In order to design a successful purchase journey, you need to understand how and when users interact with your business. Creating a sales funnel allows you to visualize each step of the process and the insight it provides can help you set up an effective marketing strategy for each stage
Why the Sales Funnel Matters
According to Pardot, 68% of all organizations have not identified or measured their sales funnel and 79% of the leads never gets converted to paying customers. Without an effective sales funnel, businesses are unable to move leads through the pipeline and cannot identify improvements that need to be made in the processes for effective conversions. A detailed sales funnel can help an organization achieve a variety of goals and help fine-tune the series of steps required to nudge potential customers into making a purchase decision. Some of the benefits of a sales funnel are:
It can help attract a community that may not be familiar with your business
Help engage with an audience that knows and understands your business
Educates prospects who would like to purchase your product or service
Identifies leads that are about to drop out so you can take corrective measures needed for conversion
The Stages of the Sales Funnel
Creating a sales funnel allows you to track a prospect from the time it first interacts with your business all the way to a completed purchase while identifying all the ways customers have dropped out along the way.
A usual sales funnel has the following stages: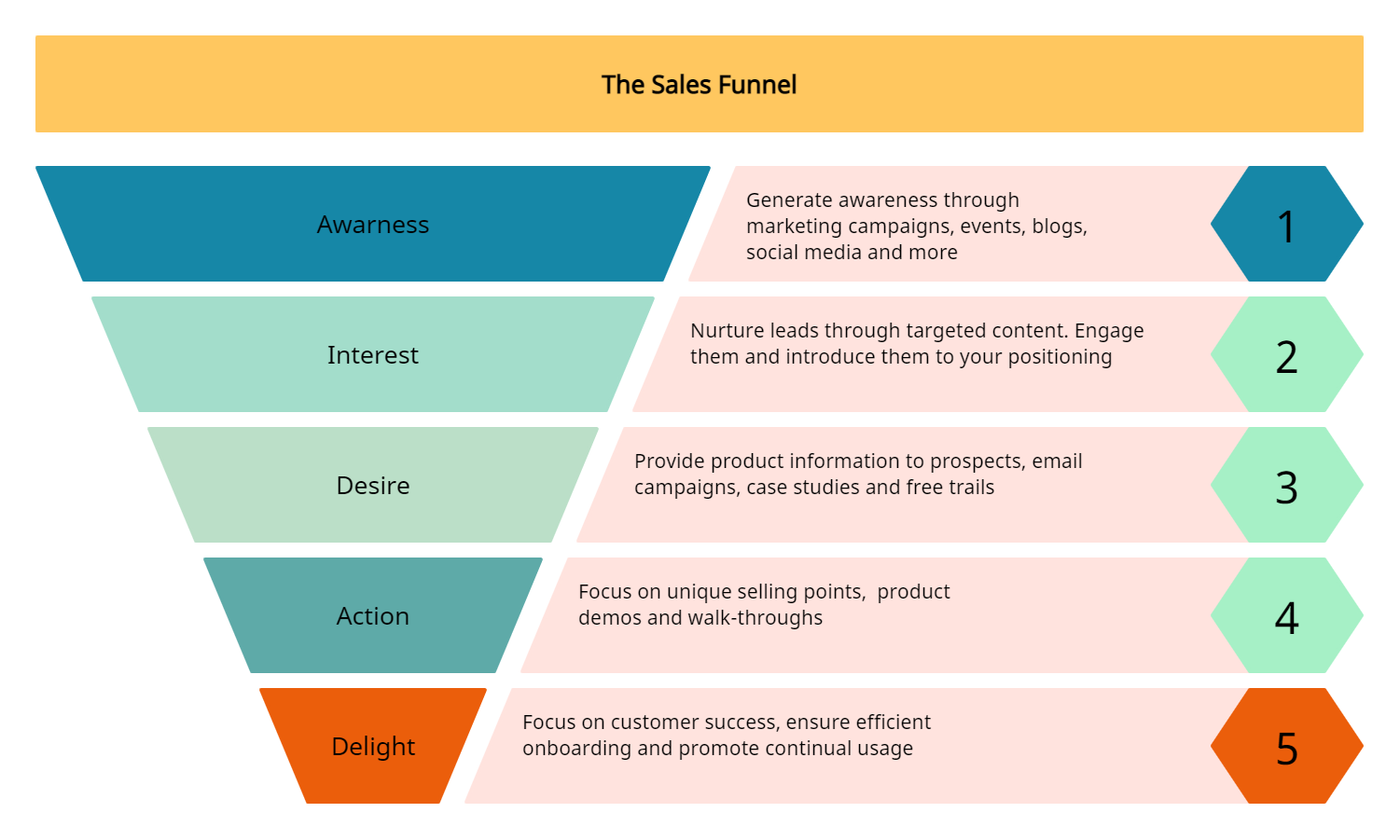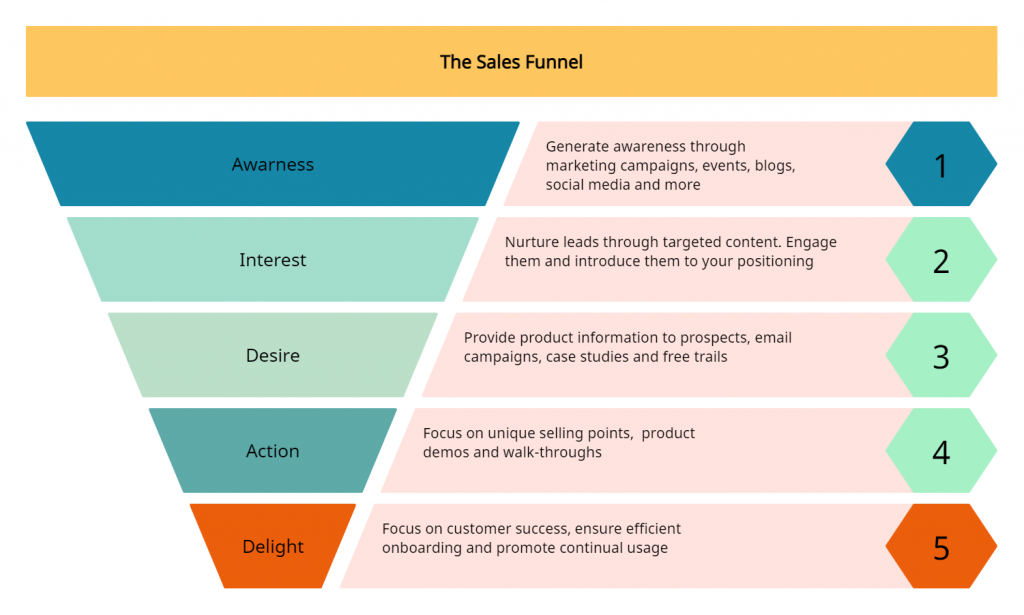 Awareness:
When your customer learns about your business for the first time he is in the awareness stage. Early in the journey, customers are going through exploring options to solve a specific problem.
To target customers during the awareness stage it is important to understand where they are present and find a way to reach out to them with a relevant message. A clear understanding of a customer here will help you develop the right channels to communicate through so you can reach them in the most effective manner.
This is the first impression of your brand, so a carefully crafted experience is key to keeping them engaged.
Interest and Evaluation:
Once you have succeeded in piquing their interest, the potential customer may now consider you as a viable option. At this stage, the customer probably has many questions about your product and how it fits into their lives. The key task here is to provide clarity and remove any friction that may cause them to drop out. Remember, they have expressed their interest in certain ways- clicking on an ad, responding to a form, replying to a sales e-mail and now the onus falls on you to convert that interest into a sale.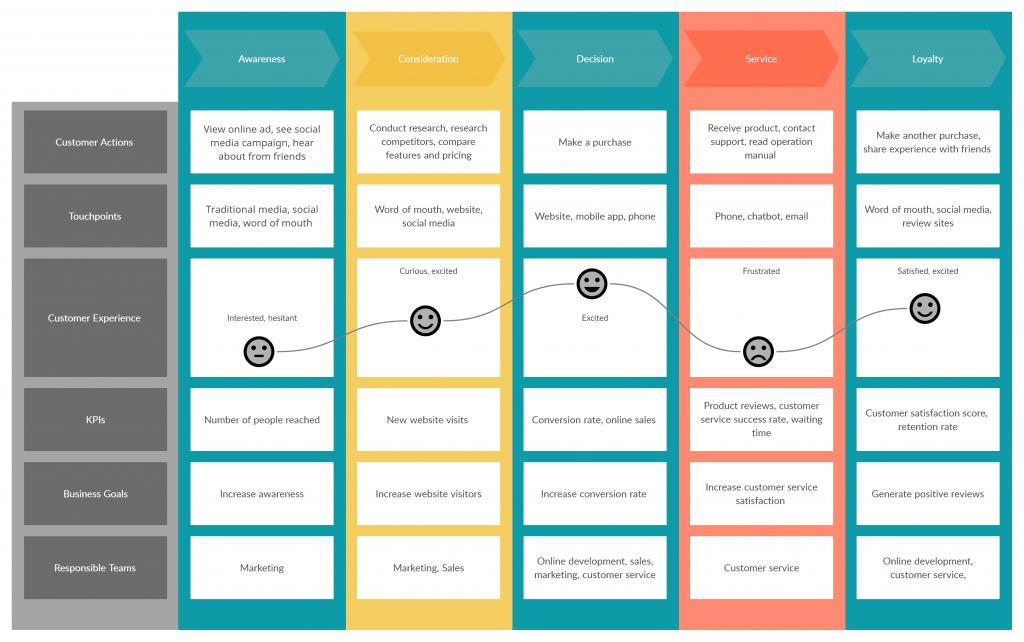 Desire:
After a lead has moved from the awareness stage to the interest stage if they are still engaging with your business or your promotional material, it is likely that they have now entered the 'Desire' stage. At this point, they are evaluating options and are considering the reasons to choose your product. Many times they are often looking for some validation to their decision, so a well-timed content plan can reassure them they are making the right decision. It could be customer testimonials, case studies from other customers, tutorials, or even discount codes.
The main goal at this stage is to show prospects what life would be like if they chose your product or service.
Action:
There is still some ground to cover between a customer deciding on your product and actually making a purchase. But your goal here isn't simply to get your customer to complete a transaction, it is to ensure they find customer success. This means supporting them with educational material providing the right onboarding experience or even training them to use the product to the best of their ability.
Delight:
One of the most commonly overlooked aspects in a sales funnel is the delight stage. This is the stage where your sales funnel gives birth to the next sale funnel. Converting customers to evangelists greatly minimizes the number of new customers that drop out in the earlier stages of the funnel. Delighting customers can increase retention rates which can have great implications on a business. Just a 5 % retention rate can result in a 25% to 90% increase in profits.
Lead Nurturing
Just setting up a funnel and identifying touchpoints isn't enough. Your sales strategy needs to nurture sales along every step of the funnel and develop and reinforce relationships with buyers that have lasting effects. You can do this by providing the information and answers they need to build trust, increase brand awareness, and maintain a connection until prospects are ready to make a purchase.
Companies who properly nurture their leads see a 450% increase in qualified prospects. And, those who take the time to nurture and grow those customer relationships, see 50% more sales at a 33% lower cost.
Sales Cycle Management:
After the sales funnel is identified, effectively visualized, and the various touchpoints considered, your sales team must create a process to effectively and consistently convert potential sales into customers. Sales cycle management is the process of keeping track of all the stages in the sales life cycle. It involves adjusting them to customers based on their behavior during those key stages.
A Sales Funnel Has the Following steps: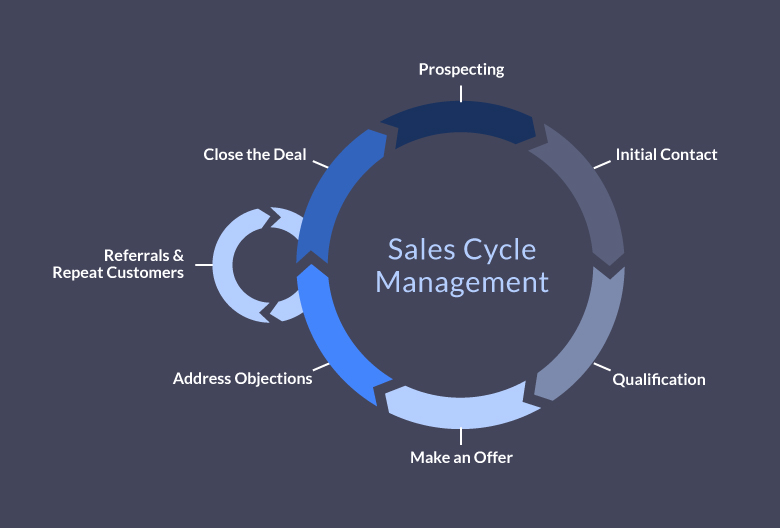 Prospect: Involves identifying potential customers. Here it is important to create an idealized customer persona so your sales team can look for prospects that most closely match it.
Contact: After preparing a list of prospects it is important to identify which stage of the buyer's journey each prospect is on. This will allow your sales team to more readily identify what the prospect's needs may be.
Qualify: Here the salesperson identifies whether or not a potential prospect is interested in a purchase and how far away they are from making an actual decision.
Nurture: This involves actively engaging with prospects until they are ready to make a transaction.
Offer: Leads that sign up for demos or trials and are inquiring about pricing are ready to make a purchase. At this point, it is appropriate to make a sales pitch that concludes with an appropriate offer.
Handle Objections: This is where sales representatives listen to customer concerns and consider any counteroffer they make.
Close: The sale is now complete, all questions the lead had have been answered and the transaction is complete. Your business efforts should now be spent on ensuring your customer achieves success with your product.
Creating and implementing a sales funnel is a series of incremental steps that eventually lead to successfully closing a sale. Spending the time and effort to ensure every stage of the funnel is well thought through and engages the customer in the right way, can greatly boost overall sales number, increase repeat customers, and overall customer satisfaction.
If you have had experience with creating and implementing a sales funnel, we'd love to hear some of the insights you discovered along the way. Please feel free to let us know your thoughts in the comments below.