Innovation is an organization's path to survival. In a world of rapid change and increasing competition, innovation has become essential to maintaining business growth, competitiveness, and productivity.
Innovation is one of the key activities in a company's operations. Innovation is a long and complex process that takes an abstract idea and converts it into a successful product or service. A proper strategy in place to execute it ensures that you do it well.
In this post, we are exploring 5 effective steps for developing a powerful innovation strategy.
What is an Innovation Strategy
"Innovation transforms insight and technology into novel products, processes and services that create new value for stakeholders, drive economic growth and improve standards of living."
In the simplest of terms, innovation is the process of bringing new, unique, and creative ideas into reality. An organization following an innovation strategy uses innovation to execute its business strategy. In other words, an innovation strategy guides the process of resource allocation, enabling the organization to achieve its long-term goals through the use of innovation.
"An innovation strategy guides decisions on how resources are to be used to meet a firm's objectives for innovation and thereby deliver value and build competitive advantage." –

Mark Dodgson, David Gann, Ammon Salter (The Management of Technological Innovation: Strategy and Practice)
A company's innovation strategy should specify how the different types of innovation fit into the business strategy and the resources that should be allocated to implement these innovations.
An innovation strategy paves the way to
Improve the ability to retain customers
Reduce competitive intensity
Improve product or service performance
Increase the chances of becoming a market leader
Preserve bargaining power in an ecosystem and blunt imitators
Types of innovation
Gradual/ incremental innovation (continuous innovation) is based on abilities that can be easily learned and developed in an organization and has a low-risk low return.
Radical innovation (discontinuous innovation) on the other hand may change the structure of an industry dramatically and has a high-risk high return.
Innovation Matrix
The innovation matrix as introduced by VIIMA helps categorize innovation based on two dimensions; the technology it uses and the market it operates in. It, thus, visualizes the most common types of innovation.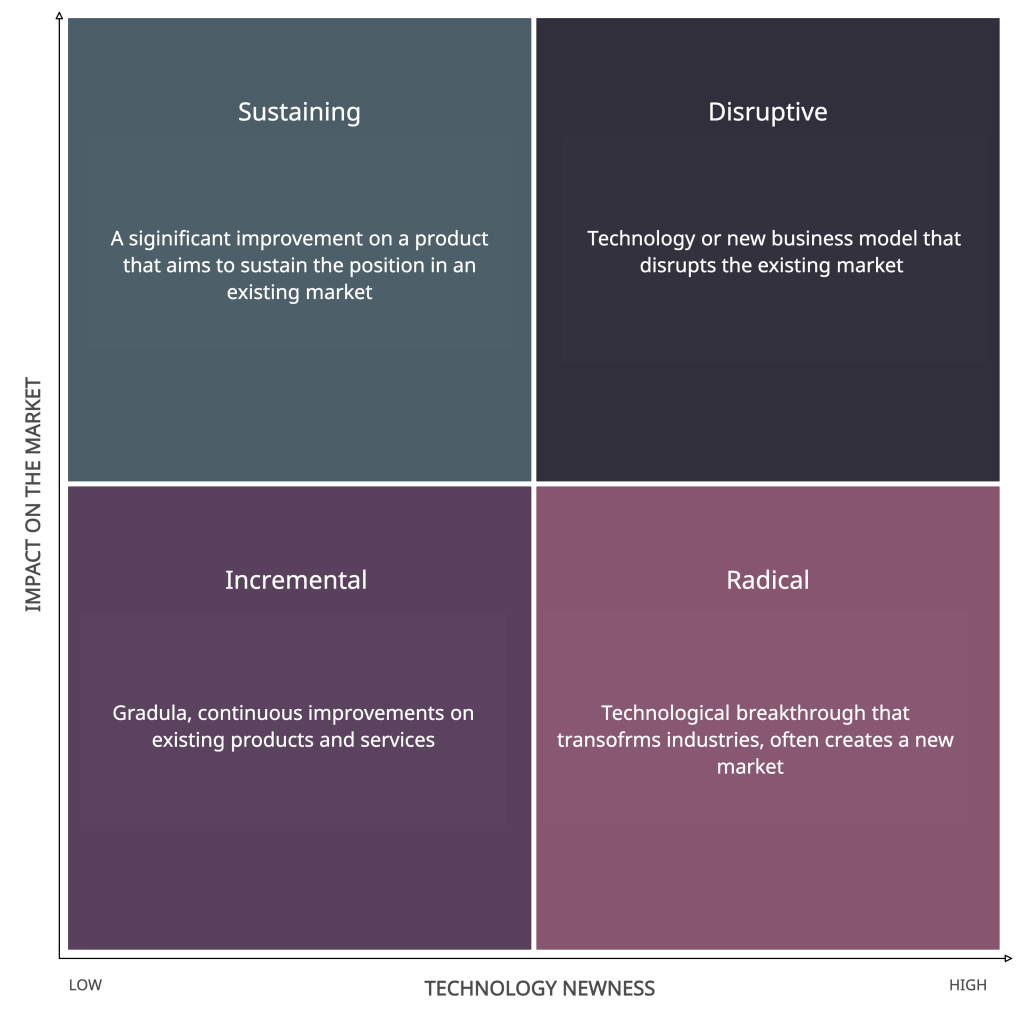 Based on these categories, three major types of innovation an innovation strategy can be based on can be identified,
Product innovation; occurs in the development of new products, modifications in established products, or in the usage of new materials or components in the manufacture of established products
Process innovation; refers to the development of and implementation of significantly improved organizational processes through the integration of new technologies
Business model innovation; refers to the improvements done to an existing business model or the creation of a new one to better meet the needs of customers
The Innovation Value Chain
The innovation value chain provides a framework to identify which innovation approach makes the most sense for a company to adopt. It enables managers to find the company's weaknesses and become more aware of an apt approach to implement for success.
The framework includes three phases
Idea generation; creating and sourcing new ideas from internal and external environments to achieve a competitive advantage in the marketplace.
Conversion; selecting and screening the best idea and implementing them. While this involves transforming knowledge into innovations in the form of new products, processes, or organizational forms, special focus should be placed on the company budget and strict funding criteria to avoid shutting down the development of the idea.
Diffusion; spreading the idea across the organization. Find the relevant communities in the organization to support and spread the new product or service, process, and practices across geographic location, consumer groups, and channels.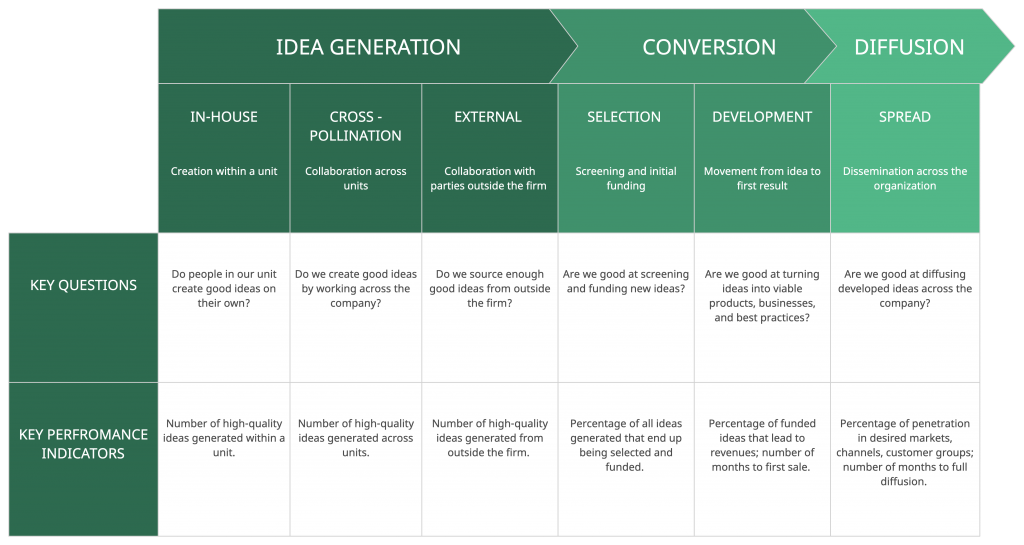 How to Develop an Innovation Strategy
Determine the innovation strategy objective
Developing an innovation strategy should start with understanding the reason behind developing one in the first place or the objectives you want to achieve by implementing it.
To identify your innovation strategy objectives, examine the overall business objectives that help the company achieve sustainable competitive advantage. This will clear the path for your innovation strategy as it should eventually support the overarching goals of the organization.
Get the executive team onboard
Engage the leadership team in dialogue and ensure that they are aware of the innovation objectives established and what it means for them as well as the future of the organization. During the discussions also identify,
External changes that could be occurring at present and in the future as a result of innovation
The implication of such changes on the company
Scope of innovation; identifying opportunities for innovation, whether to improve existing products or services or introduce brand new products to new markets
Business outcomes; financial results, social impact, new economic models, market leadership, etc.
The gaps that must be closed to deliver the chosen innovation scope, especially in terms of processes, skills, and resources needed and company culture
Barriers to and enablers of the innovation strategy. Barriers can come in the form of embedded beliefs on how the business should operate and enablers can show up as core capabilities or resources.
Their involvement is necessary to create a shared vision of success with innovation at the core.
Gather customer insight
Understanding customer needs will inform the direction of the development of the innovation idea. It will also enable you to formulate a strategy that works and create value-creating innovations that will ultimately generate a good return on investment.
In order to create value for potential customers with your innovation strategy, you need a thorough understanding of your market and the customer segment you are catering to.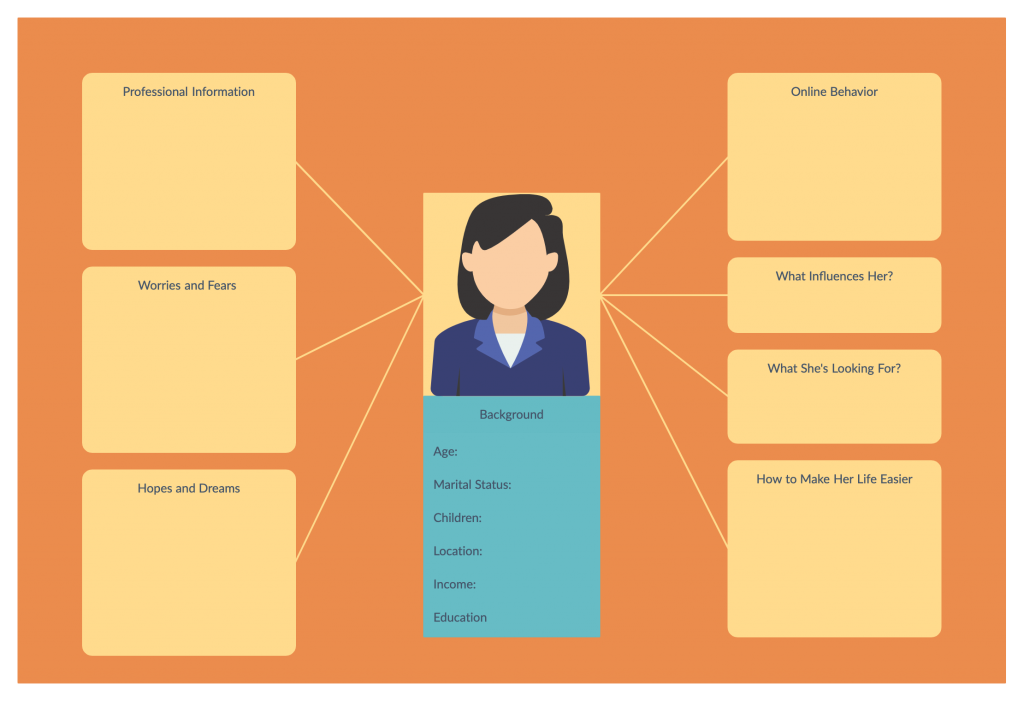 (Utilize a customer persona to gather insight on customers' demographic characteristics, needs, challenges, and ambitions and apply that knowledge to generate a solution.)
Allocate resources
When allocating resources for new areas for growth and renewal, reserving resources for the core business growth should also be taken into consideration. By conducting a comprehensive audit on the current innovation landscape of the organization you can determine and understand how much time, effort, and money are allocated to different innovation initiatives.
The Harvard Business Review has introduced the Innovation Ambition Matrix to determine how to allocate resources based on the type of innovation initiative.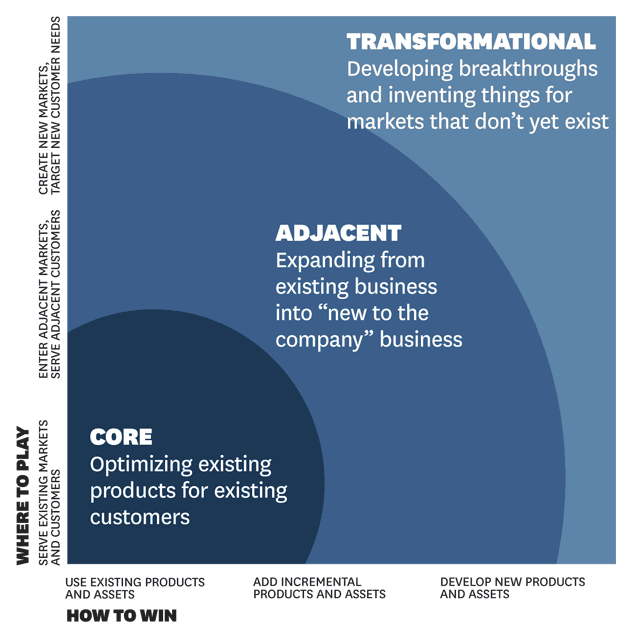 The matrix describes 3 types of innovation and how resources should be split among them,
Core initiatives – refer to efforts to make incremental changes to existing products and incremental inroads into new markets. For example, through new packaging or added service convenience. Such efforts can draw on resources the company already has.
Transformational initiatives – refer to creating new offers to serve new markets and customer needs. This may require assets the company is unfamiliar with.
Adjacent innovations – involves leveraging something the company does well into a new space. This type of innovation allows a company to draw on existing capabilities but necessitates putting those capabilities to new uses.
Research conducted by HBR shows that companies that allocated about 70% of resources to core initiatives, 20% to adjacent ones, and 10% to transformational ones outperformed their peers.
However, the right balance will vary from company to company and according to factors such as industry, competitive position, and the company's stage of development.
To learn more about striking and maintaining the right balance between the allocation of resources and the innovation initiative, refer to this article here.
Develop an innovation system
Not all organizations are likely to possess the capabilities to execute successfully at all three levels of innovation ambitions identified above.
However, HBR emphasizes that the companies that have got it right, have usually focused on five key areas of management that help them excel at the three levels of innovation ambition, and hence enable them to maintain a sustainable innovation system with the organization.
Developing an Innovation Strategy
The innovation strategy of a competitor or an industry leader may not work for you. While you can learn from their best practices, an explicit innovation strategy to match your own competitive needs will be effective in the long run.
Follow the innovation strategy steps explained above to formulate a robust strategy and better coordinate your innovation process.
Got anything to add to our guide? Let us know in the comments below.