With the dramatic growth of technology and frequent changes in consumer behavior, organizations today are under increased pressure to constantly innovate. At the core of gaining a competitive advantage in an ever-evolving marketplace, carrying out strategic goals while staying relevant, meeting customer expectations, and increasing revenue, are the company's resources.
However, more often than not, organizations wind up compromising on their profits because of the inefficient use of the resources at hand. To reach new heights of successes and avoid leading to bigger losses, any organization must practice effective resource management.
This post describes practical ways to manage organizational resources and provides techniques that can help better facilitate the process.
What is Resource Management?
Resource management refers to the proper utilization of organizational resources. It entails planning, scheduling, and allocating both tangible and intangible resources for better performance. Its ultimate target is to maximize the efficiency of resources, hence improving the chances of success of your organizational goals, projects, or tasks.
During the process, the business owner or manager determines how to best utilize the available resources, identify the additional resources needed, and identify the resources that are being wasted.
Importance of Resource Management
Good resource management enables an organization to complete its work in the most efficient way possible and remain competitive with its rivals. Here's why resource management is essential to your organization.
Minimize costs and increase the efficiency of delivering projects by allocating the right resource to the right project at the right time
Foresee the demand for resources and identify potential challenges such as scheduling conflicts or shortage of resources in advance, hence preventing project failures
Allow for the optimal utilization of resources by finding the right balance between maximizing the productivity of your team and at the same time ensuring that they don't feel overworked
Improve transparency and communication, and prevent workplace conflicts. With an overview of resource availability and planned workload, you can avoid over-allocation.
Allow for better strategic planning and decision-making by providing visibility into the company resources, their availability, and schedule.
Types of Organizational Resources
An organization relies on several resources for executing projects, and these fall into two categories; tangible and intangible resources. These resources typically include;

Resource Management Process
The Resource Management Lifecycle introduced by Mavenlink, lists down 5 phases " that mirror the project delivery lifecycle from inception to analysis: Estimate, Plan, Execute, Analyze and Optimize." 
The Estimate Phase
Effectively managing resources starts with estimating your requirements (types and quantities) of internal and external resources to complete a project. Once the project tasks have been defined, the resources needed to successfully complete them should be identified.
There are six inputs that need to be used in the estimation of activity resources. These are
Activity list
Activity attributes
Organizational process assets
The enterprise environmental factors
Project management plan
Resource availability
Several techniques are available to estimate the activity resources,
The judgment of experts; ask experts who have already performed similar tasks and get their opinion on the type of resources required
Alternative analysis; this entails considering different options available for allocating resources. You can change the number or the type of resources used and explore different ways to perform a task and decide between different alternatives.
Published estimating data; understand how many resources you need by referring to studies, articles, and research that has relevant data from other people and organizations.
Project management software; these often offer features for project managers to easily estimate the resources needed for a project and identify any constraints.
The bottom-up estimate; break down the complex tasks into smaller tasks and estimate the resources needed for each individual step. The cost of the individual tasks then can be added together to obtain a total estimate.
The Plan Phase
During this phase of the resource management process, your objective is to identify how to utilize the identified resources in the most efficient manner possible. This means booking your resources for high-level projects based on skill, roles, and availability.
During this phase, you need to have a clear understanding of your resource pool which encompasses the resources, their skills, roles, and experience, availability, cost rates, and bill rates. You can refer to this resource pool as you allocate available and suitable resources to project tasks.
Resource planning allows you to prevent underutilization and overallocation of resources, and minimize task and resource dependencies.
The Execute Phase
By now resources are scheduled and the project plan has been implemented. During this phase,
Track the performance of the resources as the project progresses. Re-allocate resources that are improperly assigned to improve performance
Check-in frequently with the resources to ensure that they are performing well and have the necessary tools to execute their responsibilities
Create a list of resource backups in the case of conflicts that may arise during the project
The Analyze Phase
This phase is dedicated to analyzing the accuracy of resource allocation, their performance, and their contribution to the success of the project. To execute this phase effectively, you need to gather insight and data throughout the resource management lifecycle; this includes information such as hours worked, task due dates and completion dates, increases in skill levels, etc.
Holding a retrospective to reflect on the wins and failures of resource management during the project can help uncover more insight that can be utilized for future training or hiring purposes and resource planning purposes.
The Optimize Phase
Based on the analysis made, you can take action to optimize your resource management process further. Identify where you need to implement change to prevent issues and where in the process you need to make improvements.
Resource Management Tips
The tips mentioned below are to help you better implement resource management in your organization.
Get an overview of the available resources
A clear overview of the resources you are currently working with makes it easier to plan your projects around your goals. Moreover, the knowledge of all the resources available to you will help,
Quickly identify the right resources to assign to the right project task
Detect potential bottlenecks early on and get a better understanding of upcoming commitments
Make more accurate long-term plans and forecast resources more reliably
Create a Centralized Resource Pool
A resource pool provides a clear overview of resources available to be assigned to project tasks. It helps the project manager when allocating resources and planning multiple projects. A centralized resource pool enables everyone in the team to understand the "big picture", where they fit in, what role they have to play, and the limitations involved. This in turn helps motivate them to perform at their best to complete their individual tasks in a timely manner. 
Develop a contingency plan
Unexpected events can occur that may result in conflicts, and eventually lead to project failure. Have a proactive contingency plan in place to be prepared for resource shortages and negative circumstances in case of an emergency.
Continuously monitor project progress
Track the performance of each individual resource throughout the project to identify situations of overallocation or under-allocation. By tracking actual performance against projected performance will enable you to get a better understanding of where time is being lost and make adjustments to your allocation accordingly.
Ensure transparency
Align your team and ensure that they are working collectively towards achieving the same goal to foster transparency and trust. This also means involving the entire team during the project planning and delivery process, encouraging open communication when discussing potential risks to project resources, and ensuring that the team is aware of the project priorities.
Using a Visual Workspace for Resource Management
A single, shared workspace to collaborate on brainstorming, planning, executing, and analyzing around your resource management plan helps centralize your resource management workflows and assets. This in turn streamlines cross-team collaboration and communication, allowing for a smoother resource management process.
An infinite visual workspace like Creately lets you have your work breakdowns structure, resource breakdown structure, team charter, and task management boards side by side as you move through planning and executing your project with your team. Creately offers custom-made templates for various resource management and project planning tasks that teams can use right away to fast-track their work.
Visual Techniques to Streamline Resource Management
The following visual tools can be used to better understand the status of your organizational resource utilization and resource requirements, allocate them better, and track project progress effectively.
Work Breakdown Structure
The work breakdown structure helps break down large projects into smaller and more manageable parts which contain the project deliverables or outcomes that it will complete. This will help quickly identify the resources needed to complete each individual project deliverable.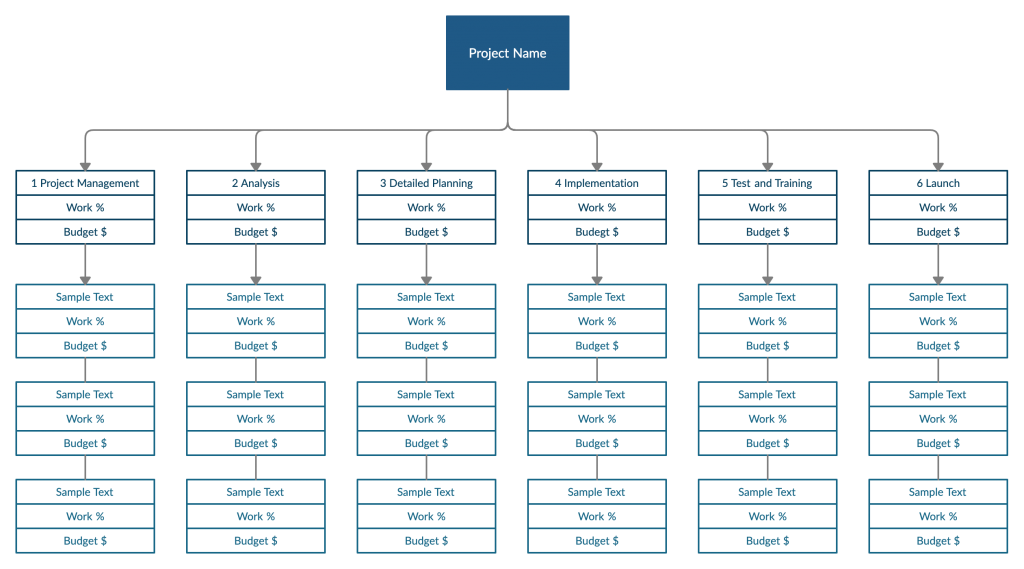 Refer to our Easy Guide to Work Breakdown Structures to learn how to create a WBS step-by-step.
Resource Breakdown Structure
The resource breakdown structure represents the list of resources that will be required to execute a certain project. It hierarchically breaks down resources that will cost money (i.e. people, equipment, and material) by category and type, thus helping estimate what the project will cost and inform the budget.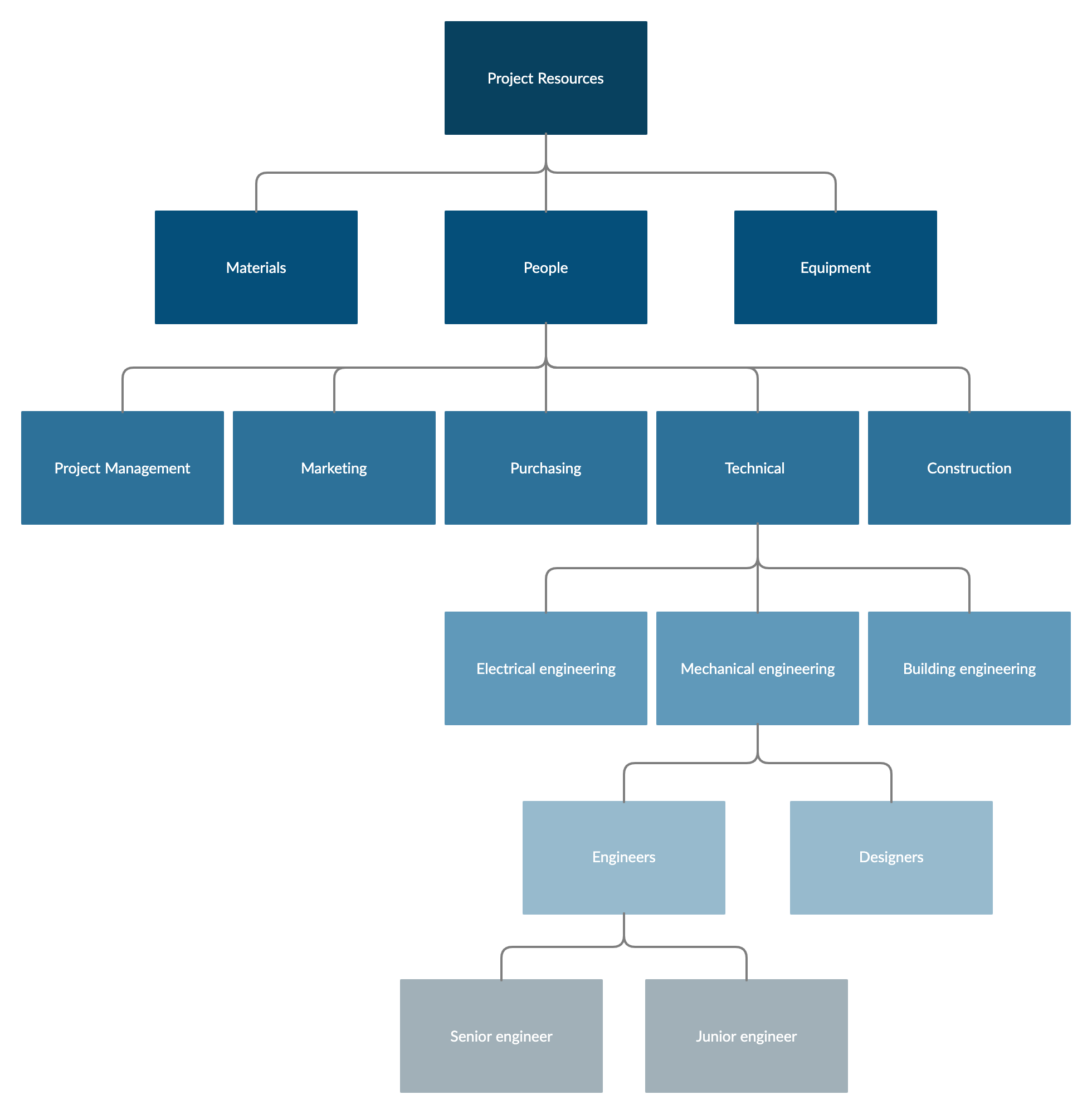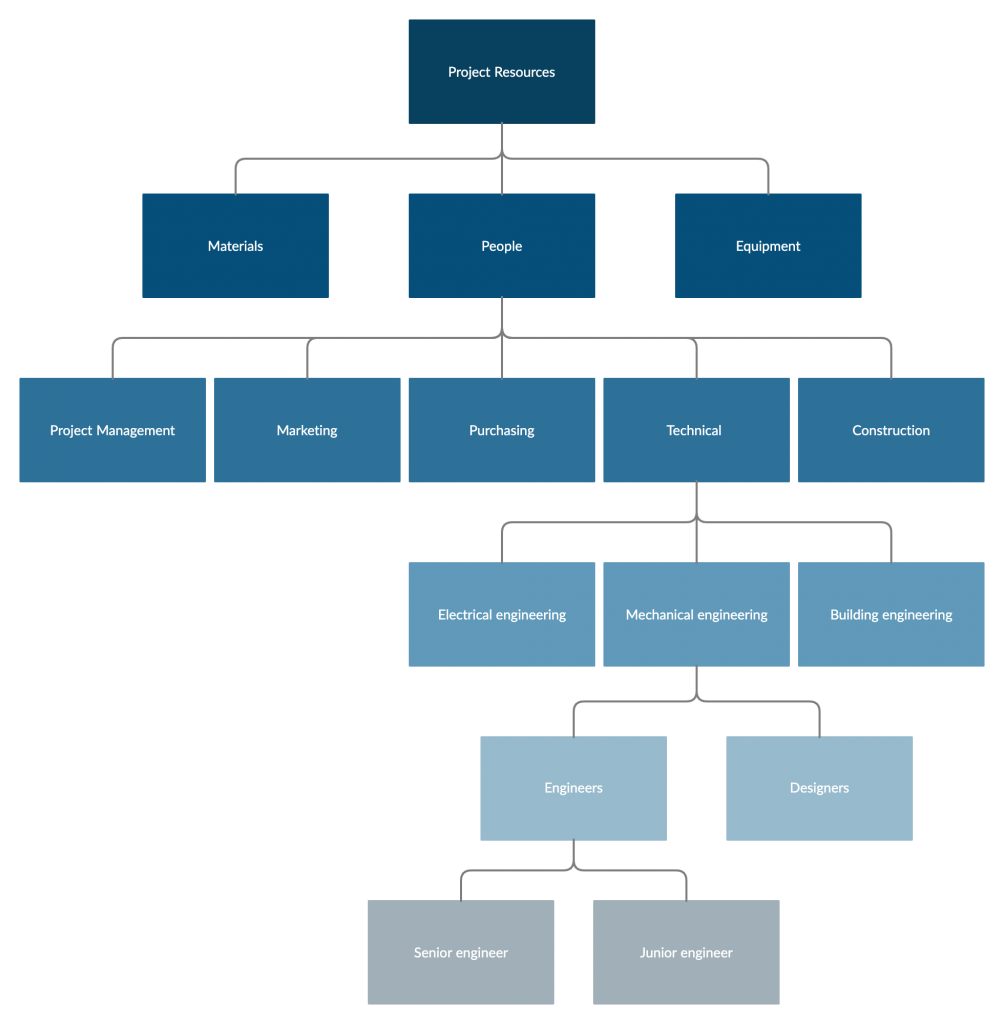 Learn more about using the resource breakdown structure here.
Skills Inventory
The skills inventory is a human resource management tool that is used to record information on the skills, education, and experiences of current employees. This enables you to quickly assess whether the current staff can meet project requirements and allocate them appropriately.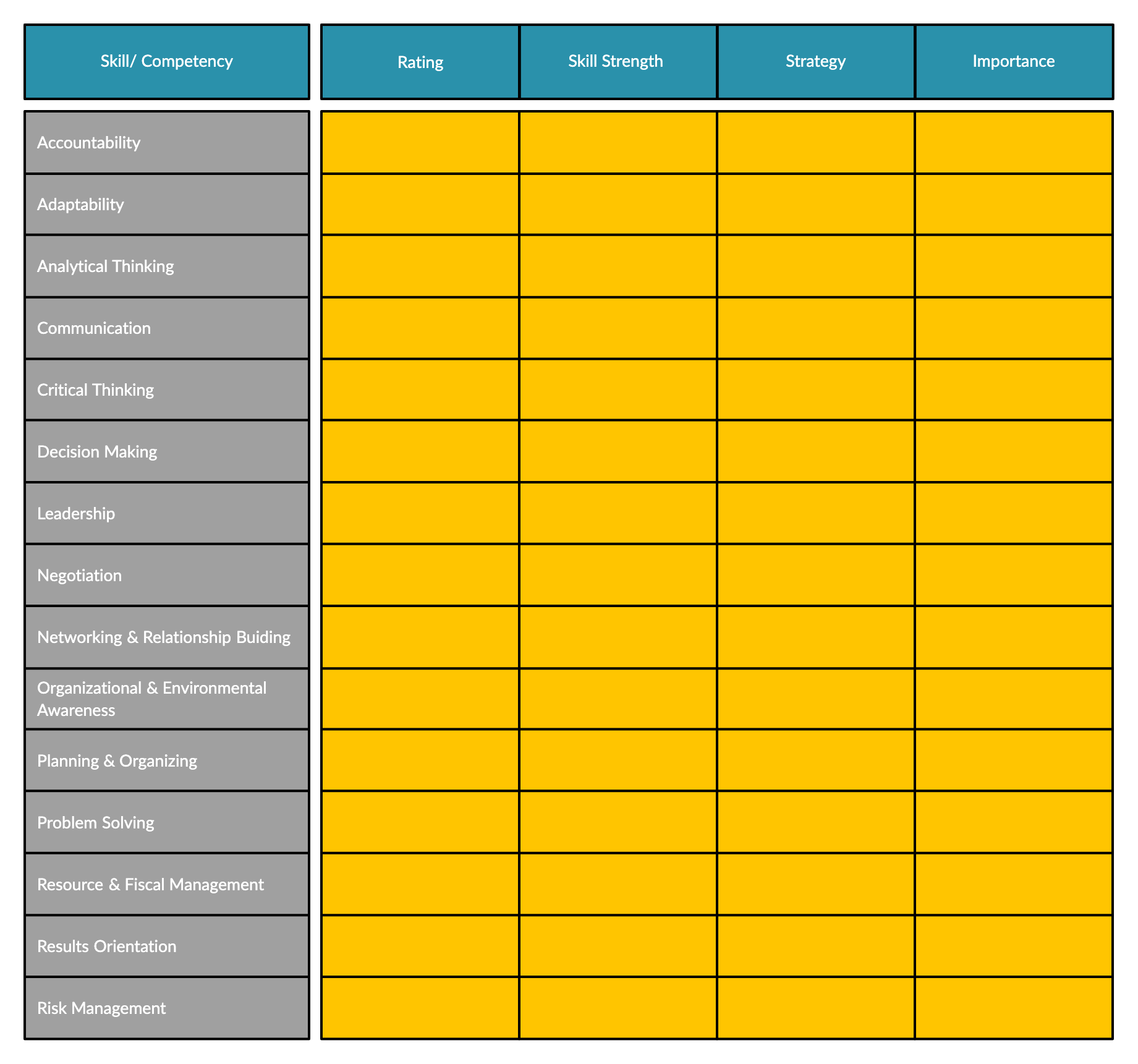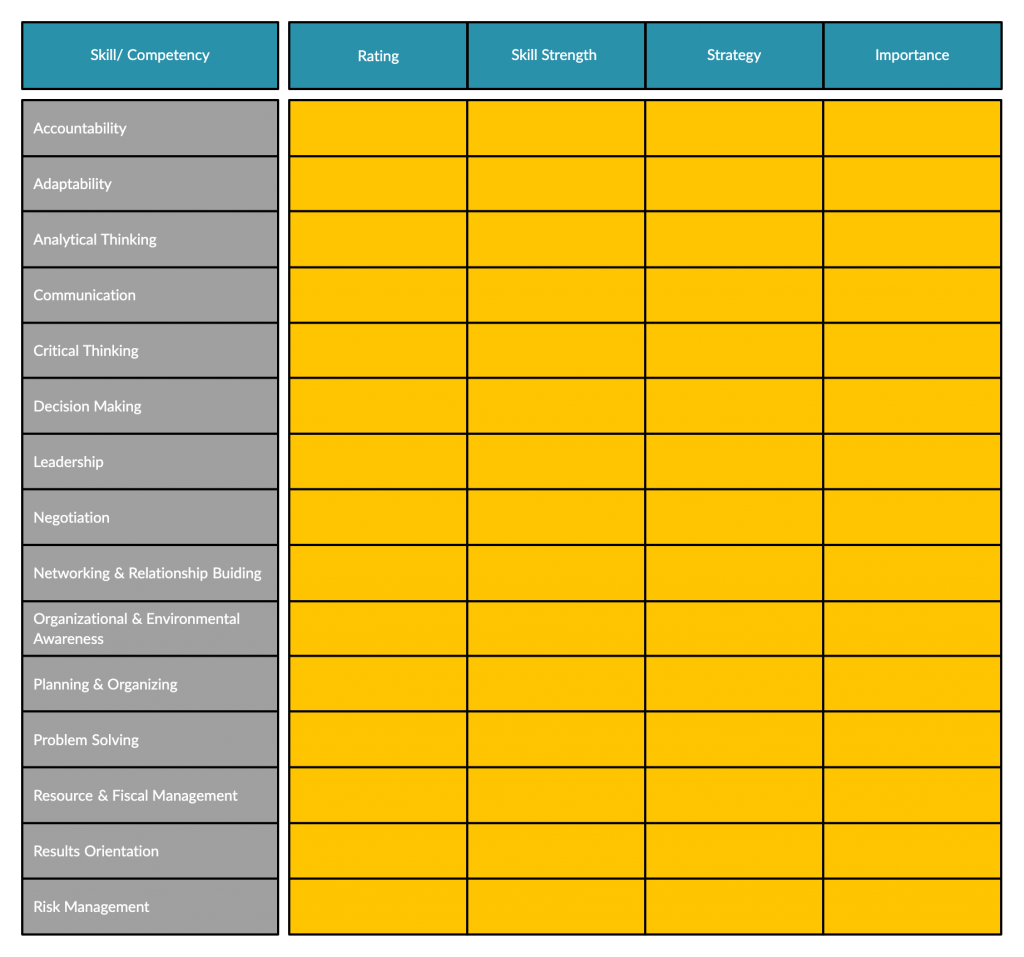 Read our guide on Human Resource Planning to learn more about the manpower planning process and tools.
Kanban Board
The Kanban board lets you visualize your workflow across multiple stages of the project (i.e. to do, in-progress, and done). In terms of resource management, the Kanban board is helpful when managing a project with scarce or limited resources that need to be utilized wisely.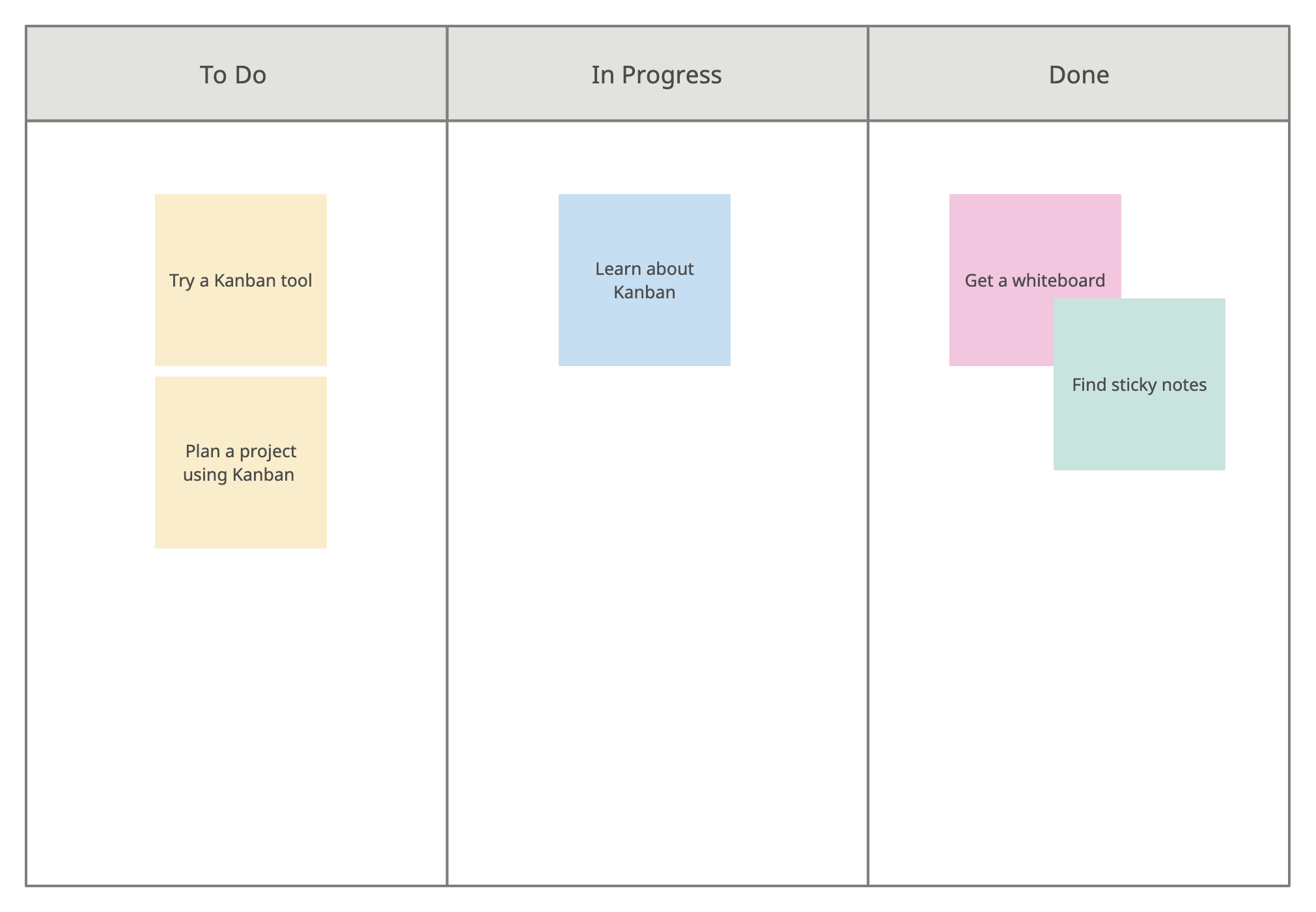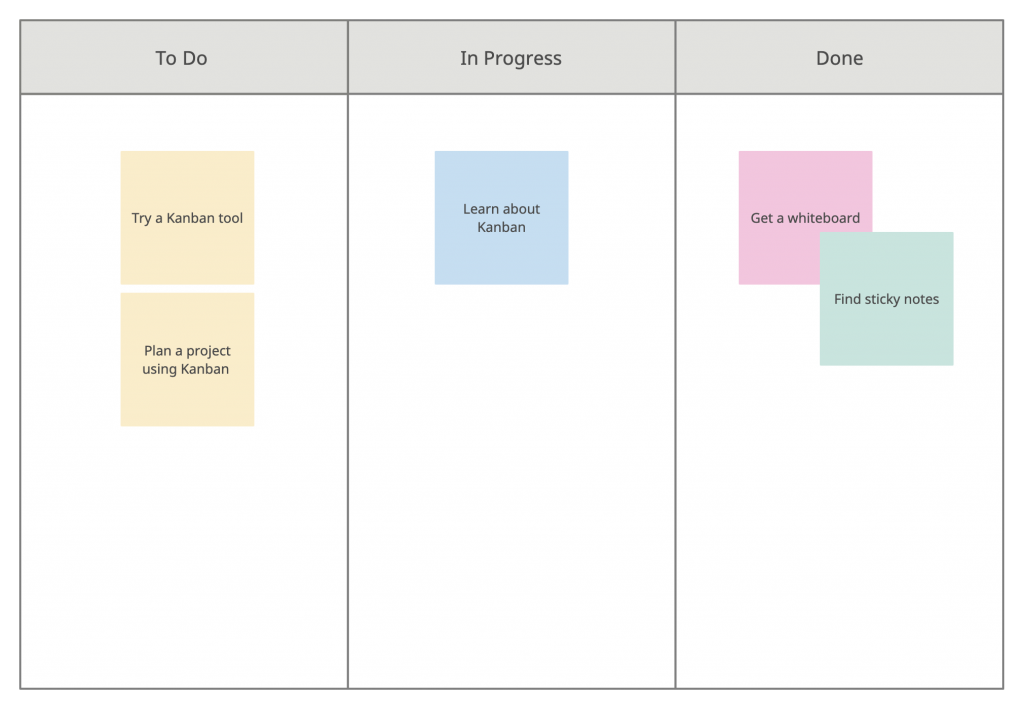 Refer to our guide on How to Better Manage Your Projects with Kanban Boards to learn more about creating and using Kanban boards.
Gantt Charts
Gantt charts provide a quick overview of the scheduled project tasks, their progress, and who's working on them. The ability to assimilate the entire workload of the whole team at a glance makes it easier to detect areas where resources have been overallocated or underutilized.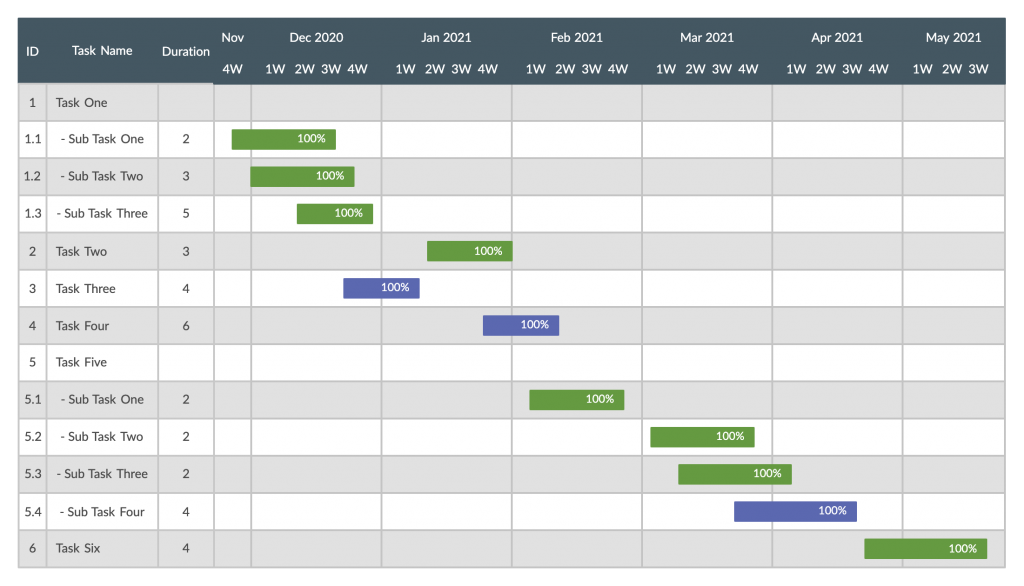 Ready to Improve Your Resource Management Process?
The practice of resource management is invaluable to all organizations, as resources are crucial to accomplishing organizational goals, meeting customer needs, increasing revenue, and growing the business.
Proper resource management aids in terms of increasing team efficiency, preventing miscommunication mishaps between team members, managers, and clients, making accurate forecasts, and ironing out bottlenecks before they occur during projects. While it offers many benefits, if not done properly it can cost you a lot as well.
We hope this guide will help you get a better grasp on your resource management process and improve your projects.
Got more tips to share? Let us know your comments below.