How to avoid disasters? Be prepared for them.
When things are going well, you often forget to plan for the bad times. But when disaster strikes, you could lose everything in a heartbeat.
An earthquake can bring your whole shop to the ground, your biggest client can choose your competitor over you, your system suddenly can crash making you lose important data etc. There are endless possibilities of disasters if you really think about it.
That's why lack of a plan can be a disaster of its own.
Let's see why you need a business contingency plan and how to create one in a few simple steps.
What is a Business Contingency Plan?
But first, let's define what a contingency plan is.

A contingency plan is a proactive strategy that describes the course of actions or steps the management and staff of an organization need to take in response to an event that could happen in the future. It plays a significant role in business continuity, risk management and disaster recovery.

It helps you stay prepared for unforeseen events and minimize their impact. It also outlines a plan for carrying out the normal business operations after the event has occurred.

It's also known in names such as plan B, backup plan, and disaster recovery plan. In case your primary plan doesn't work, it's time to execute the plan B.

Benefits of a Contingency Plan
Without a contingency plan you're opening yourself to unnecessary risks. Here are some important benefits of a contingency plan that you cannot look away from.

Helps react quickly to negative events. As a contingency plan lists the actions that need to be taken, everyone can focus on what to do without wasting time panicking.
Having a contingency plan in place allows you to minimize damage that could happen from a disaster and minimize the loss of production. For example if you have emergency generators set up, even during a blackout, your team can work seamlessly.
How to Make a Contingency Plan
An effective contingency plan is based on good research and brainstorming. Here are the steps you need to follow in a contingency planning process.

Step 1: List down the key risks
Identify the major events that could have a negative impact on the course of your business and on the key resources, such as employees, machines, IT systems etc.

Involve other team heads, subject experts, and even outsiders like business consultants to get a deeper understanding of things that may cause problems and jeopardize the direction.

Use a mind map to organize and categorize the information you gather from the brainstorming session with the staff. You can easily share this with everyone in the organization to get their input as well.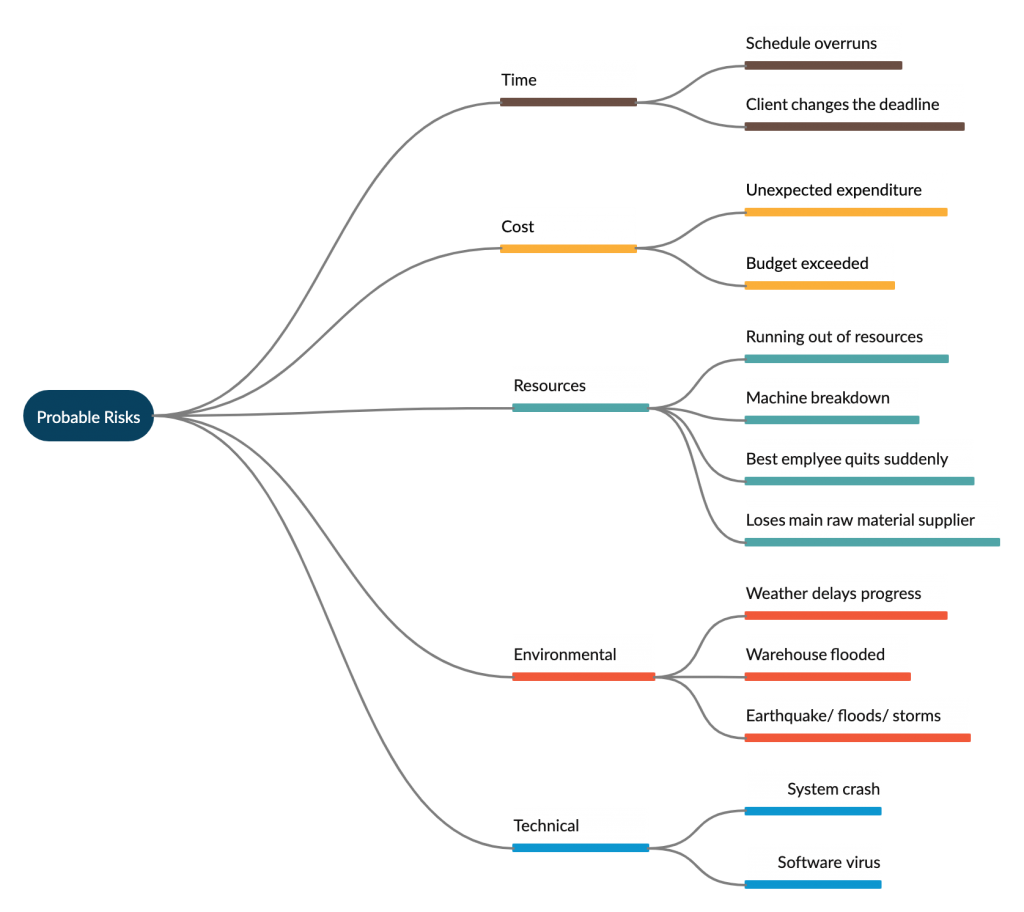 Step 2: Prioritize the Risks Based on Their Impact
Once you have created a list of all the possible risks that could occur in different areas of your business, start prioritizing them based on the threat they pose.

The risk impact probability chart is a handy tool you can use here. It helps you evaluate and prioritize risks based on the severity of their impact and the probability of them occurring.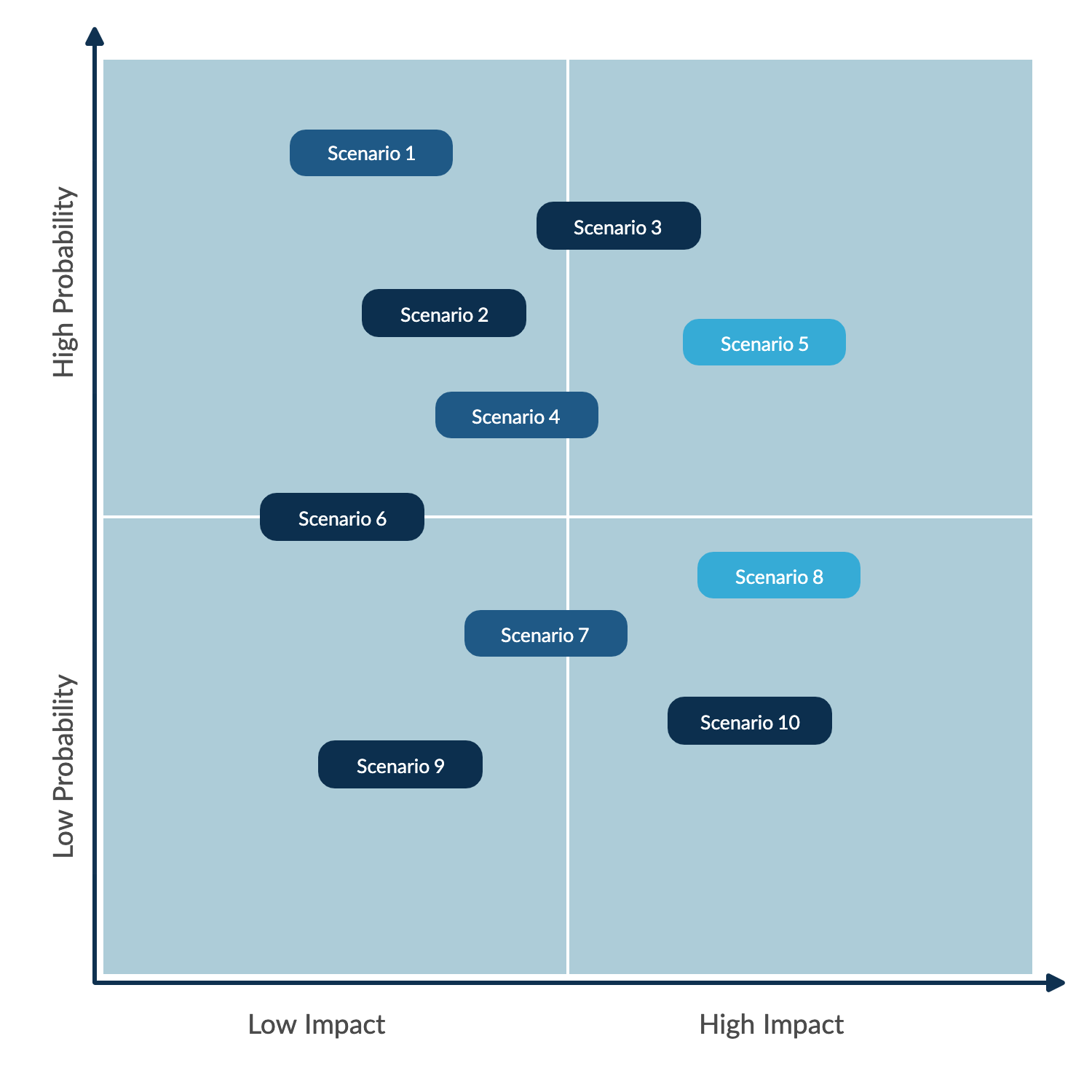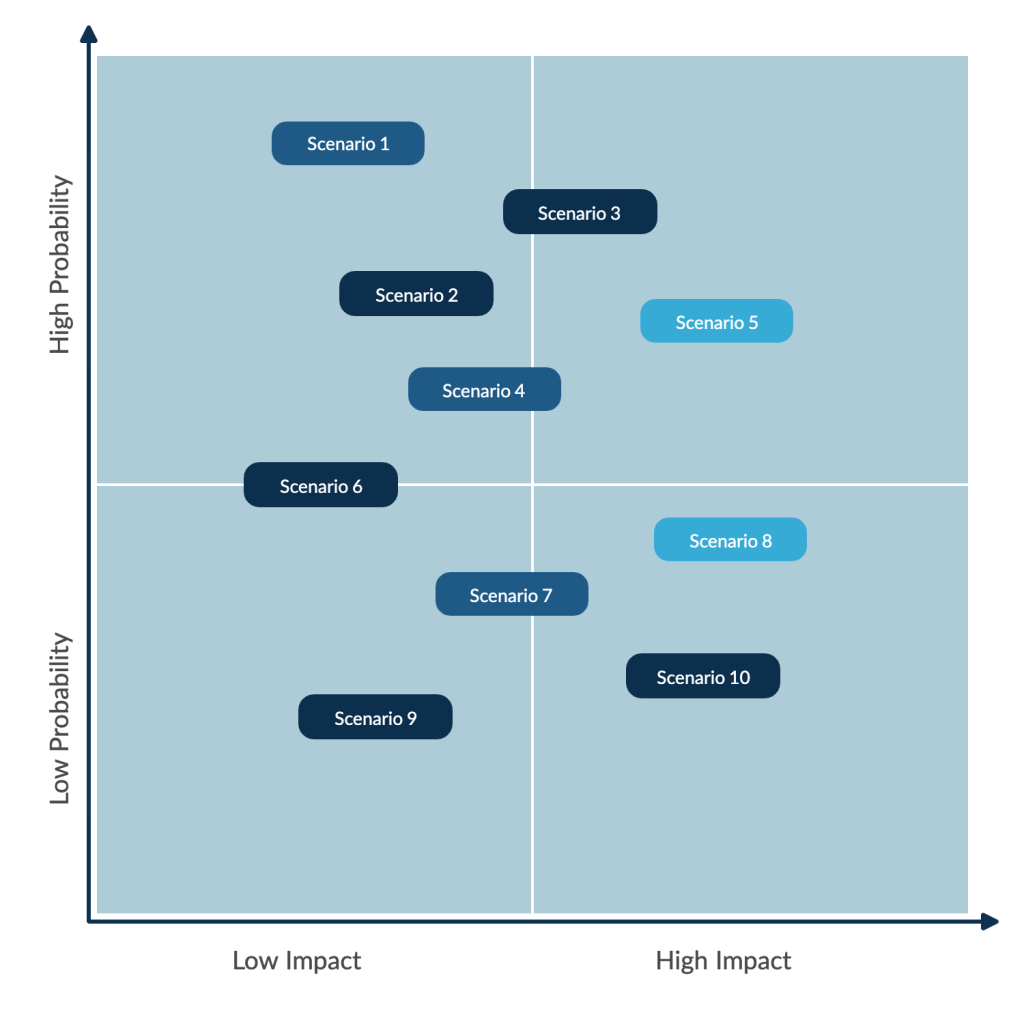 Step 3: Create Contingency Plans for Each Event
In this step you'll create separate plans that outline the actions you need to take in case the risks you identified earlier occur.

Consider what needs to be done in order to resume normal operations after the impact of the event.

Here you'll need to clarify employee responsibilities, timelines that highlight when things should be done and completed after the event, restoring and communications processes and the steps you need to have taken in advance to prevent losses when the event has taken place (i.e. insurance coverage).
You can use a visual format here to highlight the course of actions. It would be easier for everyone to comprehend.
Template 1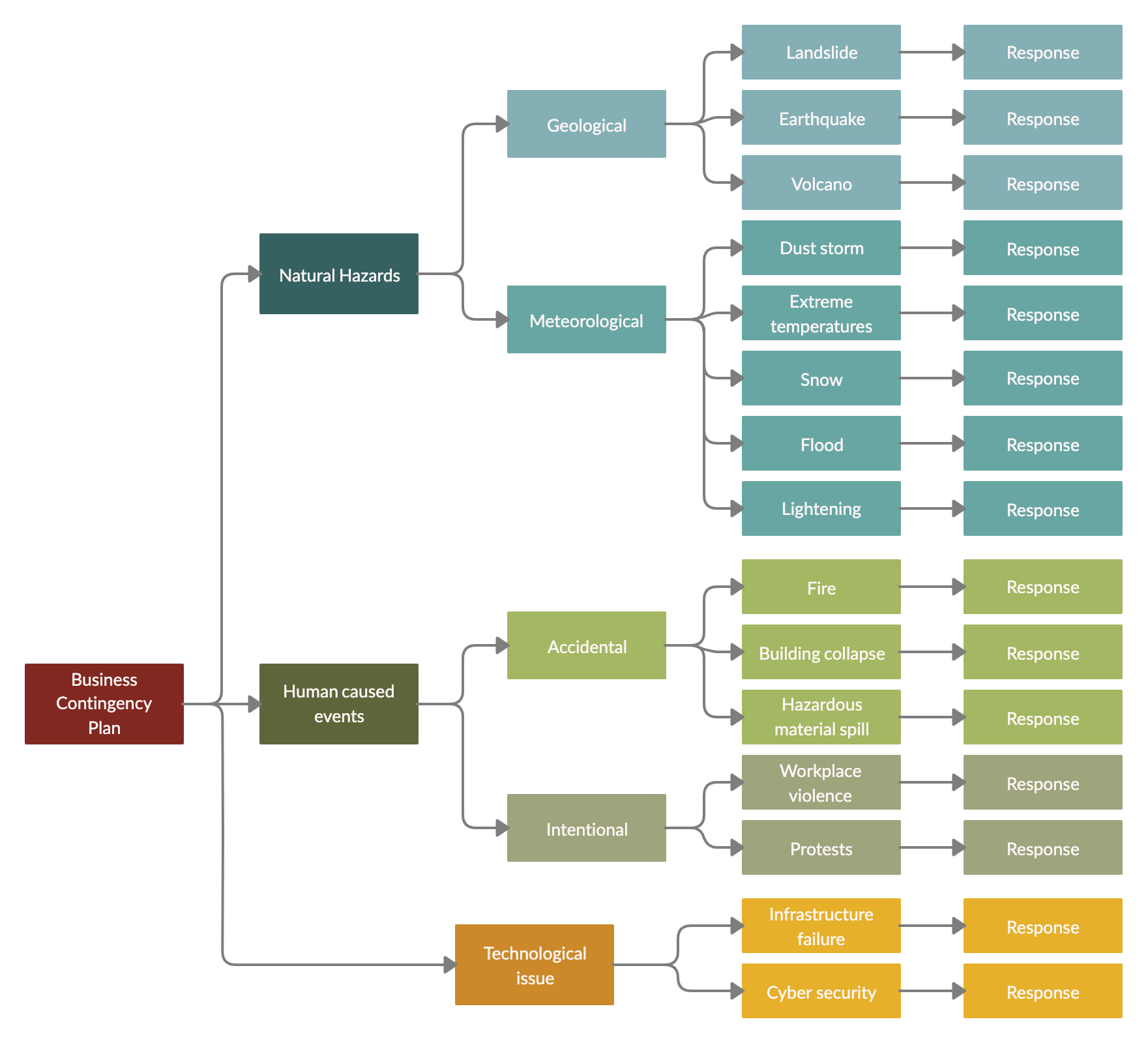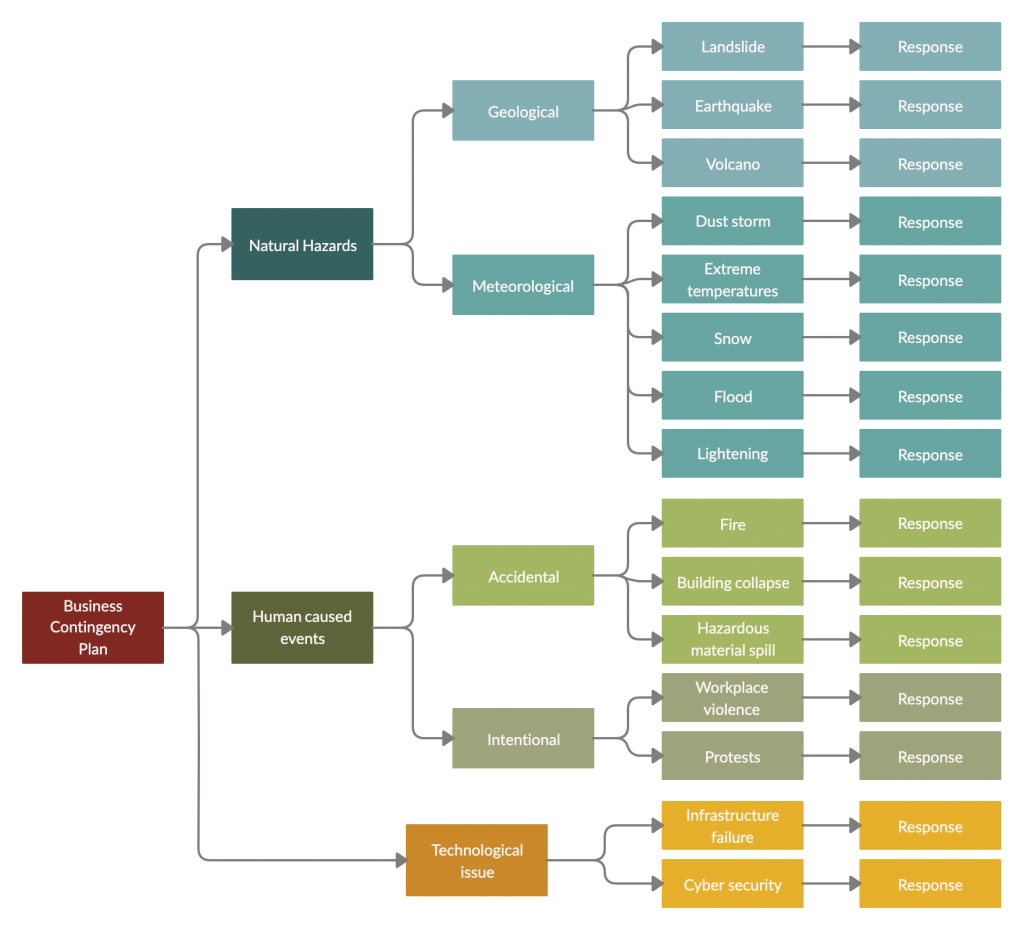 Template 2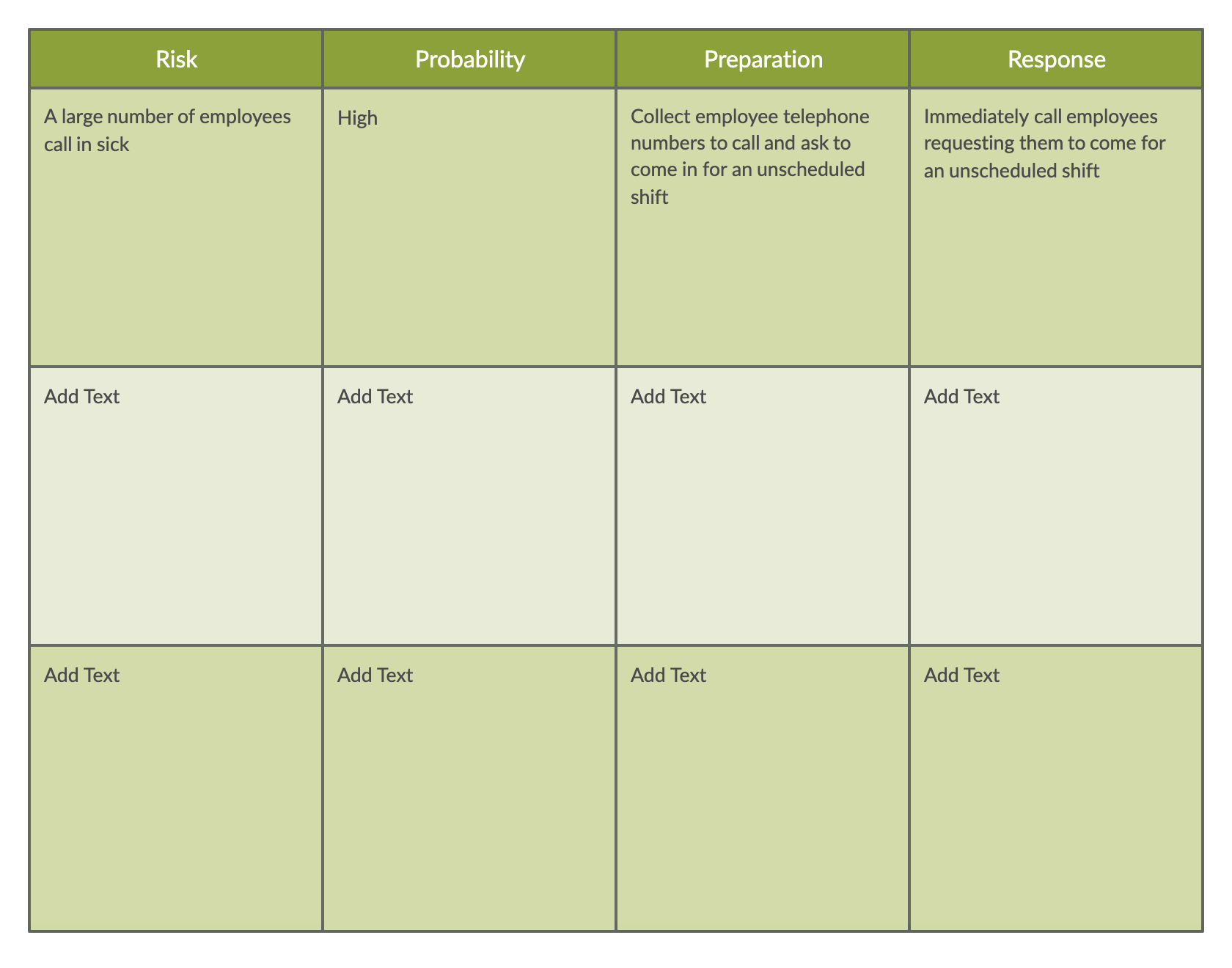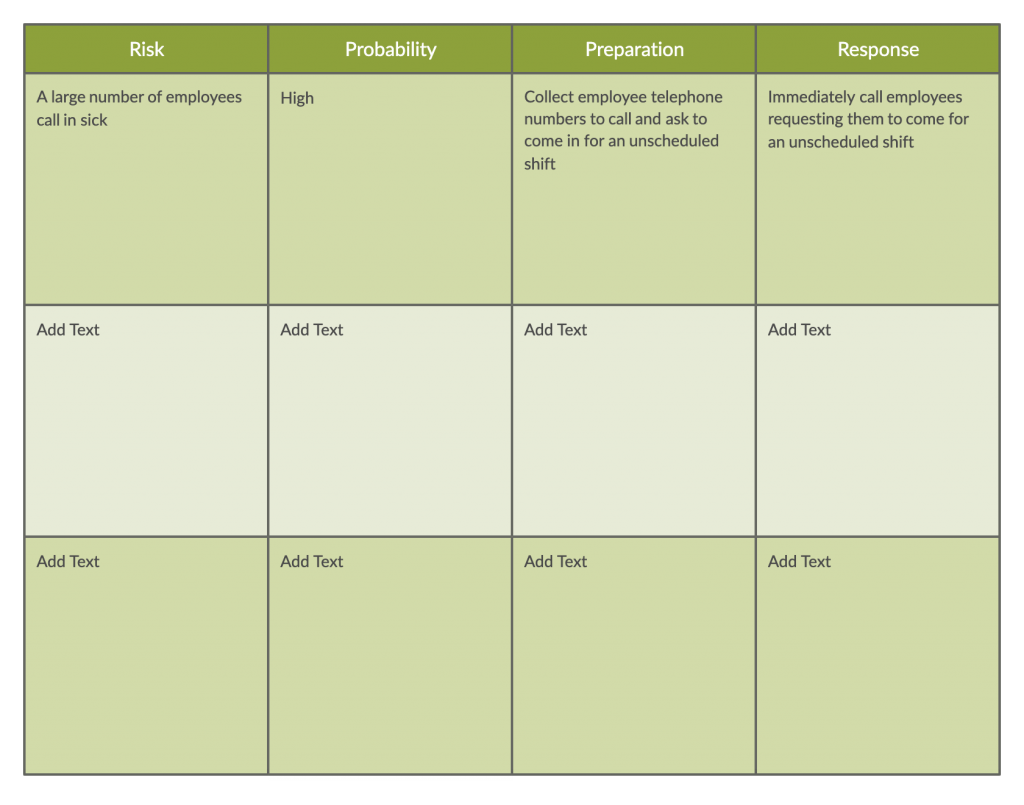 Template 3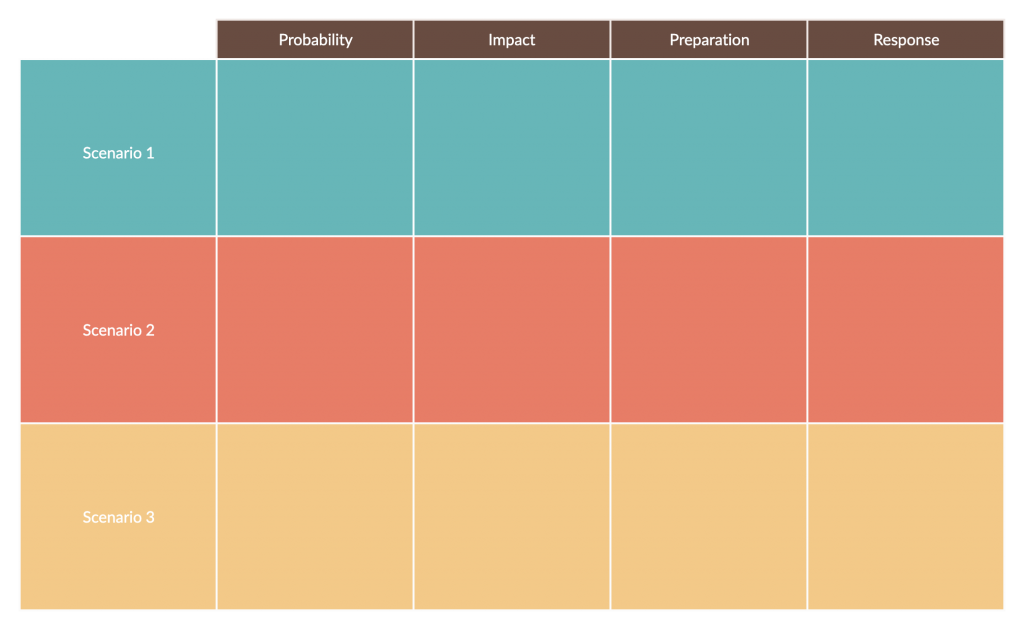 Once you have completed the contingency plans, make sure that they are quickly accessible to all employees and stakeholders.

Review your contingency plans from time to time and update them as needed. And it's a best practice to inform your employees of the changes as well, as it may include updates to their roles and responsibilities.
What's Your Take on Contingency Plans?
That is how you make a detailed contingency plan. List down the major incidents that could harm your business operations, prioritize them based on their impact and probability, create an action plan explaining what you should do in case they occur, and review and update them frequently.

What is the contingency planning process at your organization? Let us know in the comments section below.