The business impact analysis is one of the most important components of the business continuity management planning process. During the analysis, you identify how potential disruptions would impact your key business functions and the overall performance of your organization.
In this post, we will cover everything you need to know about business impact analysis along with useful templates that you can use to get a head start on the planning process.
What is a Business Impact Analysis
As the name implies, the BIA process identifies the exposure and impact of specific threats or disruptions to your business functions and to your organization.
Consequences of such a disruption can include financial loss, reputational loss, and loss of competitive position in addition to potential loss of staff, loss of data, and even loss of access to buildings.
The business impact analysis consists of evaluating the critical business functions of the organization, analyzing the potential disruptive impact on them, and gathering information needed to develop recovery strategies via which the resources required to recover and resume them in the case of a disaster will be determined.
A business impact analysis usually consists of the following steps that are to be led by the BCP (Business Continuity Plan) manager;
Establishing business impact criteria using the BIA questionnaire
Prioritizing the importance of each business unit against the established criteria
Consolidating the findings and rankings
Presenting the final results to the executive management to confirm critical classifications and priority listings
Elements of a Business Impact Analysis
A successful BIA should produce the following deliverables.
Detailed report of information on,

Prioritized critical business functions
Classification of criticality
Tolerable limits
Restoration priority
Impact analysis (both quantitative and qualitative) of unavailable business functions and the problems and damages caused by their unavailability.
Minimum resources that are needed to recover the prioritized critical business functions.
When to Conduct a BIA
The BIA can be used when you need to,
Evaluate the impact of disruption on a business function or process within the organization.
Determine and understand the extent to which key functional and operational dependencies exist within the organization.
Establish the priorities and the sequence in which the disrupted key business functions and IT systems should be restored.
The Importance and Benefits of a Business Impact Analysis
A BIA is a self-evaluation process that can lead to the following advantages.
Provides necessary information for both decision-making and for incorporation into the business continuity plan.
Helps identify the key business processes that are critical to the survival of the organization, and directs effort and resources toward what matters.
Assesses the effects of disruption to key business operations or processes within the organization.
Helps the entire organization get involved in business continuity planning, while allowing each head of a business unit to evaluate operations and assign a value to downtime.
Identifies the equipment and resources needed to run critical business functions and ensures their availability.
Assesses the impact it would have on revenue, investor support, customer service, competitive advantage, and market share in case a critical business function cannot be performed.
Helps identify the vital resources that are needed to maintain normal key operating conditions in a cost-effective manner.
BIA vs Risk Assessment
Whereas the risk assessment seeks to identify the threats that will affect the business and minimize the likelihood of disasters happening, the business impact analysis seeks to establish the optimum balance between recovery timescale and cost, which helps to justify the expenses on risk countermeasures and on recovery capability. 
Although risk assessment and business impact analysis are treated as separate activities, for all practical purposes they are both parts of the overall risk management process of an organization.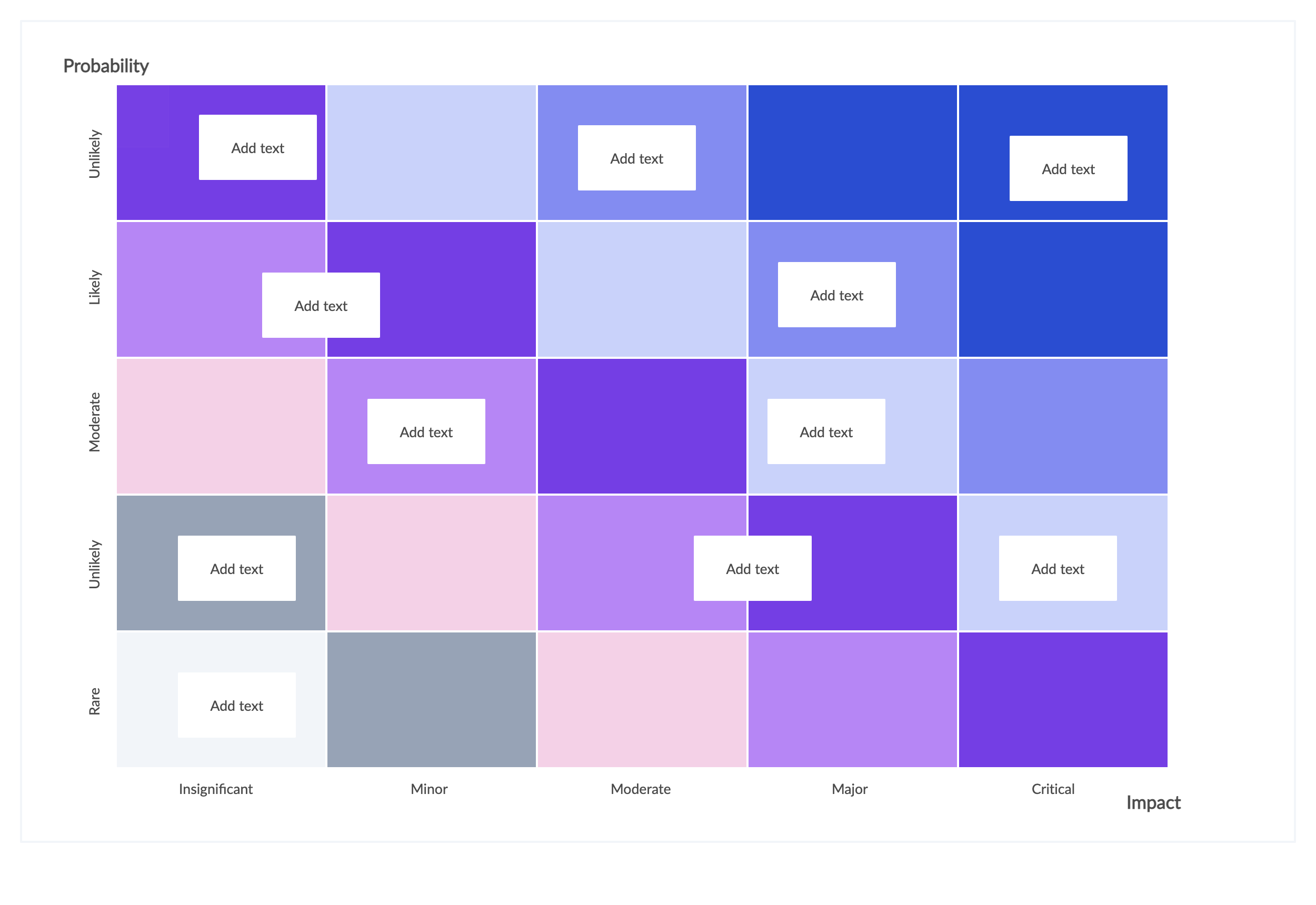 BIA vs. Disaster Recovery Planning
The BIA is one of the vital steps in disaster recovery planning. The BIA is used to evaluate and gather information about the precise effects of the disaster on the organization. The BIA, which identifies critical business functions and the impact of disruption on them, provides the necessary insight to define disaster recovery strategies in response to disasters.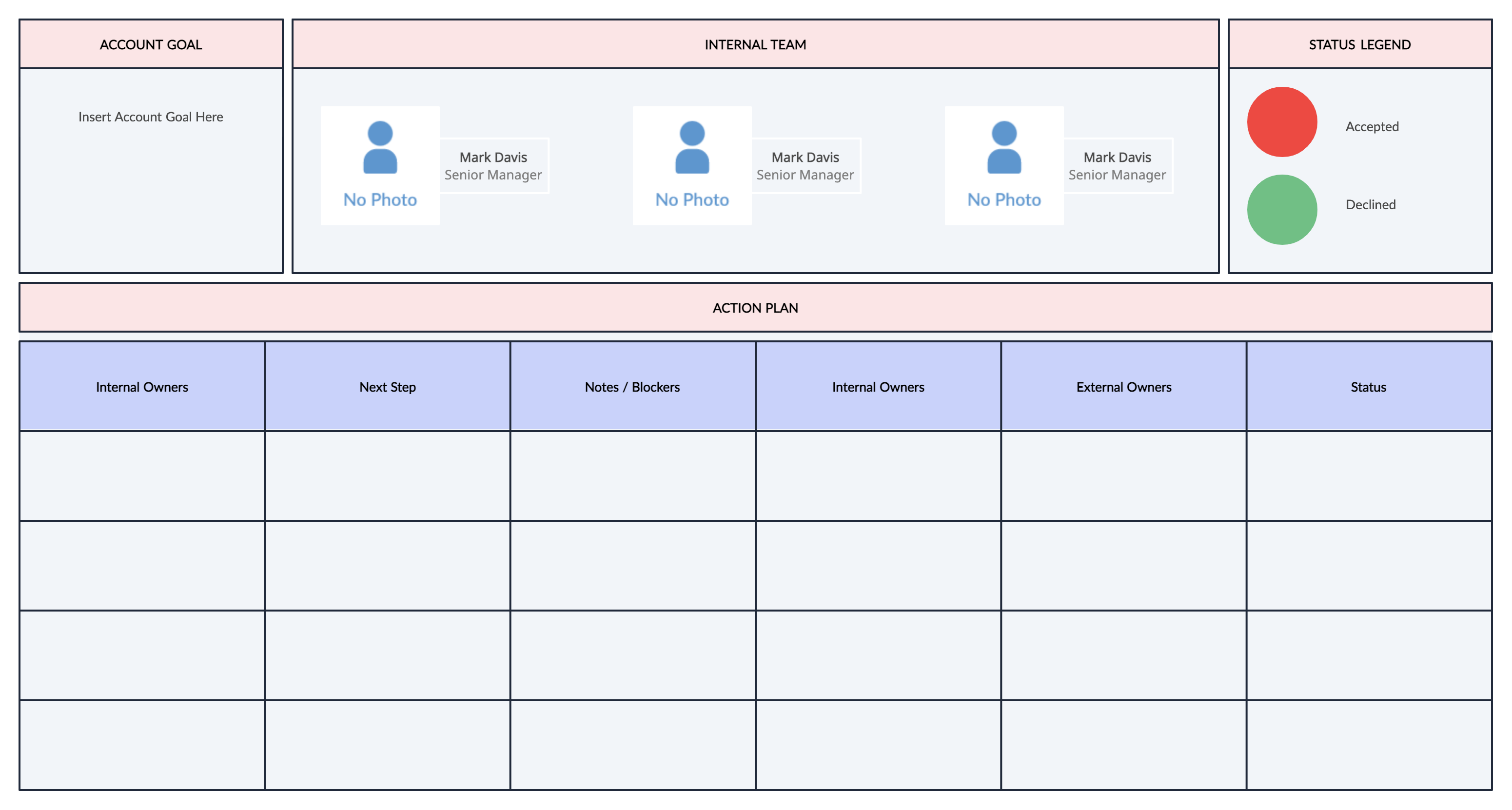 BIA vs. Business Continuity Planning
Business Impact Analysis and risk analysis are areas of business continuity management. While the business continuity plans are based on information, the risk analysis and BIA provide that information and lay the foundation for all related plans.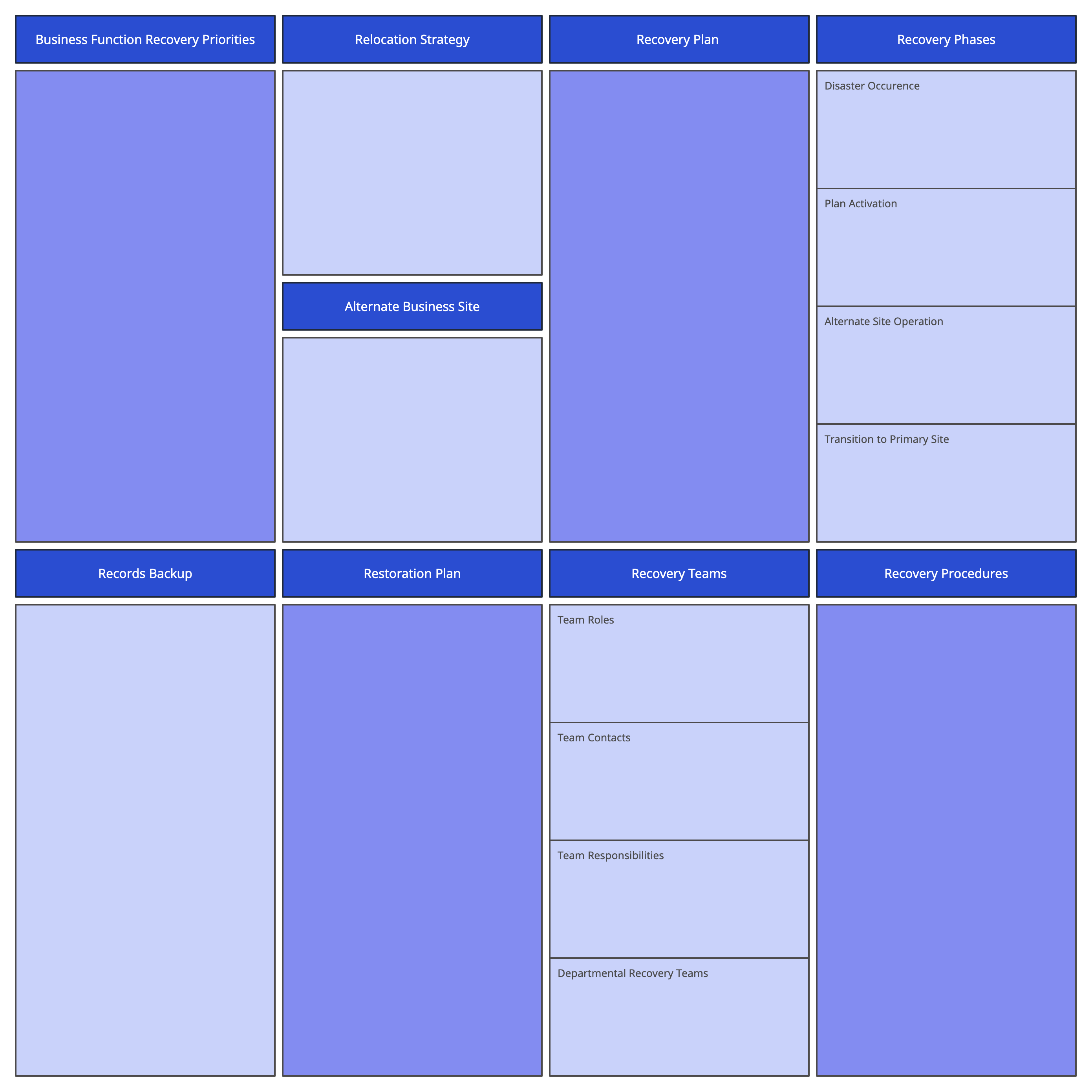 How to Conduct a BIA
Here we have listed down the steps you need to follow to conduct an effective BIA.
Plan your BIA process
A business impact analysis is a project in itself. And like any regular project, it needs planning. With a proper plan establishing the scope of the analysis, goals and objectives, project team, timeline, budget, and the stakeholders involved, you will be able to see it through to the end without unexpected hurdles.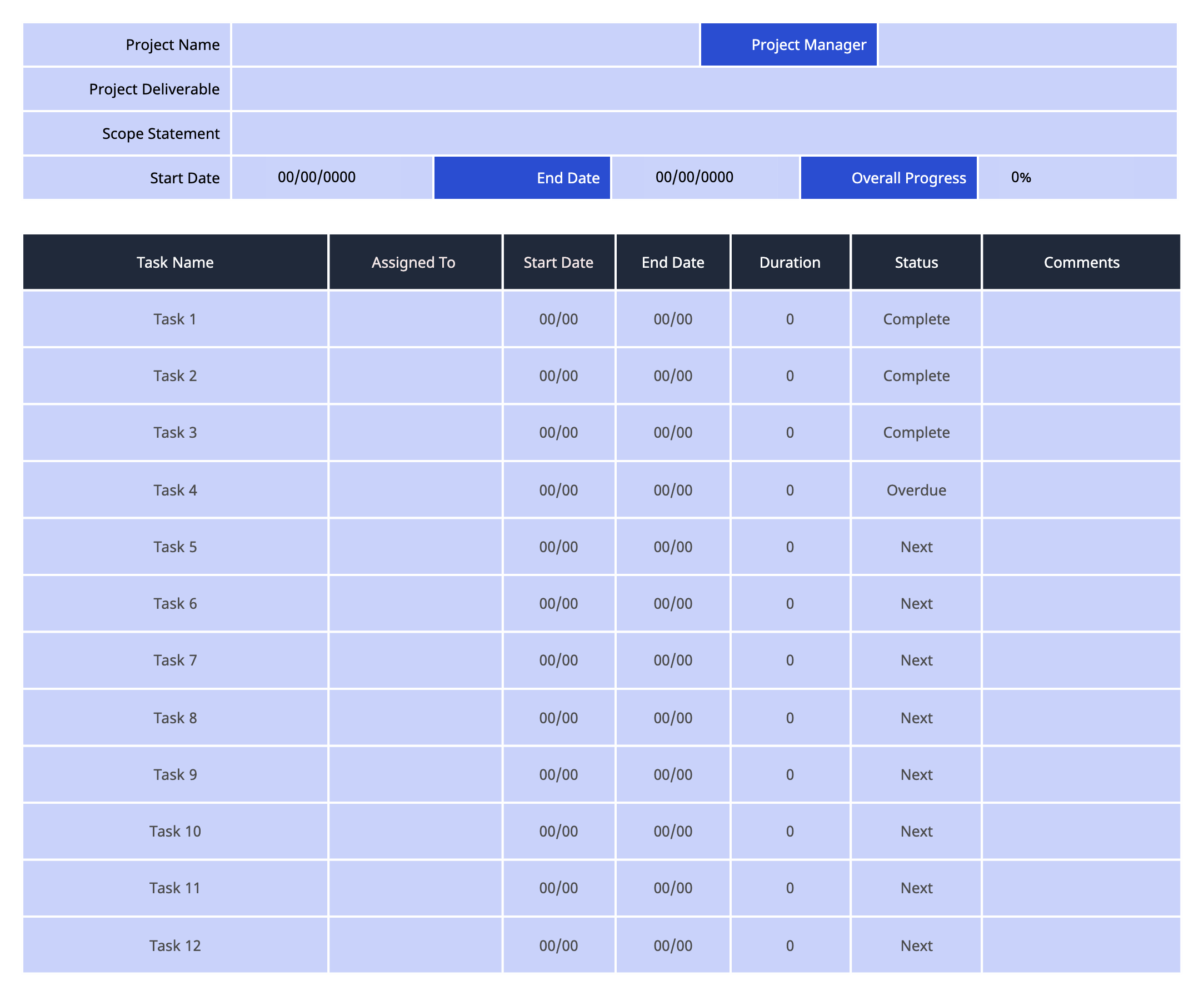 Discover more relevant project management documents with our comprehensive list of project documentation templates.
Gather information
In order to conduct an effective BIA, you should have a first-hand idea of and information on,
How the key business processes work
Inputs and outputs of the process
Resources and tools required
Duration of the process
End-users of the process
Potential disruptions to the process
Financial, operational, and legal impacts of such threats
You can gather this information by,
Talking to or interviewing process owners and stakeholders
Creating and sharing a business impact analysis questionnaire to gather information on business functions, support systems, and IT systems
Verify and Analyze Information
Validate and verify the accuracy of the information gathered through the questionnaires with business process owners and business unit coordinators.
As you analyze information, identify the business functions that are vital to keeping your business moving forward. List down these processes along with the necessary resources such as employees, raw materials, equipment, etc. that are needed to keep them operating and establish a timeline and budget for their recovery.
This way when one of the processes gets disrupted, you will know which one to reinstate first and easily determine which resources are absolutely essential.
Document and Present Findings
During this phase of the analysis, you need to prepare the executive summary and the BIA report. The objective of the business impact analysis report is to provide the necessary insight the senior management needs to develop data-backed recovery strategies.
While the report should include recovery priorities supported by data graphs, charts, and other visual aids, present the findings, recommendations, and subsequent steps to the senior management in both written and oral reports.
The BIA must be re-visited and updated as the business changes due to organizational and technological changes.
BIA Templates
Blank Business Impact Analysis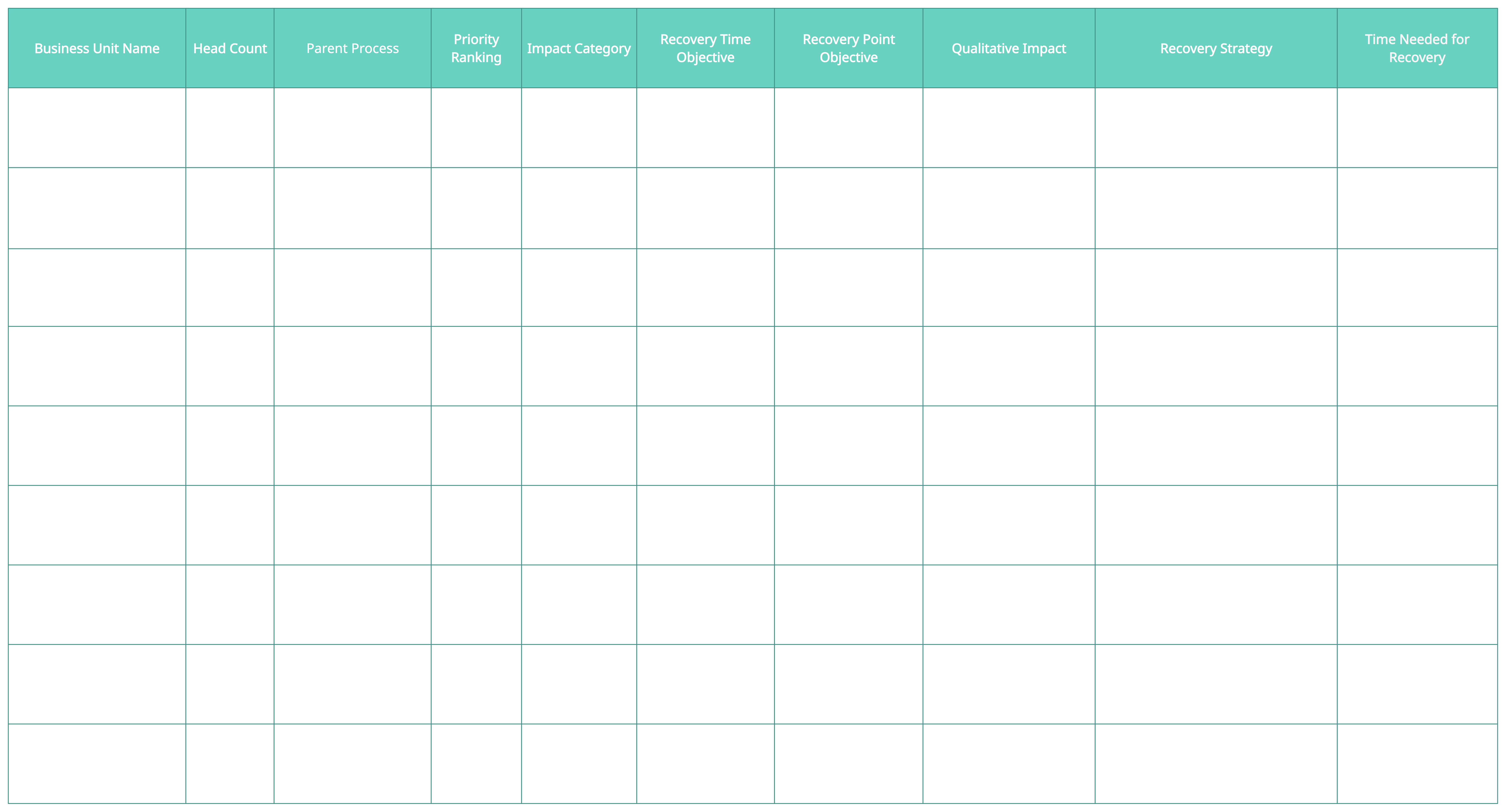 Business Impact Analysis Report Template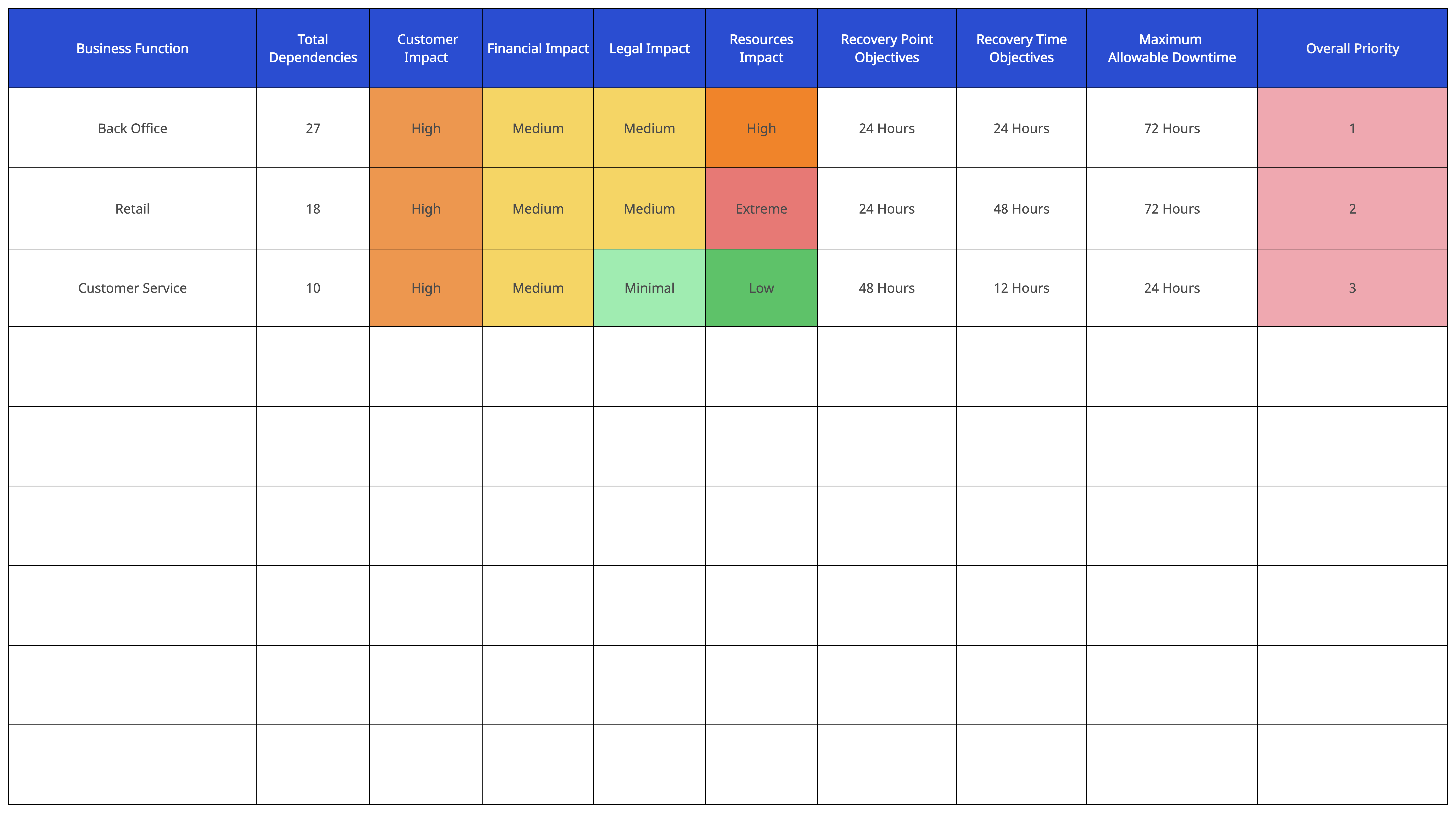 How Can Creately Help When Conducting a BIA
Visual tools to communicate and collaborate better
You can create anything from simple flowcharts to complex work breakdown structures with Crately's standard shape libraries for over 50 types of diagrams. Whether you are simply mapping a process, creating visual aids for your BIA report, or putting together a dashboard for a presentation, you can easily do it on Creately.
Centralize all your information
Bring in all information about your business processes, stakeholders, and teams onto the canvas with integrated notes and database capabilities. Creately has full-on documents for every single shape on the workspace, letting you store a multitude of information whether it's a step in a process map or a cell in a stakeholder registry. Create a single source of truth for your teams during your BIA project.
Coordinate all your work in a single place
Creately's built-in agile project management tools, including project views (i.e Kanban boards, timelines, Gantt charts, etc.), role assignment, progress tracking, and integrations, allows teams to streamline running their projects right inside the app.
Real-time collaboration
Keep your team engaged and collaborate like you are in the same room despite where you are. Real-time mouse tracking, synced previews, comments and discussion threads, advanced sharing and permissions, and version history to keep track of changes.
Got More Tips on Doing a Business Impact Analysis?
Conducting a business impact analysis can be time-consuming and require considerable effort, but the outcome can be instructive and valuable. At the end of it, you will have gained valuable insight into your organization and its functions that is necessary to move it forward.
We hope this guide will help you conduct a successful BIA.
Got any more tips to share? Let us know in the comments section below.