As a company grows, it accumulates a wealth of knowledge, from what your company vision is to best practices to follow, that helps direct and form its path for growth. And preserving such knowledge is nothing but critical to its progress.
However, without a proper system to capture them, these valuable stores of information may get scattered across the organization or lost. This is where you can use a company wiki. It helps collect all the information into a centralized repository, thus providing an easily accessible resource for everyone. In this post, we will discuss how to build a company wiki step by step.
What Is a Company Wiki
A company Wiki (also known as an internal Wiki or corporate Wiki) is an online database used to centralize information about the company and its processes, employees, projects, clients, etc. Companies often consider it as a single source of truth for capturing, organizing, and sharing company knowledge internally. A company wiki allows every team member to access, create or edit content.
A wiki can include information such as,
Important company processes
Company culture, values, and policies
Company roadmap
HR and administrative documents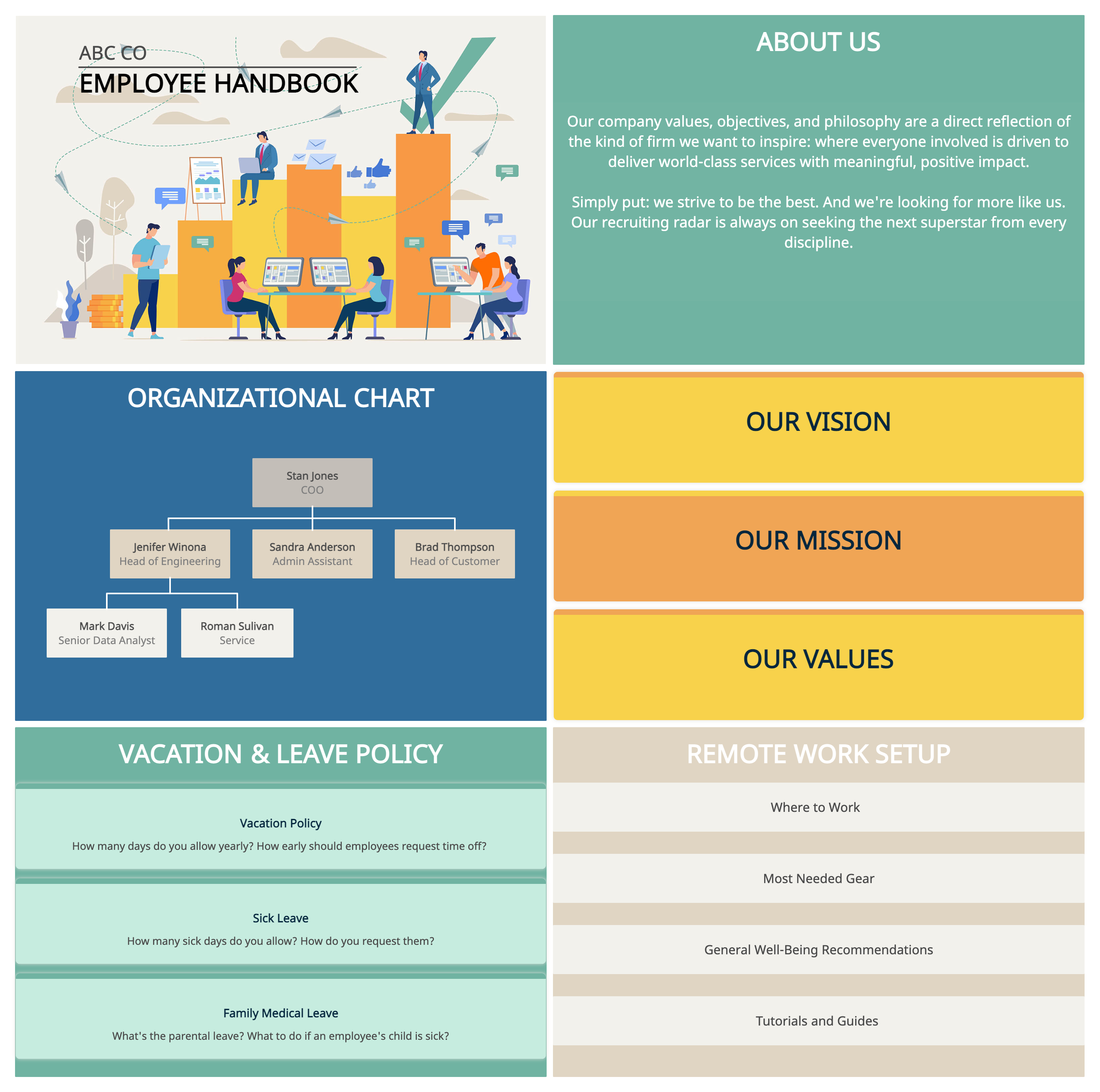 Benefits of an Internal Wiki
Wikis make everyone's job easier. For new employees, it's the quickest way to find all the information they might need. And more established employees can refer to it to understand how the rest of the company operates better, and further improve how they work.
Internal wikis provide a centralized point for all internal documents, be it employee training material, SOPs, whitepapers, emails, or webinar content, making it easier to find information.
They help avoid knowledge loss and streamline storing, retrieving, and sharing knowledge.
They enhance team collaboration by providing a common space for teams to work together on mapping out company processes and information.
Knowledge Base vs. Wiki
A company wiki is not the same as an internal knowledge base. Knowledge bases are authoritative resources with a dedicated team of content producers and managers.
On the other hand, wikis are a collaborative tool. Not only can any employee access, create, or edit the company wiki at any time, but teams can also collaborate on content population. And the changes are typically designed to be instantly displayed after an edit.
How to Build a Company Wiki
Your company wiki is a place for capturing, organizing, and managing organizational knowledge. It's important that you have a streamlined process in place to ensure that you structure company-wide information productively. Here we have listed down the steps on how to build a company wiki effectively.
Decide the Reason for Creating a Wiki
Whether it's to document company processes and procedures, onboard new employees or create a team playbook, have the goal of your wiki defined prior to actually building it. This will help,
Identify the type of information that you need to include
Define the target audience you need to consider (i.e. new employees or existing employees or both)
Accumulate the existing documents, resources, reports, and material that you may need to integrate into the new wiki.
Identify the key contributors such as senior managers or team leads with specialized knowledge of the subject matter.
Choose a Wiki software
The next important step is to find the software that suits your needs. Since you have already narrowed down your goal, you now have a specific idea about the capabilities you are looking for in the software.
Here are a few important capabilities every wiki software should possess;
Unified workspaces to centralize your documents
Features to easily edit and search content
Real-time multi-user collaboration features such as in-line commenting, discussion threads, @mention tagging, live mouse tracking, smart notifications, offline sync, etc.
A rich text editor with the ability to create or add visual content such as diagrams, charts, images, etc.
Folders to organize documents within
Integrations to other tools in your workflow such as Slack, GitHub, MS teams, Google Suite apps, etc.
Ability to facilitate communication (meeting minutes/ weekly updates), learning (onboarding instructions/ handbooks), and project management (project plans/ progress reports)
Document download options including PDF, SVG, and PNG exports
A few popular company wiki software that you can consider include Google Drive, Confluence, and Microsoft SharePoint.
Creately to Build Your Company Wiki
Creately, a work management software that runs on a smart visual canvas, used by teams to brainstorm, plan, manage projects, and capture knowledge, also serves as a modern wiki software solution.
It offers all these features mentioned above and more, including workspace version history, customizable tables, built-in agile project management tools such as Kanban boards to create workflows, ready-made templates for Wiki structures, project documents, and 100+ use cases spanning across industries. Moreover, Creately also offers integrations for Google Drive and Confluence as well.
Create an Initial Wiki structure
Create a basic structure depicting the document or information hierarchy of the wiki. This will provide you with a bird's eye view of or a preview of what the wiki will look like, and you can keep it as a reference during content curation and creation.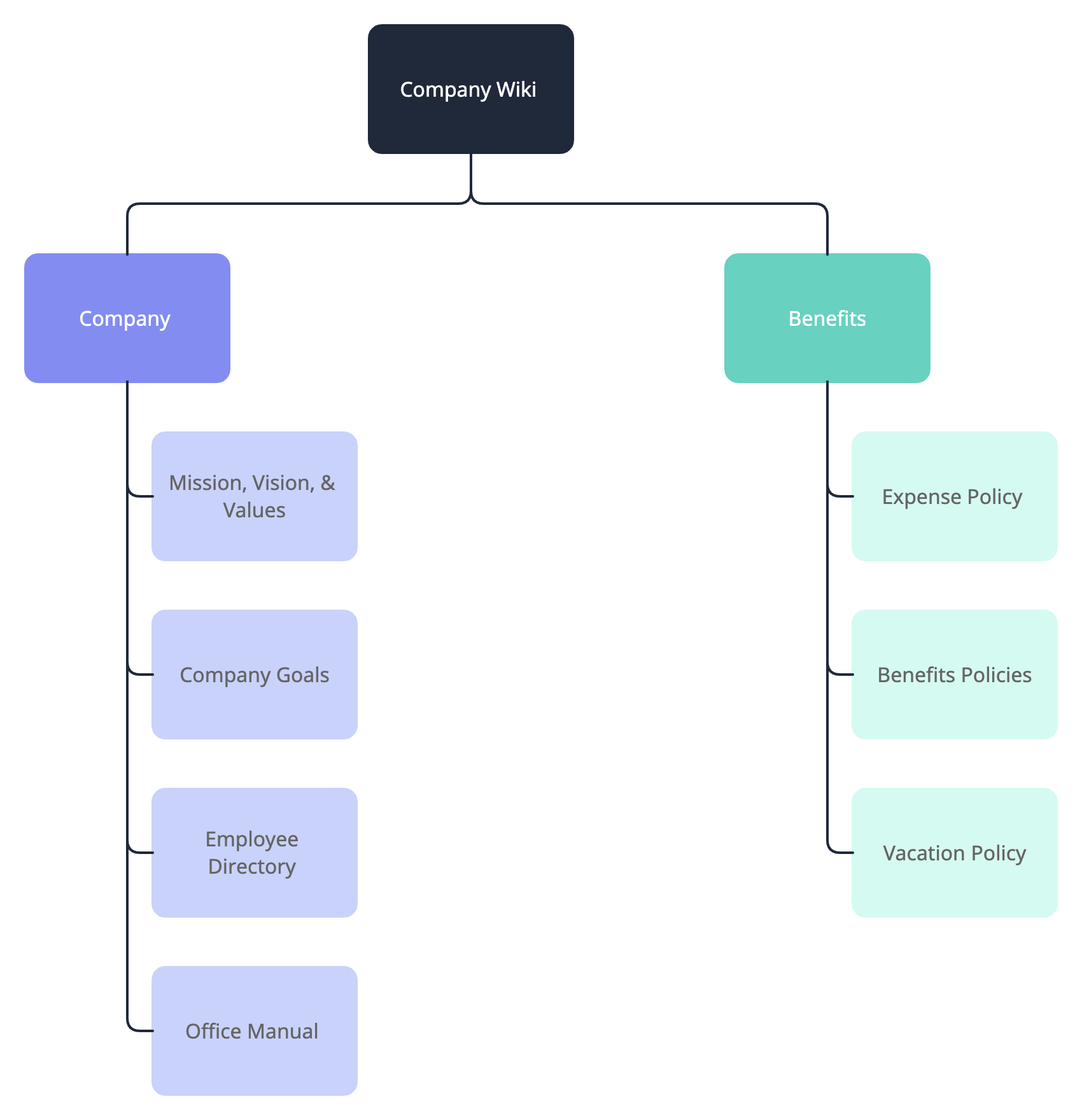 Populate it with Content
With the basic structure at hand, start writing content for each section or title. This is where you need to bring in content from other platforms to centralize everything in one place.
In Creatley, you can add them as link resources, copy and paste content from other sources directly on Creately shapes, or even migrate them directly from third-party apps including data in CVS files, GitHub issues, Spreadsheets, and Google Sheets.
A few of the best practices you can follow to create engaging content are as follows;
Insert visuals such as images, diagrams, charts, videos, etc. as much as possible to break blocks of text. For example, you can use a process map to depict process steps.
Add internal links to make navigation easier and make information easier to find.
Include bulleted or numbered lists, checklist items, shorter paragraphs, etc. to make content more scannable.
Keep Your Wiki Updated
Company information or processes won't remain the same. As they evolve, so should your wiki.
As employees rely on your company wiki to obtain timely information, it's important to regularly consult with the key contributors and make necessary changes to reflect the current state of things.
You can also identify areas for improvement by monitoring your team. Observe whether they are finding the information helpful, or if they are confused and keep asking questions which you can then answer better by updating the content.
In Creately, the full version history is automatically tracked for all workspaces. So every change you make to your wiki is recorded separately. You can name versions in history to keep track of key points in the evolution of the wiki and branch out from an earlier version if needed at any time.
Best Practices to Build a Company Wiki Effectively on Creately
A wiki for your company knowledge might sound like a good place to facilitate collaboration between your team members, however, it comes with disadvantages that cannot be disregarded including limited search functions, inconsistent content, edit permissions, etc.
Following we have listed down some best practices that you can follow to overcome these challenges when you build a company wiki on Creately.
Make Your Company Wiki More Flexible
One of the biggest complaints a wiki has is its inflexibility. With multiple documents across pages and folders, it can become quite difficult to effectively organize content in a wiki. However, with a proper hierarchical workspace or folder structure, you can easily overcome this.
In Creately, what you usually store in multiple pages and folders in a traditional wiki software can be placed within a single workplace using simple visual structures that logically make sense.
For example, you can create an org chart for employee information or a process map to contain process documentation. Each shape can hold a magnitude of information varying from pages of content, attachments, links, images, data fields for role assignment, tasks, estimates, and more that can be added via Shape Data. This way you can easily centralize information contained in multiple pages in a single visual structure. Plus, with Creately's infinite canvas, you can also place any number of these visual structures in the same place.
You can also connect shapes across workspaces and folders with shape links and create navigational flows and link information. Click on the linked shape to automatically zoom in on the connected shape in the same workspace or open the workspace the connected shape is in.
A major downside of maintaining a company wiki is that it can be a hassle to locate information from among the multiple documents that you continuously add to it. However, with a proper navigation menu or search capabilities, this can be eliminated.
Creately's smart search capability will fetch you any information you are looking for in a workspace or folder in seconds; simply do a Cntr+F (or "Command+F" on a Mac) search for the keyword to find the information you are looking for instantly. Once you select it from the search results, it will take you to the exact spot it is contained in on the workspace.
Or you can create a navigation menu with the help of the Navigation panel where you can list down links to the items on the workspace and use it to find the information easily.
Keep Content Consistent
With multiple team members from different departments contributing to wiki documents, there can be inconsistencies, which may also result in knowledge gaps.
To prevent this from happening, ensure that there are templates or a standard format that anyone can refer to when they write content.
Limit the Number of Editors
Wikis allow the contribution of multiple authors. However, it might not always be ideal for a company wiki, especially since employees rely on it to gather reliable information about organizational processes and knowledge.
Thus, it will serve you well to authorize only a limited number of editors – especially subject experts – to write, edit and publish content to your Wiki.
With Creately you can define roles for writing and accessibility. It provides different access levels and roles to streamline how you manage sharing and permissions. While you can assign some team members as owners and editors to a workspace, you can add the rest of the employees whom you only wish to share the information with as commenters or viewers.
This way you can also control who you share information with and separate private and public information.
A New Way to Wiki
A wiki, although containing layers and layers of documents, doesn't have to be too complicated to create or manage. With the right software providing the right tools, you needn't fret as much.
Try Creately to build your company wiki today. Simplify the process with smart visual tools and advanced real-time collaboration.
Got more tips on how to build a company wiki? Do share your thoughts and suggestions with us in the comments section below.