Although both product teams and marketing teams work towards a common overarching goal – which, in most cases, is a successful product, happy customers, and a thriving company – they often work in silos. Amidst accomplishing daily tasks and pushing towards achieving short-term goals, both teams often fall out of touch with each other.
However, the work of both the product team and the marketing team is informed by the same needs of the market; customer pain points, demands, and goals. While the product team needs the marketing team to provide the insight required to build impactful, relevant products, the marketing team needs a successful product to attract more customers. When both teams work in tandem, they are able to accomplish more; deliver a seamless customer experience through better products efficiently.
In this post we will look at some of the best practices marketing and product teams can follow to stay aligned and deliver the most desired customer experience.
Why You Need a Joint Product-Marketing Team
The impact of closer alignment between product and marketing teams can benefit an organization in many ways.
Increase product familiarity;
Often, the marketing team in an organization fails to effectively create their messaging around the product because they lack the relevant knowledge of the product and its functionality. Working closely with the product team allows them to avoid this by learning more about the features, designs, user experiences, and customer personas which in turn will allow them to create more impactful marketing content.
Ensure that the product meets customer needs;
When you are not fully aware of customer needs and problems, you often create solutions that eventually fail. When the product team works alone, they miss out on the abundance of customer data and analytics the marketing team has access to. A joint product-marketing team can overcome this challenge easily; the marketing team can provide the product team with insight into the marketplace needed to align the efforts of the product team with market needs.
Improve team skills and development;
Collaboration between the two teams will expose members from both teams to new skills and knowledge. This will in turn help them improve how they perform in their own roles and complete their tasks.
How to Align Marketing and Product Teams
Although separated by different success metrics, work styles, expertise, and tools, there are several ways to bring marketing and product teams on the same page and keep them well-aligned in order to generate more impactful outcomes.
Set Shared Goals
A common vision or objective is the easiest way to bring two teams together and on the same page. Shared goals give the two teams a reason to keep on working together ensuring that they stay motivated and collaborate effectively throughout their projects.
A shared purpose also helps solve the debate on where to spend their time and resources on. However, in order to keep the swimlanes clear and to clarify accountability for more niche outcomes, you can set separate goals as necessary.
How to set common cross-functional team goals;
Ensure that the goals you set adhere to the SMART criteria.

Specific: the outcome or the end result should be clear and specific to everyone.
Measurable: the end result or the progress should be measurable.
Attainable: the goal shouldn't be impossible to achieve with the current team and available resources.
Relevant: the goal should align with the direction of the organization.
Time-bound: the goal should have a clearly defined timeline, starting data, and a deadline.

Identify obstacles that may hinder the progress of your goals early on and identify precautions.
Create an action plan to lay out the next steps, identify the resources, assign responsibilities, and set deadlines.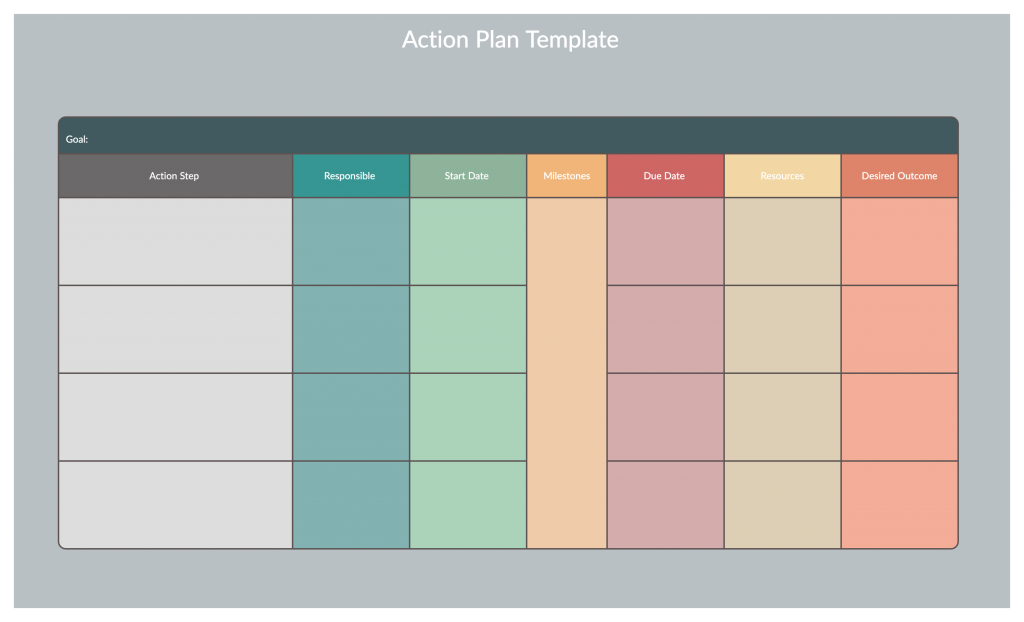 Resources;
The Easy Guide to the Goal Setting Process
Get Your Team to Crush Their New Year Goals with These Visual Tools
Use a Shared Workspace to Capture and Work on Ideas
Whether your teams are co-located or working remotely, a central workspace to brainstorm, plan, analyze, and execute projects can help streamline communication and collaboration across the organization. A shared workspace can not only improve productivity but also increase transparency.
An online visual workspace like Creately can be used to centralize all content and communication related to the two teams on a single, connected canvas. It can be used as a single source of truth to host resources, links, information, and data, and as a whiteboard to facilitate meetings, workshops, and project planning.
Creately provides;
Diagram types and pre-built templates for ideation sessions, project planning (i.e. Kanban boards, Gantt charts, WBS diagrams), engineering and software development, and more.
In-app video conferencing, live mouse tracking, and synced change previews for synchronous collaboration.
Comment discussion threads for asynchronous collaboration.
Plugins for Google Drive, Confluence, Slack, and more to streamline cross-team workflows across platforms.
Increase Transparency
When it comes to access to relevant information, a little transparency can go a long way. Especially for two teams like marketing and product that often don't interact with each other naturally.
A few ways to overcome the challenge of poor access to timely data are,
To make information available for everyone in a shared, visible space – an online visual workspace like Creately or a task management tool like Favro. This democratizes access to key information and enables both teams to work on their own time.
To encourage team members to share their daily progress in a public chat (i.e. common Slack channel). They can use the same channel to bring up and discuss blockers and progress made on the tasks and share other key project updates.
Conduct weekly all-hands meetings or retrospective meetings to discuss the progress of projects/ tasks, challenges, and the way forward.
Conduct asynchronous scrum meetings; which you can do again using a public chat or on a Creately template like the one below to share updates on what you've worked on yesterday, what you are working on today, and the blockers you're facing.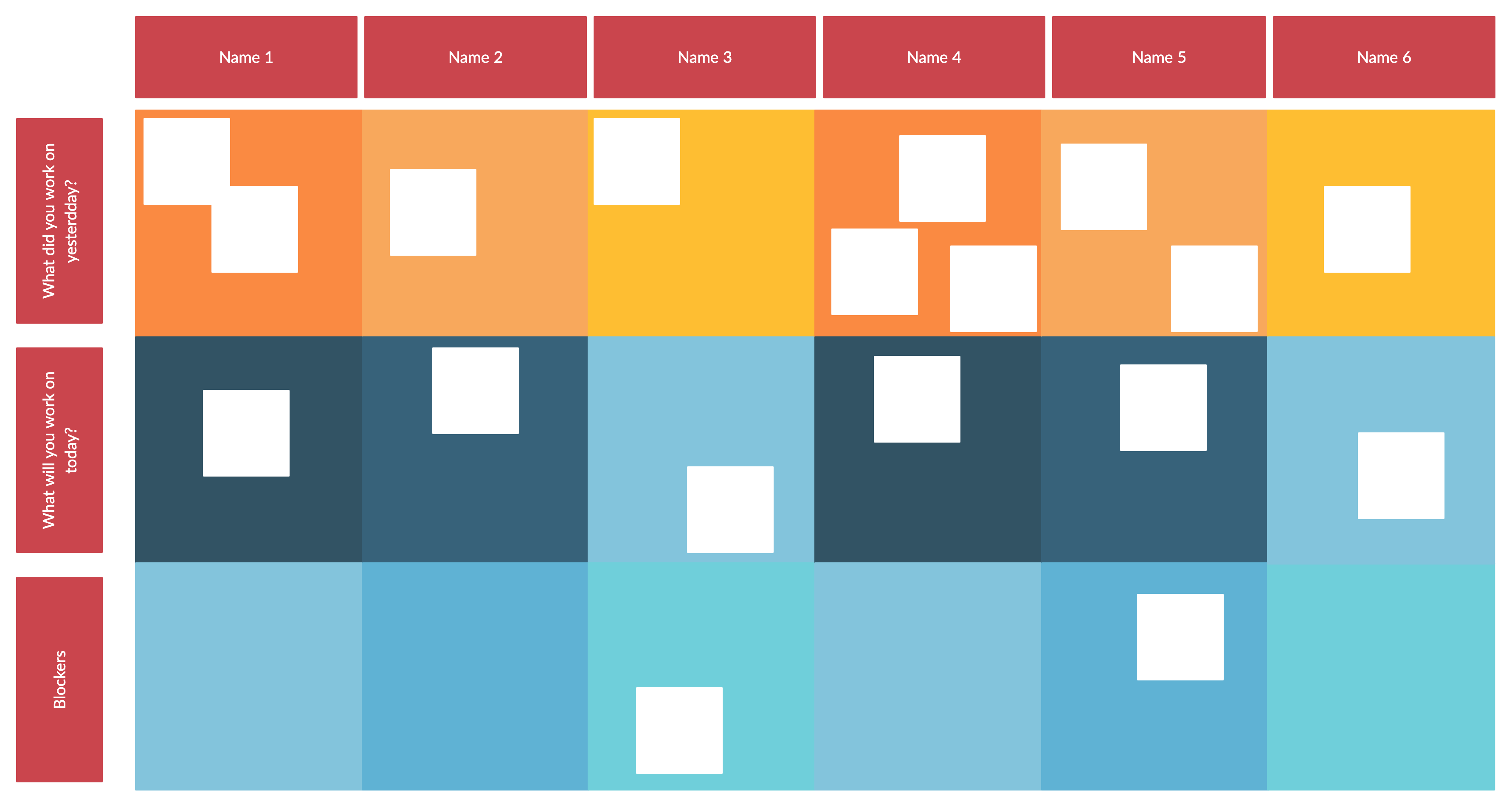 Use a Common Language
Using a common language and standardizing internal jargon when referring to the product, its features, and the customer can help remove friction from collaboration between the two teams. This reduces confusion when making decisions and helps improve overall communication.
Educate everyone in both teams about the important terms and definitions with regard to the product and marketing. If need be, create a library/ wiki or host a workshop to familiarize everyone with the information, processes, and workflows.
Create a Joint Product-Marketing Squad
Just like shared vision ensures that the two teams are aligned on their tasks, a cross-functional squad – made up of talents from both the marketing and product team – helps make sure that they stay aligned on the execution of those tasks. Moreover, such a squad can help streamline communication and collaboration between the two teams, improve decision-making, and enable the cross-pollination of ideas.
To create your own product-marketing squad,
Start by selecting the members of the squad for the relevant project. Ideally, those familiar with and in charge of the primary tasks of the project should be included.
Then identify the roles and responsibilities of each member of the squad. A RACI chart can be used to establish how they should fit in within the group.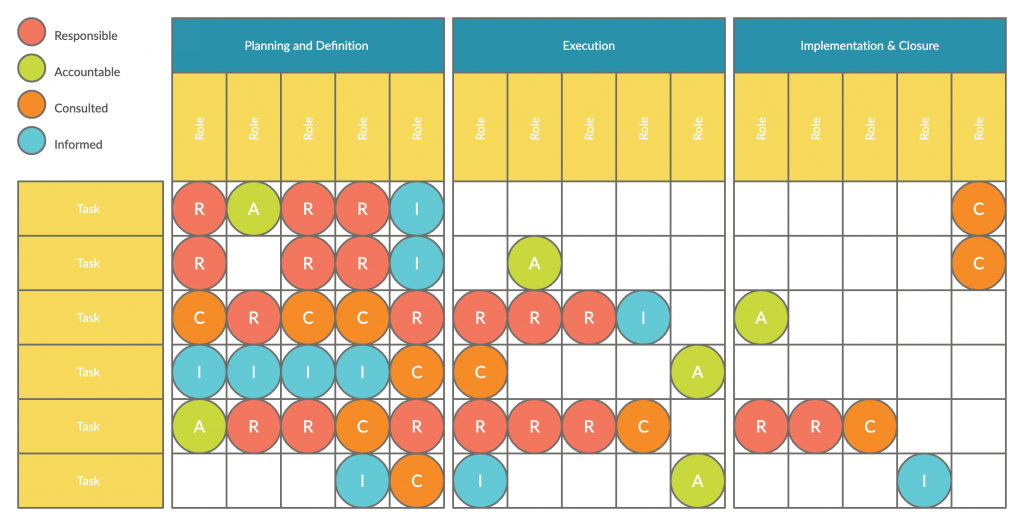 Collaborate on creating a project plan to detail out and finalize the project objectives, steps, resources, timelines, etc. This ensures that everyone's on the same page.
Meet up regularly to share frequent updates on project tasks and progress and make sure that information is readily available to everyone.
What Are Your Thoughts on Aligning Product and Marketing Teams?
Today's business challenges are too complex for isolated talents working in pseudo teams. Finding effective solutions for these complex problems require cross-functional team alignment.
Aligning product and marketing teams is easier said than done, as collaboration between them isn't always intuitive. However, a joint product-marketing team is the fastest way to ensure a superior customer experience.
As you try to gain the right balance between your own marketing and product team, we hope these tips will help you accelerate the process. Got more tips? Let us know in the comments section below.