What a year 2020 has been.
From virtual learning to virtual award ceremonies, this year has replaced what we normally do in-person with Zoom calls for socializing, online classrooms and whiteboards for teaching, video-game broadcasting on Twitch, and Netflix and TikTok for entertainment.
Now, with Christmas fast approaching, we are pulling out all the stops to find the perfect way to successfully host a virtual Christmas party. We also took some time to curate a list of virtual Christmas party ideas – ones that are actually doable and fun at the same time – that you can try out with your friends, colleagues, or family online.
Send Virtual Christmas Party Invitations or Flyers
After all the hours spent on online meetings, another Zoom call that may lag on for hours may turn the team off. To avoid making it seem like another meeting, it's important to hype everyone up. The first step to doing this is the invitation. Instead of sending another meeting link or a calendar invite, share a virtual invitation or flyer.
Get creative with Creately's shape libraries for over 70 types of chart and diagram types and the built-in Google image search feature (like we've done with the templates below). You can also copy-paste or drag and drop logos and other design elements right from your own device.
Click on the links below to edit or share them online.
Alternatively, you can also turn it into a fun game by getting everyone to create a greeting card of their own; the best one obviously wins!
Dress the Part
It's a party after all so wear something festive. To encourage everyone to do so, you can make a game out of it with an ugly sweater or best-dressed contest. Even though you can only see each other through a screen, dressing up can do a lot to distinguish the party from your daily meetings.
Virtual Company Talent Show
Showing talent – whether singing a song, performing a magic act, or being a mime – can be easily done through video conferencing and that's why it makes another great virtual Christmas party idea. You can have people sign up for time slots early on to make it easy to properly plan your party agenda.
Here are 50 great talent show ideas you can try for this year's virtual Christmas party.
Two Truths and a Lie Christmas Edition
You can turn this popular ice breaker game into a holiday-themed one by getting the participants to introduce Christmas-related two truths and a lie. It can be about Christmas family traditions, the weirdest Christmas gifts they've received, or what they love about the season.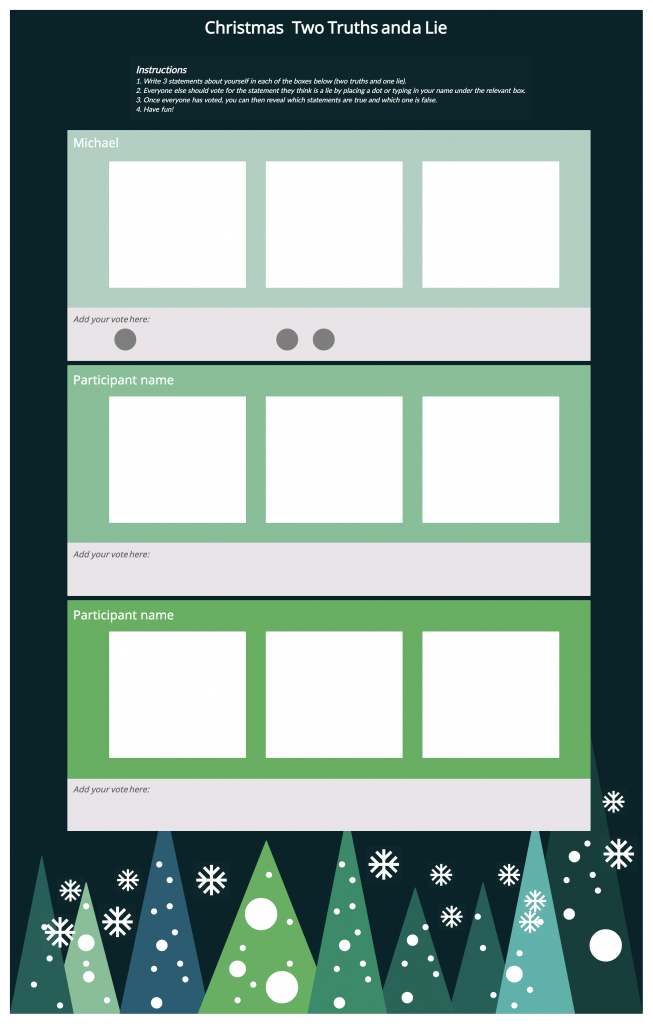 Virtual Escape the Room
Escape rooms offer an adventurous way to entertain everyone and improve team collaboration at the same time. Virtually you can play these by connecting over Zoom or other video conferencing platforms. Here are 24 virtual escape rooms you can have fun getting out of this Christmas.
Christmas Tic Tac Toe
This classic game is another fun way to keep the crowd entertained. Make your game more Christmas-y with the game board templates below. Duplicate the game board for multiple pairs by simply copying and pasting it elsewhere on the canvas.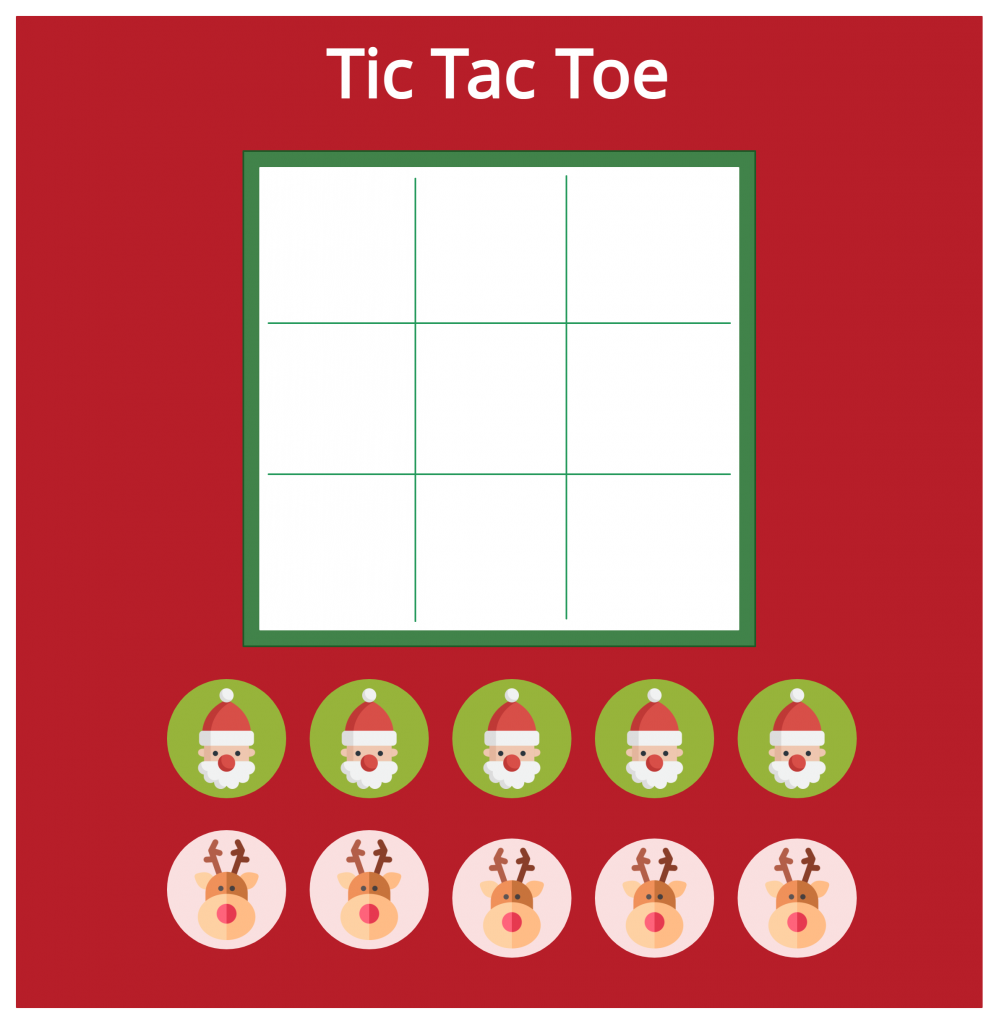 Decorate a Virtual Christmas Tree
Since you can't actually meet up, make it a little bit different this year and decorate a Christmas tree – online. It can be a great way to keep the participants engaged and entertained. You can also turn it into a game by teaming them up and selecting the best decorated virtual Christmas tree.
What do you need for this? Only an online canvas with real-time collaboration capabilities.
Below is a Christmas tree template you can use. You can create a library of Christmas tree decorations you prefer and copy and paste them right onto the canvas from your device. Use a Google Drive folder to store your library, so you can easily share it with your team, and using the Creately Google Drive plugin you can share the Christmas tree document through the same folder.
You can also search for decorations with the Creately canvas's built-in Google image search capability.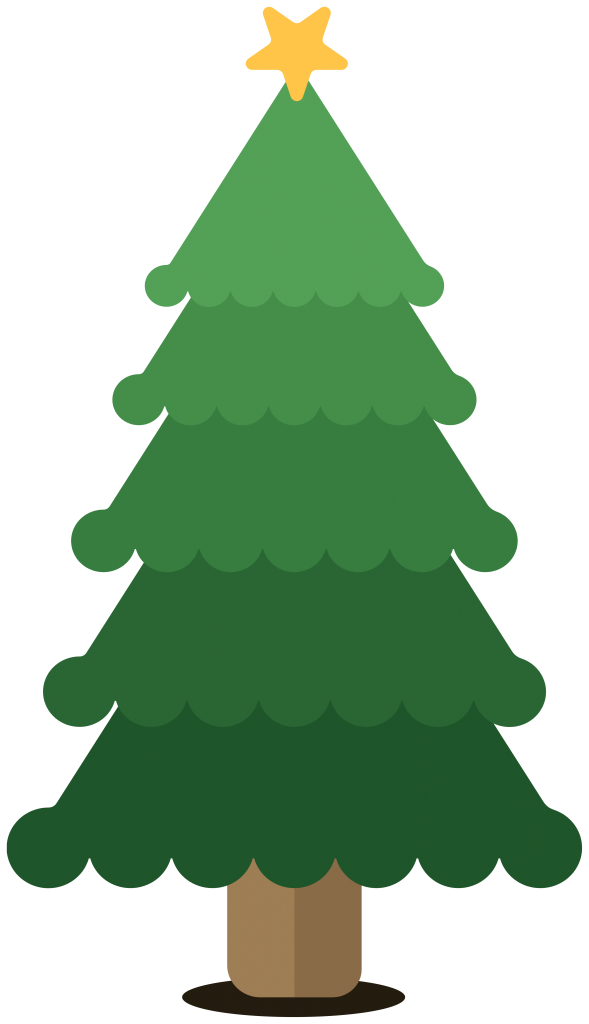 Tip: Press C on a bauble to attach a message or write about a memory on the virtual Christmas tree.
Virtual Dance Party
You certainly don't have to be in the same room to bust out a dance move or two. You can create a playlist out of everyone's favorite songs or use a random song generator to play music while you dance in the living room. Or have a virtual karaoke party taking turns crooning the tunes.
Christmas Crossword Puzzle
A crossword puzzle is another great way to keep the participants engaged. While you can use a Christmas themed crossword puzzle, you can also make it more exciting by generating one with clues for what goes down in the office and among employees (i.e. Michael always steals the lunch of ….).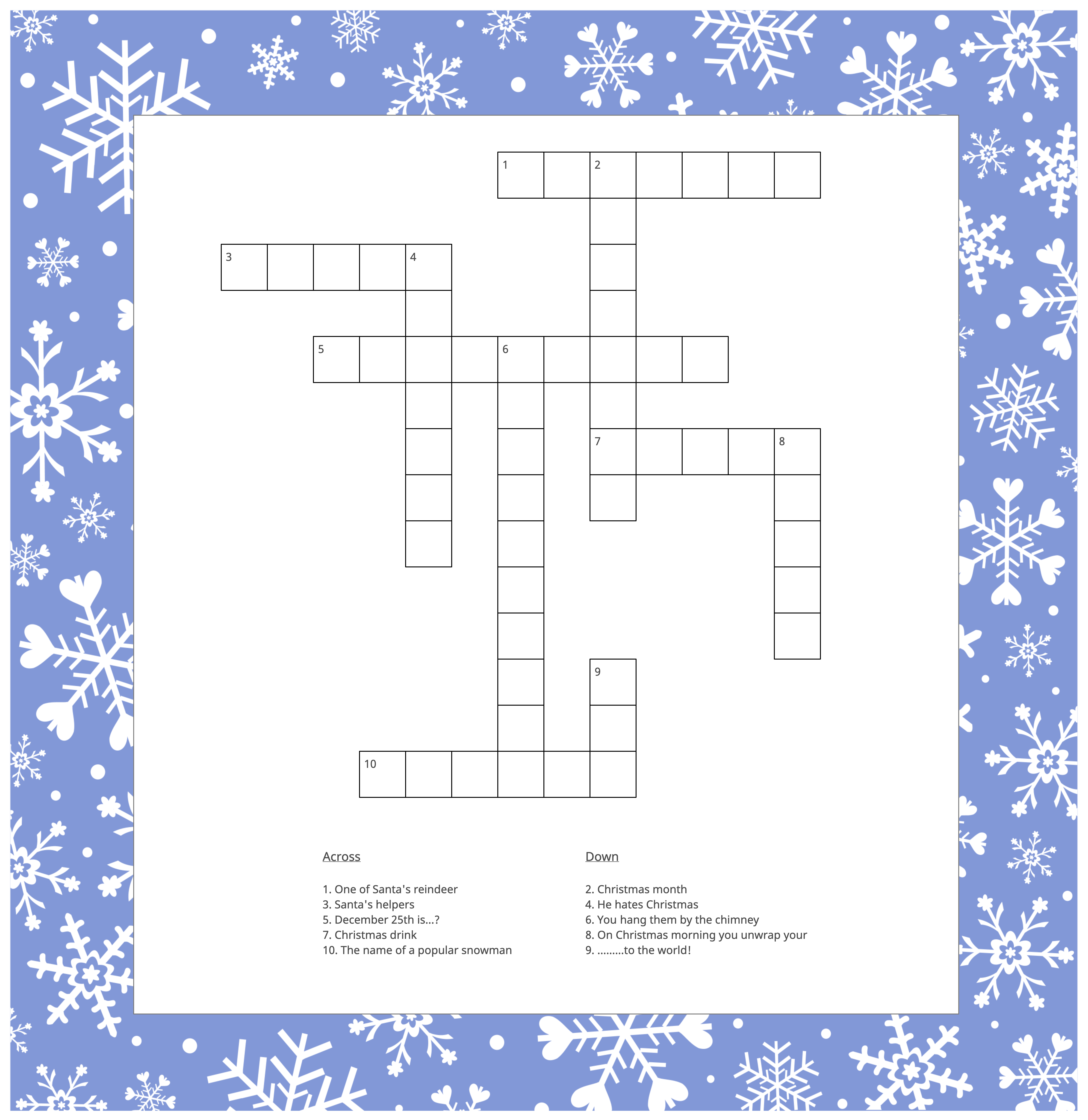 A Christmas Slide-Show
There can be a drive full of previous office Christmas party photos that you might have forgotten. Reminisce those joyous occasions by gathering them and creating a quick presentation with them.
You can also mix it up by getting individuals to create their very own presentation on a hilarious Christmas related topic (i.e. the weirdest Christmas traditions in the world). Optionally, you can also give the best presentation a prize, hence making a game out of it to hype things up.
Name that Tune
Give this classic game a Christmas twist with a selection of holiday-themed tunes. Participants can hum the tune or mute their mics and sing the songs allowing others to read the lips to recognize the song. Here are some song suggestions you can try.
Got More Virtual Christmas Party Ideas?
Year-end holiday parties provide a great opportunity for teams to blow off some steam and get excited for the year ahead. Although this year you might not be able to gather, you can still have some fun with a virtual Christmas party. You can tweak the usual Christmas traditions to suit a virtual environment, invent new ones altogether or choose from the list of virtual Christmas party ideas above.
Let us know how it goes in the comments below.