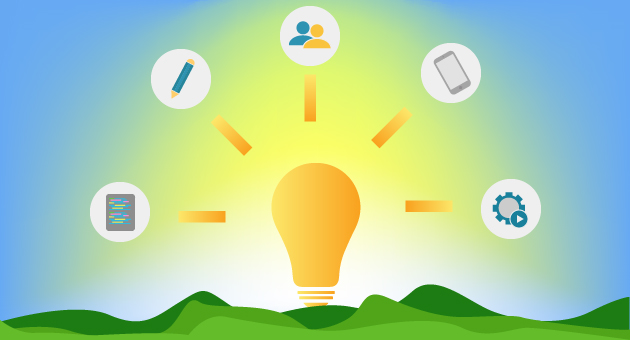 The year 2016 has been a great year for Creately. We made significant progress on all fronts in taking Creately to new heights. Our team has actively produced high-value content and material to help you create better diagrams with Creately. We have expanded our reach and now cater to a much larger user base. We have also been sending you important product updates on all of our Creately flavors. However as some of you may have taken note, last year we did not release any major upgrades to any of the Creately products. So we thought it's time we brought you in on the scoop of what's been happening.
The year 2016 has been one of the biggest years for the Creately team. Mostly because it has been about not just building new features or maintaining products, but taking a step back to really look at what is the next big thing for diagramming. During early 2016 we did just that, which brought us to two important decisions.
First Decision: Changing the Tech Stack
We started building the first version of Creately in 2008 and a lot has changed in the tech world since then. While we did many new things on the way, using existing tech stacks, our foundation has always been the same. Our back-end and the Creately client app were stuck to the same building blocks that they started off on. Though the Creately apps work really well and deliver a great experience, we have had limitations in what we want to do due to the tech stack and architecture we are on right now. Some of you have had concerns about our dependency on Adobe Flash and that's something we have wanted to change for a while too. So we decided that it was time to rip everything out and start again 🙂
Second Decision:
 

A new way to draw, innovating on the core drawing experience

Day in and day out the team at Creately is focused only on one thing – and that is building the best diagramming experience in the world! We have come a long way since we started and we are proud of what we have achieved. Yet we always feel there is more that can be done. We always arrive at the very simple notion that "no-one really likes to draw". The essence of diagramming is to present complex or not-so-easy-to-understand information in a simpler, understandable, visual way. What if someone can avoid the drawing process and simply provide the information through an interactive experience, which turns the information into a great looking diagram? We are determined and we believe we will disrupt the way people draw diagrams, once again.

Based on this new direction we worked on the following during 2016.
A Much Efficient Team
We have a great team at Creately, smart, energetic and focused. However, as it goes with anything, there is always room to improve. To achieve our goals we knew there is hard work ahead and we wanted to make every minute of our time well spent. So we started perfecting our way of working. We formed an effective process and started automating everything that we should not be spending time on. We set a goal to deliver every day. Right now all our applications deliver every 3 hours to our staging servers. Our web applications deliver to production every week. Our process is set up with multiple assertive measures such as 100% covered unit tests, mandatory reviews, automated integration/end-to-end testing in multiple environments to ensure delivery of the best of quality.
Completely Rethought Architecture
We started rebuilding our back-end applications and our front-end applications on a whole new architecture and tech-stack to support continuous functional scaling. The Java based back-end application can function on any communication protocol but Creately applications will work on websockets to make the apps more responsive and fast. Building in new capability into the back-end is extremely simple due to the modular architecture that allows plugging in capability on the fly. This also allows scaling very easily. All front-end apps are built on HTML5, written in TypeScript, using the new Angular 2 framework. All client app capabilities are bundled into a common library, which enables us to build different flavors of Creately apps very easily, reusing most of our previous work.
New Creately Apps
All distributions of Creately applications will be rebuilt on the new architecture. The first of these applications is the Creately Mobile App which was released on the App Store and Google Play Store during December 2016. With the mobile app, we have done most of the groundwork, which can be reused to build other Creately apps such as the Creately Editor, Creately Viewer, Creately Desktop, the embeddable Creately Player and Creately plugins for JIRA/Confluence and so on. All of these apps will have a clean re-thought interface and will work together flawlessly.
2017 is going to be a monumental year for us and for all of you who have been with us. We are hard at work and want to bring you all the new exciting goodies as fast as we can! So stay tuned and do let us know your thoughts on all of this.