We are excited to announce the New Creately Viewer – that's right, all new and improved – is now live.  
Over the last months we worked on rebuilding the Creately Viewer from the ground up. It's based on a newer tech stack that has allowed us to make sure that you get the best end of the deal; in this case an awesome diagram viewing experience!
It's packed with a plethora of handy options that makes viewing diagrams an absolute pleasure!
But First, What Exactly is the Creately Viewer?
The Creately Viewer is fundamentally designed as a part of the app, but at the same time it is a portable interactive diagram viewer that can be used to embed diagrams in private or public web pages.  
Let us put it this way – take YouTube for an example: while you use the platform to watch videos online, you have the ability to export videos you like and embed them on your web pages. The Creately Viewer is very similar to this, except you use it to view or publish your diagrams on websites, blogs, presentations, Google Sites etc.  
View Diagrams the Way You are Supposed to!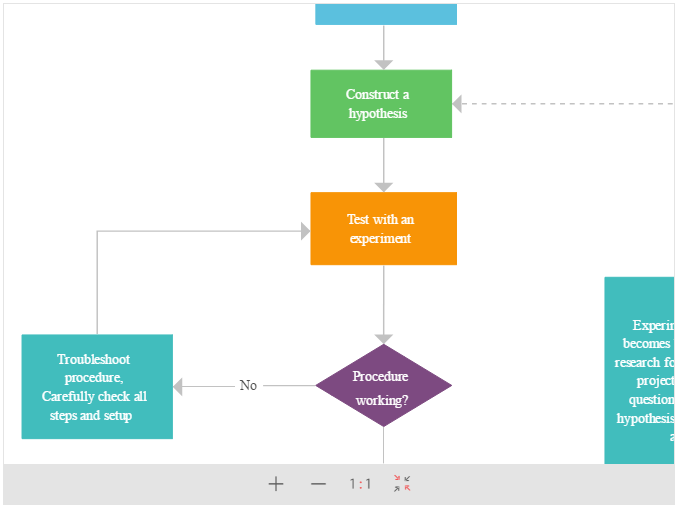 Sometimes viewing large diagrams on a page can be a pain. Yes, we know! That's the reason why we came up with the Creately Diagram Viewer in the first place; just to make sure that our users are able to view or read diagrams of any size and avoid turning it into a headache.
On the older version of the Viewer, images were loaded as rasters (PNG) and – to be honest – it didn't offer the best user experience. But on the new and improved Creately Diagram Viewer, diagrams will be loaded as vectors (SVG). This means two things;
      

Your diagrams will be sharp as a ray of sunshine on any screen (both mobile and desktop)  

      

Your diagrams will be undistorted at any zoom level (literally at- ANY- zoom- level!)
Could viewing diagrams get any better?!
Publish Your Diagrams in Style!
It's not easy to fit a large diagram that fills up an entire canvas into one web page – well, not without reducing its size until it's no longer of decent quality. Likewise, with those small diagrams that need to be stretched out until they are blurred or washed out.
But listen to this! Publish your diagrams on the Creately Viewer, and you will never have to worry about cropping out or resizing your diagrams until they are unreadable to your audience again.                                                                       
On your web page, the Viewer may appear like an ordinary image but hover over it, you find an entire toolbar of options to play around with the image. The zoom and pan features of the diagram viewer are directly integrated into the scroll and drag features of your mouse. On touch screens, you can zoom in and out on your diagrams with a simple pinch or a double tap.   
All you need to publish your diagram is an embed code. To get it, simply access the diagram's properties panel on the editor and tap on the Publish tab; here you get a list of options to embed your diagram. Along with the embed code, you are given access to settings to adjust the background color, height and width of the Player.    

Diagram Happily Ever After!
Unlike an image which will remain the same over time, the Creately Diagram Viewer will always adjust itself automatically.
What does this mean, you ask? Well, as you know some diagrams don't stay the same over time; they need updating. And when they do, you need to make sure that the diagrams that are already published are renewed according to the changes made. This is essential to prevent those who view your diagram from getting dated or wrong information.  
Doing this manually is a literal nightmare!
This is where the Creately Diagram Viewer comes in handy. The Diagram Viewer always fetches the updated version of the diagram making sure that the original Creately diagram and the published version are synced. Regardless of whatever change you make and whenever you do it, your readers will always get access to the latest version of your diagrams when they are published via the Creately Diagram Viewer.
There's More to Come!
Over the next few weeks we'll be releasing the rest of the Creately Player's features that make it even more special. Watch out for an update from us really soon!
But that's not all! We are also working on another set of special features that allow users to integrate the Viewer into platforms such as WordPress and Google Docs. This means you can expect a cool Creately Diagram Viewer plugin to use with all your favorite document management apps.
We've been working super hard on changing our tech stack and on innovating on the core drawing experience of Creately. Creately Mobile & Creately Diagram Viewer is just the beginning of this massive transformation Creately is going through. A lot of new exciting things are on their way.
We will keep you posted!