Late last year, when we released the Creately mobile app, we had one goal in mind; to expand Creately's powerful collaboration features a step further. To be exact, we wanted to enable our users to be able to easily view and collaborate on their diagrams, no matter where they are.
The Creately mobile app, in fact, has helped us create a seamless diagramming experience for you, regardless of time or place.
It's Simple, but It has a Massive Cherry on Top!
Like any other mobile app, Creately mobile is built for both Android and iOS and fits perfectly across all mobile phone screen sizes. And it's Free for all users! Plus all its features are specifically designed to allow users to review and collaborate on their diagrams in any situation.
But hey, here's why you will wholeheartedly appreciate having the app on your phone
Keep Yourself Updated at All Times
You get to browse and view any diagram, public or private, anytime – on the commute, by the water cooler, on board a plane or on vacation when you decide to ditch your laptop at home on purpose.
You are supposed to review the latest diagram your team is working on or confirm that they are on the right track even without your constant supervision or help? With the mobile app, you can quickly view your diagrams in perfect detail, including any comments left by the team, and make sure that everything's going according to plan back home!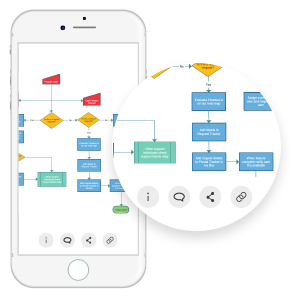 Get Stuff Done Together (Even Though You are Really Not There!)
Imagine this; you are about to meet with and present to your client a diagram of the product you are developing, and your team informs you that those few issues you had pointed out before you left the office, have been fixed.
Sitting in the lobby outside your client's office, you feel the need to quickly verify that the diagram is correctly done and is presentation-ready. You can use the Creately mobile app then and there to quickly review the changes and revise your talking points.
In another situation, say, your team is waiting for your immediate feedback, but you are on the way to somewhere else; all you have to do is open up your Creately mobile app, tap on the diagram and leave your comments with instructions. You can even comment on specific shapes by simply tapping on them. As your team works through the changes, you can see and review them as they happen.
And sharing with the mobile app cannot get any easier; you can simply share the diagram with someone from within the app by giving the email of the person or you can get the link to the diagram and send it to someone using any of your messaging apps.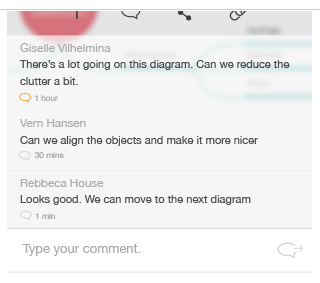 From One Diagram to Another with a Simple Tap
The Creately mobile app creates a real interactive experience in viewing in-line links. You can navigate smoothly through interlinked UI mockups, wireframes, sitemaps, context diagrams etc. through the mobile app. Linked shapes or areas of the diagram are highlighted with a small indicator by clicking which, you can easily get to the next diagram right from inside the app. You can navigate through all the linked diagrams within that same screen.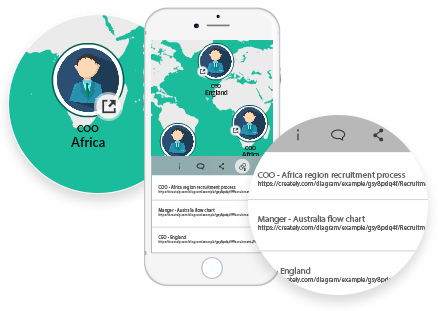 The Mobile App is an Important Milestone. But There's More!
Remember when we announced our New Beginning early this year? The mobile app is a significant part of this much bigger effort in reinventing Creately in a monumental way. As we continue to build on it, you can expect an array of new features and capabilities that will make your diagramming experience with Creately something that you truly crave for.