Remote working is no longer the exception. It has become the norm.
With major tech companies like Google, Twitter and Facebook allowing their employees to work from home indefinitely in the aftermath of COVID-19, remote working projects itself as the future of work.
While many teams have shifted towards working from home, companies have found themselves interviewing and hiring new employees remotely.
In this post, we'll be talking about the next step, onboarding remote employees. Read on to find out
Remote Onboarding Best Practices
We've all been there before, once or several times; the timid newcomer in a new office.
And the stories are many to tell – including many awkward introductions and waiting countless hours for everyone to vacate the lunchroom so you can finally have your meal in peace.
But the experience is a lot different to a remote employee.
Employee onboarding is crucial to help new hires integrate themselves into the company, team, and culture. While on-site this happens organically, in the case of a remote employee, it should be facilitated properly.
Welcoming the New Remote Hire
Welcoming a new employee virtually is a lot different than doing it physically; while it involves the same set of steps, they are done differently, or more – virtually.
Prior to their first day, make sure the new hire has all the basic equipment (i.e. a laptop or desktop) to start work. If you prefer they work on a device given by the company, ensure that they are handed to them at least a week early.
Get the new hire to install and log in to all the software and HR and communication apps the team uses. Send them the links to the tools and credentials along with the welcome email.
Walk them through how the team works; work and leave policies, schedule requirements, and other guidelines they need to follow during working hours. Maintain an intranet or internal wiki documenting how company policies and culture works, to make this step a lot easier.
Explain to them how and when to use the different communication and task management tools. For example, use Slack for urgent messages, and turn on video for all meetings with co-workers.
Conduct an all-hands video call to officially introduce the new hire to the team. Everyone can individually introduce themselves to the new hire during the call. If the team is too large and an individual introduction from everyone will take too much time, you can share an organizational chart with the new hire to help them learn the titles and reporting relationships between the team.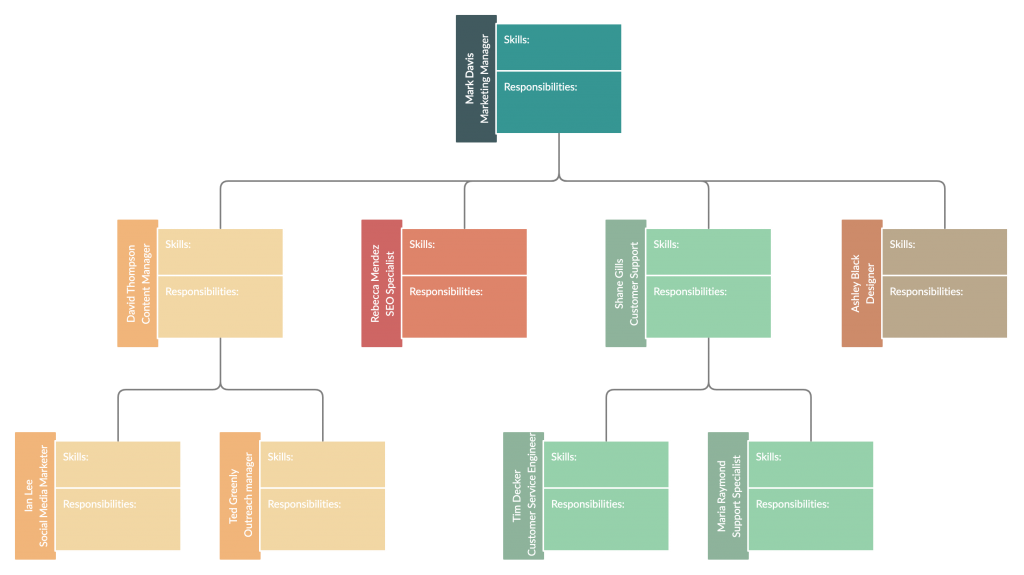 Tip: At Creately we make sure to add our title when we complete our profiles in Slack which is the chat platform we use to communicate with each other. So anyone new can quickly click the profile picture and get an idea of what each team member does. We also make sure to welcome them in the general channel first thing in the morning.
Explain the company vision and mission to the new hire, helping them understand how what they do will help achieve the overall company objectives.
Get them to fill out all the necessary paperwork, like tax forms, job contracts, offer letter, and other HR-related documents, virtually. You can rely on an online documentation service and an e-signing service to deliver the paperwork and get their signature online.
Setting Expectations
Clarifying individual goals to the new hire is just as important as explaining the company and team values and objectives.
While making sure that the new employee knows their tasks and responsibilities, the projects they'll be involved in and the systems/ tools they'll be using, create action items along with milestones and deadlines to help them understand what they are expected to do.
Tip: Start with a small project that requires them to collaborate with others in the team and do role-related research. This will help them talk to other people and grow their relationships, and understand the nature of their work.
Assigning a Mentor/ Buddy
A mentor can help new hires settle into their role and responsibilities smoothly while helping relieve their anxiety.
And to a new remote hire, a mentor is even more important; as they haven't officially met any of the team members, having someone to rely on for information and work-related and non-work related questions is important to get them quickly acclimated to the organization and in their new role.
Tip: Make sure to do a separate one-on-one video introduction between the mentor and mentee to help them get to know each other first.
Scheduling Regular Check-ins
Schedule regular check-ins to discuss their work progress and learn any issues they might have come across. You can also make it an opportunity to obtain feedback from them on how they are adapting to their new work role, learn about any training requirements, and discuss future plans.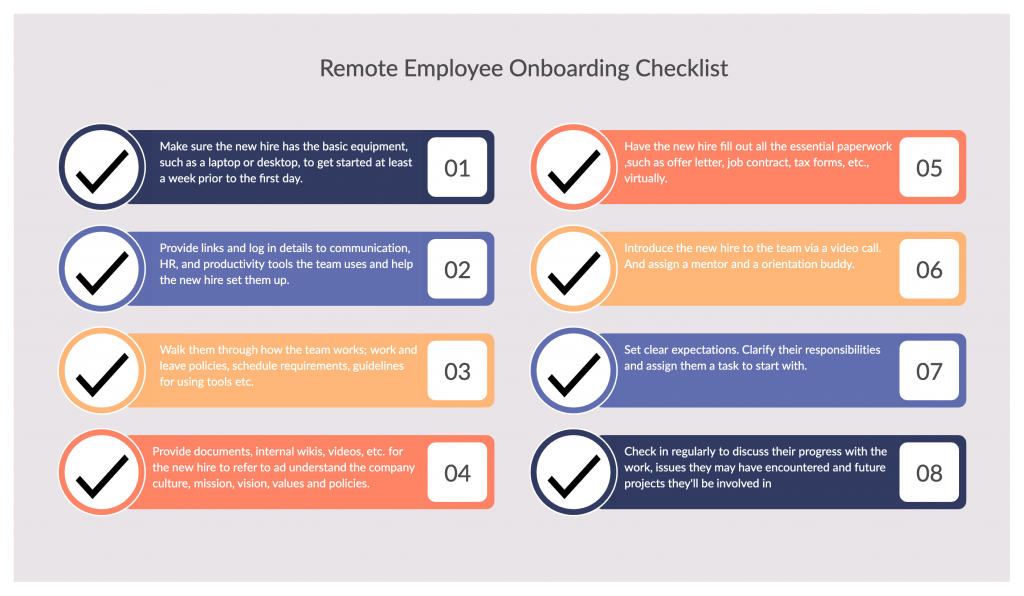 Got More Tips on Onboarding Remote Employees?
Many aspects of work have fundamentally changed; from where we work to how we work. In our practical guide to working from home, we touch upon how to deal with and adapt to remote working successfully.
We hope this post will help you with onboarding remote employees successfully. Share your experience with us in the comments section below.