Today we're pleased to announce a slew of great new features to help you get the most out of Creately Online Diagramming. We've got a brand new Image Search feature you'll love and easier diagram sharing with Private URLs.
Image Search
We've added a easy to use search box right within the Shapes panel making it easier than ever for you to get the shapes you need to put together the perfect diagram.
Instead of scrolling through all the Shapes libraries that come with Creately, you can now simply type in what you need and Creately will automatically load the right images for you.
But that not all. If you can't find what you need in Creately's shape libraries you can also search for images from Google and IconFinder.com. We love IconFinder and know you'll love this great new addition.
Once you find what you need, simply drag-n-drop any of these images from the left panel onto your drawing canvas and you're good to go!
Improved Import Image Feature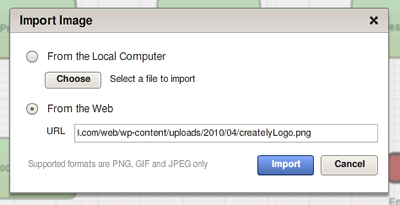 And if you still can't find what you need, click on the Import Image button on the Main Toolbar to upload your own images. This feature had been available for sometime, but we've now added the ability to import an image directly from the Web by specifying the image's URL. This will save loads of your time, as you no longer have to save the images on your desktop to import them into Creately.
Easier Sharing for your Private Diagrams
All your public diagrams were given unique URLs that you could easily share with your team. We've noticed that you loved these, so we've now we've introduced URLs for all your private diagrams too.
From the right-hand Share Panel, click on the Enable View link and share the non-editable version (View-only) with everyone on your team. Anyone can simply click on the link to view the diagram instead of having to log in to Creately.
And if you want to give some users the right to edit your diagram, click on Enable Edit Link and share this link with them. This will allow them to open up the diagram by simply clicking on the URL, and edit with full permissions. Of course we're still automatically track the different versions for you.
Login to Creately now to check out these new features, and let us know what you think – or leave a comment. We'd love to hear from you! Happy Diagramming.