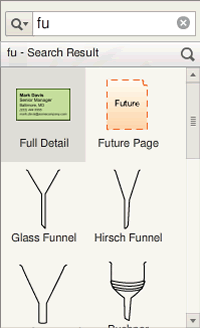 Last week, we announced the launch of Creately's new image search option and highlighted its features in brief. Now, the time has come to give you a deeper look at our new Image Search Feature…
With hundreds of shapes in the Creately library, it was getting a little difficult to find all the right images. This is exactly why we've introduced the Image Search option allowing you to search internally as well as from Google Images and IconFinder.com.
1) Instant Search Box
We've added an Instant Search box within the Shapes panel making it easier to find the shapes you need to put together the perfect diagram. Instead of scrolling through the tons of Shapes that come with Creately, you can now simply type in what you need and Creately will automatically load the right images for you. The results show up instantly while you type, this is real fast!
2) Search from Google Images and IconFinder.com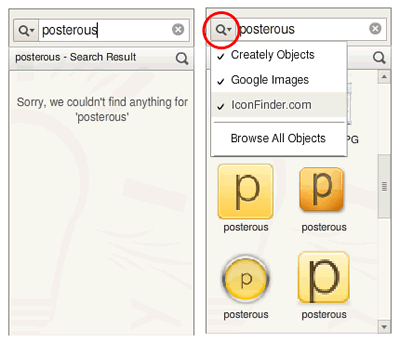 Well that's not all, there's more to this! If you can't find what you need in Creately's object libraries you can also look up for images from Google and IconFinder.com.
For example, you're looking for a Posterous Icon/Image and you couldn't find any from the results. Simply click on the drop down menu that appears on the left of the Search box and see the available search options – you can click to select Google Images and/or IconFinder.com to search for images related to Posterous. Once you find what you need, simply drag-n-drop any of these images from the left panel or use your arrow keys to scroll through the results and hit 'Enter' to insert the selected image into the canvas.
3) Import directly from the Web
And, if you still can't find what you need, click on the Import Image button on the Main Toolbar to upload your own images. We've now added the ability to import an image directly from the Web by specifying the image's URL. Just type/paste the URL of the image in the Import Image dialog and watch the image appear on your drawing canvas.
This will save loads of your time, as you no longer have to save the images on your desktop to import them into Creately.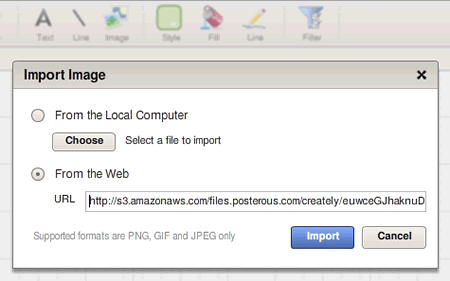 We believe these new developments will not only make image search easier, but also make online diagramming with Creately incredible. Give it a try now, and here if you'd like to see Image Search extended to other image repositories.