The COVID-19 pandemic has changed the physical ways and methods of teaching and learning, accelerating the digitization of them. Video conferencing has replaced the face-to-face engagement in a physical classroom; screen sharing and presentation slides have become the new whiteboard.
As teachers and students around the world are now slowly embracing the patterns of online teaching and learning, video conferencing tools like Creately's whiteboard software, Zoom and Microsoft Teams alone have become insufficient to accommodate online teaching requirements, especially in terms of maintaining the active involvement of students and collaboration between them and their teachers.
As education is rapidly turning digital, the need for and the availability of tools to facilitate online learning and teaching has surged over the last few years; and online whiteboards are gaining popularity by the day. 
In this post, we will talk about online whiteboards and their use in enhancing online teaching and learning experience. The online whiteboard tool we'll be referring to is Creately – a visual collaboration tool used by educators to create learning material and collaborate with students online.
What is an Online Whiteboard
Digital whiteboards allow teachers and students to replicate the experience of a physical whiteboard online, with an infinite canvas. They offer shape libraries and premade templates that can be used to create content (i.e. charts, diagrams, posters, visuals, etc.). They also digitize the content created, which makes it easier for anyone to access it online from their own personal device.
Advanced online whiteboard tools like Creately also offer in-app video conferencing and real-time collaboration features where teachers and students can work on the same canvas and track each other's changes with real-time change previews and mouse tracking.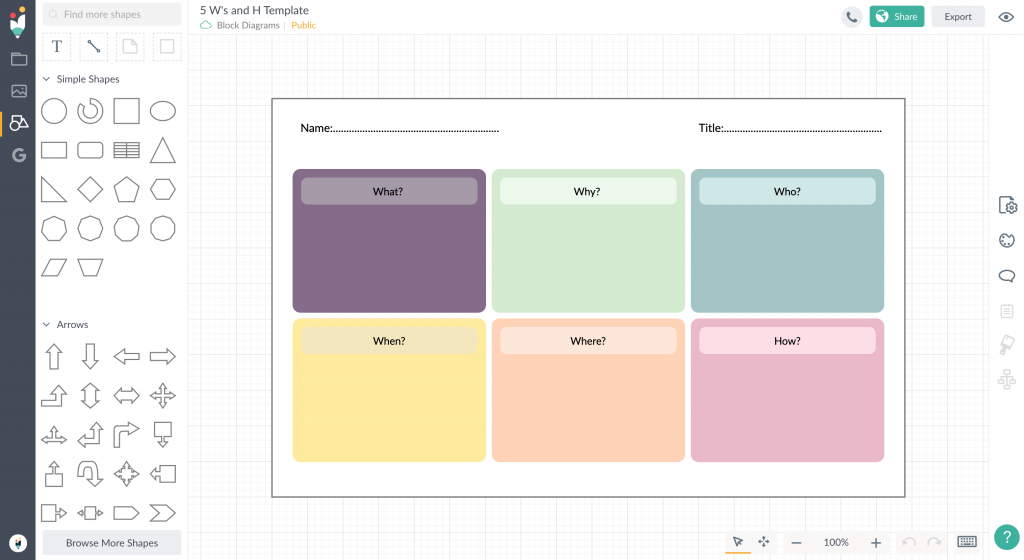 Why use an online whiteboard
Just like in a physical classroom where everyone interacts around a whiteboard (or a blackboard), an online whiteboard makes it possible to
Make your online lessons more interactive
Write, draw and visualize concepts online on a canvas as you teach
Allow your students to actively participate and collaborate
Create presentations, posters and other learning material for the online lessons
How to Use an Online Whiteboard to Enhance Teaching
Whether you are currently using an online whiteboard or looking to try one, here are some great ways to utilize them better in your online lessons.
Collaborate with Students
An online whiteboard is primarily a collaboration tool. While you can use it during lessons/ lectures to visualize and simplify concepts and ideas for the students, you can also get the students to contribute.
For example, on Creately, once you create a new document, you can add students to it as collaborators. You can also share an Edit enabled link with the students via email or a chat platform you use, to communicate with each other online.
Here are a few ways you can use Creately to collaborate with your students.
Brainstorming:
Create a document or choose a Creately brainstorming template to start with.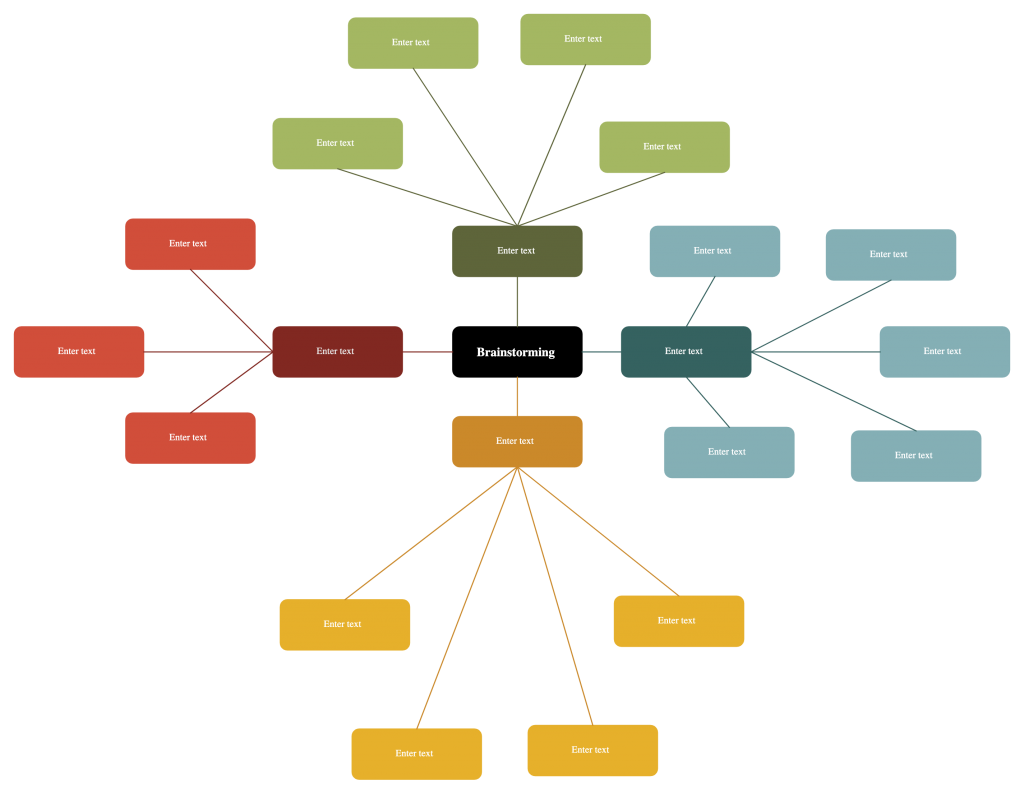 Add all students to the document. Use Creately's built-in video conferencing feature to communicate with each other as they edit the document. If you are using a third-party app to communicate, share your screen, and track students' movements across the canvas with real-time mouse tracking.
A variety of visual brainstorming techniques can be used here; some of them include, mind maps, idea boards, concept maps, affinity diagrams, lotus diagrams, and starbursting.
Homework:
Create separate documents containing the same content (i.e. assignment), by simply duplicating the original. Create separate folders inside Creately where you can organize and track them, for each activity or class you teach. You can also use the Google Drive integration to create, organize, and manage permission to your Creately documents from there.
When naming the duplicated document, include the student's name in it to easily track which document belongs to whom. Once the student has completed the assignment, you can review and leave your feedback with in-line comments. You can also hop on a quick video call and walk each individual through the recommended changes.
Interactive Exercises
A recurring challenge in online teaching is creating an environment where the teacher and students can actively interact with each other during the lesson. Online whiteboards bridge this gap by providing a shared space where both parties can work together.
You can use Creately to easily create quizzes, and other fun games such as crossword puzzles, hangman and get the students involved in playing in real-time.
Create and Share Material Needed for the Lesson
When teaching online, keeping things brief and visual is essential. It's said that visuals are processed 60,000 times faster than text and that visuals improve learning by up to 400%.
Using charts, diagrams, posters, graphic organizers, storyboards, infographics, etc. you can easily summarize a one-hour lecture and explain complex concepts better. An online whiteboard makes it easier to create and share these visuals quickly with an entire class.
Creately offers extensive shape libraries and pre-made templates for over 50 types of charts and diagrams including flowcharts, thinking maps, mind maps, infographics, storyboards, etc.
You can also add more shapes and images with built-in Google image search or by importing them from your own device.
You can export these visuals as PNGs, SVGs, JPEGs or PDFs, for embedding in presentations, websites, reports, etc. You can also simply share a View-only link with the students if you don't want to add them as collaborators.
Do Presentations
An online whiteboard is one big canvas that allows you to create visually stunning and engaging presentations as a whole or on one single space.
To make it easier on Creately, create the structure of your presentation first and number or title each slide. Later this will make it easier to navigate from one slide to the other.
You can Google or import images in different formats (JPEG, PNG, SVG, GIF, etc.) and add them to make your presentation slides more expressive.
During the presentation zoom in on each slide and explain the content to students with screen share or Creately video conferencing.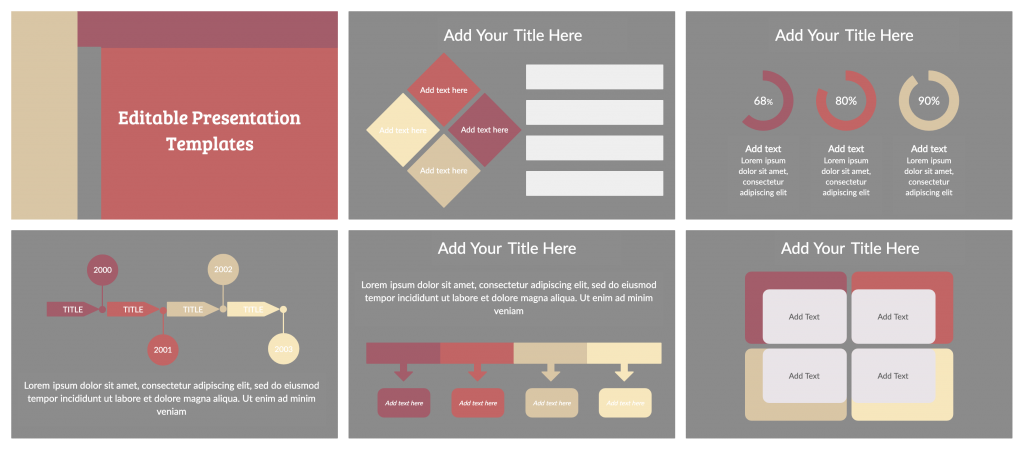 Visual Note-Taking
Visuals make a great way to synthesize content. While you can present important concepts in the form of a chart, graph, or diagram on an online whiteboard during the lesson, you can encourage students to use the same tools to take down their notes.
Research shows that 90% of information transmitted to the brain is visual and that people tend to recall data better when visuals are involved. By encouraging students to use a mind map, concept map, flowchart, or graphic organizer to take down their notes, you can help improve their ability to retain information.
Creately offers an array of premade templates that students can quickly put to use during note-taking. You can also create a template prior to the lesson and share it with the students for note-taking.
Have You Tried an Online Whiteboard for Teaching Yet?
Between hours of Zoom calls with students and staring at a screen, the engagement and the receptivity of students have greatly decreased. An online whiteboard for teaching can restore the energy that exists between the teacher and students in a physical classroom by emulating the collaborative experience online.
Let us know your online teaching and learning hacks in the comments section below.
This post is a part of Creately's series on remote teaching. More resources you would find useful include,
7 Effective Remote Teaching Best Practices
Essential Remote Teaching Tools for Conducting Effective Online Lessons
The Ultimate List of Visual Teaching Strategies
The Ultimate List of Graphic Organizers for Teachers and Students
The Ultimate List of Visual Creative Thinking Techniques