Online student engagement has become a topic of major interest over the past few months.
Especially, with teaching across schools abruptly being moved from onsite to online in the wake of the COVID-19 pandemic, student engagement has become a challenging area for educators.
Insufficient face-to-face interactions, in-class collaboration, and unfamiliarity with online lessons, often leave students feeling isolated and disconnected from the rest of their online class.
With the trend of remote learning expected to continue onto the next year, it has become crucial for educators to rethink their approach to engage students online, in order to create a successful learning experience.
In this post, we will introduce you to best practices and tools that are proven to help improve student engagement online.
Start with Active Learning Strategies
The sudden transition to online teaching undoubtedly has educators across the world rethinking their methods of teaching and altering or recreating their curriculum to meet the conditions of available technology and remote learning.
It's important to incorporate learning strategies that focus on student activity and engage them creatively. The following are some active learning strategies that you can incorporate into your online classes to increase online student engagement.
Active learning includes methods that actively involve students in the learning process, placing a greater degree of responsibility on the learner rather than letting them passively absorb information. It includes methods such as role-playing, group discussions, problem-solving, case studies, etc. which help promote higher-order thinking skills and engage students in deep learning.
Collaborative learning is an approach that brings two or more people together to enhance learning through collaboration. Working together as a group to examine and understand the concepts presented to them, lets them discover new perspectives, and retain information better through defending their position and reframing ideas.
Experiential learning is the process of learning from experience or by doing something. This usually involves activities such as hands-on laboratory experiments, field exercises, studio performances, etc. It helps learners engage in critical thinking, improve their problem-solving and decision-making skills, and retain information better.
Find more common active learning strategies for online teaching in both synchronous and asynchronous approaches here.
Rely on the Right Set of Tools
While engaging students online can be challenging, the right tools can help you create a better learning experience for them, making remote teaching as effective as in-person teaching.
While it's important to select the tools that suit your purpose and budget, make sure to help students learn how to properly use each of them. You can set guidelines on how to use each tool and when to use them to clear any confusion.
Some popular tools used for interacting and collaborating with students online are:
Online communication tools such as Zoom, Slack, MS Teams help teachers connect with a large number of students via video conferencing at once and maintain constant communication through chats, hence replicating the in-class experience.
Online whiteboarding and visual collaboration tools like Creately enable real-time collaboration on an infinite canvas much like the whiteboard in the classroom, but online. Teachers can use it to present and explain concepts they teach visually, collaborate with students on developing ideas on a shared canvas, and create learning material for the lessons.
Document management tools like GSuite, MS Office, Evernote, etc. makes it so much easier for teachers to interact with the students when marking homework online, creating and sharing learning material, and explaining concepts (via screen share).
Online video platforms such as YouTube and Loom allows educators to create and share engaging learning material in the form of videos. Students themselves can use them in self-learning exercises to come up with creative ways to explain the concepts they have learned for their assignments.
In addition, you can also make use of social media platforms such as Facebook, WhatsApp, LinkedIn, Pinterest, etc. for creating communities, maintaining communication, sharing information or resources, and discussing important topics online.
Here's a list of 18 more effective remote teaching tools for conducting effective online lessons.
Set Clear Goals, Expectations, and Guidelines
Whether in a traditional setting or an online setting, creating a successful learning experience starts with setting clear goals, expectations, and guidelines for the learners.
At the very beginning, clearly explain the goals of the course or lesson and what you expect the students to achieve by the end of it. Clear goals and expected outcomes help students understand why they are learning and stay focused and engaged as they work towards reaching the goals or seeing tangible results.
Alternatively, you can also help students set their own goals. As online learning consists largely of time spent on self-learning, encouraging students to set their own goals can help them stay motivated and focused as they move forward at their own pace. In order to increase their commitment to the goals, make sure the students follow the SMART criteria, and actually plan them out and track their progress constantly.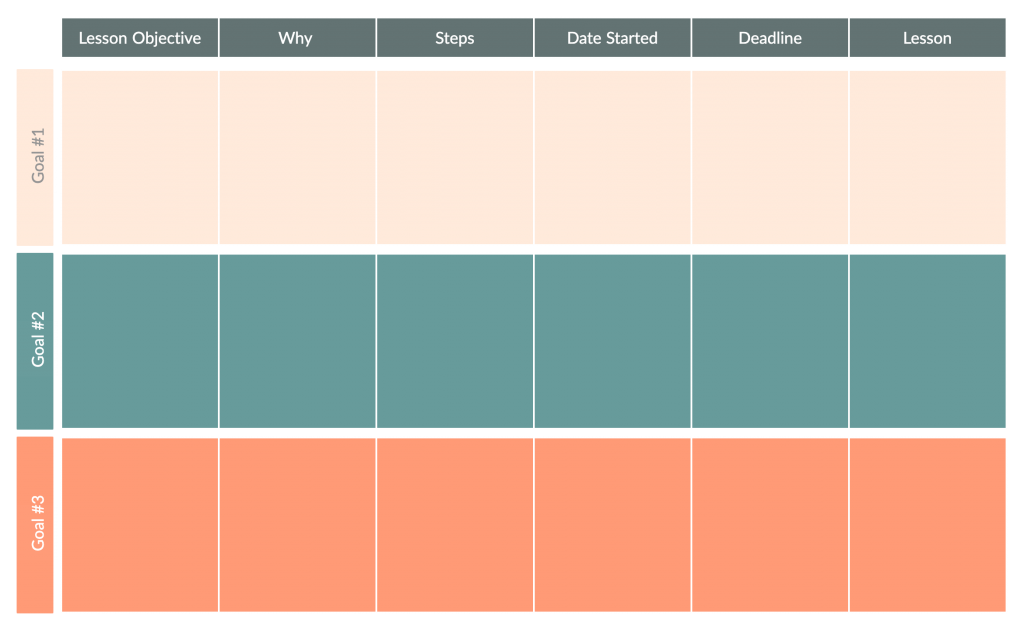 With clear guidelines, you can steer them in the right direction to achieve these goals successfully. Guidelines can be applied to how you want students to use the communication tools, how to submit assignments, how to conduct research online or do assignments, or even how you want them to collaborate with their peers. These guidelines will help them stay on the path and engaged.
Setting goals is a part of preparing students for the online learning experience. Along with it, consider introducing them to the methods of online learning, and helping students set up and familiarize themselves with the tools or the learning management system, and walk them through the course material and relevant goals at the very beginning of the course/ lesson.
Produce Engaging Online Course Material
While you can continue on with the same course topic and goals that you would have used in the physical classroom, the learning material, modes of delivery, and associated assignments needs to be tailored for online delivery.
While online, students tend to get distracted too often. In order to retain their attention for a longer period you can;
Often incorporate more visuals to explain new concepts. Visuals make communication quicker and simple while helping retain information better. Diagrams, illustrations, graphic organizers, and infographics are effective replacements for walls of text or hours of lectures students get easily bored of.
Replace online lectures with pre-recorded tutorial videos or video demonstrations that students can watch at their own pace online. You can create videos of your own or choose from existing ones on the internet or made by your colleagues.
Create presentations summarizing lessons that students can refer to instead of textbooks or their notes.
Share and give them access to relevant websites, blog posts, ebooks and videos they can read and watch online.
Hold real-time Q&A sessions via instant chat features available in your online communication platform.
Ensure that you have stored all learning material in a central location easily accessible to all students.
Design assessments that are online-friendly and that can creatively engage the students (i.e. group-based projects, case studies, video projects, real-time online quizzes, concept maps, etc.). Students can submit their answers as digital files through the schools's LMS, document management platforms, communication platforms, etc.
Evaluate Teaching Strategies in Terms of Student Engagement
Take time to frequently evaluate the strategies you are implementing and the tools you are using in the online classroom. Concentrate on how effective each of these elements are in terms of online student engagement and their learning. Based on what works and what doesn't, you can then proceed to incorporate other methods and tools.

What's Your Take on Online Student Engagement
As the pandemic continues, remote teaching and learning have become the norm, driving educators to find innovative ways to communicate and engage with their learners. While there are many strategies to engage with students online, it's important to consider their learning patterns and their needs before you implement them.
Keep the online student engagement best practices discussed above in your mind when designing your course content or delivering your lessons.
This post is part of Creately's series on remote teaching and learning. More resources you would find useful;
7 Effective Remote Teaching Best Practices
Essential Remote Teaching Tools for Conducting Effective Online Lessons
How to Effectively Use an Online Whiteboard to Enhance Online Teaching
The Ultimate List of Visual Teaching Strategies
The Ultimate List of Graphic Organizers for Teachers and Students
The Ultimate List of Visual Creative Thinking Techniques
The Ultimate Guide to Visual Note-Taking for Students and Teachers
The Ultimate List of Effective Online Teaching Methods
The Easy Guide to Self-Learning for Remote Learning Students
A Comprehensive Guide to 'The Flipped Classroom'