Today we're very happy to announce the new Creately Team plans. We have seen that many of you use Creately in your own project teams already. But it has not been easy to manage who is in your team, who is being billed and for which plan or even which plan a team member requires. Creately Team plans solve these issues.
The Team plans are perfect for cross-functional Business, Design and Development Teams. If you run a consulting business, a design house or a development team – in fact if you are part of any team where visual communication and collaboration is key, the Creately Team Plan is designed for you.
Better Team Management
Creately Team plans start from just $8.95/user/month with a minimum of 3 users in a plan. We think you'll agree that this is excellent value with the entire team receiving all the capabilities of our Pro plan ($9.95/month) plus enhancements to project sharing. As the team owner you also have access to the team management portal which allows you to easily add and remove team members, assign new roles and dynamically increase or decrease your team size. The beauty of this is you only ever pay for the number of team members in your team. We don't pigeon hole you by team size.
At-a-Glance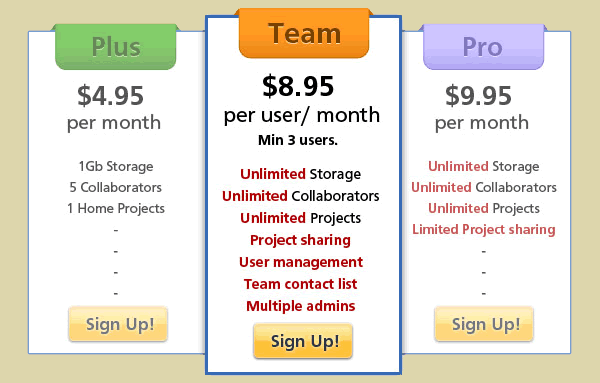 Here's a quick look at exactly what you'll get on the new Team Plan:
Unlimited Export & Publishing with no Creately watermark
Unlimited Diagram Storage
Unlimited Diagram Sharing
Unlimited Project Workspaces
Project Sharing with no limitations, everyone on the Team can create diagrams in your Projects
User management to add and remove Users from your Team account
Team contact list so its easier to share within your Team
Multiple administrator levels to manage large, distributed Project Teams
Pay by Credit Card or Paypal
Unlike the
Pro and Plus Plans
, the new Team Plans lets you invite collaborators from your Team account to work on existing documents and create new documents inside shared projects. This makes project collaboration hassle free and lets you control who has access to which project documents.
We're confident the Creately Team plans will suit you and your project team.
Click here to upgrade to a Creately Team plan right away.
PS. Special thanks to everyone who's helped us along the way with your support, feedback and kind words.
The @Creately Team