It's been less than a month since our release, and we're back with yet another exciting upgrade to Creately! The team has been hard at work putting together some great ideas to make Creately even easier to use, so we hope you like whats in store.
New Look Side Panel
We've got a new look on the side panel. Our UI was beginning to look a lil dated – so we've started work on a refresh. This week we've got a brand new look for our super duper Side Panel (where all the mojo's at). Like what you see? Let us know.
Notes Panel
More interestingly, we've added a new Notes panel to make it easier to collaborate and communicate clearly in your teams. Those inline comments are great, but wouldn't it be better if you could explain your diagrams and mockups by adding some notes to help the reader along.
Check out the new Notes button on the Side Panel – its not a heavy-weight text editor but you do get a Rich Text Editor to help you get your ideas into Creately.
Good News for Mac Users!
You Mac fanboys out there have something to really cheer about. We've fixed the horizontal scroll issues with Apple's Magic Trackpad. Now you can use 2 fingers to scroll both vertically and horizontally in the Creately application. Try it out now!
Improved Smart KObjects
We saw the trouble you had in creating tables, tabs and accordion panes in your Web Mockups! Haven't you always wished you could easily build a table in Creately or just change the number of tabs displayed in the Tab objects? Now you can.
The team's been hard at work all winter (yes, we come from a land down-under), putting the final touches to a brand new Smart KObject framework to bring a new level of ease of use and flexibility to your Creately diagrams. This week we announce 3 new Smart KObjects – and many more will follow in the coming weeks.
Professional Dynamic Tables

We heard you say how difficult it was to add Tables in your Mockups, so we've added dynamic Tables to our KObject library. Now you can simply enter Text and the Table will resize itself. Simply drag-n-drop a Table from the left panel, and start to edit the Table properties to add Table Data. To create a new column, simply type a ',' (comma) and for a new row, enter in a new row of data. This way, you get easy to use dynamic Tables for all your mockups and diagrams.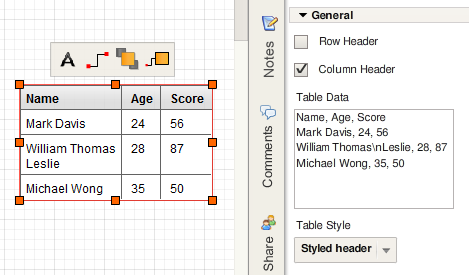 Multiple Tab Pages in seconds
You can now create multiple Tab Pages on a Tab Control quickly. We know how aggravating it is to insert a number of individual Tabs to create Tab pages. But, with the smart KObject improvements you can create as many Tabs as you might inside the Tab Control by simply editing the Tab Bar text. To add tabs, simply type ',' (comma) and the Tab title, so "Tab1, Tab2, Tab3" will create 3 Tabs in this order. Adding a '*' to any Tab title marks it as the selected Tab.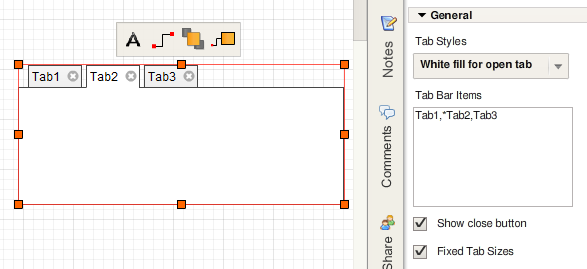 Collapsible Accordion Pane
Lastly for this week we looked at our Accordion Pane and decided it too could do with a makeover! Now you can configure your Accordion pane with just a few simple keystrokes. For example, the following Text will create 4 panes with the second one open and the rest collapsed: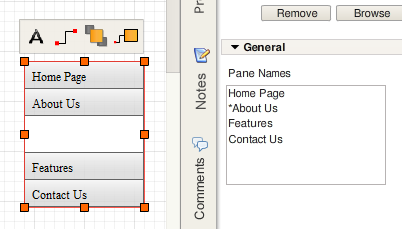 These are just the initial few smart KObjects we've created. Expect a whole lot more smart KObjects in the weeks to come… Diagramming has never been easier!
Login to Creately now to check out the great new features, and let us know what you feel. We'd love to hear it from you!
With Love
Creately Team