Today, we're happy to announce the release of Creately for FogBugz, a brand new plugin for everyone's favorite software project management and bug-tracking system, FogBugz from FogCreek Software.
Creately for FogBugz lets everyone on your project team communicate clearly by easily creating and including diagrams in FogBugz. With full integration into the FogBugz interface, you can easily add Use Cases, Wireframes, Flowcharts, UML or any other diagrams to FogBugz cases and wiki pages.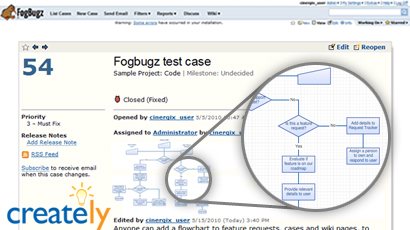 Squash'Em Bugs
Bugs fixing will go a lot smoother when you can clearly explain the issues to developers. As they say, a picture is worth a thousand words, so get everyone on the same page by adding annotated wireframes, or updated Use Cases to every FogBugz case. Anyone working on the case can edit and modify diagrams as the case or feature is worked on.
Up-to-date Documentation
The ability to quickly add diagrams directly within Wiki pages will make documenting your software projects a lot less of a chore. No more attaching external Visio files, and no more expensive desktop-based software. With Creately for FogBugz, the whole team can update project documentation right within the browser, saving time and more importantly helping keep your specifications up-to-date.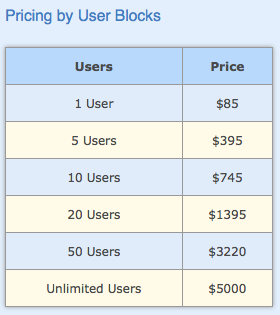 Get it now!
Creately for FogBugz plugin is available for installation on your own FogBugz server starting from $85/user with bulk discounts available for larger teams. Currently, we only support FogBugz on the Windows platform,  but a Linux and hosted version for FogBugz OnDemand will be announced shortly.
Give yourself the advantage of Creately for FogBugz by purchasing your license right now or if you're not quite ready you can also download the free 14-day trial.