Strategic planning is a process that may take months for some organizations, but its importance to the growth of the organization cannot be measured.
It helps guide company decisions, set measurable goals, and define the direction of the organization.

In this guide we will discuss what is strategic planning process and describe in detail the strategic planning process steps along with some visual techniques you can use during each phase.
What is Strategic Planning?
Strategic planning is the process by which organizations make decisions about the goals they want to accomplish and the steps that need to be taken to get there.

The strategic planning process helps prioritize their objectives and effectively make use of the available resources to move from the current state to the desired state of things, or in other words accomplish their goals.

Importance of Strategic Planning
Strategic planning is crucial to the growth of any organization. Here's why it is important to each and every small and large company out there.

Helps with maintaining a company's competitive advantage
Gives insight into what may happen in the future and prepare accordingly
Helps define the direction the organization should take
Facilitates decision-making with regard to allocating resources and setting a budget
Helps derive useful information on market trends, target audience, competitors etc.
Strategic Planning Steps
The strategic planning process helps an organization fill the gap between its current state and the desired state. Below, we have explained the different steps you need to take along with tools that can accelerate the process.
Conduct an Environmental Scan
To do an environmental scan, you need to gather a cross-functional team capable of providing information on different aspects of the organization. Get the input of relevant stakeholders, interviewing them to learn about the current strategic issues and situation.

In an environmental scan you need to take both internal and external factors that may affect the growth and performance of the organization into consideration.

Internal factors may include company resources, financial capabilities, employee skills etc. On the other hand, external factors include market trends, economic and political changes, technological advances etc.

You can make use of situational analysis tools such as SWOT and PESTLE analysis to gather and examine information relevant to these areas.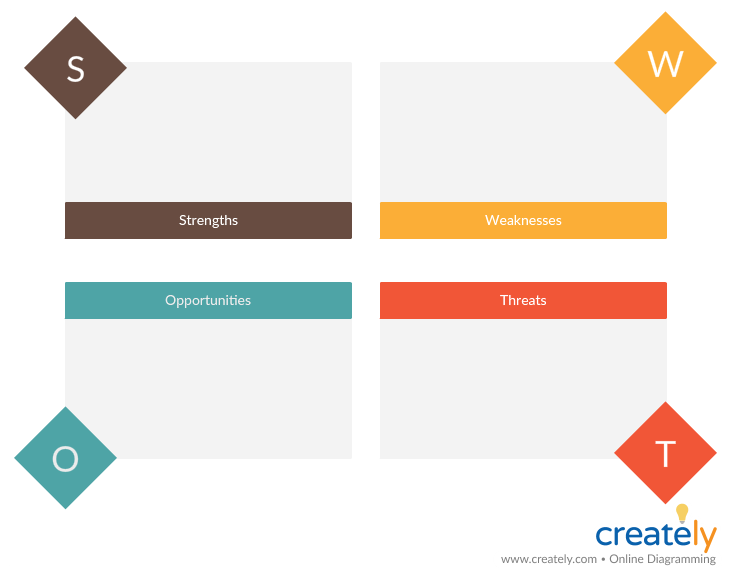 Perform a Gap Analysis
Using the data such as the available resources, financial situation etc. you have gathered through your environmental scan, you can effectively perform a gap analysis to determine whether you are getting the best out of the resources available to you.

It helps identify the gaps between the current performance of the organization and the desired performance and what you should do differently and what additional resources you may need to achieve your goals.

To learn about the gap analysis tools you can make use of in detail, refer to our articles on
5 Gap Analysis Tools to Identify and Close the Gaps in Your Business
Gap Analysis Templates to Edit Online, Download or Print

Define the Vision, Mission and Values
Clarify the vision (where are you headed?), mission (why do you exist?) and the core values of your organization.
Based on their definition, you can set specific, measurable, attainable, realistic and timely (SMART) goals and objectives.
Do a Competitive Analysis
Understanding the challenges posed by your competitors in the industry is essential to creating an effective strategic plan.
It can help you gather important insight necessary to identify market gaps and trends and develop new products and strategies.

Once you have a proper idea about the competitive landscape, you can tailor your strategies to overcome the challenges and increase the competitive advantage.
Here are some handy visual techniques to conduct a competitive analysis.
Develop an Action Plan
Once you have identified your objectives and what you should prioritize, create your action plan.
Allocate your resources, time and budget, outline the action steps and assign tasks to the relevant employees.

Use the following action plan template to proceed.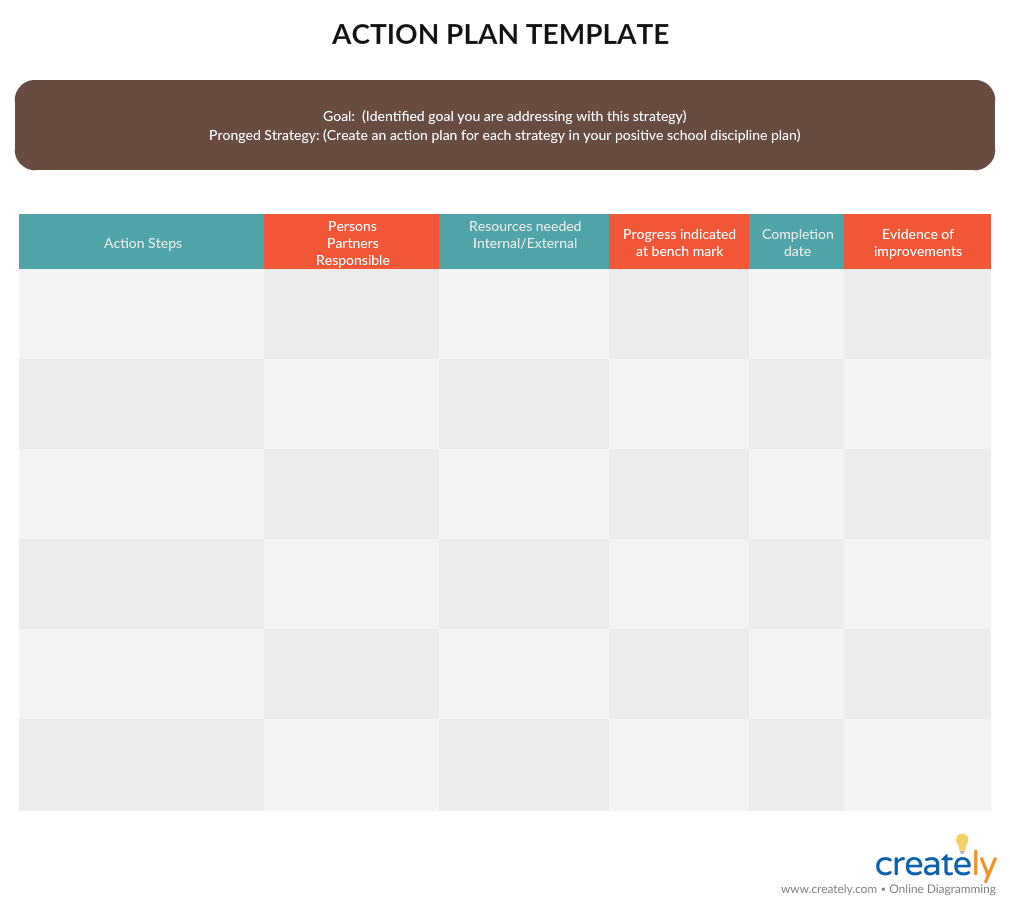 Create Your Communication Plan
The purpose of a communication plan is to help guide the process of communicating your strategic plan and action plan to the relevant employees and other stakeholders.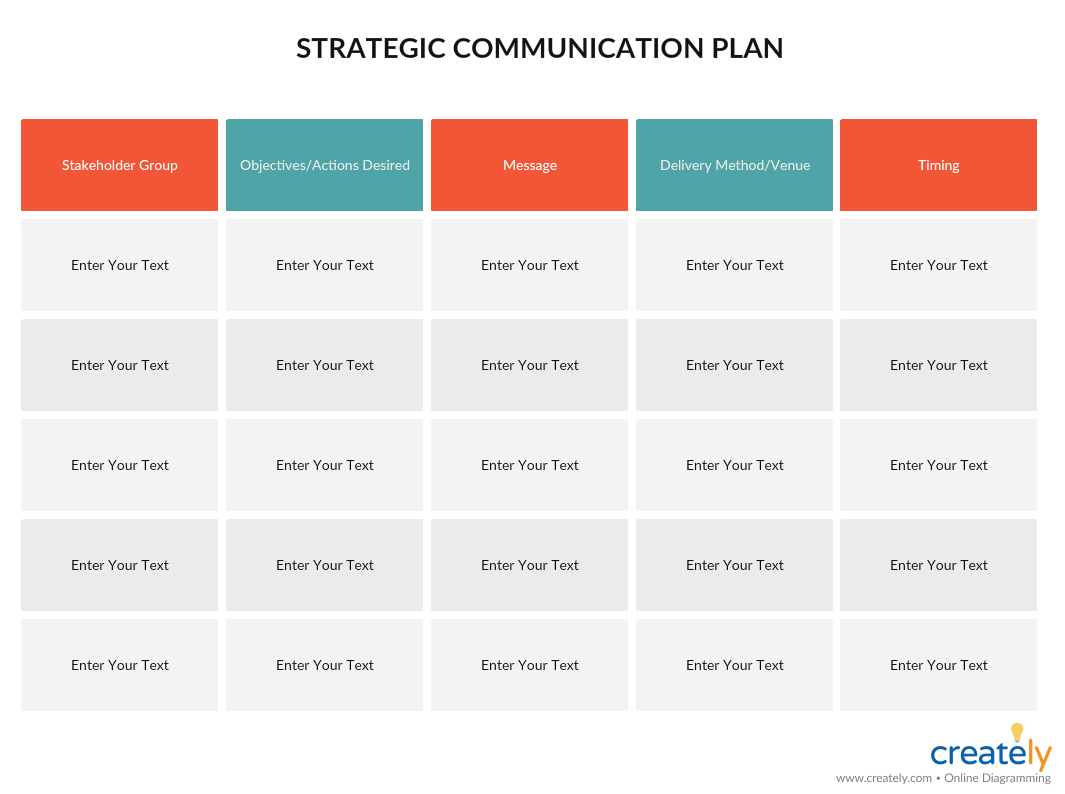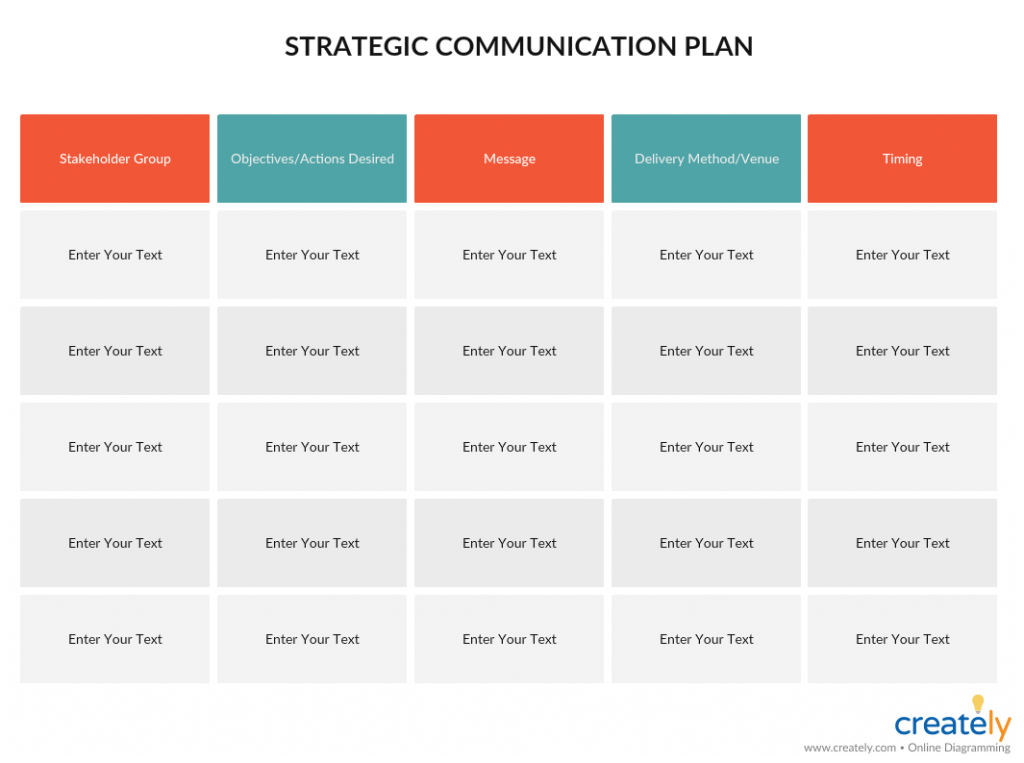 Read our guide on Creating an Effective Communications Plan to learn how to create a consistent messaging strategy.
Once the strategic planning process is explained to everyone in the company, roll it out.
Evaluate Results
Monitor the progress of your goals and measure the performance on a monthly basis. You can inquire the responsible task owners for the status of their targets and hold them accountable.
Make use of Gantt chart to track progress on given targets.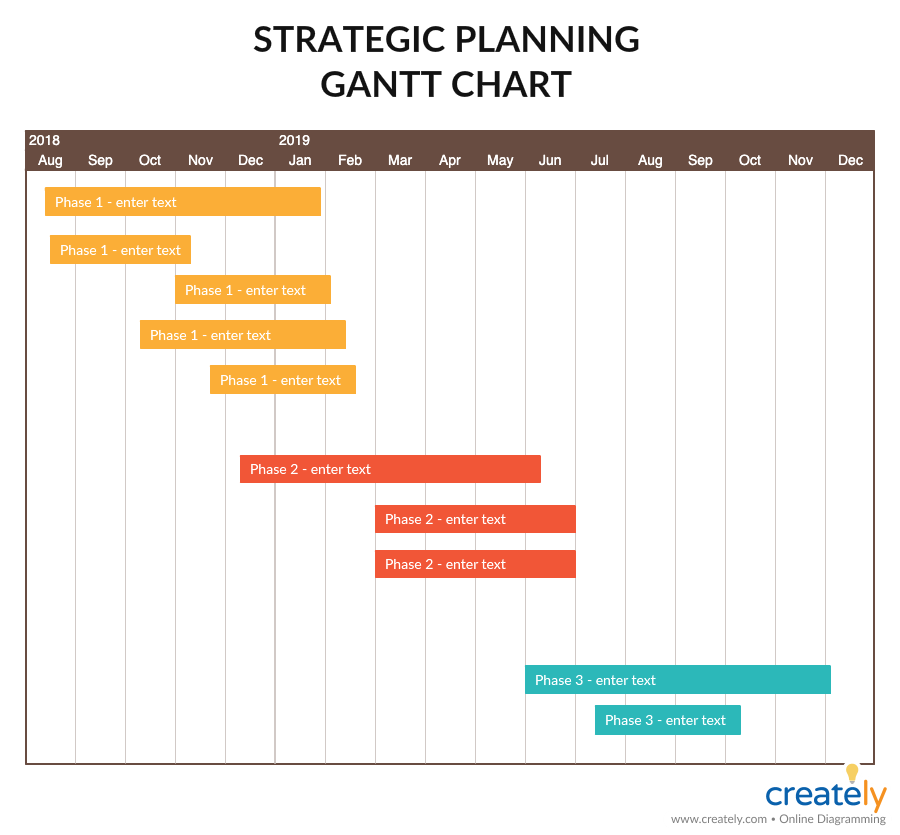 Identify areas for improvements and take the necessary measures to fix them.

What's Your Company's Strategic Planning Process?
A proper strategic plan is key to keeping your business on track when reaching your goals. Follow the steps discussed above and make use of the visual tools provided to facilitate and accelerate your strategic planning process steps.
What are the strategic planning process steps your organization take. Share with us in the comment section below.