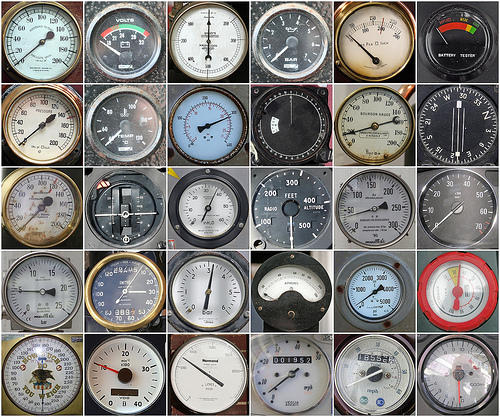 Measuring business metrics is one of the most important yet overlooked aspects of running an early stage Internet startup. As a young startup looking to raise funds, we're often quizzed on our financial figures and projections. It is often difficult to build out financial projections without a track record. So what should you do?
Although hard financial data is important, I believe we can often find great non-financial metrics that go a long way in assessing the true worth of a startup, for example the rate of user engagement or the satisfaction of the users. This tells us how a company or product is doing right now and can provide a good indication of the quality, passion and promise of the founders of the startup. Remember – An investor is never going to invest in a good idea without quality founders.
Key Performance Indicators
My interest in system performance metrics goes back to 2002 when I was the Performance & Capacity Manager at Lloyds TSB in the UK. I spent my time tracking performance information on Lloyds TSB's server farms to compare it with the business unit's future plans. This helped me work out which IT services and servers needed to be upgraded.
After working in Capacity Planning I know how important accurate technology and business metrics can be. Its a thankless job, because no one notices when nothing goes wrong. But all hell breaks loose when something does go wrong. This makes performance metrics one of the most important but under appreciated aspects of your business.
I keep talking about business metrics, when the right term is Key Performance Indicators or KPIs. KPIs are important as they allow us to understand our business and see how well its doing. To help us find the right KPIs, we categorized them into 2 distinct buckets:
Continuously measured – these are the largest group and change without the users directly providing measurable feedback. At Creately for example, we track data related to the total number of diagrams created.
Spot measured – these are recorded by directly asking the user a question or inviting him or her to do something on your site. At Creately we recently introduced the 1-click star rating feedback when a user logs out.
So we know KPIs are important and that we needed to measure them. But where do we find these KPIs? That's easy. Every RIA and Internet startup has a database (probably many more) – start there. We looked at the data we're producing and storing about the users and their activities on our site and service. Then we went further and looked into our servers and the data they were generating.
Where to start
I know that's a lot of data to go through. But you can start small and build as you learn more about your business. Here are 6 questions we asked ourselves when we set out to measure our business performance :
Which data can help us build a better product or business?
What information gave us a better insight into our users' behavior?
How do we collect information that will help us decide the product's future feature set,
What is the value proposition of our start-up? If its ease of use, how can we measure that?
When are our systems down? Do we constantly monitor system availability?
What do we need to know to be a success!
Here's a sneak peek into what we measure at Creately to give you an idea of what I mean:
Number of Private Beta users and their usage patterns
Number of diagrams created
Number of collaborators associated with the diagrams
Star Ratings submitted by users
User traffic
This is just a sample of some of our KPIs at Creately. Think about your own situation to work out the KPIs that are right for you.
Historical Trends
Finally, we were sure to maintain historical records. If you don't, by the time you want to look back you won't have anything to look back at. Trends and growth rates are very important for planning the future of your Internet Startup and raising investments. They're also a great way to track the progress you're making and help keep everyone on the team motivated. In its simplest form you can setup a cron job with a script to record your KPIs once or twice a day (or whenever) and store them in a database for processing and comparison later.
Do let me know what KPIs you think should be measured for your or any Internet startup?
UPDATE: Since we put this post out, we've come across some great resources on measuring business performance and user adoption:
BTW if you're interested in web metrics and what Internet search can tell us about ourselves please have a look at Bill Tancer's book Click. I just finished an Advance Reading Copy and it is quite interesting – although it does drag in the middle. Bill works at Hitwise and knows what he's talking about.
Image courtesy: Leo Reynolds