Finally time for the next post in this series. I know its been two months since the first one, and sorry for taking this long! Better late than never, and here we go! If you've missed the first one on Visitors Map Overlay, stop right here, and go read it.
We've mentioned the importance of Map Overlay in the first post, and this time its all about Goals in Google Analytics! Lets see what Goals are, why they're important and how we set them.
What are Goals in Google Analytics?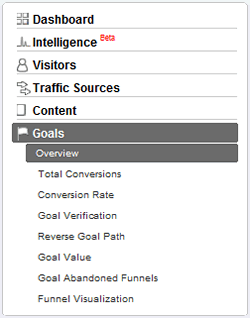 Goals describe the completion of a desired task that you'd like your visitors to do!
By setting up Goals in Google Analytics, you can measure how often the desired tasks are completed, and this is called the conversion rate.
Before implementing Goals, identify what your website's objectives are, and what visitor actions they correspond to. A goal can be anything from completing a contact form for generating leads to completing a purchase for driving revenue.
For example, in Creately, one of the Goals is a visitor signing up for our online diagramming service.
There are multiple ways to define goals, and here's a great article written by Ian Spencer that gives more tips on Goals in Google Analytics.
And now, the Goal Funnel?
Accomplishing a Goal involves a sequence of steps. The sequence that leads up to the completion of a Goal make up the Goal Funnel. For each Goal, you will need to setup a Goal Funnel and like the Goal itself, each of these steps must correspond to a measurable action on a specific page.
For example, Creately visitors go through a sequence of steps before finally performing the desired Sign Up action. Assume that you land on the Creately UML Landing page (the first step towards the Goal), where you might choose to Try Creately Now without signing up, and then from the Creately application you could opt to Sign Up 'cos you're convinced.
This would direct you to the Plans & Pricing page, where you'd be expected to choose a preferred plan, then click on Sign Up to make the purchase. Once you complete the purchase, you'd be sent to the Thank you page (this marks the Goal). Now, this means the desired task is performed and the Goal is accomplished.
However, on the other hand if the website visitor only goes up to the plans page, and opts to leave without signing up. Then the Goal is not met and it's considered to be abandoned! Thus, Goals and Conversion rates are important to measure the performance of a website.
We refer to the whole sequential process as a funnel – many people start at the top and fewer end up coming out to the bottom by accomplishing the Goal.
Check out the flowchart below to see the steps that correspond to a measurable action on different pages –

How to Set up Goals
Setting a goal is very simple. If you have administrative access, you can sign in to your Google Analytics. Then go to Analytics Settings and select a profile, click on edit, choose an unused goal 'slot', and click on edit again.
You'll need to then follow the steps and decide what your goal is and how you'll be declaring a goal, then click to finish and you'll start measuring the performance for your website.
Check out this video for more details on Setting Up Goals in Google Analytics