Long time back 'Cloud Computing' entered the world of technology. Since, then cloud-based services have been used by billions of corporations from all around the world. The capabilities of cloud computing has brought a paradigm shift in IT functionality of businesses. Cloud technology has proved to be an absolutely a game-changing revolution for industries of all sizes.
Recent research on SMB cloud computing adoption, forecasts and market estimates have revealed that U.S. SMB cloud computing & services market will grow from $43B in 2015 to $55B in 2016. Let's take a look at the reasons behind such rapid growth of cloud services among SMBs;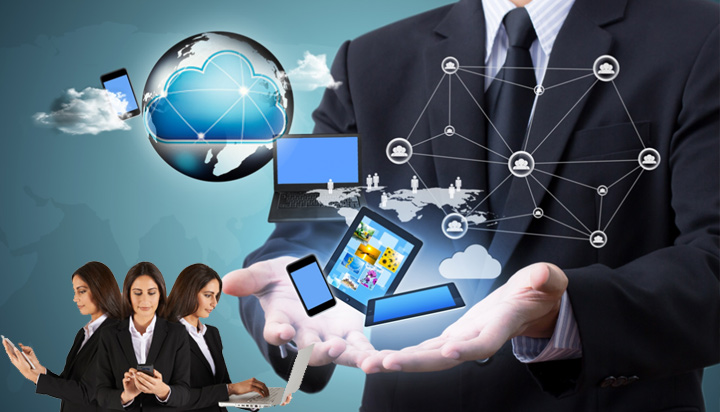 Better Collaboration and Enhanced Accessibility:
Cloud computing benefits stretch much beyond agility, flexibility, security, productivity and scalability. Imagine all documents, potential tools, applications such as CRM; accounting software, email, calendar etc. are approachable from any device or location. The need for devoting funds on software licenses is over with cloud technology.
Cloud-based services allow you to log onto a website from any location and access all the applications and tools that your resources require to perform their jobs successfully.
Cut Down on Administrative Costs:
All-in-one cloud technology delivers great benefits to SMBs. Information technology has proved to be advantageous for corporations confronting budgetary restraints. Moving to the cloud creates possibility for software upgrade, management and trouble-shooting anywhere, anytime.
Cloud computing produces significant return on investment. The cloud service providers enable corporations to modify their capacity with the rapidly transforming business needs and pay per usage. Cloud support enable utilizing funds, effort and time for performing the real job and manage resources in a better way.
Secured File Sharing:
File sharing among your colleagues can be a tussling task. Remember the first experience when you tried to distribute 2GB of multimedia file via email? Anybody who has faced such experience certainly understands the challenges involved. Transport of file racks to the newly shifted office location is another challenge encountered by corporations.
Well, cloud is here to resolve all such troubles. The days with limited technological choices are over. Software and services have been developed which allow secured file sharing.
Limitless Possibilities for File Sharing:
In the corporate context, dedicated software such as RapidShare, MediaFire can be used for hosting and sending large files. Google Drive, Box, Skydrive and SugarSync can be used for personalized file-storage services and facilities.
Few distinct choices such as BitTorrent Sync offer better continuous synchronization and updates. For example when editing any file the sync will update only the portions that have been modified rather than the complete file.
For small businesses, Dropbox can be used for distributing and synchronizing files. Advanced features such as remote wipe, ability to hook up work and personal drop boxes and selective syncing help to reap maximum benefits out of Dropbox.
Simplified Back-up Services:
With the emergence of huge volume of data that needs to be protected, several back up applications and tools have multiplied in the corporations. Each tool is developed to address specific type of data. Examples of these are virtual and physical servers.
Tools have been designed which deliver the same operations as individual back tools but function on the same platform, which are simpler to license and reduces the maintenance cost. One of the cloud backup option Mozy gives users the choice for scheduling and manual updation or having their data backed up regularly.
Disaster Support:
Disaster recovery is another benefit offered by Cloud technology. If the primary data center collapses then with effective security and cloud—based backup tools, the concerns associated with data recovery get over.
To enhance productivity and reduce the cost spent on IT infrastructure cloud-based backup and storage options have been implemented continuously by small businesses. SAN-to-SAN replication service proves to be an economical solution over conventional disaster recovery systems which involve testing challenges.
Well, the reach of cloud services is extended much beyond our imagination. Access to information via secured network, access expandable to new users within seconds, no network changes, no capital investment; cloud technology offers all that is required for smooth functioning of the business.
Moving to cloud enable SMBs to reduce storage costs, achieve improved scalability and manageability.   So, whether it is a call to save money or improve productivity; SMBs can reap great benefits from cloud services.
Author Bio:
Shraddha Tewari, skilled and accomplished 'Editor' holds a strong command of cloud technology and its endless applications beneficial to simplify the business processes. She believes in the world with least hardware, endless mobility, and interminable connectivity. This belief persuades her to explore more on cloud technology and share her experiences through TheRealPBX  blogs.
She can be followed @tewarishraddha1.