With millions of diagrams the Creately diagramming community has become the go to resource for many when it comes to diagramming inspiration. This wouldn't be possible without our users creating awesome diagrams day in and day out. Web designers, students, network engineers, marketers and many other professionals have contributed to make the diagramming community a resounding success. Now's the time to get rewarded for your creativity with the inaugural Creately diagramming challenge. It's time to do something fun and exciting together.
What is the Creately Diagramming Challenge?
Creately diagramming challenge is a competition, where you get to draw diagrams to help others using Creately and win prizes for your efforts. We provide a question scenario for you to design an interesting solution drawn using Creately diagramming software (Skip to the Question). The question will be based on a real world scenario where you will have to figure out the best solution and draw a solution in the form of a diagram using Creately. You can draw any type of diagram as your 'answer' for the challenge.  You should also follow and like our Facebook, Google plus Page and Twitter profile so that when you post your entry we have the best chance of seeing it and making sure it's part of the competition.
Choosing Winners
Winning entry submissions will be selected by Creately staff members from the submissions we are notified about through our social media accounts, we'll consider the following criteria when choosing:
Quality and presentation of the diagram.
Ingenuity and inventiveness of the diagram.
The completeness of the solution diagram.
Entertainment and interest of the diagram.
Basically the better an entry looks and addresses the question scenario while being clever and entertaining the better the chance of winning it has. There are no restrictions on the shapes, type or the size of the solution that you can submit. See the terms and conditions for other requirements.
Prizes
The first prize is a Fitbit Flex Wireless Activity and Sleep Wristband in the winners choice of available colors.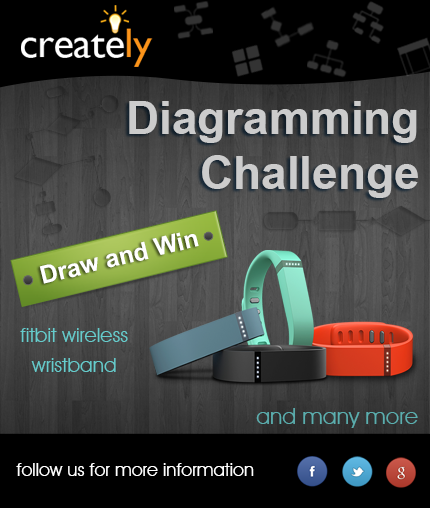 We will be accessing your diagrams carefully and the six entrants who submit the best solutions from different entries will each win a Creately Desktop license with a years subscription to Creately Online.
We'll then select one of the six as the first prize winner.  Out of the top 6 diagrams, we'll be selecting  the most relevant and the most "perfect" solution that we like this entrant will win the first prize of the Fitbit Flex Wireless Activity and Sleep Wristband.
All the winning diagrams will be published via our social profiles and the best solution will be published in our diagramming library under your name. And we do not forget to publish winners social profiles online.
The Challenge Question
Draw your diagram submissions to answer this question scenario….
Choosing a major for your degree is often difficult. It is tricky to decide because of the different variables affecting your choice. Draw a diagram using Creately to help a student decide on a suitable subject for their major.
What we expect and how to enter
We expect you to draw your best solution for the challenge question illustrated in a diagram. The type of the diagram can be a Venn diagram, Flowchart, Mind map or any other diagram. You have to use Creately diagramming software to draw the solution. To submit a qualifying entry you need to  share the diagram image you draw with the hash tag #Creately #CreatelyDC on social media, the more accounts you share it on the better the chance we'll find it and be able to consider it an entry. Your submission also needs to be a public diagram and when posting your submission you need to include the Diagram Community link (found under the "Publish" tab within Creately) Our social profiles are: Facebook, Google Plus and Twitter.
Terms & Conditions
There are no restrictions for this competition. However there is a criterion to be met before we can select your diagram.
This is an open contest; anyone can participate with no age restriction.
The prize pool consists of 1x Fitbit Flex wristband in the winners choice of available color and 6x Creately Desktop licenses with a years access to Creately Online.
The competition opens on 22 April 2014 00:00:00 GMT/UTC.
The closing date is 16 May 2014 23:59:59 GMT/UTC. All entries should be published to social media before the closing time.
You have to draw the diagram using Creately. If you don't have an account you can create one for free.
Each entrant can submit as many entries as they like.
You must Follow/Like at least one social media profile of Creately to be eligible.
Diagrams should be public and published to us using your social media profiles with the hash tags #CreatelyDC and #Creately and do not forget to address your entry to @Creately on the respective social media service as well. This is very important as this is how we find your diagrams.
Plagiarism is not cool and is therefore prohibited. We will check all submissions to ensure they are unique.
The winners will be contacted by 23 May 2014, if each chosen winner is not contactable within 3 working days of contact being attempted then we'll choose someone else.
The winners and their entries will be published on the Creately blog on 30 May 2014.
All decisions of Creately and Cinergix Pty Ltd will be final.
The promoter of this competition is Cinergix Pty Ltd, 1/28 Mentone Parade, Mentone, VIC 3194, Australia.