Now and in the future, cross-functional teams will be how work gets done. The complexity of most business processes from product development to customer success makes teamwork a necessity. This applies to intact teams co-located together, or virtual teams made ever more common during the pandemic.
We often think about the contribution of leadership, be it the team leader's or product owner's isolated from the team as a whole. Yet the leader would be nowhere without their team. We know we need to have high-performance teams. But how can you get the most out of them? In this post, we dive into cross-functional team management.
How can you improve your team's performance?
Let's look at some of the problems teams confront today.
Often, your organization faces difficult challenges. You've got to pivot quickly and move rapidly to mobilize your new direction coming out of the pandemic. To succeed in these difficult challenges, you need high-performance teams.
However, team performance is often hampered by poor role definition and confused direction setting.
When your organization is reacting to a rapidly changing environment, especially when working on urgent problems, teams can become so large you can't get anything done.
Or you're missing critical functions but uncover them far too late in the project to make a difference. By visualizing your team and identifying gaps, you can create more efficient and effective teams whether they be in one room or in twelve different countries.
What is a cross-functional team?
A cross-functional team is a group of more than one person or collaborators, from multiple functions, united by a common goal.
All of the functions needed to deliver the solution must be included even if some are part-time team members. A cross-functional team's activities are also planned and coordinated.
How can you establish a cross-functional team for success?
There are common problems that plague teams – lack of a leader, unclear goals, poor communication, surprises, and late projects.
To avoid these pitfalls, start with the goals. After that, you need to recruit the right people and begin populating the team with the best and most experienced members you can. You are not finished until you have: 
Identified (and filled) all the required functions
Figure out how to incorporate remote team members, and
Established roles among the members
The best way to ensure that you have the right people with the right kind of accountability is to lay them all out in a diagram that can show you staffing gaps or unclear roles. Creating a Cross-Functional Team diagram can help identify problems and isolate gaps so you can get your team performing at its peak level.
How do you visualize the cross-functional product team?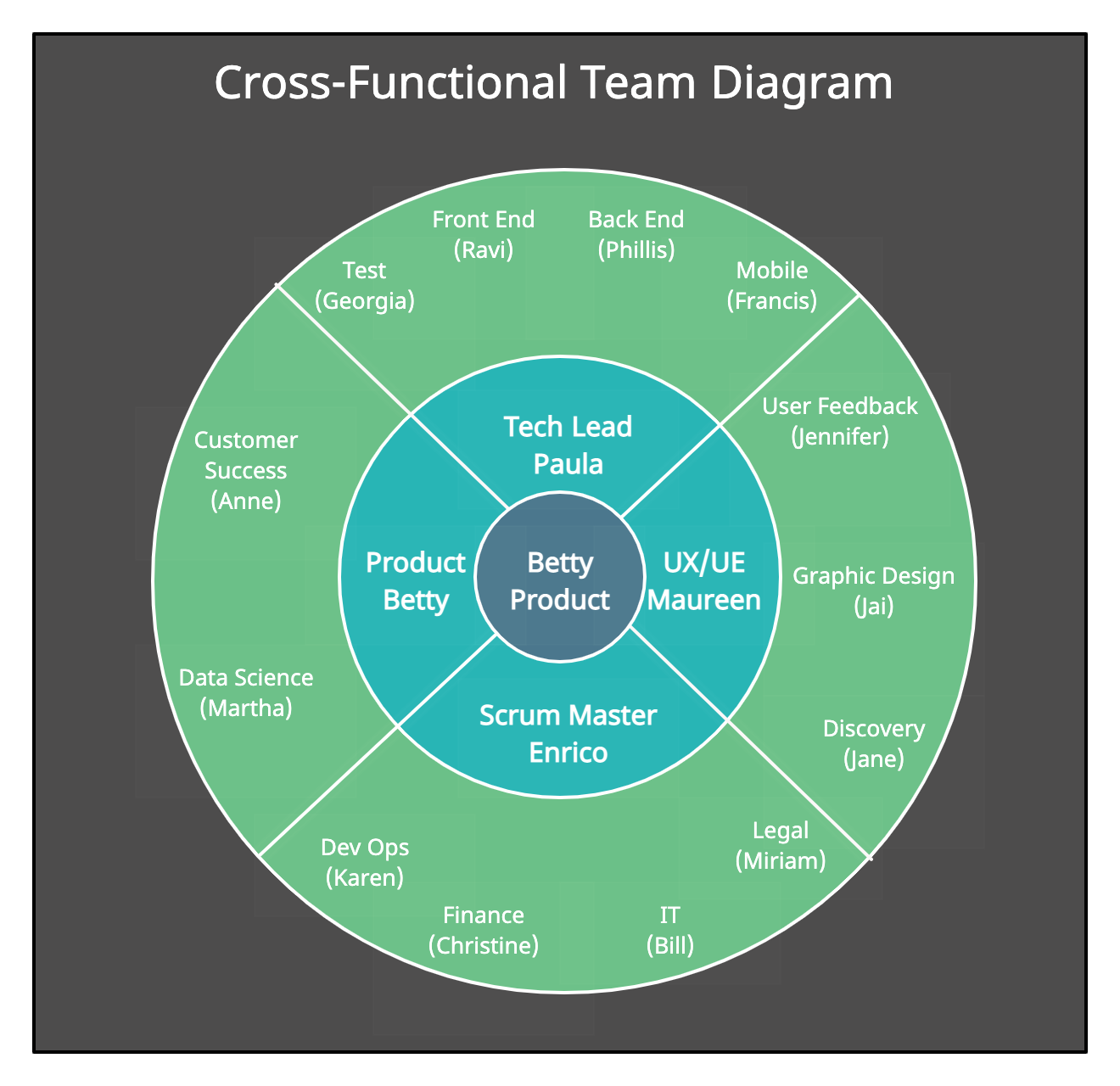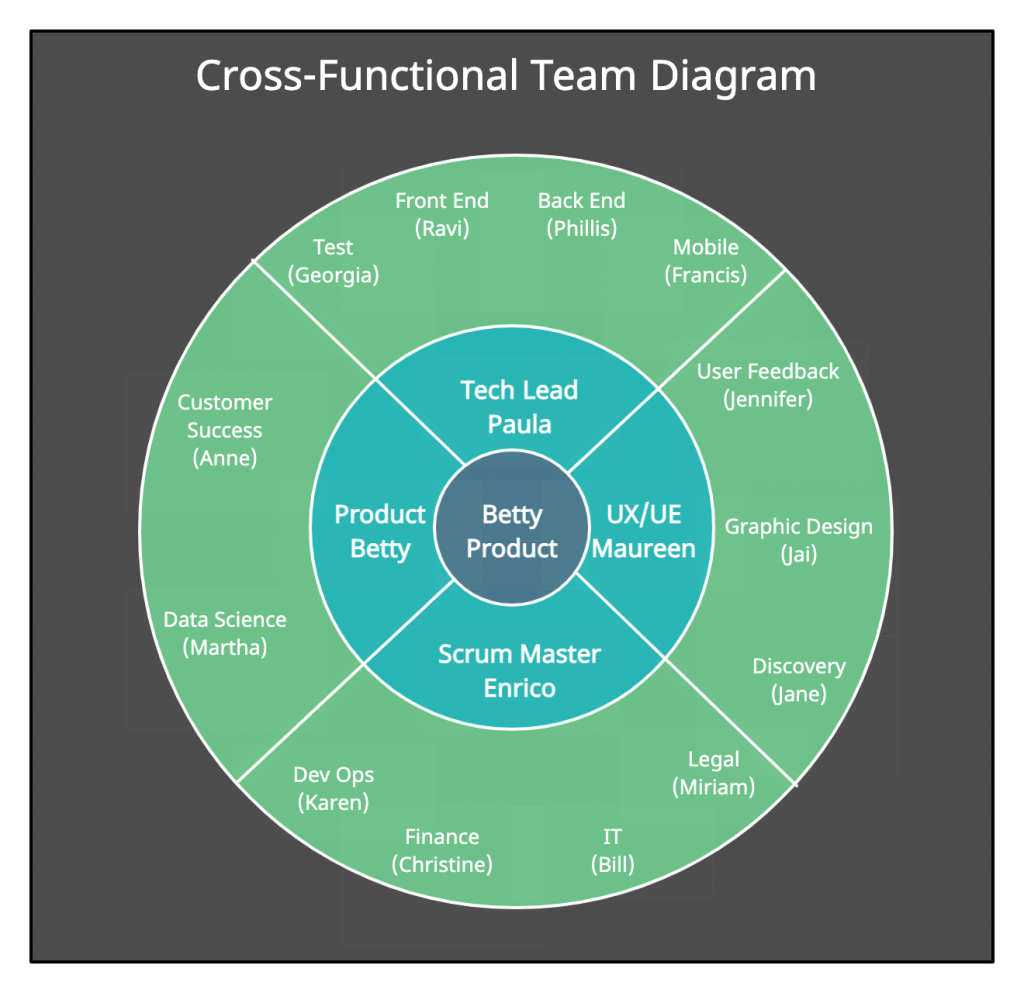 Here's a way to visualize your team. A basic level diagram looks like a wheel. In the center is the team leader. Typically, this is the product owner, project manager, or maybe a scrum master (in an Agile environment).
Around this center, there are the major functional contributors, typically four to eight, representing the core cross-functional disciplines necessary for project success. Here four roles are shown in the white circle – this is the Core Team.
But you need more than the core team to be successful. There are all of those important contributors that are needed for your success; even if they are only tapped for part of the project This is called the "Extended Team". These are specialists that don't need to go to every team meeting or those that support multiple teams because their full-time assistance is not required. Populate the outer circle with the Extended Team functions and members.
Try to line up related functions based on the Core Team roles. For example, put engineering lead at the core, and have their remote development partners as part of the Extended Team.
How does this visualization improve help with cross-functional team management?
First, it creates an image that the whole team can relate to. It provides a common context for discussion related to meeting membership, communication flow, explicit role definitions, and accountabilities.
Second, it reveals the functions you're missing. By using a standard template for your company, you know the typical roles that your project requires. You can then customize the standard template and find the missing functions. missing functions before kicking off. Or have a plan to bring them on board when needed. It also clarifies who's on the Core Team and who's on the Extended Team. This is important because typically the Core Team will meet once a week or more frequently, and the Extended Team much less often, perhaps monthly or during the kickoff, or at major milestones.
The cross-functional team diagram also shows how the Extended team provides input or coordinates their work product with the Core Team. As the wheel diagram implies, each segment of the circle has a Core Team member who represents the extended team members. This works very well to channel communication to remote development partners.
Finally, it is a great way to begin a review of team responsibilities and accountabilities. You can simply take these roles and put them on a RACI (Responsibility, Accountability, Consulted, and Involved) chart to clarify roles for key deliverables. By creating a Cross-Functional Team model, using the diagram above, you can give your next team effort a solid foundation.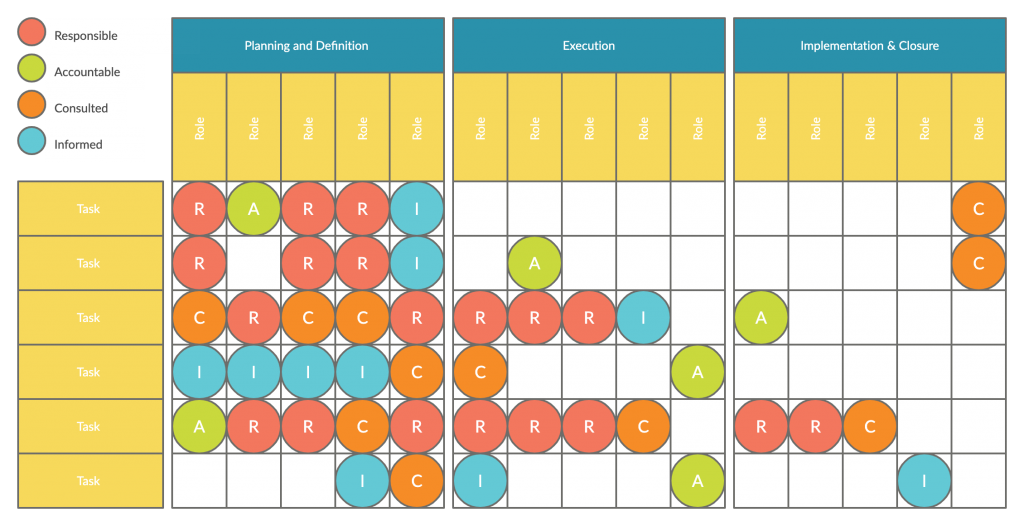 Five Tips for Cross-Functional Teams
Have a clear team owner. That ownership should be clear for both the team members and the managers overseeing the teams.
Have a qualified Core Team representing the key functions. Core Team members should be experienced and have the domain knowledge that you need.
Create and communicate the team model (see diagram above). It solves problems in the formation of teams. Update so the team knows what it looks like at all times.
Keep the core team lean and mean; target six to eight people at the largest. The goal is to make sure that you have a team small enough so you can make decisions together in one room and have efficient meetings.
As far as possible, have dedicated resources on your Core Teams Which means Core Team members should serve on only one such team. Dedicated resources usually improve the likelihood of hitting your project goals.
About the author
John Carter, Principal TCGenJohn Carter is a widely respected expert on product development and strategy. He is an inventor of Bose's Noise Cancelling Headphones and designer of Apple's New Product Process. As Founder of TCGen Inc., he has consulted for Abbott, Amazon, Apple, Cisco, and 3M.