If you are part of an HR team, you must have tried one thousand and one ways to solve common HR challenges and HR issues.
But here's a twist.
Solving them visually could be easier.
Following are easy visual techniques that you can use to effectively deal with common challenges of human resource management.
Hiring
Whether it is to complement the existing staff or to replace those who have left the company, recruiting top talent could bring about several HR challenges. Here are a few visual techniques to help you effectively deal with them.
Use Process Maps to Improve the Process
Does your hiring process take up too much time, money and resources? But produce no results? Maybe it needs a revamp.
A comprehensive process map that maps the entire process can point out exactly where you need to make improvements.
Tip: Make sure that the recruitment process flowchart can be accessed by everyone involved in it, so they won't get confused about the steps they are responsible for.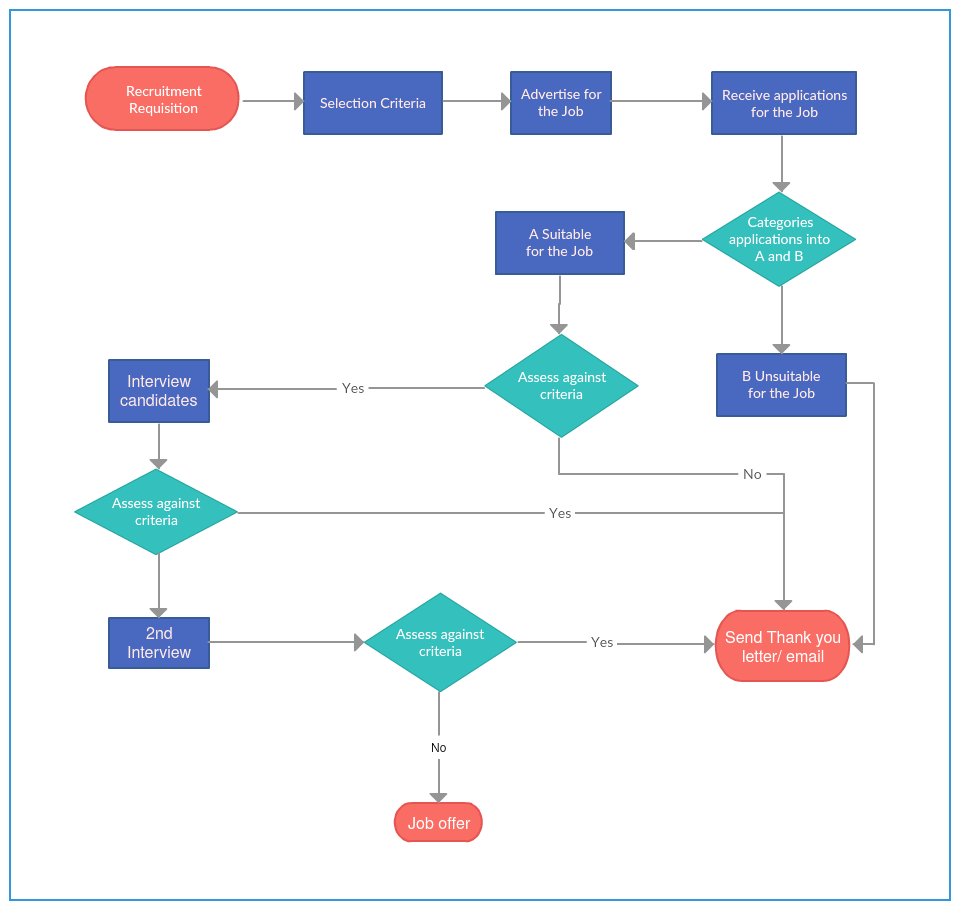 Use Flowcharts to Visualize the Interview Process
You can add a flowchart visualizing the interview process to the interview invitation email. Highlight the time period it may take on the flowchart as well. This will help the candidate come prepared.
Here are four ways managers can use flowcharts to be more efficient.
It would look something like this,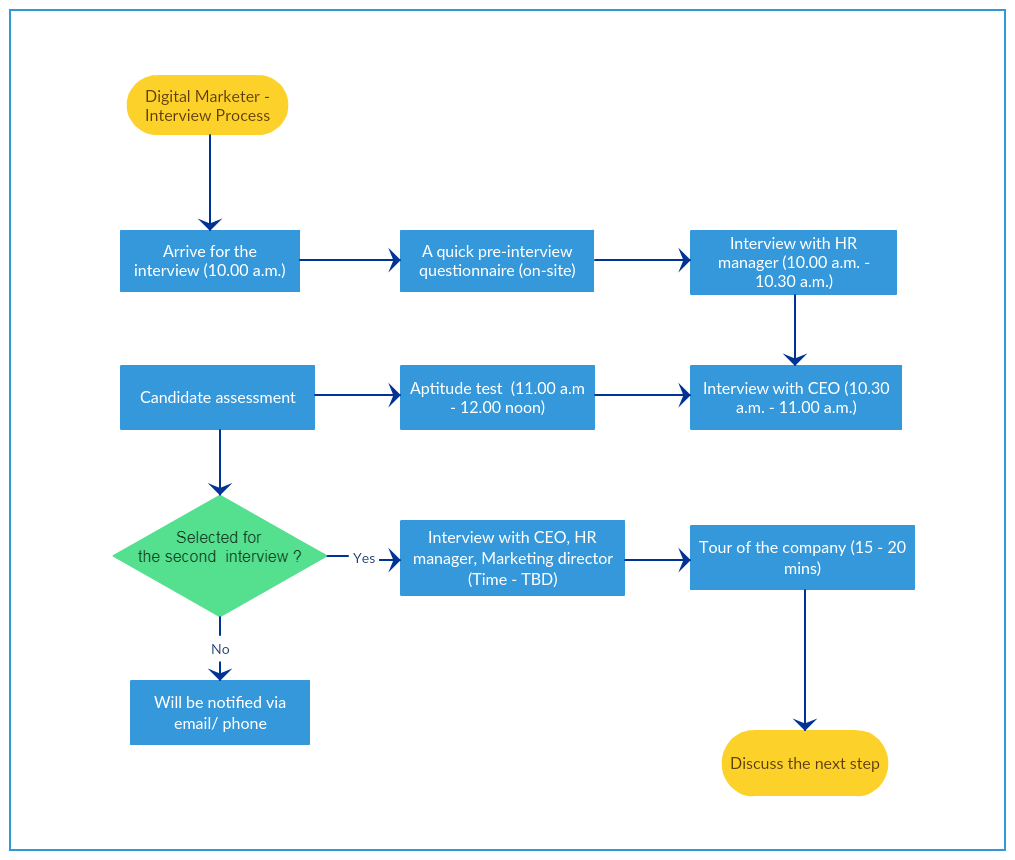 Use SWOT Analysis to Choose the Right People
Do a SWOT analysis of each of the shortlisted candidates. Identify what strengths and weaknesses they possess and what opportunities and threats they would cause if you hire them permanently. Match the SWOT analysis data against your selection criteria to decide the ideal person for the job.
Here's a free editable SWOT analysis template to help you get started.
Onboarding and Welcoming New Employees
Increasing the engagement and the retention of new employees depends on how successful your onboarding process is. Following is what you can do to improve this visually.
Use Flowcharts to Enhance the Onboarding Process
The employee onboarding process includes most departments of the company, from the HR department to the facilities team that arrange the furniture. You can use a flowchart to clarify the steps carried out by each team. This will help prevent confusions and delays.
Tip: Attach it to the welcome-onboard email of the new guy and it can double as a first-day-at-work program that will help him come prepared.
Or you can design a separate orientation process flowchart highlighting all the key events the new hire will be participating on the first day or in the first week. Add swim lanes to mark dates and time to create a timeline as well.
Here's a swim lane flowchart template you can use for this,
Use Org Charts to Clarify Roles and Responsibilities
Hand your new hires a comprehensive org chart of the company or their department. This will help them get an idea of their role within and help them adjust quickly. You can highlight the responsibilities on the charts as well. And arranging it hierarchically will emphasize the reporting structure.
Here's a list of organizational chart types you can use.
Training/ Talent Development/ Skills Evaluation
To get the best from your workforce, you need to train and develop their skills. Here's how to go about doing this using visual techniques.
Use Flowcharts to Standardize Training Processes and Develop Strategies
After measuring the current capacity of the talent pool at your company, you can use a flowchart to create a talent development strategy. Use swim lanes to separate different stages, such as search for applicants, selection, hiring and training.
During the training period, a new hire would go through many training programs, from induction training to fire alarm training. It might become difficult to keep track of the steps in all of these programs. Use flowcharts to create official records of them. Don't forget to share them with everyone.
Use Org Charts to Create a Skills Inventory
An org chart, carrying details, like the job role, responsibilities, years of experience and the expertise of the employees can work as a skills inventory. This could come in handy when you are planning a talent development strategy and need to know which departments need development.
Here's an org chart template you can edit and expand with the details of your own organization
Use SWOT Analysis to Evaluate Skills
Just like the SWOT analysis helped you pick the right person for the job, you can use it again to evaluate the skills of your current staff. You can even get your team to do a personal SWOT analysis of themselves.
Allocating Resources
A project needs a lot of resources; from people to equipment and material.
That's a lot of resources to allocate.
When it comes to allocating the right people, you can make things smoother by using an org chart.
Use Org Charts to Identify the Right People
When planning projects, you need to allocate resources. A comprehensive org chart can tell you, who in the team/ department is apt for the job and which projects he/ she is currently working on.
Tip: Maintain an org chart that is always updated and can easily be accessed by all employees. This way they can mark their availability on the chart themselves.
Problem Solving
A successful HR professional should be great at solving problems. Here's a visual trick you can use to solve problems easily.
Use Fishbone Diagrams to Identify Root Causes
Fishbone diagrams are a great way to identify the root causes of a certain problem. Say you need to know why the employee productivity levels are dropping; you can gather around a team and use a fishbone diagram to capture the points thrown around during the brainstorming session.
Analyze the fishbone diagram thoroughly, and you'll find the root cause of your problem easily.
Here's a free fishbone diagram template to start right away.
Human Resource Planning
Whether it's hiring, onboarding, or training, human resource planning can be challenging.
But not if you…
Use Mind Maps to Plan Your Work
Mind maps are a great planning tool. Use mind maps to foster the free flow of ideas during a brainstorming session and to structure information visually in such a way that would give you a quick overview of what you are planning.
What Methods Do You Use to Solve Common HR challenges
The HR team comes across all sorts of hr challenges every day, and the key to resolving them efficiently in most cases is the same; proper organization of and easy access to relevant data.
The visualization techniques we have discussed above can help you do both these, effectively. Use them to streamline common tasks and improve the efficiency of your HR department.
And don't forget to share with us what other common HR challenges you have faced and how you solved them.