A project typically involves teams from different departments. As usually these teams speak and think in completely different ways, it often leads to communication challenges that will eventually thwart the results expected from the project.
Aligning these disparate groups is key to delivering a quality product. To do so, you need to properly document what is expected from each team, leaving no room for confusion. One such document is the creative brief. This single document briefly clarifies the scope, deliverables, and deadlines specific to the creative requirements of a project.
In this post, we will discuss what a creative brief is and how you can use it to successfully complete your projects.
What is a Creative Brief
Let's start with the basics.
A creative brief is a document that details the mission, deliverables, challenges, demographics, messaging, deadlines, budget, and other key details pertaining to a creative project. It is often created by a creative project manager or a consultant to inform the company stakeholders or the clients on the important details of the project.
The creative brief helps establish agreement between the client and the marketing agency, or among the internal project team. It clarifies expectations and helps gain buy-in for the creative vision from those who are involved.
A creative brief is usually a single page – sometimes may take up to two pages – document. However, a best practice to follow would be to try and keep it concise and limited to a single page. This will allow you to further extract the most important details and create a more refined picture of what you want to accomplish for the team.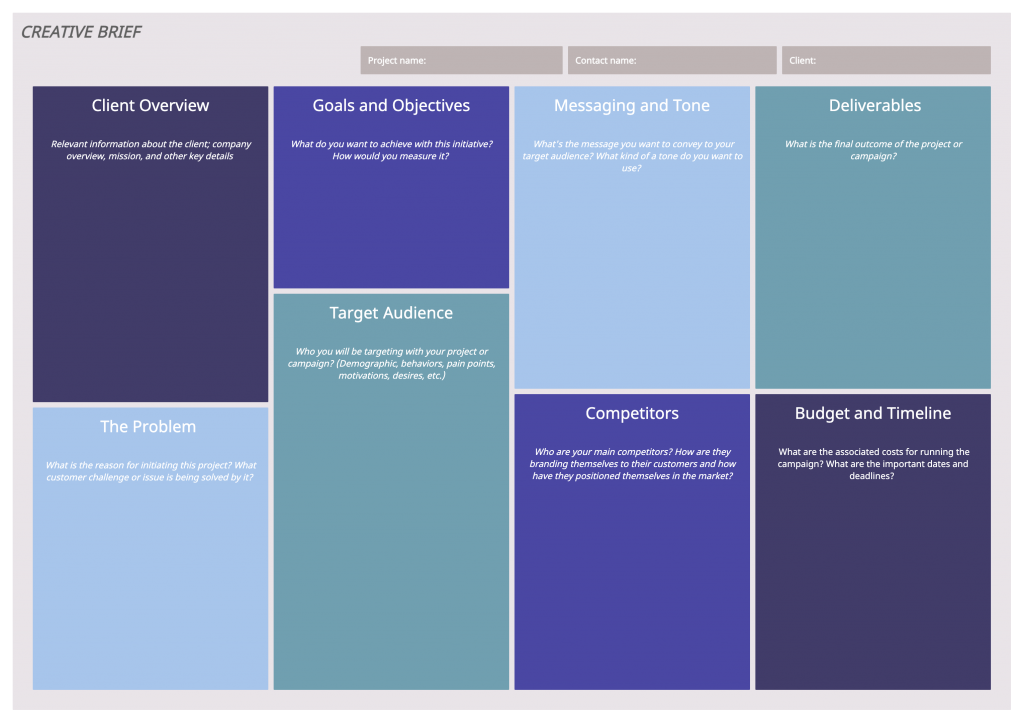 Importance of a Creative Brief
Helps align the project participants around clear goals and get them on the same page.
Documents and centralizes the key project details required to help the team work and collaborate efficiently.
Help clarify how you want your brand to feel and sound like in your creative assets to your creative partner/s.
Elements of a Creative Brief
Although different projects or campaigns have different creative deliverables, creative briefs written for them may essentially contain more or less of the same elements. Based on whether you are employing internal or external support, you can include the following elements in your creative brief.
How to Write a Creative Brief
Whether you are creating the creative brief to present to a client or your internal team, it helps to first consult the project stakeholders to clarify the mission, project goals, priorities, and the possible challenges your team is facing. With this knowledge, you can write a compelling brief that focuses on what's really important to your client or your company.
Here are the steps to writing a creative brief effectively.
Explain who you are
In case you are working with an external agency, you need to explain the core element of your business so they can better understand your brand before developing the campaign. This section can include a brief overview of your company, its mission, and other key details on the background of the brand. 
Specify the problem or opportunity (project context and background)
This is where you need to explain the' why' of the project – or the reason for initiating this project in the first place. This may either entail a challenge that your project aims to address and solve, or an opportunity you want to embark on. A brief statement explaining the need for the project and the proposed solution should be included here.
Define the goal and objectives
Now that you have identified the specific business need your project will address, it's time to write down the goal of the project. Include a statement of what needs to be accomplished, accompanied by the metrics that will be used to measure success.
Resources: The Easy Guide to the Goal Setting Process
Profile your target audience
This section answers who you will be targeting with your project or campaign; whether you are trying to reach out to your existing customers or a segment of new customers. The more information you have on them, especially in terms of demographics, their behaviors, pain points, motivations, and desires, the more you will be able to develop a campaign that successfully caters to their specific needs.
If you already have developed a customer persona, you can extract the necessary details from there.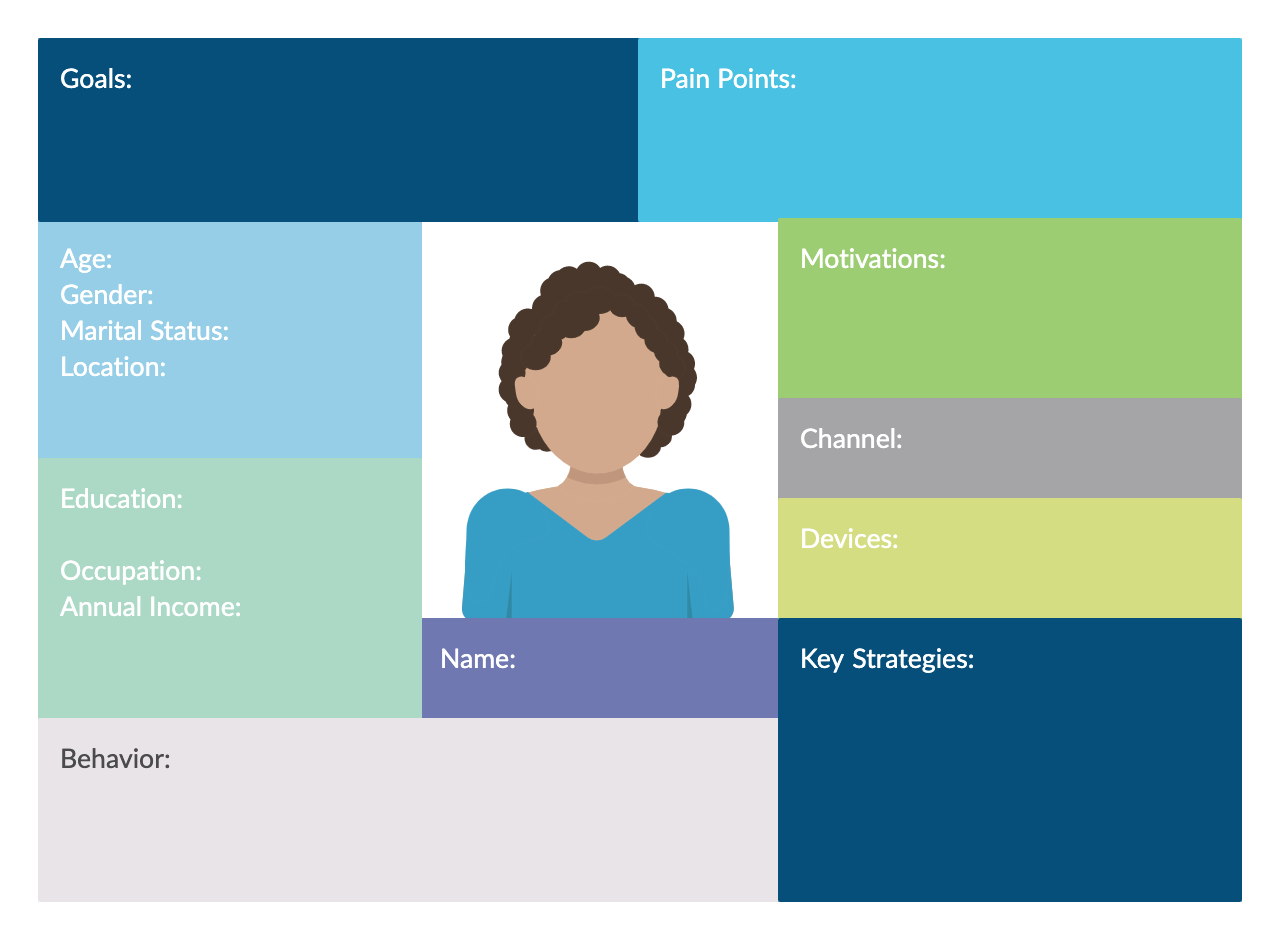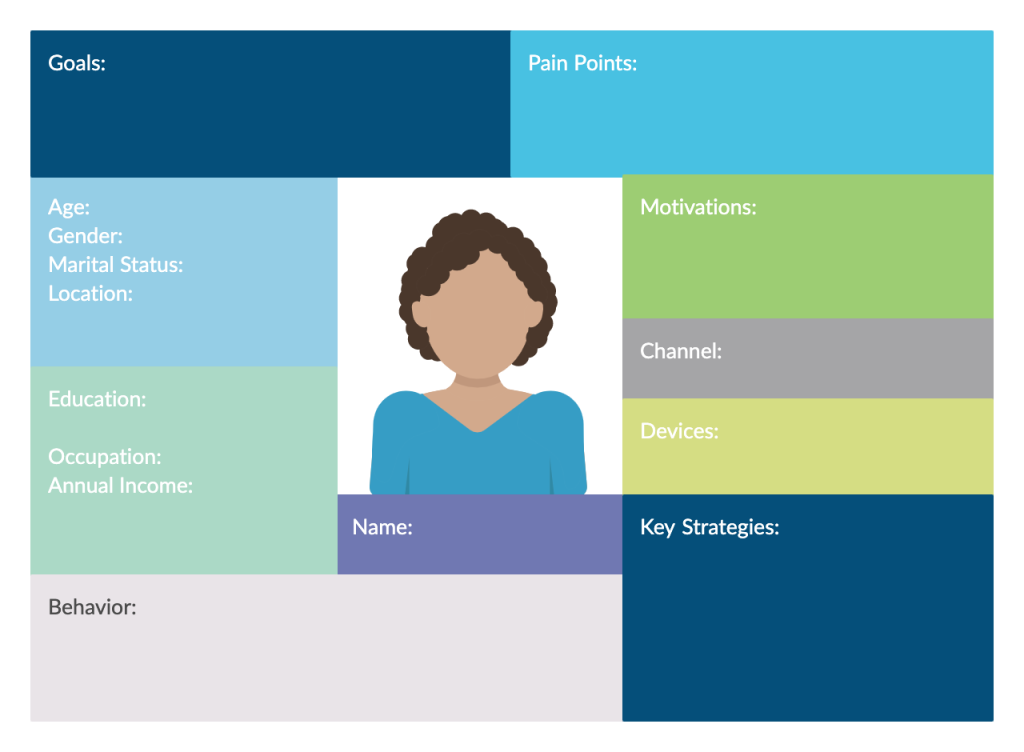 Resource: The Easy Guide to Creating a Buyer Persona
Summarize the messaging and tone
Clearly establish the message you want to convey to your target audience. The key message should not only reflect your brand but also the tone and voice of it should match that of your overall brand identity.
If you already have defined brand guidelines, you can add them in your creative brief or share them with the project stakeholders so they can refer to them.
Define your competition
This element isn't essential. However, this extra piece of detail will help your creative team further understand what needs to be done. Understanding how the competitors are branding themselves to their customers and how they have positioned themselves in the market will help inform your own decision on how to market or advertise a product or service uniquely.
Resource: How to Analyze Your Competitive Landscape
Outline the deliverables
What is the final outcome of the project or campaign? For example, it could be a TV ad, a landing page, a new blog post, an ebook, or a video. This section should specify what those deliverables are and clarify the asset requirements such as dimensions or number of versions.
Resource: Work Breakdown Structure for Identifying Project Deliverables
Establish the budget and timeline
Estimate the associated costs for running the campaign early on. This will help the team stay within budget. Highlight the overall budget and include a breakdown of how it will be allocated.
Likewise, establishing a timeline for the project at the beginning can also help the team stay on track and deliver on time. Mention the important dates and deadlines so as to allow stakeholders to estimate their tasks properly.
Resource: How To Create a Project Timeline
Additionally, you can include details on stakeholders (departments or the teams that will be involved), the process explaining the steps that need to be taken to complete the project, distribution channels, and how you will distribute your media.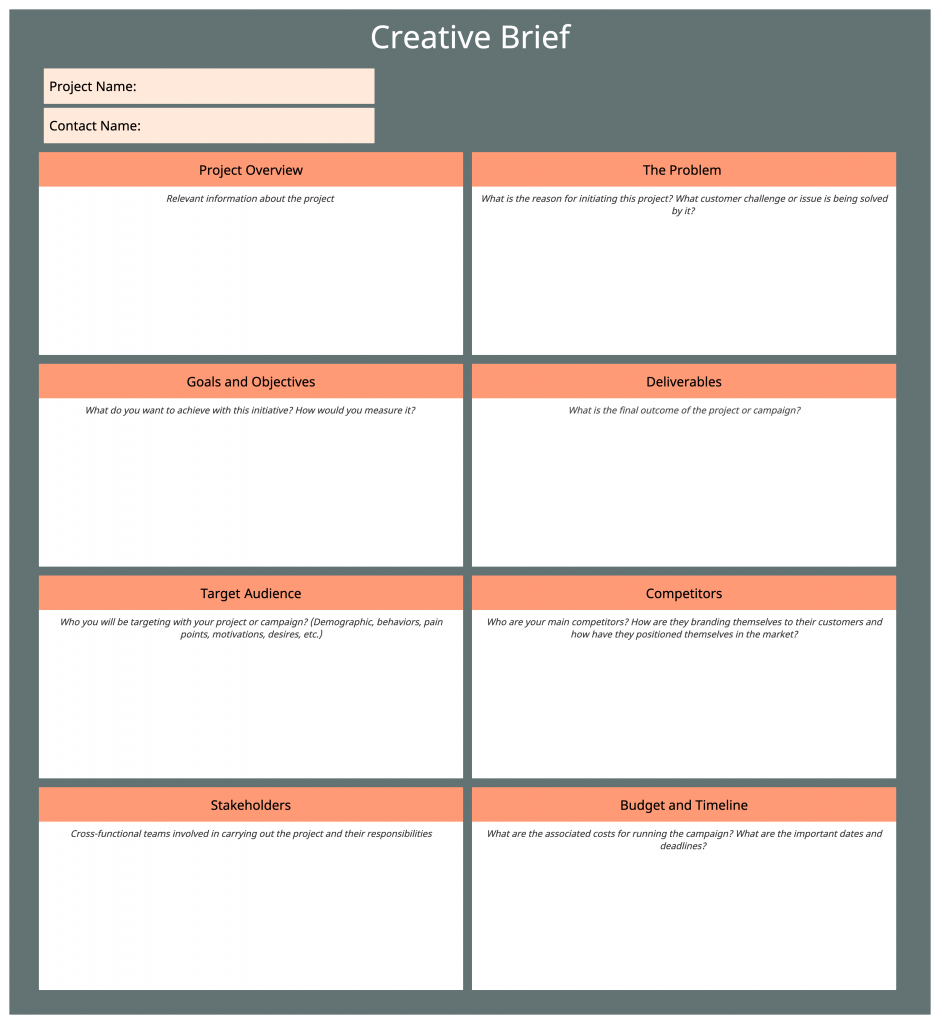 Ready to Write Your Own Creative Brief?
Now that you are aware of what is a creative brief, the elements that need to be included in a creative brief, and how to write one, you can start creating your own with a Creately creative brief template.
Share your Creately workspace with other stakeholders to collaborate with them in real-time, and make use of the infinite canvas to centralize other resources such as brand guidelines, customer personas, and competitor profiles, pertaining to your creative brief; you can import and add them as PNGs or SVGs to the canvas or link to them.
Got any questions or suggestions? Let us know in the comments below.