Every organization needs a set of rules to guide its members. Standard operating procedures (SOPs) are established for this purpose. SOPs are an essential part of any business and are necessary to ensure the quality and consistency of organizational operations amid the busyness of daily work.
This post will help you as you write your organization's own standard operating procedures effectively and make them part of your day-to-day management approach. It explains and includes,
What are SOPs
Different SOP formats
How to write SOPs and best practices
Editable SOP templates
What Are Standard Operating Procedures
Standard operating procedures are a set of written guidance on how to accurately perform important, routine, or repetitive activities or processes in an organization.
They explain the way activities should be performed in order to facilitate conformance to technical and quality system requirements and to support data quality.
SOPs are typically specific to the organization they are written for and assist them in maintaining its quality assurance and quality control processes. They also help organizations ensure that they adhere to governmental regulations and maintain consistency in the quality and integrity of products and services they offer.
SOPs,
Are cross-functional documents
Represent workflow across functions
Are initiated through a process map
Answer the question 'who does what?'
Are written in active voice
Terms such as protocols, worksheets, work instructions, and laboratory operating procedures are also used instead of standard operating procedures.
Importance of Standard Operating Procedures
Almost every activity, from cleaning a production machine to carrying out a critical process can be documented through standard operating procedures. They help,
Improve business performance by providing protection, health, environmental and operational information necessary to successfully carry out individual business processes
Ensure the safety and quality of products and services
Ensure compliance with relevant standards, regulations, and guidelines
Remove variations in procedures and processes carried out by different employees in different locations or factories, thus helping maintain consistency
Serve as a sound foundation for training and onboarding new employees
Enable control of processes and in turn, allow opportunities for continuous improvement
Facilitate improved communication
Serve as checklists to help inspectors with auditing procedures
Reconstruct operational systems in new settings
Types of SOP | Standard Operating Procedure Formats
While organizations can use a preferred or a customized format to write their standard operating procedures, there are a few types of SOP formats that are widely used by organizations out there.
Checklist format
This takes the form of a to-do list where the different tasks to be performed are outlined. This is suitable for smaller teams or individuals who don't require detailed instructions.
Step-by-step format
This format uses bulleted or numbered lists to present the SOP guidelines. This format is best suited for procedures or processes that are routine, straightforward, and easy to follow.
Hierarchical format
Similar to the step-by-step format, the hierarchical format also explains the procedures step-by-step. However, in this format, substeps are added under each primary step as bulleted or numbered lists to highlight the required additional information. This format is best suited for complex procedures with a lot of information.
Flowchart format
Flowcharts help simplify complex standard operating procedures with many possible outcomes that are unpredictable through visualization. This format also highlights how each step of the process is connected to each other, hence clearly outlining its flow for easier comprehension.

How to Write Standard Operating Procedures and Best Practices
Step 1: Identify the procedures to be documented
The first step is to identify the activities, processes, or workflows that you need to write guidelines for.
Talk to an expert on the processes or individual employees to find out the activities they perform daily, weekly, or monthly in almost the same way. You have the option to collect the necessary information here through a survey as well if talking to them proves difficult.
With this list in hand, you can then proceed to single out the processes that need to be standardized.
If the requirement is to update an existing SOP, review and improve it with the help of someone who has proper training and experience in carrying out the relevant process.
Step 2: Define the objective
Next, identify the objective of creating the SOP document. Is it to align the processes with business priorities? Or to ensure that processes function well? Identifying the reason for writing the SOPs will allow you to structure it more effectively.
In the case of an existing SOP, identify the pain points or obstacles in your processes that are causing delays and failures and determine what changes should be made to improve them.
Step 3: Choose a format
There are a variety of SOP formats that cater to different business requirements and the processes involved. As discussed above, these SOP formats include checklists, step-by-step format, hierarchical format, and the flowchart format. One of these formats can be selected based on the type of information you want to share.
Step 4: Identify the creators and stakeholders
SOPs should be written by subject-matter experts who are actually involved in carrying out or using the process.
When writing standard operating procedures for multi-tasked processes, consider a team approach where the experiences of multiple individuals involved can be utilized.
In addition, C-level executives and management leaders can also be involved to ensure that the SOPs
Align with the higher-level business priorities
Has the necessary resources and the equipment to be implemented
Are plausible in terms of resource consumption and logistics
Tip: Whether you rely on the task owner or an in-house writer to document the standard operating procedures, make sure that they have the necessary technical writing skills and in-depth knowledge of the relevant organizational processes.
Step 5: Determine the audience
Knowing who will be referring to the SOPs is essential to write them effectively.
SOPs should be written with sufficient detail that allows employees, even someone with limited knowledge of and experience with the process, to reproduce the procedure without supervision.
In order to determine the level of detail that should be included in an SOP, you need to first understand who you are writing it for. This could be a new employee without any prior knowledge or someone who has performed the activities several times. Learning their needs will help you customize the SOP for their comprehension by
Focusing thoroughly on their duties
Using the correct language and terminology familiar to them, and explanations of the terminology that are new to them
Tip: Talk to the employees who are ultimately responsible for carrying out the processes and learn about the challenges they face and listen to their suggestions. Using a visual workspace like Creately, you can bring everyone on to the same canvas to facilitate collaboration as you visualize, edit, and review the standard operating procedures.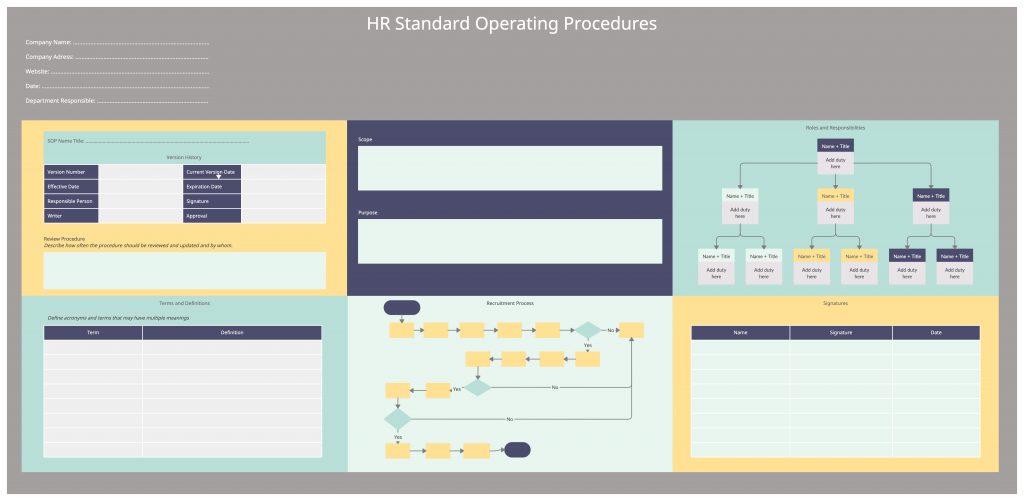 Step 6: Create an outline of the SOP
Once everything has been finalized – the process, creators, audience, and the format – start planning the document. Following are the typical components included in the SOP document.
The elements of an SOP document
Title page – this is reserved to include the relevant information about the document, including the SOP name, date of creation, unique identification number, the names of the writers of the document, and department or the designation of the individuals who will be implementing the SOP.
Table of contents – If necessary, include a table of contents to make it easier for anyone to navigate through the document. This element is useful in the case of SOP documents that contain multiple pages.
Preparatory information – this includes preliminary information such as the purpose of the SOP, roles and responsibilities, resources, materials, and equipment needed, and safety precautions.
Methodology and procedures – this section explains the procedures using the chosen SOP format.
Quality control and assurance – this is where the rubrics or other means to measure employee performance with regard to the SOPs are outlined.
Reference and glossary – this section is reserved to list down the external resources you have cited within the document and explain the terms you have referred to in more detail.
Tip: Accompany complex details with simplified diagrams such as flowcharts, process maps, or workflow diagrams and illustrations to help the reader comprehend better.
Use a consistent writing style
SOPs should be easy-to-understand, concise, and precise to ensure that everyone understands and follows them correctly, hence avoiding quality and safety risks and deviations. For this purpose, make sure that the standard operating procedures,
Are written using a step-by-step format that is easy to follow
Are unambiguous and not very complex
Are written using the active voice and present verb tense. Avoid using but imply the term 'you'
Are not lengthy and redundant
Adhere to the style guide (i.e. font type, font size, and colors used) used by the organization
Use flowcharts to visualize processes being explained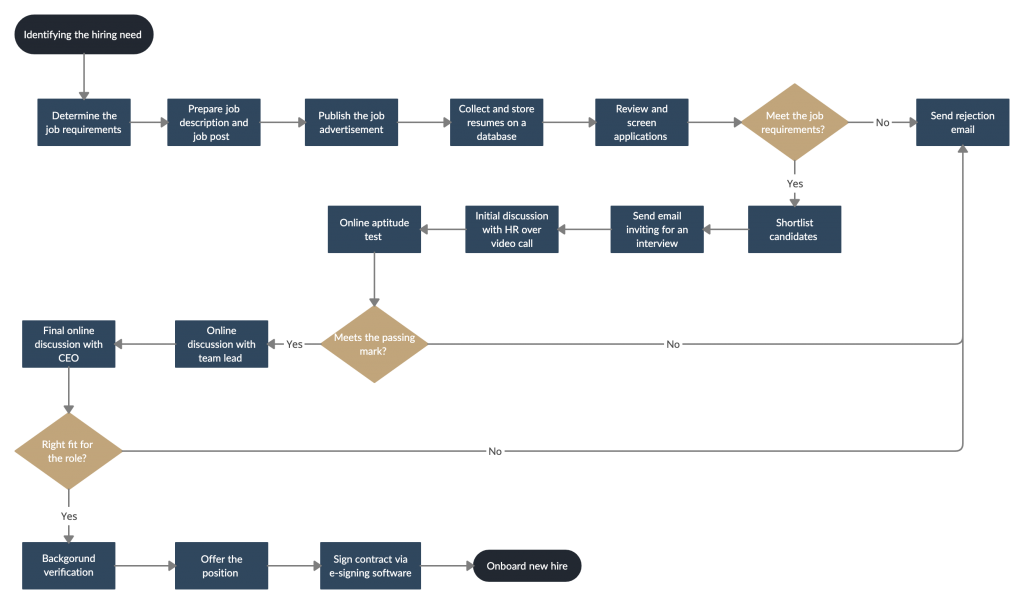 Step 7: Review and approve the SOPs
The written SOPs should be reviewed by one or more individuals who have proper knowledge of, and training, and experience with the process. Reviewers should make note of and share any issues or concerns they come across while reviewing the document. These can then be corrected before approval.
Tip: Get the individual who is ultimately responsible for carrying out the process to test out the drafted SOPs before finalizing them.
In order to be effective, SOPs need to remain current. This entails regularly reviewing, updating, and re-approving them whenever procedures undergo change.
These SOPs should also be systematically reviewed every 1-2 years to ensure they are relevant. As a best practice, always mention the review date of the SOPs that have been reviewed. In case a certain process is no longer followed, remove it from the file and archive it.
Tip: Make sure that the SOP documents are readily available either in hard copy or digitally, especially to those who are directly involved in performing the activities. Create an SOP library with Creately; centralize all necessary documents, resources, links, and visuals related to your SOP documentation in a single-connected workspace where you can collaborate in real-time through video conferencing and synchronous editing.
Ready to Write Your Own Standard Operating Procedures?
SOPs allow you to take the best methods of working in a business and create a simple document of best practices that enables everyone to perform their best at what they do. In this post, we have covered everything from how to write effective standard operating procedures to templates you can use right away. Follow the steps to create one successfully.
Share your experience and insights with us in the comments section below.