It's just 5 days into Beta and I would say that things are looking great! While I think that the process of ironing out various bugs are being done quite effectively, it would make sense to highlight the many advantages of Creately Desktop's features (bit by bit) leading up to the official release.
Users of Creately would know that this app has always been about working on diagrams and sharing them with ease, wherever you are. Collaborating on diagrams within your own team with publishing that's 100% secure, and embedding diagrams on Google sites and social media is part and parcel of the Creately experience. Moreover, users would also be familiar with its intelligent features like how when embedding a diagram (via the Diagram Viewer) on a Google site would still mean that you could make changes to the diagram on Creately, thereby updating those changes on the Diagram Viewer.
So what more could we offer on the desktop version of Creately? Conventionally, when putting out an online app and then the same app as a desktop version, you'd expect them to be two separate products. But (we thought) why don't we amalgamate both the online and desktop versions? What links both the online and offline versions would be this exciting and potent feature – Diagrams Anywhere.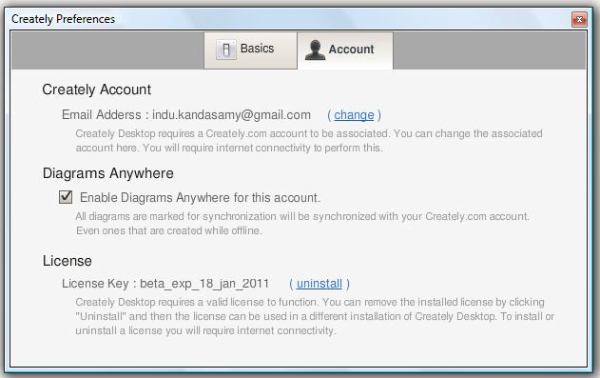 So when you create a flowchart, mindmap or any other diagram, basically just click the Diagrams Anywhere feature and you can have all your diagrams sync'ed into both the online and desktop platforms. In other words, you get to work on the same diagram either online or offline, whether you are on land, sea or air. Let's put the benefits of this feature into context. Let's say your boss wants you to amend an organizational flowchart that he has shared with you. You can work on it offline while travelling and once you do get connected, it'll automatically update itself.
To put this into perspective, we'd like to invite you to try the Beta version. Let us know what you think and you could enjoy the true awesomeness of Creately Desktop the day it is officially launched at a discount.