FlutterScape is a Japanese Social Marketplace which brings together sellers and buyers together in a casual and collaborative way. FlutterScape has a wide collection of Japanese items "fluttered" directly from all around Japan by english-proficient sellers that are passionate about Japan. You can basically browse a wide variety of items that include manga to bento boxes, cute iPhone cases, geisha dolls, and so much more. FlutterScape is a small team with 3 internet enthusiasts who are passionate about improving the customer experience of both sellers and buyers.
It is a known fact that visual communication is one of the best ways of conveying abstract ideas across to the team. Takehiro Kakiyama, Co-founder and CEO of FlutterScape, had to visualize the business model, website eco-system and other logic to his team and clients. Having used PowerPoint initially, he wasn't too happy – "It was really difficult for me to come up with a nice looking chart and flow diagram; it was time consuming and unfriendly in terms of sharing and collaboration. So (I) google(d) some keywords and learned about Creately".
With Creately's online collaboration capability inviting team members and clients to collaborate on diagrams to review, comment and update diagrams is so easy. When the FlutterScape team considered outsourcing their logistic layer, they negotiated the international shipping fee with possible logistic partners. The rate depended on the amount of operation they had to do for shipping packages.
Shipment required many use cases, so they used Creately to map out a shipment process flowchart based on the business model. They shared this flowchart model with the manager of the logistic company; on which he added/removed/suggested use cases based on their capability and experience. Then the FlutterScape team validated all the use cases – in case they failed to dispatch the package 'cos its over-sized; or in case they shipped out the wrong article and the customer returns it to the logistic partner. In order to determine a smooth and effective process flow between FlutterScape and their logistic partner, they had to draw a shipment process flow beforehand.
Creately's online diagramming platform helped the team collaborate back and forth online and determine the international shipping rate based on the process flow.
Below is a simplified version of the Shipment Process Flow.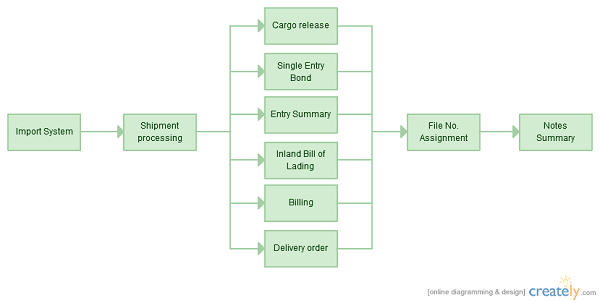 "Creately has contributed to my efficiency whereby I saved a lot of time, leaving time to work on something else while Ari, my co-founder, and I were super hectic taking care of multiple tasks at the pre-launch stage. Thank you, Creately team!" concluded Takehiro Kakiyama. "Creately is a very user-friendly and smart service that really hits the spot. Creately is like "love", so deep that the more you dig in, the more you can find out! "