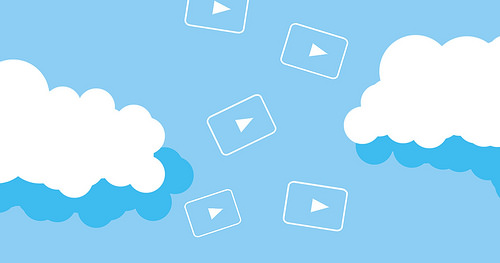 Online marketing is more complex than what it used to be a few years back. More and more companies are starting to use the Internet as a powerful marketing weapon, and customers are overwhelmed by tons of different ads each time they set foot online. Marketers are changing their focus on videos, as text and images just won't cut it anymore.
As a startup, it is very important that you create a solid marketing plan. I will go as far as to say that your success will depend on the marketing approach you choose to follow. In this article, I'll try to make it as clear as possible why video marketing is the most effective way to build a reputation online and stand out from the crowd.
Why Video Marketing?
In times when the customer's attention span is very low, videos are the ideal medium to provide engaging and informative content in a short amount of time. Because of this, videos have a higher conversion rate than text. This is the main reason why online video is revolutionizing content marketing and the way companies communicate with their customers.
You all know the saying "A picture is worth a thousand words." Well, do you know how many words a one-minute video is worth? According to Dr. James McQuivey, it's worth 1.8 million words!
In 2016, videos will account for 55% of the total consumer Internet traffic – which means video views will jump so high that it would be inevitable to start using them as part of your marketing activities. A few months back, Facebook announced that 8 billion videos are displayed each day on the platform. Just imagine the video outreach potential, if we add websites like YouTube (which boasts 1.9 billion monthly visitors), Twitter and Instagram to the equation.
5 Video Marketing Tips for Startups
As a startup owner, you can't possibly have the resources to compete with large companies with even larger budgets for online marketing. But let's get clear on something; you don't need expensive equipment and a team of professionals to create a good video. Be original and use your creativity – you'll do just fine. Below, I present some great tips on how to make the best of your videos.
1. Set the budget and define goals
The first step is to define how much you're prepared to spend on the video. Ask yourself these questions:
What type of message are you trying to send to your potential customers?
What should the video achieve? (i.e. higher conversion, brand awareness, customer loyalty, etc.)
How fast are you expecting to achieve your goals?
2. Create a video with a great story
With your goals and budget in mind, you'll need to hire someone to shoot and edit the video. This may sound tricky if you're on a tight budget – but trust me, you'll find the right fit for the job. Video creating and editing isn't as tricky as it was a couple of years ago. You can:
Visit platforms that exclusively offer video editing services like Valoso.
In both cases, you'll be able to work with professionals of your choice, and create a great video for a pretty reasonable price. Once you hire someone, here are a few good practices that you need to keep an eye on:
Develop a story that shows value
Always keep your videos short and informative
Consider making interactive videos
Add call to action at the end
3. Decide where you'll post the video
Now that you have the video, it's very important that you share it on as many platforms as you can to reach more organic views. Among others, YouTube, Facebook, Instagram, Twitter and Vine are some of the websites that could bring you a lot of traffic. This means that if you're satisfied with the results, you don't have to spend money on advertising.
Note that running a video marketing campaign can be very beneficial for your business. Facebook and Google are one of the most reliable video advertising platforms. The benefits are;
Control over who sees your videos
Insights on customer behavior
More relevant traffic
Tracking data
Insights on demographics
4. Optimize the video for search engines
Even though you may use paid advertising, a big portion of video traffic will come from organic search. To make sure that your video reaches the right people and provides best results, you'll need to make it appealing, not just to the viewers, but also to search engines.
Here are a few tips on how to optimize your video;
Develop an SEO strategy for your videos and come up with keywords
Use your keyword in the title and the description of the video – this is a must!
Always add tags
Make sure you add stuff like contact info, links to social media and link to your website in the video description box.
5. Closely monitor performance and analyse the results
You'll need to be actively involved in your marketing activities and analyse the results from your campaigns – regardless of whether you're focusing more on organic search or paid ads. The stats from your performance reports will help you understand your customers better and make the right business decisions.
Author Bio
Stefan is a technology writer and WordPress developer. He is a graduate, with a degree in Business Informatics (BI). Stefan enjoys writing about technology, online marketing and SEO. Big supporter of open-source, and GNU Linux enthusiast. You can find him at Valoso, a freelance video service.