It is a well known axiom that color is one of the most important components of diagramming. Whatever diagram type you do use, the utilization of a color scheme can make it either excellent or mediocre. This post will offer you a few simple but potent ways in which you could use color to great effect.
1. Color can be Used as a Differentiator
One of the main ways in which a color code can be utilized is for the purpose of differentiation. Consider an org chart, where (as an HR Manager) you want a split of the two sexes. Your organogram would look something like the example shown below.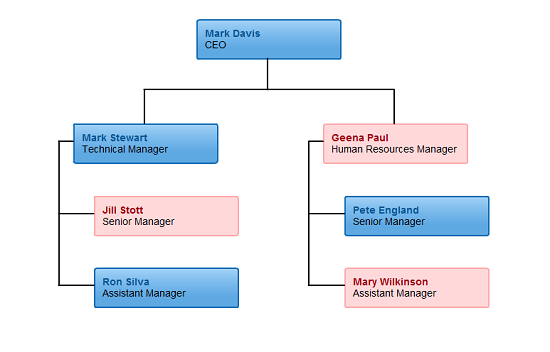 As you can see, this is just a simple example. But colour can also be used to differentiate various things like office locations and hierarchy on an org chart, too. The use of color may be extended to various diagram types as well. For instance, consider using different colors to show what is a process and what is a decision in a flowchart.
Creately comes with a professionally designed color palette based on themes. Even if you don't know anything about color combinations you can create a good looking diagram by sticking to a theme.
2. Use Color to Show Intensity
Color may also be used as an excellent barometer to show the difficulty or intensity that is present in certain tasks. For instance, if you are Project Manager who is creating a flowchart, you could use various colors to generate the difficulty of certain processes. A basic example is shown below.

3. Make it a Point to Utilize Color in the right Context
One of the main things that we need to be mindful of is using color that is relevant to whatever it is we are drawing. For instance, if you take a topographic map, certain colors would have meaning i.e. brown would be indicative of land, green would be indicative of vegetation and blue would mean sea. Another example would be the color utilization to show an increase in temperature. You would have the color increasing in intensity from light orange to dark orange and subsequently red.
4. Use Color to ensure Readability
One of the main benefits of using color is that you get to ensure absolute clarity. Usually, you need to pay attention to readability. Avoid designs that have color contrasts that cannot be easily read like dark brown text on a dark brown background. An ideal example is shown below, where proper utilization of color to ensure readability is encircled in red.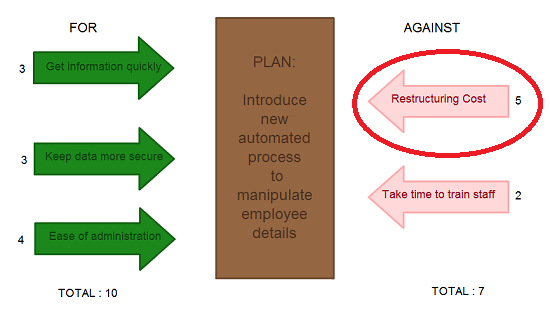 5. Use Colors from the Same Palette
While we are all for the proper use of color, remember that you can seriously draw diagrams quick and easy with Creately's one-click styles. Each row has complementary colors, and you can go up or down to show intensity within a color. Why not try this smart app for free and see for yourself!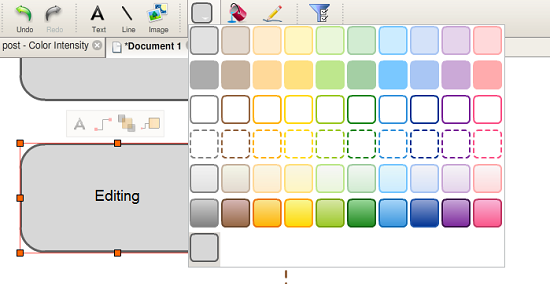 How Do You Choose Diagram Colors?
We do agree that colour per se and color combinations are inherently subjective, yet you cannot deny the fact that it is certainly something that is important and can be widely used to offer a glut of benefits from easy assimilation of information to making diagrams look real beautiful. As always, we'd be thrilled with whatever response that you may have and would encourage you to make comments on this post and/or to get in touch with us if you got any queries.