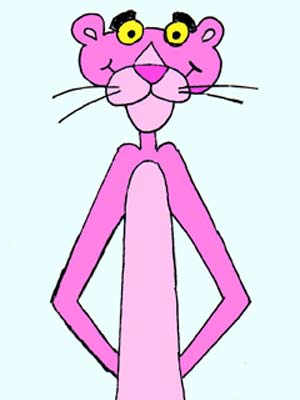 With the recent release of the new Pink Panther movie here in Australia we've started using code names for each of our Creately releases. It's pure coincidence that we named this first release on the greatest cartoon panther ever!
The next version of Creately isn't going to be pink but it is going to be just as great.
Here at the Creately R&D Labs we've been hard at work adding a range of new features to the Creately framework and improving the current KObject sets. Its taken a lot of hard work but the release is now being finalised and will be ready in the coming week.
We're a Customer-Driven startup, and are committed to letting our users guide us in developing a better product. We're so exciting about this release because for the first time we got to introduce features that real users have asked for. Thank you for all the feedback, star ratings and suggestions you've given us.
'Nuff said – Here's what's headed your way this week.
Brand New Toolbar – A sleek new toolbar that'll give you more space for your drawing canvas.
1-click styling – KObjects can now be styled with beautiful backgrounds, borders and gradients at the click of a button. Beauty with ease.
More Sharing Goodness – We heard you loud and clear. You'll be able to publish your diagrams on a search engine friendly public URL with just 1-Click. Now clients and teammates can view and comment on your work without a login.
Add your own images – Everyone wants to add their own images to their designs so we bring you the 1-Click image upload button.
Comment, Share and Smarts – Now leave comments, share your work and configure KObjects in individual tabbed windows.
Connectors – Connectors have been rewritten and are quicker and easier. We've got rid of those niggly issues and would love to hear your thoughts on this.
Lines – Ever needed to draw free form lines that are not connectors? Now you can!
Beautiful Curves – We've got beautiful new curved connectors and lines. Sexy!
PDF Anyone? – Yes, now export your diagrams in Adobe PDF format for that professional finish as well as JPEG and PNG.
Right-Click Menu – You asked for it so R&D got cracking on this problem to bring you a right click context menu. Tell us what you'd like in the right-click menu on our Support site.
Powerful New KObjects – Creately's getting smarter. More on this in a later post.
Profile Management – View and update your Creately profile directly in the Creately application.
Improved Star Rating Feedback Form – Brand new Ajax window to help make it easier for you to share your feedback.
This is just a quick teaser. We'll give you a full run down when we release the next instalment of Creately this week. We'd love to hear your thoughts so swing by our Community Support Site to request a feature or provide us with your ideas.
Image courtesy: www.maquilon.com