These are truly exciting times for us. With just a month in Beta, we are now finally ready to unveil Creately Desktop to the world. If you have been following us on
Twitter
and reading our blog, you would have been fed quite a bit of information on our
desktop version
. We've combined the best of two worlds (online and offline) into one compact app. So now there's no need to grind your teeth in frustration whenever you lost your Internet connection.When you create a
flowchart
,
mindmap
or any other
diagram
, basically just click the
Diagrams Anywhere
feature and you can have all your diagrams sync'ed into both the online and desktop platforms. In other words, you get to work on the same diagram either online or offline, whether you are on land, sea or air. Let's put the benefits of this feature into context.
Let's say you just created a flowchart on Creately Desktop (while you're also connected to Creately.com), the updates will automatically sync into Creately online account. You then share this flowchart with your team of Project Managers, Developers and Designers; and embed this diagram into your Google site page or any webpage.
Now, one of your Project Managers made edits on the flowchart via his Creately Desktop. When working as a team on the same diagram in a project, all the changes made by one either using Creately Desktop or Online will be reflected immediately in your documentation ensuring that the Creately diagram and the published webpage stay in sync.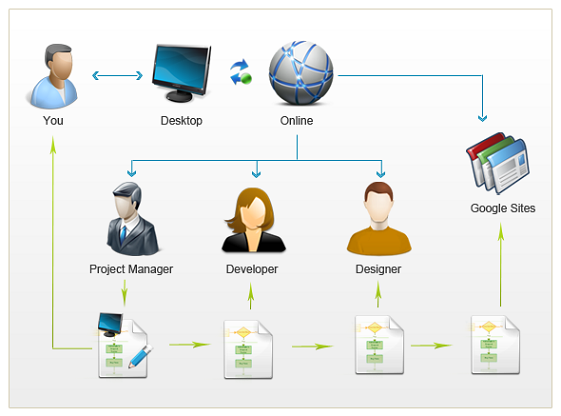 With Creately's Diagrams Anywhere the whole team can now come together around the right diagram.
We live and breathe the cliche – a picture is worth a thousand words – which is why no amount of adjectives will show you how truly awesome Creately Desktop is. So to discover this experience, download it now. During the coming days and weeks, we'll be blogging on more exciting Creately Desktop features. So stay tuned to this space for more information on how you can use Creately Desktop to give yourself a wholesome diagramming experience.